12 Banned Cars And How Much They're Actually Worth Today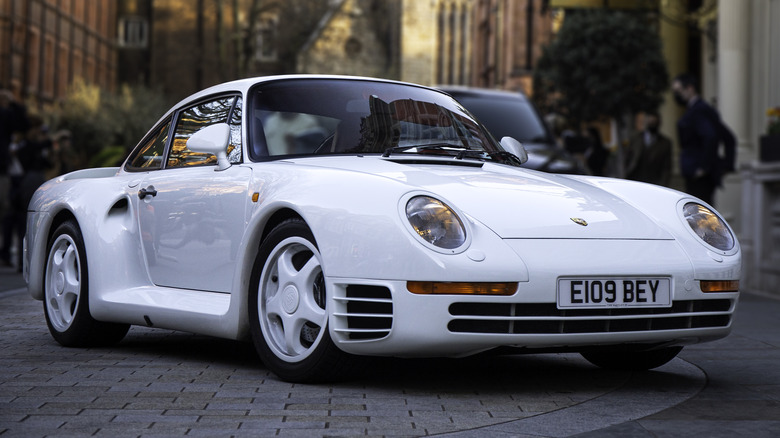 Martyn Lucy/Getty Images
The United States' crash testing and emissions laws are infamously different from the rest of the world's, and that's caused plenty of manufacturers a headache over the years. Homologating a car for the American market is both a long-winded and costly process, although for most carmakers, the promise of attracting customers in one of the world's most wealthy automotive markets makes it worth the hassle. With lower-volume cars, however, plenty of automakers simply don't bother even attempting to pass the regulatory hurdles required to make them road legal. Even those that do try sometimes don't succeed, rendering them banned from American roads despite their best efforts.
This is usually down to one of three main reasons: the stringent emissions standards required to sell cars in states like California, safety regulations, or crash testing regulations, which require a manufacturer to submit multiple cars to regulators to be crashed and inspected. Whatever the reason they ended up on the blacklist, these 12 cars all never officially made it Stateside. That's undoubtedly a huge shame for enthusiasts, especially when taking into account their attractive prices elsewhere in the world.
Land Rover Defender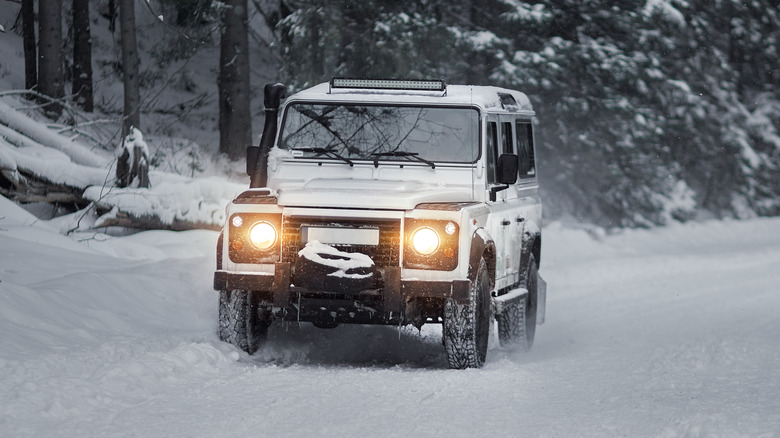 alexgo.photography/Shutterstock
An off-road icon and one of the most long-running nameplates in British automaking history, the Land Rover Defender was banned in America in the '90s after failing to meet national safety requirements. One of the unique selling points of the original Defender was that it had remained in production essentially unchanged for years, but the very same reason it was desirable was also the reason it was forced off the roads.
The remaining few Defenders that were sold in the U.S. before the ban are becoming increasingly valuable, with plenty undergoing drastic engine swaps to rid them of their sluggish stock diesel engines. A common swap is to fit an LS V8 engine, and for a professionally converted example, you'll have to cough up over $100,000 in some cases. Banned Defenders from the early '90s are now potentially eligible to be imported under the 25-year rule, but for now, they remain a very rare sight on American roads.
Wiesmann GT MF5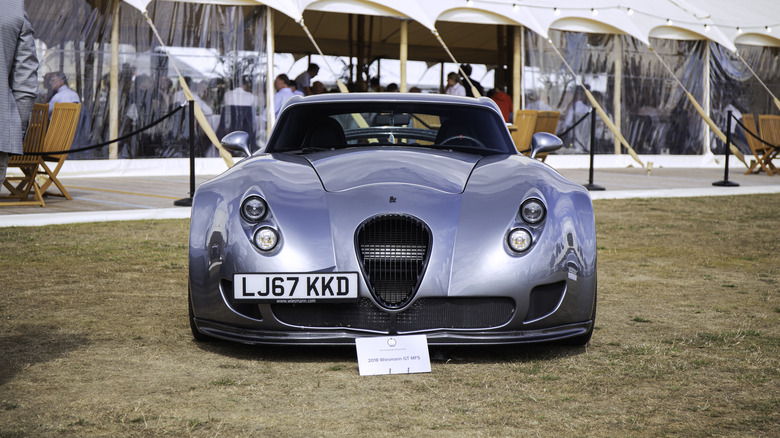 Martyn Lucy/Getty Images
Boutique German sports car maker Wiesmann is far from a household name, but for collectors in the know, the company has produced some of the country's best-hidden performance gems. The MF5 was the last car the company produced before it went bankrupt in 2014, and thanks to its low production numbers, Wiesmann chose not to bring it to America. Considering how expensive the homologation process can be, it also most likely didn't have the funds to do so anyway. The GT MF5 featured the BMW V10 engine from the E60 M5, but with an extra 40 horsepower boost. Wiesmann's styling has always been divisive, but put it this way — with a face like that, you'll always be able to pick it out in a crowd.
Shortly after declaring bankruptcy, the company was bought out by a new team of investors, and last year, the resurrected brand provided its first glimpse at its latest vehicle. The new roadster, codenamed Project Thunderball, is all-electric, with the equivalent of 680 horsepower on tap from the new sustainable powerplant. Prices start at €300,000, roughly $317,000 at current exchange rates. There's been no confirmation yet of whether the new car will be sold in the States, but Wiesmann reports that the car is already proving popular with customers, with the initial run already sold out.
Nissan Silvia S15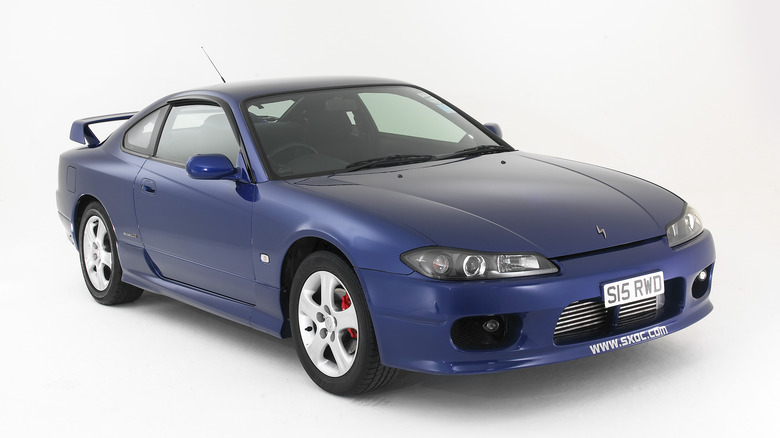 Heritage Images/Getty Images
The S15 Nissan Silvia was the last in a long line of S-chassis cars, which have become beloved not only for their status as excellent drift vehicles, but as JDM pop culture icons. Featured in the "Fast and Furious" franchise, "Initial D," and plenty more, the S15 nonetheless remains forbidden fruit in the U.S. The car didn't meet emissions or safety standards dictated by American legislation at the time, so Nissan made the decision not to bring the car to North America at all.
However, since the first batch of S15 Silvias rolled off the production line in 1999, they'll be eligible to import under the 25-year rule from 2024. It's likely that there will be a surge of interest from American buyers, and that may well push prices for the car up to record heights. S15s are already proving to be a very smart investment, with average values rising over the past few years, in part due to supply drying up. Not only are the cars themselves getting older, but their reputation as excellent drift cars has seen many vehicles written off or made unroadworthy. Cars from the 1999 model year listed on a major Japanese export site start at around $20,000, with examples in the best condition selling for well north of $30,000. Shipping the car to the States and registering it will add thousands of dollars more to your bill.
Aston Martin Vulcan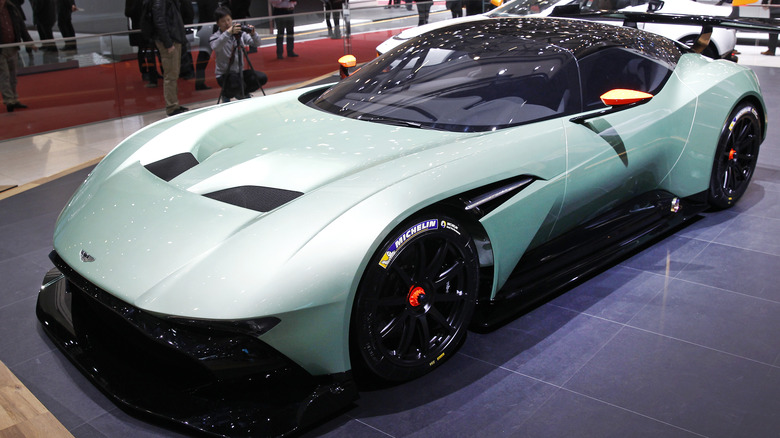 Chesnot/Getty Images
The Aston Martin Vulcan is a track-only special built on the underpinnings of the One-77, and even by hypercar standards, it's exceedingly rare. Only 24 examples of the car were made, with each one retailing for around $2.4 million. It features a 7.0-liter racing V12 engine that makes 820 horsepower, and that huge rear wing helps it produce over 3,000 pounds of downforce. The Vulcan was never built to be road legal, but that didn't stop one determined owner in the U.K., who enlisted the help of a conversion specialist to make their car conform to British road standards.
Unfortunately, only one road-legal Vulcan has been made, and it's still registered in Britain, making it still illegal to own and drive in America. The conversion process reportedly cost hundreds of thousands of dollars on top of the original asking price, and since U.S. safety and emissions restrictions are even tighter than the U.K.'s, it's very unlikely we'll ever see a road-legal Vulcan make it across the pond.
Suzuki Jimny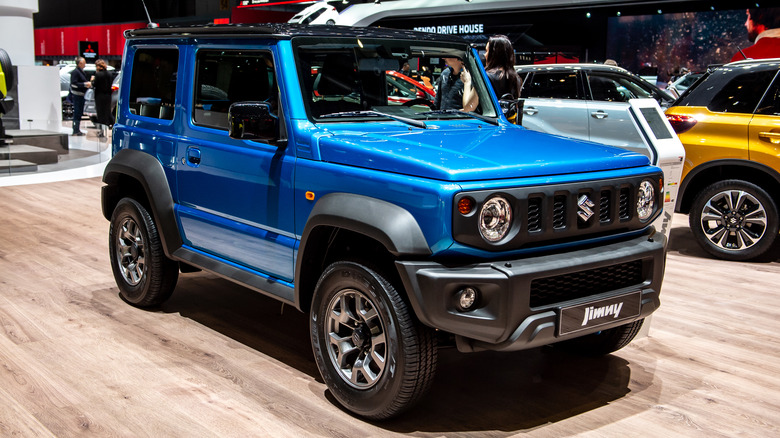 Robert Hradil/Getty Images
Suzuki's adorable pint-sized off-roader has been a smash hit in many markets, with long waiting lists common for anyone looking to get their hands on one. The latest-generation Jimny, launched for the 2019 model year, received a styling overhaul to make it look like a miniature G-Wagon and boasted a lot more off-road capability than its diminutive appearance might suggest. It's also very reasonably priced, with U.K.-market examples starting from £16,796 ($20,200) excluding taxes. However, it was never designed to meet American safety and emissions standards, making it likely to remain banned even if Suzuki attempted to get it homologated.
That in itself seems near impossible considering Suzuki doesn't even sell cars in America anymore, having wound up its operations in 2012 due to poor sales. As great as bringing the Jimny to the States sounds in theory, the reality is that most Americans simply don't buy small cars. The car would have to compete with the deluge of other SUVs and crossovers flooding the market right now, and while Suzuki keeps seeing strong sales in other markets like Asia and Europe, there's no reason to take the financial risk of an American relaunch.
Pagani Zonda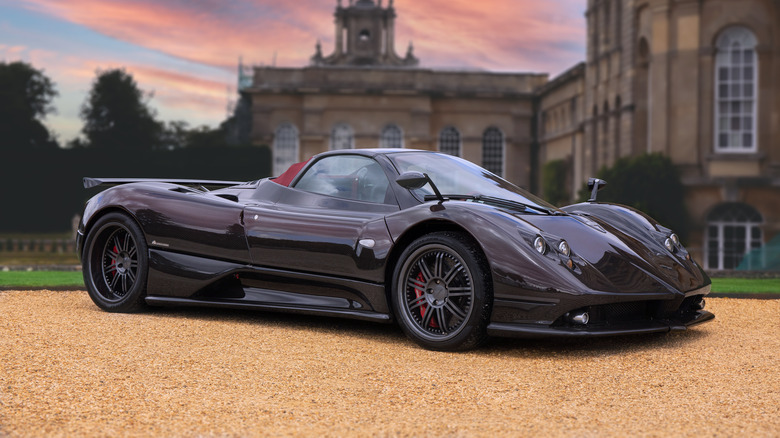 Martyn Lucy/Getty Images
A small, startup carmaker like Pagani was never going to have the financial backing to apply for NHTSA approval, so it's no surprise that the Zonda was never certified for road use in America. The Zonda is often described as a piece of automotive art rather than simply a car, with its jaw-dropping bodywork and bellowing Mercedes-AMG V12 engine making it stand out even in a crowd of hypercars. Like any piece of artwork, practicality wasn't high on the agenda when designing the Zonda, and that means it lacks most of the safety features it would require to win over American regulators.
Even though they were never officially sold in the U.S., a few examples have made their way over under Show and Display regulations. To qualify for a Show and Display exemption, a vehicle must not be too similar to anything currently sold in America, and must not still be in production. It's also required to be low volume and be considered to be of "technological or historical significance." Even then, the vehicle must only be driven on the road for the primary purpose of taking it to and from shows and events, or keeping essential systems of the car in good working order. Plus, it can't exceed a mileage of over 2,500 miles per year. Anyone who still wants a Zonda even with all those limitations can expect to pay several million dollars for the privilege, with publicly-listed examples almost exclusively "price on asking."
Rover Mini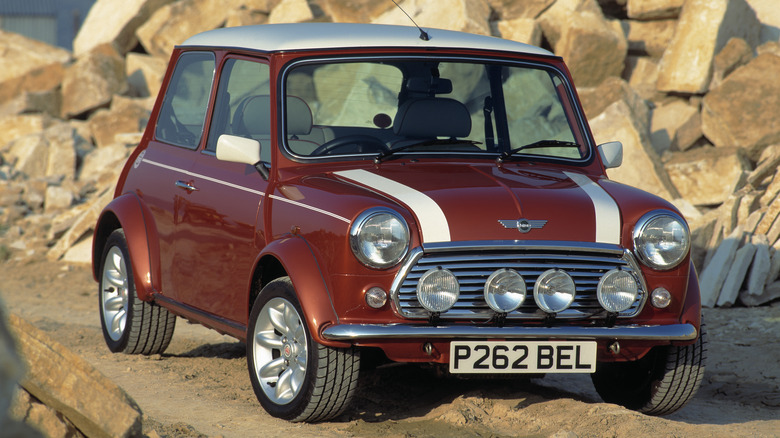 Heritage Images/Getty Images
The last incarnation of the venerable Mini Cooper before the New Mini arrived in the early '00s, the Rover Mini was not eligible for U.S. homologation as it didn't meet safety requirements. Much like the Land Rover Defender, the Mini's selling point was that it had been made the same way for decades, but that meant it didn't include contemporary airbags or side-impact protection. It's possible to get one on the gray market, but probably not a good idea — often, these cars will have had their VIN numbers altered to appear older than they actually are. This is fraudulent and could lead to the car being impounded if authorities discover the change.
In 2014, U.S. Customs and Border Protection seized and destroyed one such altered vehicle, posting the evidence on YouTube as a deterrent to other would-be fraudsters. Not to mention, there are plenty of classic Minis now available to import legally under the 25-year rule, so buying one that doesn't conform to the law is just an unnecessary risk. At the time of writing, a recently-imported example is for sale at a specialist in New Jersey for $26,000.
Smart Crossblade
Just looking at the Smart Crossblade, it's pretty easy to work out why it was never certified in America. With no proper doors, no windshield, and virtually no safety features, it was never going to meet the States' strict safety regulations. It sports an almost comically thin "safety bar" instead of a door, and the lack of a windshield means that drivers will likely be hit with bugs and debris while they're on the road. It doesn't sound like driving the Crossblade was a great experience, but even so, Smart managed to shift 2,000 of them over a limited production run.
Despite its appearance on the NHTSA's banned list, there is actually at least one Crossblade that's snuck its way onto American roads. One particularly determined owner managed to convince inspectors that the car was "substantially similar" to the Fortwo and get it approved for road use, somehow. That road-legal example appeared for sale on Bring a Trailer in 2016, eventually selling for $26,500. For everyone else who didn't catch the auction though, there's no chance of driving one of these German oddities on the road legally.
Lada Niva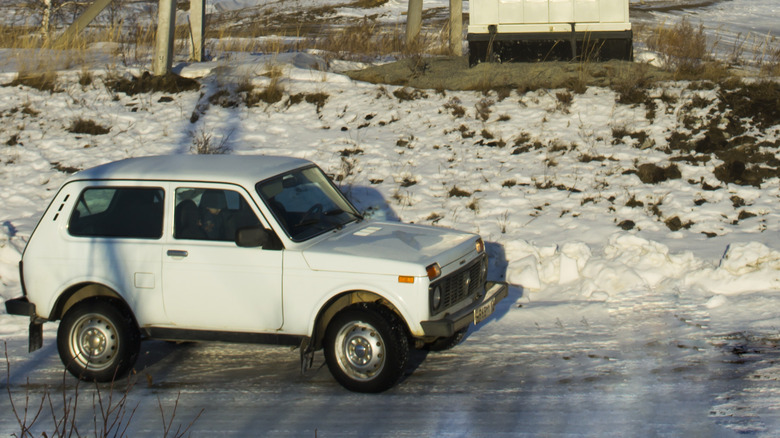 TINA31/Shutterstock
One of Russia's best-selling off-roaders, the tough-but-basic Lada Niva could also be found in dealerships across Europe until new sanctions in 2022 in the wake of Russia's invasion of Ukraine forced international sales to be halted. The Niva, also known as the Niva Legend or simply the 4x4, is short on creature comforts, but makes up for it with its rugged build quality and cheap running costs. Long-term political disagreements between the U.S. and Russia meant that the Niva never had much chance of an American market launch anyway, but with the current economic sanctions, it's now a total impossibility.
Although buying one new is out of the question, it's still possible to import a 25-year-old one from a "friendly" country, either in Europe or in Canada, where the Niva was sold for a brief period of time. Registering it in the U.S. would most likely be difficult though, and so far, there's no evidence to suggest that anyone has recently tried. Valuing a car like this is tricky, especially since the cost of shipping it to the States and registering it would add up to more than the value of the car itself. In Europe, the cheapest examples start at a few thousand dollars, with pristine or low-mileage examples commanding significantly more.
Porsche 959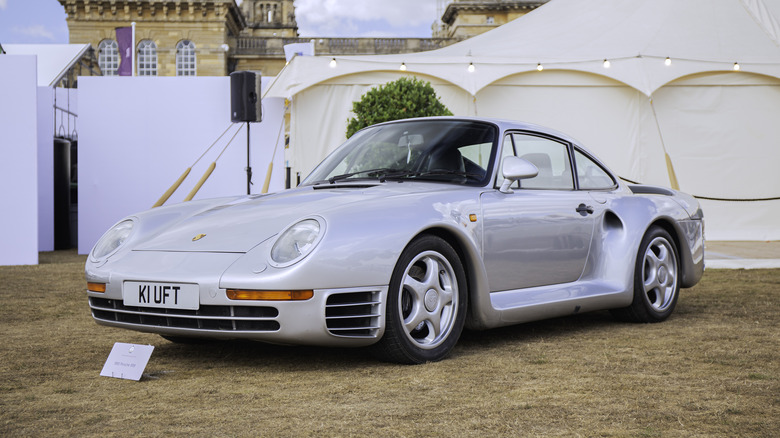 Martyn Lucy/Getty Images
The Porsche 959 was the fastest production car in the world when it launched, featuring groundbreaking technology that included a cutting-edge four-wheel drive system. It was originally designed as a Group B rally car, with a road-going counterpart that would enable it to meet homologation rules and compete. Funny enough, Group B was banned for being too unsafe in 1986, the same year that the road-legal 959 launched. Well, road legal in some parts of the world anyway, as American authorities declined to certify the car in response to Porsche refusing to send four test vehicles for destruction in crash testing. It made sense — only 292 examples of the 959 had been built, and thanks to the immense cost of development, Porsche was already losing money on every one. Sending four of those to be destroyed during testing would have added even more losses to the tally.
Microsoft founder and Porschephile Bill Gates knew that the 959 had been refused certification, but he tried to smuggle one in anyway. The car ended up getting impounded by customs, leading Gates and his lawyers to launch a decade-long campaign to change the law so that non-conforming cars could be brought in under certain conditions. He eventually succeeded, and his efforts paved the way for the current Show and Display regulations that allow certain low-volume cars to be registered in America legally today. Values for the 959 vary by condition and mileage, but well-sorted cars can sell for more than $2,000,000.
Jaguar XJ220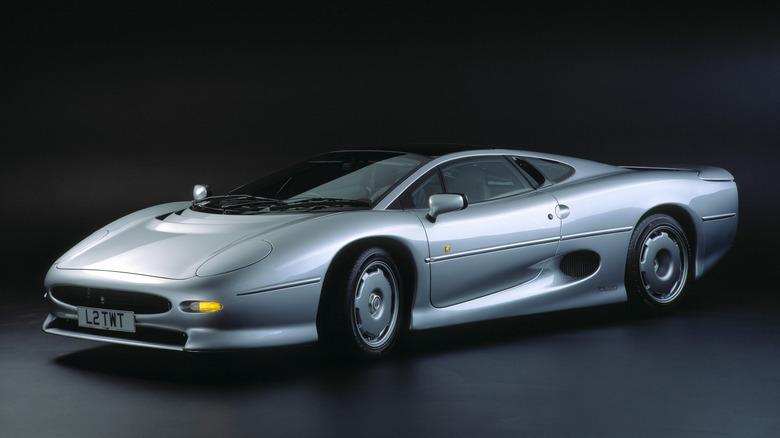 Heritage Images/Getty Images
Despite its groundbreaking speed and sleek design, the XJ220 supercar was a complete sales flop for Jaguar. When the concept was first unveiled, it sported a V12 engine and four-wheel drive, and it caused a storm at the 1988 British International Motor Show. Buyers queued up to put deposits down, but the trouble was, Jag hadn't planned to ever make a production run in the first place. Still, it accepted the orders and got to work. After four years of intense development, the finished product looked similar to the concept, but that was where the similarities ended. Gone were the V12 and four-wheel drive, replaced by a twin-turbo V6 and a traditional rear-wheel drive layout.
The final cost had also shot up significantly, making the XJ220 pretty much the most expensive new car on sale. As a result, plenty of disgruntled buyers ended up canceling their orders, and Jaguar never managed to complete its intended production run of 350 cars. Only 282 were sold, and facing such significant losses, it was decided that it wasn't worth even trying to launch the car in America. Without the relevant documentation, the car was de facto banned for 25 years, and it's only recently that it's become old enough to import legally. Resale values have remained relatively low over the years, with one example for sale at the time of writing for £424,995 ($510,000).
Lotus Elise S1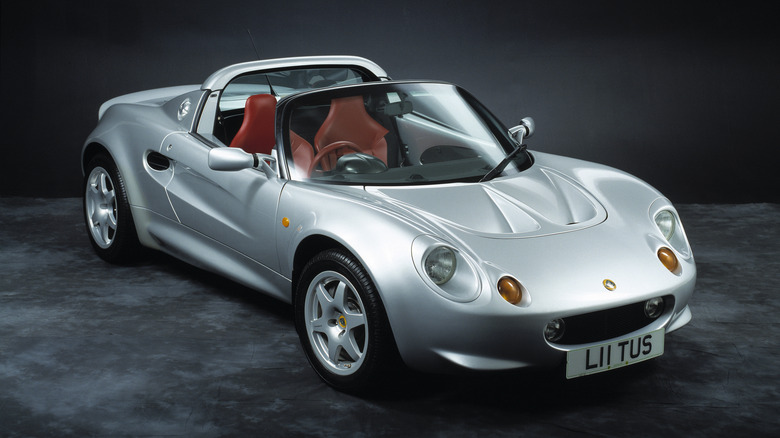 Heritage Images/Getty Images
The original Lotus Elise might not have been fast, but it was a riot to drive thanks to its light weight and excellent handling. As a small manufacturer on a very limited budget, Lotus wasn't in a position to be making significant changes to the car for certain markets. The Rover K-Series engine featured in the original Elise met emissions requirements in the brand's core markets, but unfortunately, it didn't make the grade for U.S. regulators. As such, Lotus was banned from selling it in America, but the good news is, it's now old enough to qualify for an exemption.
Lotus launched the Elise S1 in 1996, meaning that the earliest model years can now be imported under the 25-year rule. While maintaining and repairing one in America might be a bit of a challenge, it's not impossible, and anyone who wants a reasonably-priced British sports car could certainly do a lot worse. Examples can be found in the U.K. for £20,000 ($24,000) or less, but shipping and import costs will likely add a significant amount to that total.