The Real Reason America Banned The Smart Crossblade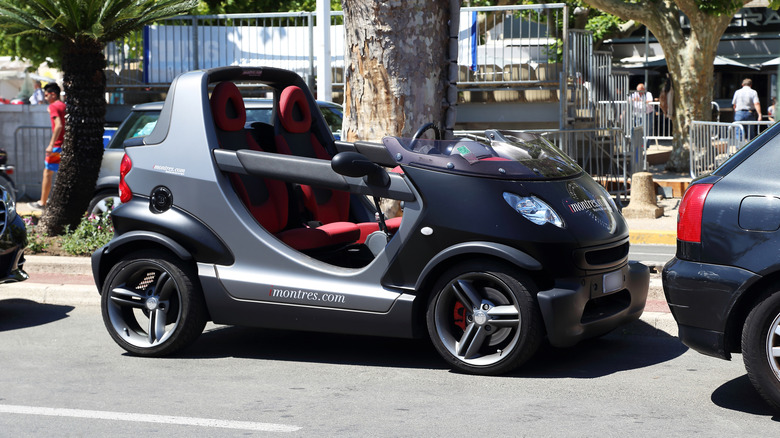 goga18128/Shutterstock
The Smart Crossblade sounds like a vehicle you'd see zipping dangerously down sidewalks or cruising along the walkways at Venice Beach, not one you'd expect to be puttering down the street. And you won't see one on the road, at least not in the United States.
The Crossblade is a microcar from Smart Automobile Co., Ltd., a joint company created by Mercedes-Benz AG and Zhejiang Geely Holding Group. It's based on Smart's ForTwo model. And while it is indeed tiny, it actually has all the requisite parts you might expect from a car, like a roof, some doors, and a windshield. However, it's also roofless, has a pittance of a "safety bar" for a door, and an almost non-existent windscreen that looks more appropriate on a motorcycle than a car.
If it looks like a concept car, that's because it essentially is one. According to Jalopnik, Smart took the Crossblade to the 2001 Geneva Auto Show to show off just how far their "minimize to the max" philosophy could be taken. The public went wild. So great was the response that the carmaker made a limited run of 2,000 units a year later.
Some of the Crossblades safety features weren't so Smart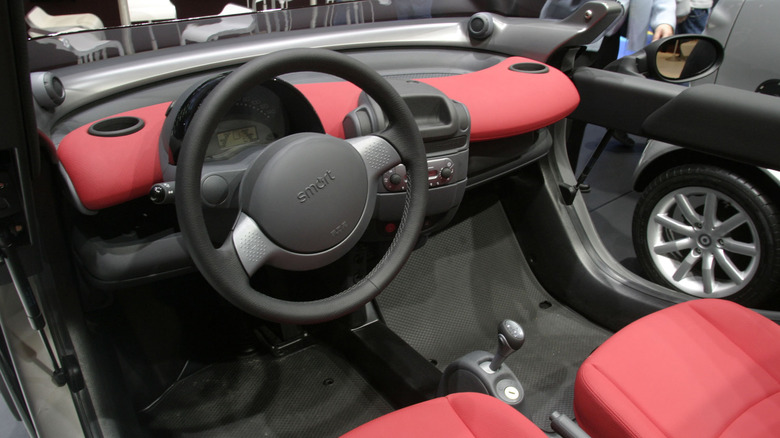 Bloomberg/Getty Images
The Crossblade weighed only 1631 pounds and came equipped with a 599cc Brabus tuned inline-three cylinder engine (located in the rear) that kicked out a mere 70 horsepower (via Road & Track). Bolted to a six-speed semi-automatic transmission, it took more than 10 seconds to reach 60 mph. With a top speed of 83 mph, Sammy Hagar probably wouldn't add this car to his collection.
The small slit of an adjustable windshield was made from plexiglass rather than safety glass. It apparently diverted oncoming air to the top of the driver area. Unfortunately, it wasn't nearly high enough to deflect incoming bugs or debris, so things hitting occupants square in the face, head, or neck was a genuine concern. It was probably a "smart" idea to wear a helmet while tooling around in this thing. Other finishing touches included sealed dash instruments to protect them from weather, water-resistant seats, and drains on the floor that allowed water to exit.
If the Crossblade sounds like a much cooler — and smaller — version of Volkswagen's Thing... you're not wrong. Both were banned in the United States due to obvious safety features manufacturers failed to include in their designs. This roofless microcar looks like an enjoyable runabout-type vehicle better suited for sightseeing tours in big cities than "screaming" down the highway.