Here's Why The Suzuki Jimny Is Banned In America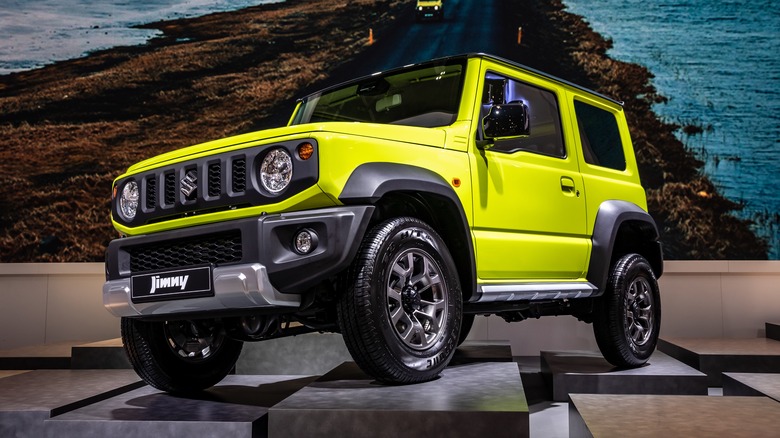 VanderWolf Images/Shutterstock
The Suzuki Jimny is a cute solid axle 4x4 that looks like a scaled-down Jeep Wrangler made out of LEGO bricks. It's the successor to the similarly adorable Suzuki Samurai, a vehicle made available in the U.S. starting in the mid-'80s. While the Jimny is a common sight in the rest of the world, you won't see any Jimnys driving down America's roads and trails.
Think about the last time you saw a new Suzuki car rolling around in the United States. It's been a while. That's because Suzuki Auto's American operations filed for chapter 11 bankruptcy in November of 2012, according to a Suzuki press release. Suzuki motorcycles and boats are still driving and floating their way across America, but the door is closed for new Suzuki cars in the United States. While that is not an exciting answer, that is, unfortunately, the reality of competing against the likes of Jeep, Toyota, and the litany of other off-roaders offered stateside.
No major automaker in the States today offers a simple, efficient, and inexpensive 4x4 quite like the Jimny. At the moment, buying a used Suzuki Samurai is effectively the closest anyone in the U.S. can get to owning a modern Jimny. As of now, the Jimny isn't a street-legal vehicle in the United States simply because the vehicle was never prepared for U.S. regulations in the first place.
The Jimny That Could Have Been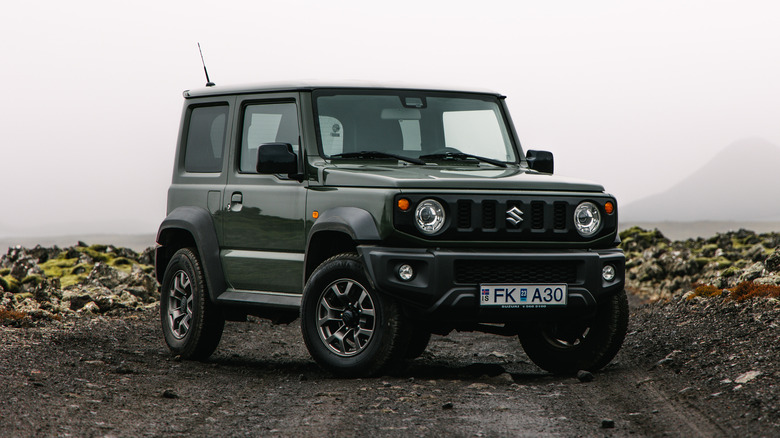 Sergio Thor/Shutterstock
The Samurai is best remembered as a 4x4 that was doing its best impression of a cardboard box trying not to blow away in the wind. Samurais came with a high rollover risk (via Motorbiscuit) and were not well suited for everyday driving like most other cars. Still, it remains a cult classic among offroading fans and people who want a classic 4x4 that isn't as comparatively gargantuan as a new Jeep Wrangler, Toyota 4Runner, or most modern pickups. 
The Jimny of today is downright space-age compared to the Samurai of yore. New models offer emergency braking, lane-departure warning, and hill-descent controls. Despite the new tech, the Jimny is still built on a conventional ladder frame and comes with rigid axles, features that make the vehicle a truly capable offroad machine. It's equipped with a fuel-efficient 1.5L four-cylinder engine that puts out 100 horsepower and 95 ft-lbs of torque according to Suzuki. That's just enough power to scamper around hills like a boxy metal goat. 
It's honestly quite sad that Suzuki shuttered its doors in America. As most modern 4x4s are more akin to aircraft carriers in both size and price, cost-conscious 4WD enthusiasts need something like the Jimny to brighten their day. While it's unlikely the Jimny will ever come to the American market, low-cost 4x4 Suzuki enthusiasts can always hope and dream for a future where a new Samurai can re-take their niche market of choice.