2023 Volkswagen Jetta Sport Review: More Than Just A Cheap Car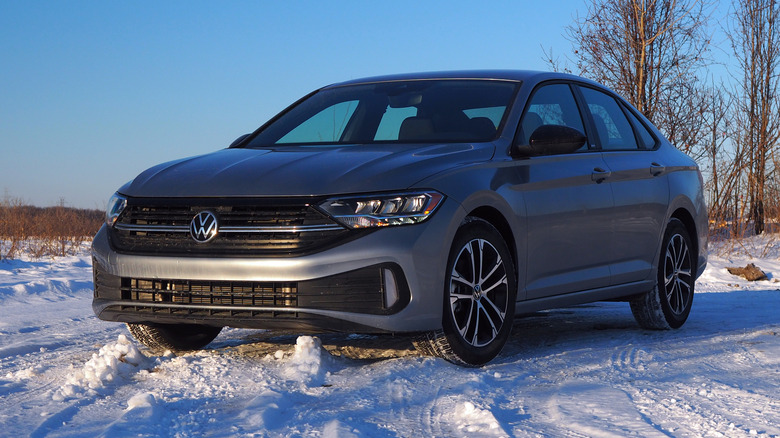 Chris Davies/SlashGear
With automakers — and their customers — increasingly focusing on crossovers and SUVs, it's easy to dismiss the VW Jetta. In fact, it was Volkswagen's most popular passenger car in America in 2022, selling more than three times the Golf GTI, Golf R, and Arteon combined. The fact that it's the cheapest new VW you can buy in the U.S. doesn't hurt, of course.
It kicks off at just $20,554 (plus $1,095 destination) for the Jetta S, while this 2023 Jetta Sport nudges that up to $21,555 plus destination. Both have the same drivetrain, a 1.5-liter turbocharged four-cylinder gas engine driving the front wheels, with 158 horsepower and 184 lb-ft of torque. It's paired with a six-speed manual transmission as standard; an eight-speed automatic is an $800 option — or standard on the Jetta SE and SEL trims.
Don't look at the "Sport" badge and assume extra performance, then. Instead, it's mainly — though not entirely — a styling exercise, swapping the base 16-inch wheels for 17-inch alloys, and throwing on black side mirror caps, a light bar in the front grill, and sports bumpers with lights. The result looks clean, even if I wouldn't mind a few extra color options: beyond the black, white, and two metallic gray options, the only hue that stands out is metallic black. VW does at least get credit for not charging extra for any of the different paints.
Old school but not entirely spartan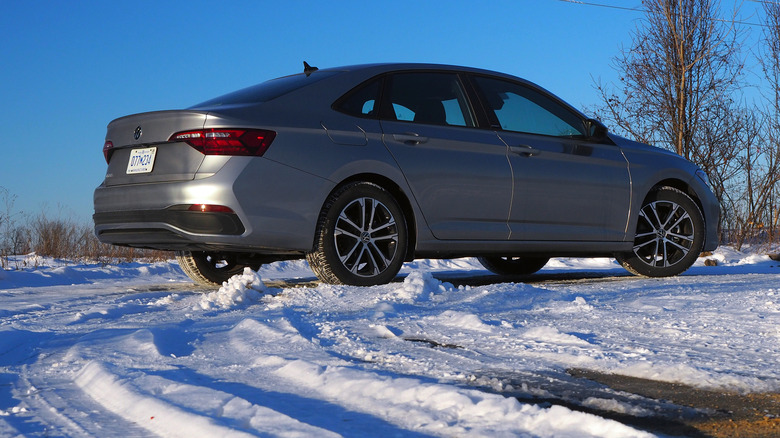 Chris Davies/SlashGear
Inside, it's thoroughly of the old-school Volkswagen design language: dark and solid. Piano black trim inserts and swathes of black plastic are lifted in places with some silver panels, but the overall effect is still sobering. Certainly a long way from the much lighter cabins that VW came up with for its ID range of electric vehicles.
The Sport trim gets cloth-clad sports seats, plus a 60/40 split rear bench with armrest. Power driver's seat adjustment is saved for SE trim and above, as is faux leather and seat heating. The two cheapest trims also miss out on keyless entry and remote start; you'll even be sliding in a physical key and twisting it to start up the engine.
Despite the dour aesthetic, the Jetta does at least feel sturdy and spacious. The bigger Passat may have been discontinued, but it's hard to miss it when there's this big a cabin on offer at a cheaper price. Room in both rows is ample, and there's 14.1 cu-ft of trunk space with the rear bench up. No, the plastics aren't going to fool anybody into thinking this is a premium model, but neither do you get the feeling they're going to snap any time soon.
Solid infotainment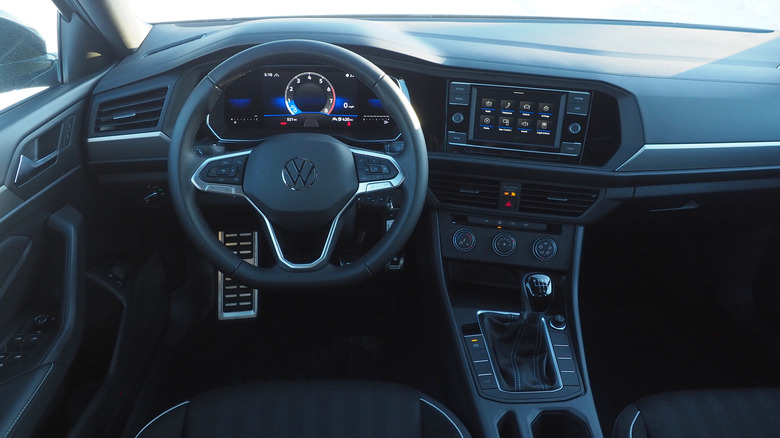 Chris Davies/SlashGear
VW's switchgear and technology is another case in point. The single-zone manual air conditioning system has easily-twiddled knobs; there's no messing with multiple drive modes, just a profligacy-taming "ECO" button by the stick shift. I was honestly surprised to see Volkswagen's Digital Cockpit included, an 8-inch display for the driver with different information layouts, rather than physical gages.
In fact, that's a considerably bigger display than the infotainment system gets, where your fingers make do with a 6.5-inch touchscreen. VW's graphics err on the simplistic side, which is fine, but some of the on-screen controls — like the track skip and play/pause buttons when you're using Bluetooth for music — are frustratingly small.
Wired Apple CarPlay and Android Auto allow you to bypass all that, mind, and higher trims than this Sport get both a bigger touchscreen and wireless smartphone projection. Sadly Sport trim also gets lumbered with a lackluster audio system, which suffers muddy mids and gutless bass.
It's no GLI, but it's not bad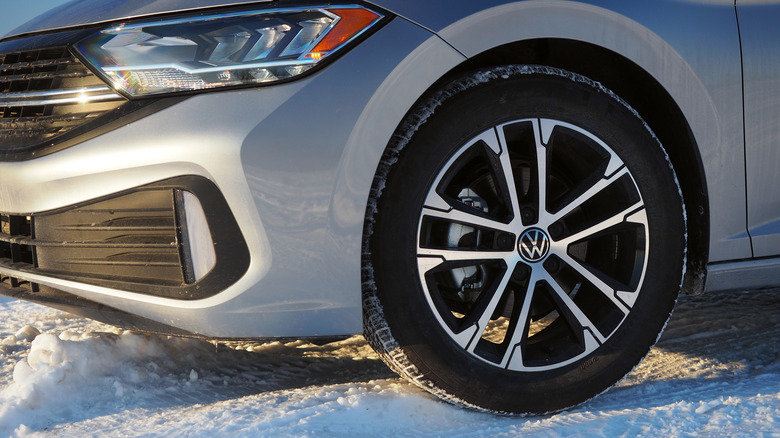 Chris Davies/SlashGear
That said, I'm pleasantly surprised by how the 2023 Jetta drives. Manual transmissions are a relative rarity in the U.S. these days, and often require an intentional decision to row your own gears rather than leave it to an automatic. On that front, the six-speed here maybe isn't the finest around, but neither is it a bad option.
Yes, eager drivers should probably look to the 2023 Jetta GLI, which brings a 2.0-liter turbocharged engine to the party, but that's not to say this Jetta Sport is dreary. The clutch is nicely balanced, with an easy-to-locate bite point that makes even stop-go urban traffic far less of a chore than you might predict. The stick's throw is neither too long nor too notchy. In fact, I could see the manual Jetta being a pretty great car to learn to drive stick in, and while it's well short of the sublime playfulness of an MX-5 Miata's transmission that's a high bar for any family car to face.
Sadly the rest of the experience definitely feels dialed in for daily-driver duty, rather than anything more sparkling. Though perky in a straight line, the steering is light and the suspension is on the soft side. The Sport trim gets VW's XDS Cross Differential System, which attempts to mimic the benefits of a limited-slip differential by applying the brakes in corners to avoid understeer, but it doesn't come close to the real thing you get in a Jetta GLI.
More eye-catching rivals could sway you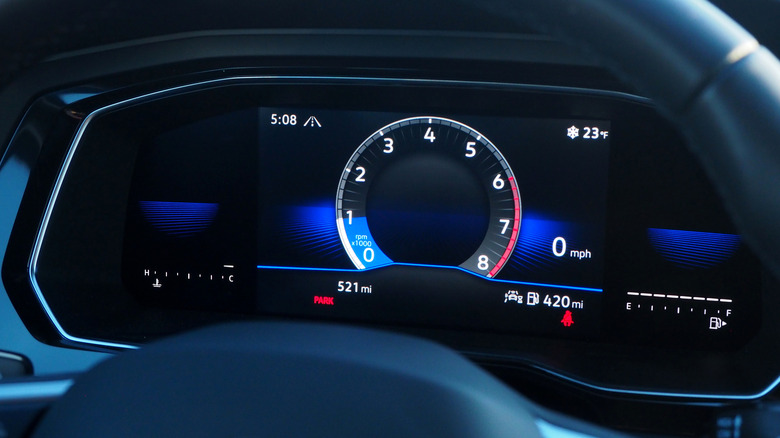 Chris Davies/SlashGear
Then again, that's not really what this car is all about. It's a comfortable cruiser, and Volkswagen doesn't stint on safety tech either. Blind spot warnings, forward collision warning, and autonomous emergency front braking with pedestrian monitoring are all standard. The $995 Driver Assistance package throws in lane-keeping assist and Emergency Assist, along with adaptive cruise control.
The biggest challenge is that, while the compact sedan segment may not be what it once was, that doesn't mean the options left are bad. Honda's latest Civic sedan is a stylish alternative that's more interesting to drive and has a far more engaging cabin, while the Mazda 3 sedan boasts more power and more enthusiastic tuning.
Neither can match the Jetta on economy, though, at least on paper. In its manual form, the VW is rated for 29 mpg in the city, 42 mpg on the highway, and 34 mpg combined. Both the Honda and the Mazda manage 31 mpg combined. In my own, mixed driving in some cold Midwest conditions, I saw the Jetta hit 31 mpg.
2023 VW Jetta Sport Verdict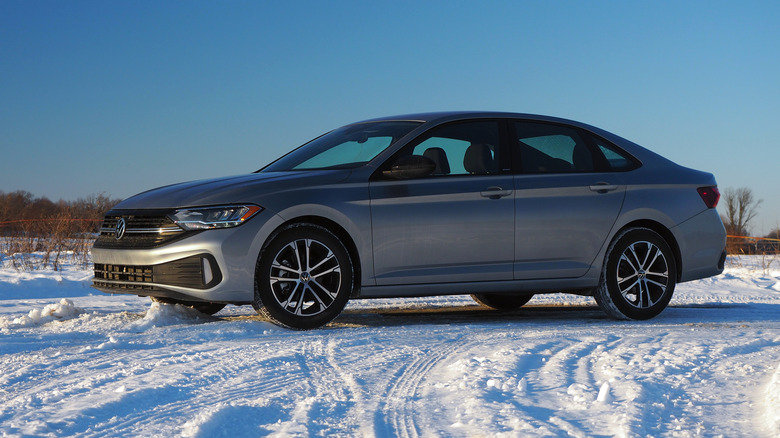 Chris Davies/SlashGear
The 2023 Jetta Sport is less than half the average new car price in the U.S. and, frankly, it's plenty sufficient for most drivers. While it may not be the most engaging manual transmission option on the (admittedly small) market right now, its stick doesn't feel like an undue chore. And, though clearly tuned with comfortable cruising in mind, I'd say it looks the part in a lantern-jawed, handsome way.
You could accuse the Jetta of lacking sparkle — and not unfairly — but then it's refreshingly free of gimmicks, too. A four-year/50,000-mile limited warranty, and two years/20,000 miles of complimentary maintenance, sweeten the deal for drivers on a budget.
Overall, though, this Jetta Sport feels like the pick of the line-up. Not quite so spartan as the base trim, but more focused than its more expensive range-mates, it's a strong reminder that a solid combination of everyday performance, economy, and safety tech needn't break the bank. More exciting fare is out there, sure, but you'll pay for the extra smiles.