2022 Volkswagen Golf R Review: Hot Hatch Heaven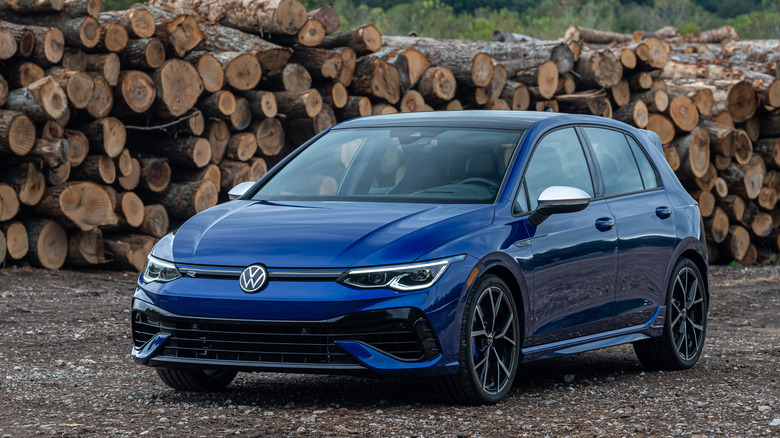 Chris Tonn/SlashGear
The name Big Pine Road doesn't even begin to describe the tree cover along this hidden gem of tarmac. Hemlock, hickory, beech, maple, and red oak all clamor for attention while lining the sinuous roadway in southeastern Ohio's Hocking Hills, marking nature's autocross course with fragrant hardwood cones that will add more than two penalty seconds to your runtime should you stray from the course. It's the sort of place where 48 hours after the last mentionable rainfall, patches of damp pavement remain – often near the apex of a corner.
These roads and others nearby have been feted for years as an ideal public proving ground of sorts for vehicle dynamics engineers and automotive media alike. Uncreatively named for the Appalachian foothills surrounding the Hocking River, the Hocking Hills region is geographically close to a number of population centers but culturally separated by those very hills.
The Hills are but an hour from my front door, so whenever the stars align with a few hours of freedom and the presence of something fun in my driveway, I do all I can to venture south. The 2022 Volkswagen Golf R was the something fun this time. Despite some serious weirdness with some secondary controls, I think I've found a nearly perfect companion for scaring all manner of hardwoods.
What is the Golf R?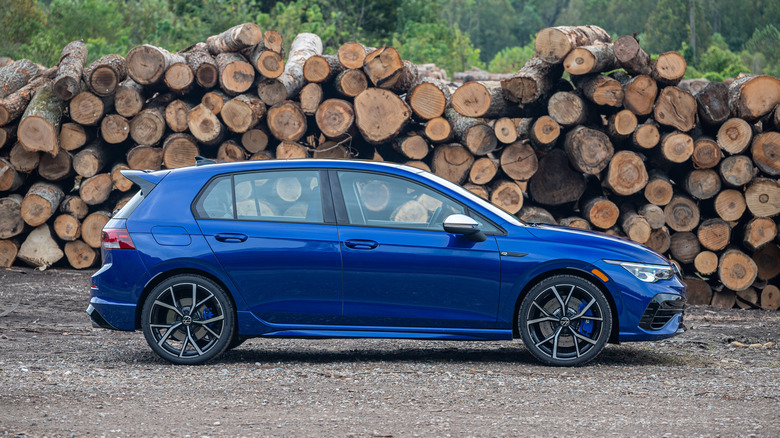 Chris Tonn/SlashGear
For the uninitiated, the Golf R is an even hotter version of what is arguably the original hot hatch, the VW GTI. For the very uninitiated, the Golf R is a car – which is a lower, smaller version of an SUV.
More specifically, where the GTI powers the front wheels with a 241 horsepower version of what has become the traditional Volkswagen 2.0-liter turbocharged four-cylinder, the Golf R bumps the horsepower from that same two-liter up to 315 and 280 lb-ft of torque, piped through all four wheels. While this latest platform is the eighth generation of Golf, this is the third generation to see a Golf R that one-ups the exalted GTI.
Interestingly, the six-speed manual transmission seen in this test vehicle is only available in North America. The rest of the world — markets traditionally seen as more receptive to a traditional manual transmission than them there shift-lazy 'Muricans — can only order the Golf R with the seven-speed dual-clutch DSG automatic.
Whichever ratio-selecting mechanism you choose (or have chosen for you by your locale) you won't be disappointed. The VW DSG transmission has proven to be robust, even when used on highly-modified cars. Heck, the DSG-equipped Golf R gets extra torque – 295 lb-ft versus 280 lb-ft in this manual-equipped car. Regular maintenance is required, yes, but a do-it-yourselfer can manage the DSG fluid changes. While I do enjoy selecting my own cogs, this is one automatic transmission that is genuinely enjoyable to drive.
Styling and pricing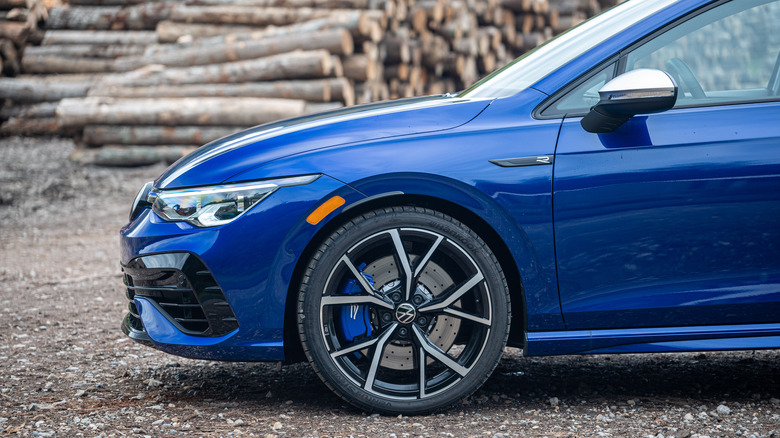 Chris Tonn/SlashGear
Volkswagen certainly got its money's worth from Giugiaro. Squint at this Mk.8 Golf R, and the styling lineage that traces to the first Golf/Rabbit of the Seventies is evident. Sure, it's larger — what car isn't? — but the two-box form with minimal adornment remains pure. It's remarkably handsome.
An LED light signature, of course, is an important styling feature of late, and the Golf R doesn't disappoint. A lighted bar across the top of the grille immediately brings to mind the similar light bar on the first-generation Mercury Sable, and I mean that in a good way. It's subtle enough to not be overwrought. Out back, the spoiler mounted above the rear glass is a bit longer than on the Golf R's little GTI sibling. The quad-tipped exhaust balances the look.
Besides the transmission choice and a selection of three colors — this lovely Lapiz Blue Metallic, Deep Black Pearl, or Pure White — there are no options available. Nor are they needed, as the Golf R is quite well equipped as is. The 6-speed manual Golf R stickers for $44,090, while the DSG automatic-equipped car is $44,890. All prices are plus $1,095 destination charges.
Standard features on the Golf R include adaptive cruise control, lane keeping assist, forward collision warning with automatic emergency braking, and blind spot monitoring.
Interior design and controls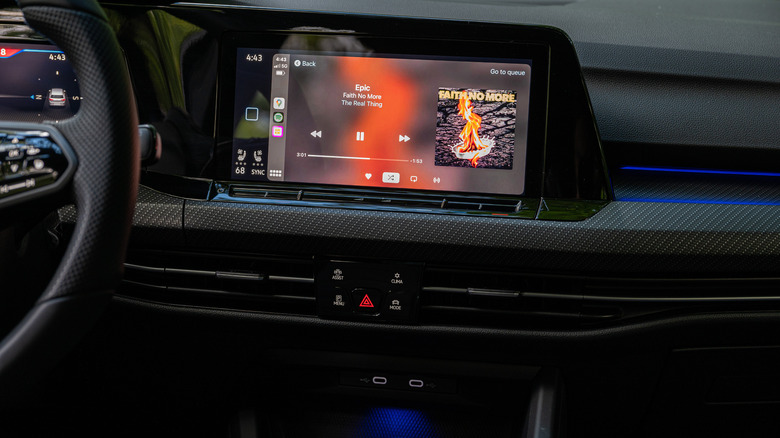 Chris Tonn/SlashGear
I swear there must be some international cabal of Tier One automotive knob suppliers playing a long game of encouraging automakers to phase out control knobs, only to jack up prices for their inevitable triumphant return for the midcycle refresh. It's played out across the industry, and in no case have the push button or virtual soft button replacement been found superior to the old-fashioned twist control.
Volkswagen is but the latest culprit or victim. Not only must volume be manipulated via virtual button on the touchscreen or steering wheel, critical HVAC controls are also situated on a near-horizontal ledge below the touchscreen. These sliders, lacking any sort of tactile feedback and demanding one to take attention from the big glass windscreen displaying real-time information about what's going on in front of the car, aren't even illuminated at night. Just hope you like whatever temperature and fan speed you fumble upon, because unless you stop you aren't easily changing it.
The rest of the interior, however, is classic Golf/GTI. Comfortable for four — even tall people — with high-quality materials throughout. The front seats are comfortable enough for a long day on the highway and supportive enough for attacking apexes with abandon. I'd prefer a shift knob that wasn't hard smooth plastic like this one — a dimpled golf-ball as found in a classic GTI would be lovely — but that's just a personal thing.
Driving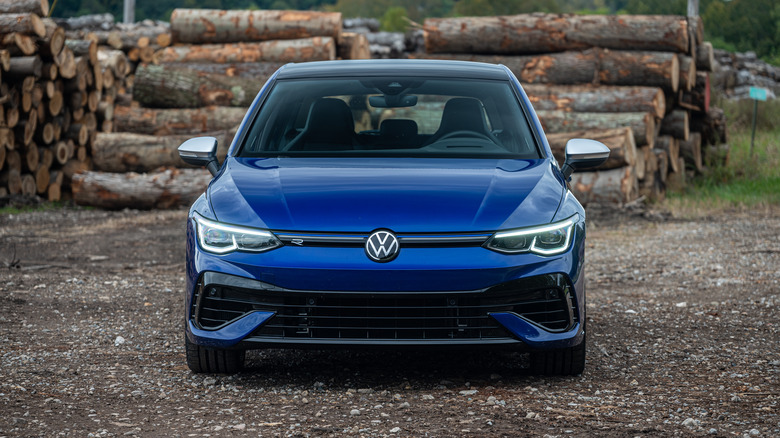 Chris Tonn/SlashGear
There are a number of user-selectable drive modes accessible via a general MODE button below the large touchscreen: a press of said button will call up selections including Comfort, Sport, and Race. Pressing Race reveals a submenu offering modes such as Special and Drift. The various modes tweak the level of steering effort, throttle response, damper stiffness, and stability control parameters.
I have neither a closed course nor a truckload of spare tires at my disposal, so the Drift button remained unpressed. The Special button, however, includes a tiny pictogram outline of the Nurburgring, and this piqued my curiosity. Special mode is tweaked to the settings best suited for the namesake track; including, interestingly, slightly softened suspension damping. A button press brought up green ambient lighting around the instrument panel, inspired, no doubt, by the "Green Hell" nickname applied to the leafy, twisty public racetrack in the mountains of Germany.
Nurburgring mode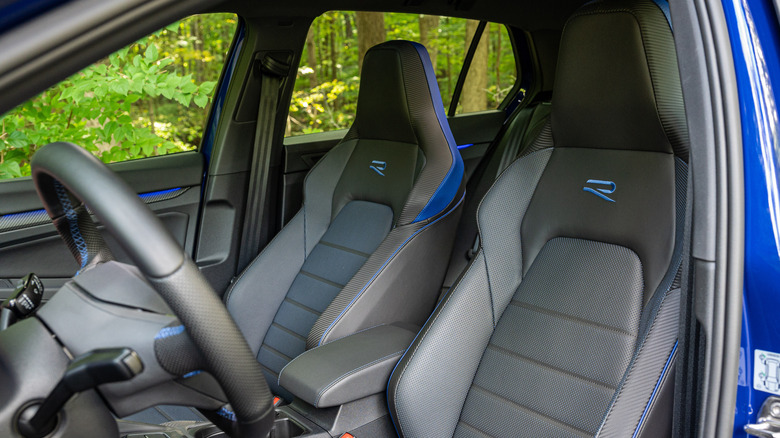 Chris Tonn/SlashGear
Anyone who's passed through Ohio knows that hell is real, it's adjacent to Almost Heaven West Virginia, and we've discussed the foliage now autumn colored as Seurat himself might have. I pointed the flat-bottomed wheel of the Golf R to Ohio's Hockingring, and the Special mode delivered.
My prime complaint here lies once again with the control surfaces. On the nine o'clock spoke of the steering wheel, a blue R button will immediately switch the car to Race mode. Which is fine — race mode is fun — except when trying to set a cruise control speed with the SET button immediately above. Conversely, on the three o'clock spoke is the button turning on the heated steering wheel. Convenient, but a bit too easy to press if hustling through the curves with hands at three and nine. My palms were sweaty already — knees weak too, but I cook my own spaghetti — and making my hands even hotter wasn't necessary.
But these are minor things when considering the immense joy I get from driving the Golf R. I can overlook these issues as my grin widens. I've found myself focusing on the steering wheel controls wherever possible, and relying on an automatic HVAC setting that will give a comfortable enough temperature no matter the outside climate. It's that good. The Golf R leaves you believing it can anticipate the road ahead, and the quick reactions and sure traction make each corner a genuine thrill.
2022 Golf R Verdict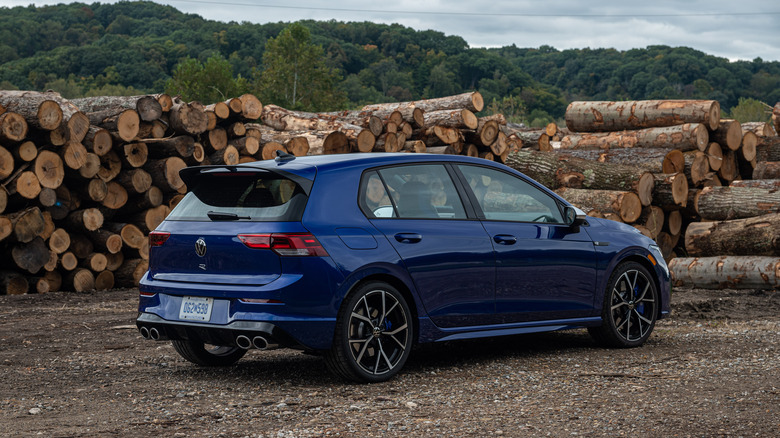 Chris Tonn/SlashGear
When you're considering the Golf R, there is likely a single competitor that comes to mind: the Honda Civic Type R. Indeed, the coming four-seat super hatch likely will match up nicely on paper, on both the spec sheet and the bottom line selling price. But as this VW has moved into the above-$40k price bracket, there are a number of performance cars of various flavors that bear consideration. Cars such as the latest Nissan Z, Chevrolet Camaro, and Ford Mustang can all be had (depending on the trim level) for roughly the same price, and can all make similar speed as this Veedub.
To be perfectly honest, I'm trying to picture telling myself twenty years ago that a Volkswagen Golf would be priced similarly to pony cars and other sports cars – and perform quite similarly on instrumented tests. The affordable performance car market has been whittled down to a select few models, all of which are marvelous choices.
While there are a few annoying flaws in the interior of the 2022 Volkswagen Golf R, I do believe that a compelling case can be made for this hot hatch. The surefooted all-wheel drive and resulting heroic performance on unpredictable roads yield a rewarding drive, while it's docile enough whilst commuting that you forget about the Mr. Hyde side that comes out as you turn onto Big Pine Road.