2020 VW Golf 8th Gen revealed: Five hybrids, GTI and R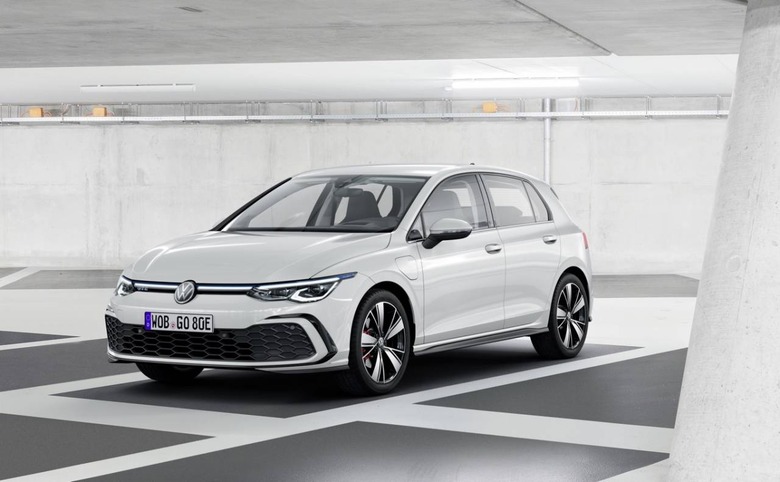 One of the most recognizable and popular of VW's line of vehicles is the Golf. The company is set to launch a new 8th-generation for the iconic Golf, and with the new generation it's being electrified in a big way. VW will introduce five new hybrid versions of the Golf intended to increase fuel economy and reduce emissions, sitting alongside the usual performance versions, the Golf GTI and Golf R.
VW says that the new drive technologies can help cut fuel consumption by up to 17-percent, and that the new Golf will be the first of the automaker's vehicles to launch with eTSI and eHybrid versions. The eTSI will include three 48V mild-hybrid designs that generate 81 kW, 96 kW, and 110 kW, combining a TSI engine with a belt starter generator and a 48V lithium-ion battery. Consumption on the European WLTP cycle could be cut by as much as 10-percent, VW says, with the eTSI engines.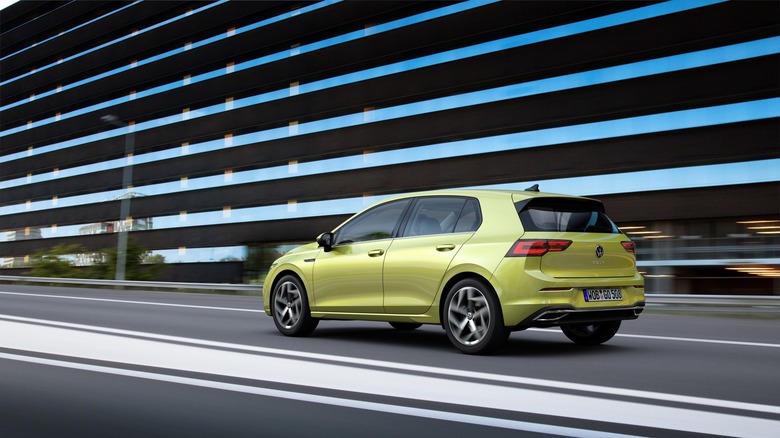 For those who want even more efficiency – and power – there'll be the 2020 Golf eHybrid. That's a is a plug-in hybrid, and it will launch with two outputs, including a 150 kW version and a GTE that makes 180 kW. Each will use a new 13 kWh lithium-ion battery, for greater all-electric range. Volkswagen says that the 8th Gen Golf eHybrid should be able to drive for up to 60 kilometers (37 miles) on electric power alone.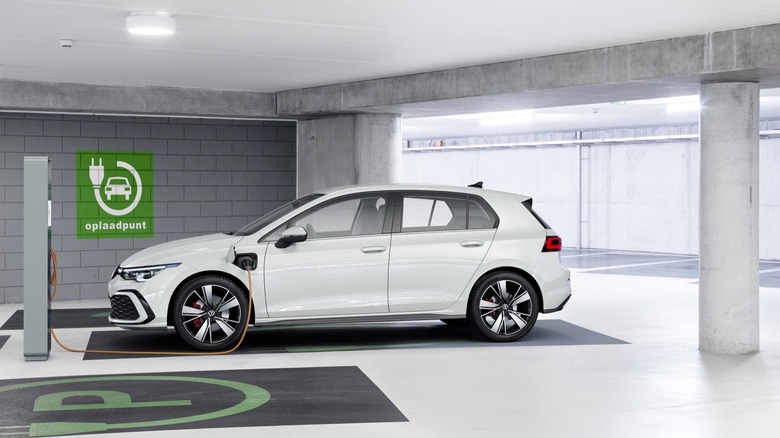 It's not just hybrids that will be offered, however. VW will also be offering gas (TSI), diesel (TDI), and natural gas drive (TGI) models of the new Golf, depending on geography. There'll be two four-cylinder gas engines with 66 kW / 90 PS and 81 kW / 110 PS, two four-cylinder diesel engines with 85 kW / 115 PS and 110 kW / 150 PS, and finally a TGI with 96 kW / 130 PS.
Regardless of drivetrain, VW says all of the cars will be "intelligently digitalized" for fast and intuitive operation. By that, it means entirely digital instrumentation, and indeed the Golf will be the first model in its price segment to have a completely virtual cockpit as standard. The car will also offer voice control that responds to natural voice commands, rather than forcing drivers to remember specific key-phrases.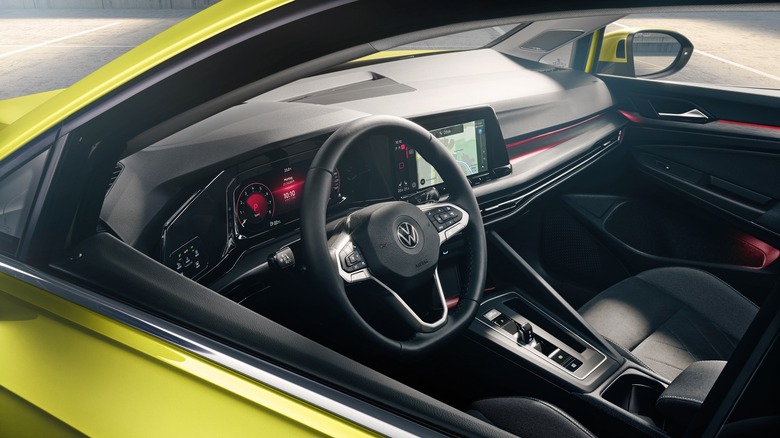 There'll be mobile key support, that allows the owner to ditch traditional keys if wanted, and VW is also integrating on We Connect, and We Connect Plus technology into the car to stream internet radio. They'll also support updates delivered over-the-air, to add new features to the car over time. The new Golf will have three-zone air conditioning, available Harman Kardon sound, and Personalization 2.0 that allows the car to save driver settings and access them in the cloud.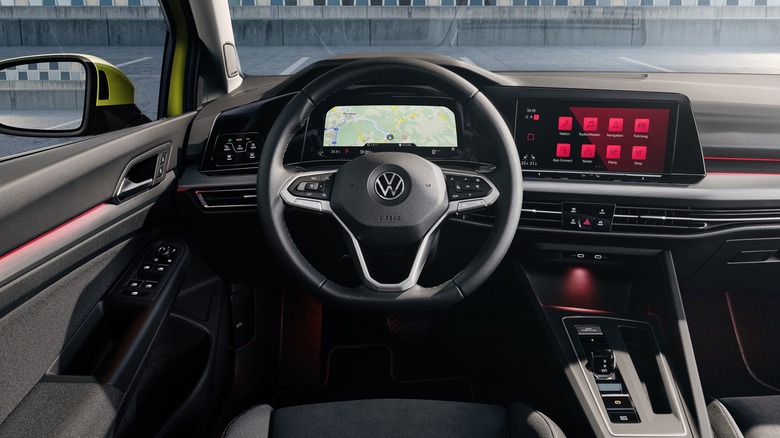 Perhaps most notably on the tech side, VW plans to make its Car2X communication standard across the whole Golf line-up. That will be able to intercommunicate with other cars and compatible city infrastructure, over distances of half a mile, sharing information on potential road hazards and more. It's not the first implementation of C2X we've seen, but the Golf's general popularity could help break the technology into the mainstream.
A windshield head-up display will be available, putting speed into the driver's field of view, and the Golf will also be offered with VW's IQ.Drive with intelligent, active steering up to 130 mph. IQ.Light LED matrix headlights will also be available. In Europe, VW plans to offer only the 5-door version of the 8th generation car, in Golf, Life, and Style trims with R-Line equipment available with a mix of gas and diesel engine options.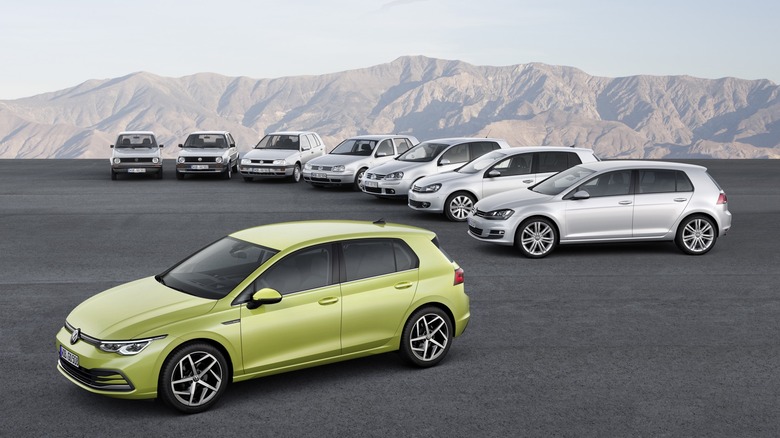 In North America, as of right now only two Golf versions have been confirmed to launch: the 8th Gen Golf GTI and the Golf R. Performance figures for those cars are yet to be confirmed, as is release date. VW of America tells us that the rest of the 8th Gen Golf range is still under consideration, as it decides which of the hatchbacks will be palatable to US drivers. European sales kick off in December 2019, with pricing to be confirmed closer to that point.