2023 Honda Civic Type R Horsepower Confirmed As Hot-Hatch Gets Serious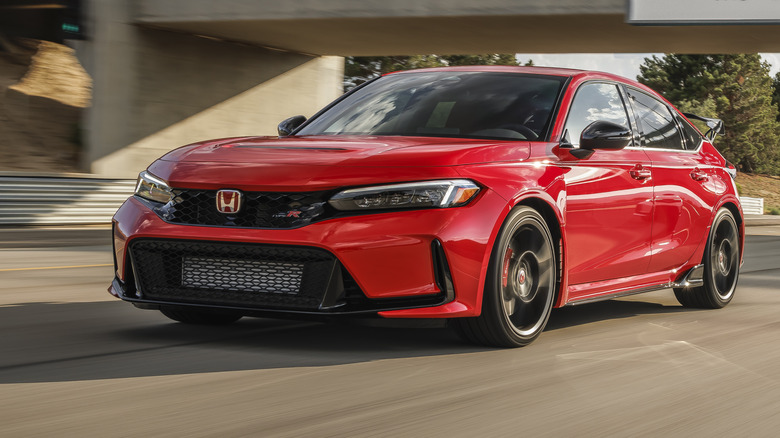 Honda
It's the moment hot hatch fans have been waiting for: Honda has pulled the wraps off the 2023 Civic Type R and confirmed the biggest details we've been waiting for. The most potent of the Civic family will also be the most powerful Honda production vehicle ever sold in the U.S., the automaker boasts, with 315 horsepower and a stick shift transmission as standard.
Honda certainly hasn't been shy about dropping heavy-handed hints. We saw the restrained styling previewed first, and then the promise of more power than the outgoing Civic Type R. 
Still, as only the second of the Civic Type R family to make it to U.S. dealerships, officially at least, the lingering question has been whether Honda could maintain its legacy of performance without succumbing to making the new car too mature for its own good. While the more conservative design might leave you with concerns, the positive news is that everything wrapped up under the significantly-changed bodywork is shaping up to be mighty rewarding for enthusiasts.
Manual-only keeps enthusiasts happy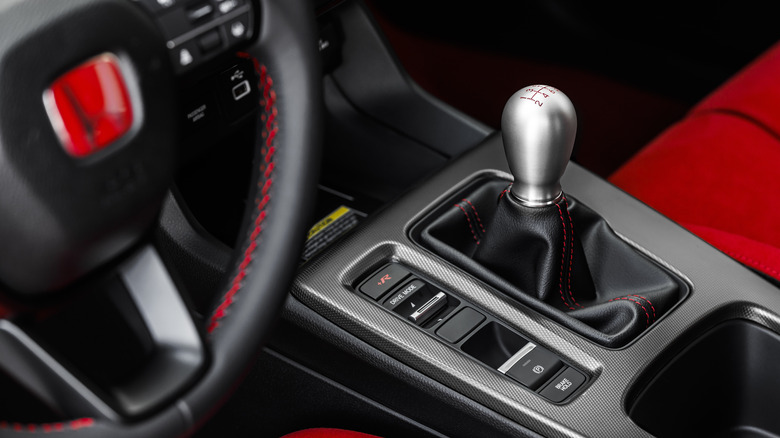 Honda
The key, there, is the drivetrain. Like with the last model — and indeed the latest Civic Si — the 2023 Civic Type R will be offered with a manual transmission only. It's a six-speed stick, with Honda claiming its lighter flywheel and tweaked rev-matching should improve downshift performance noticeably. A high-rigidity level has been added, and there's a new shift gate pattern for more precision.
It also gets a standard helical-type limited-slip differential for feeding power to the wheels. That power — 315 horsepower at 6,500 rpm, and 310 lb-ft of torque at 2,600-4,000 — comes courtesy of a turbocharged 2.0-liter 4-cylinder gas engine, familiar from elsewhere in Honda's range but here tuned to make it far more potent.
In fact, there's 9 horsepower and 15 lb-ft more than you got in the outgoing Civic Type R, leaving this 2023 car toting 157.8 hp/liter. To fettle that extra grunt, Honda added a redesigned turbocharger with a wider pressure range, increased the air intake flow rate, and used a straight-through design for the new exhaust system.
A more restrained Type R aesthetic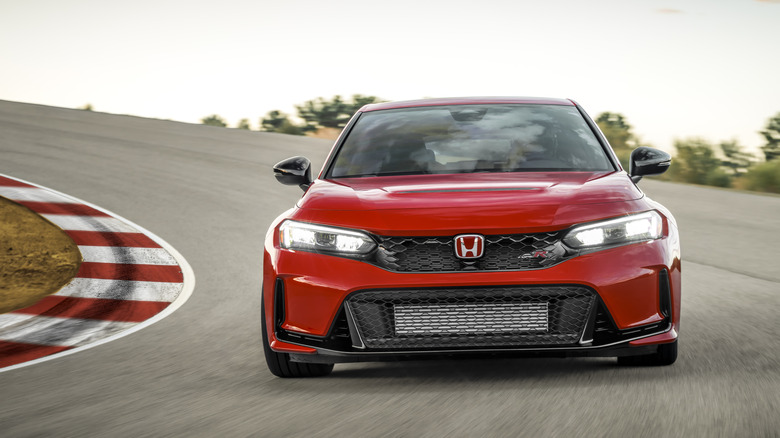 Honda
Likely to be the most controversial aspect of the new Civic Type R is the design. The last-generation car was intentionally, enthusiastically divisive: a riot of scoops, vents, and strakes, and of course a vast spoiler on the back. Some loved it, others hated it, but nobody lacked an opinion.
For the 2023 Civic Type R, though, Honda has taken a more restrained approach. Certainly, the 11th-gen Civic contributes some of that self-control, with an altogether more sober design than its predecessor. Honda, however, has also opted not to go to outlandish lengths with its Type R modifications.
It's 0.8 inches longer, 0.6 inches wider, and half an inch lower than the regular Civic, with an inch broader track at the front and 0.75 inches more at the rear. Wider fenders cover similarly wider bespoke Michelin Pilot Sport 4S rubber, around 0.8 inches wider than the Civic's usual tires. They also use a "reverse rim" design, Honda says, for more stability under load.
The biggest change, though, is undoubtedly at the front, where there's a more aggressive bumper with larger intake vents. In fact, Honda says, all of the body panels from the A-pillar forward are unique to the Type R, while the wider rear doors and reshaped rear bumper are also special to the variant. There's also a new rear spoiler — with aluminum stanchions — and a functional rear diffuser.
Distinctive inside and out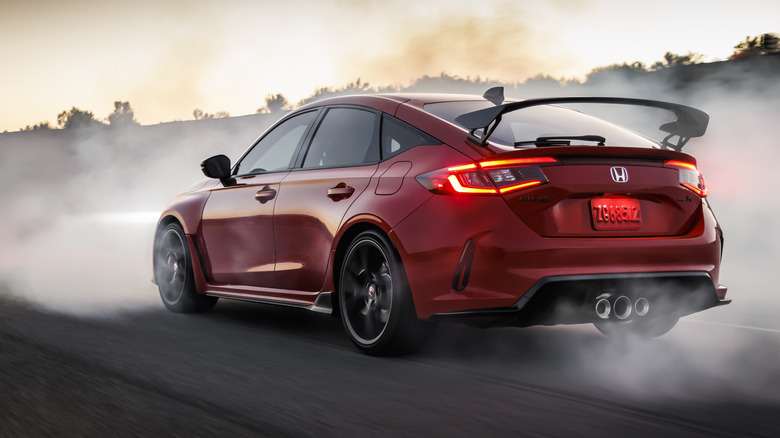 Honda
At the rear is also where you'll find the distinctive triple tailpipes, with Honda using an active exhaust valve that opens up for more sound at higher engine rpms. Its behavior — along with that of the engine, steering, and suspension — are adjusted by the various drive modes the 2023 Civic Type R offers: Comfort, Sport, R+ Mode, and a driver-customizable Individual Mode.
The front dual-axis strut suspension has been retuned, as has the multilink rear suspension, with Honda promising an improvement in straight-line stability and steering feel. For slowing, meanwhile, there are now two-piece front brake rotors, along with improvements in brake cooling. The brake booster has also been retuned.
Inside, there are red suede-effect sport seats with matching carpet and trim, plus an aluminum shift knob. The dashboard gets a serialized Type R plate, along with the larger 9-inch touchscreen — with wireless Apple CarPlay and Android Auto, plus Bose Counterpoint audio — the regular Civic offers fitted as standard. There's wireless phone charging and a new digital instrumentation display, with a custom R+ layout that includes an illuminated rev indicator.
Landing in fall 2022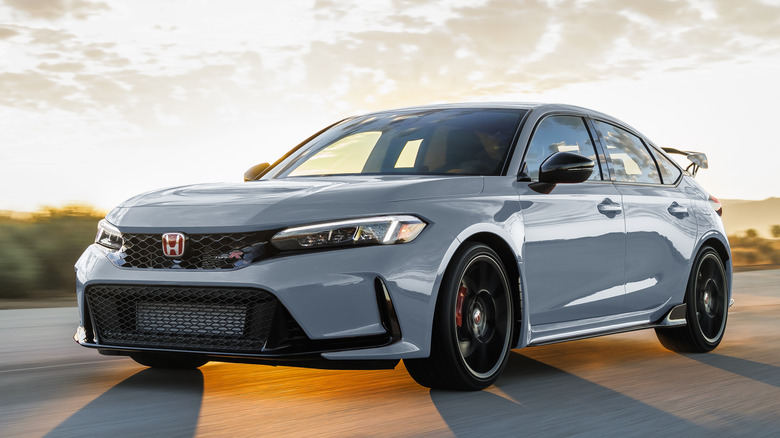 Honda
If you take it to the track, meanwhile — and all signs point to that being a really good idea — there's an updated version of the Honda LogR Performance Datalogger. That taps the Civic Type R's various sensors to record performance for later review, and now no longer requires a smartphone app (though one is supported for exporting and sharing collected data). It'll capture everything from lap times to 3D tire friction, and even calculate a score so that drivers can see how they're improving.
The big question, of course, is just how much all of this will cost us. The outgoing Type R started at under $38k, making it an astonishingly affordable option in the hot-hatch market. Right now, though, Honda is keeping exact pricing close to its chest.
Those details will be confirmed closer to the car's launch, this fall. What we do know is that the 2023 Civic Type R will be offered in a choice of five colors: Championship White, Rallye Red, Boost Blue, Crystal Black Pearl, and Sonic Grey Pearl. The 19-inch matte black alloy wheels will be standard, as will the red suede-effect upholstery for the interior.