2023 Honda CR-V Hybrid Review: Benchmark Crossover Wears Its Electrification Well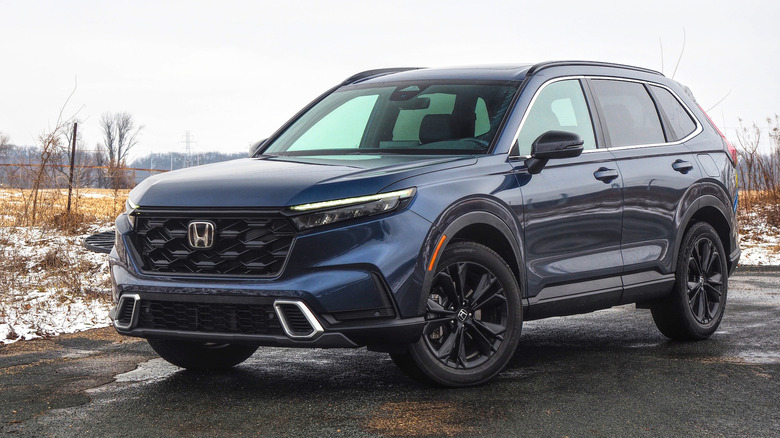 Chris Davies/SlashGear
The Honda CR-V is so ubiquitous, it's easy to forget how much it had to do to win that segment dominance. America's best-selling crossover plays a broad game, aiming to appeal to as many families as possible, and — though Honda's electrification strategy may remain controversial — the 2023 CR-V hybrid is a key element of that. As we've seen before, the message is simplicity: no plugging in, no worrying about recharging. Just reap the economy and practicality benefits as they work away in the background.
It's far from being a teenager, but the CR-V seems to have hit its moody period in this sixth generation. The softer lines of previous models have been replaced with sharper edges, a more upright grille, and daytime running lights that give the crossover a suitably menacing frown. That glow-up continues at the rear, where more angular taillamp clusters and a chunkier spoiler leave the Honda looking more upscale.
Pricing kicks off at $31,610 (plus $1,295 destination) for the EX which — like the Sport Hybrid and EX-L trims — gets 18-inch alloy wheels. The $39,100 (plus destination) Sport Touring Hybrid switches to 19-inch versions. LED lights front and rear, keyless entry, rear privacy glass, and a power moonroof are standard across the board. The EX-L and Sport Touring Hybrid trims get a power tailgate, the latter activated hands-free, while the two Sport models have dual chrome tailpipe finishers.
The mild-hybrid decision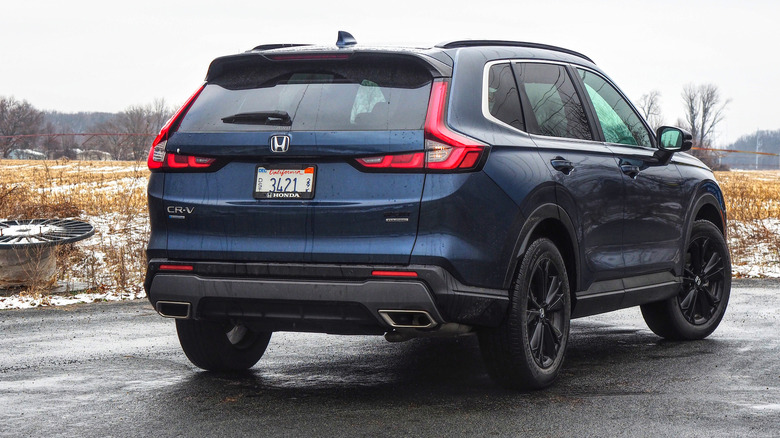 Chris Davies/SlashGear
Honda has two engines for the CR-V, along with a choice of front-wheel drive or all-wheel drive. EX and EX-L trims get a 1.5-liter turbocharged inline-four, with 190 horsepower and 179 lb-ft of torque, a choice of FWD or AWD, plus a standard continuously variable transmission (CVT). It's a familiar engine from the latest Honda Civic, tuned to fall somewhere between the Civic hatchback and the Civic Si in output.
The CR-V hybrids, though, switch to an electrified drivetrain. That pairs a 2.0-liter inline-four gas engine with two electric motors — one traction motor, one power generator — for a total of 204 horsepower and 247 lb-ft of torque. Another CVT is used, but it adds a "B" range shift which cranks up the levels of regenerative braking. The Sport Hybrid has a choice of standard FWD or optional AWD; the Sport Touring Hybrid is AWD as standard.
Either way, it's a mild hybrid — Honda still generally eschews plug-in hybrids (PHEVs) — so there's no plugging in to charge it up. Instead, the diminutive 1.1 kWh li-ion battery is topped up through regenerative braking and from excess gas engine power. Deciding just how much that happens depends on both the transmission mode and how you use the steering wheel paddles.
A lot of regen options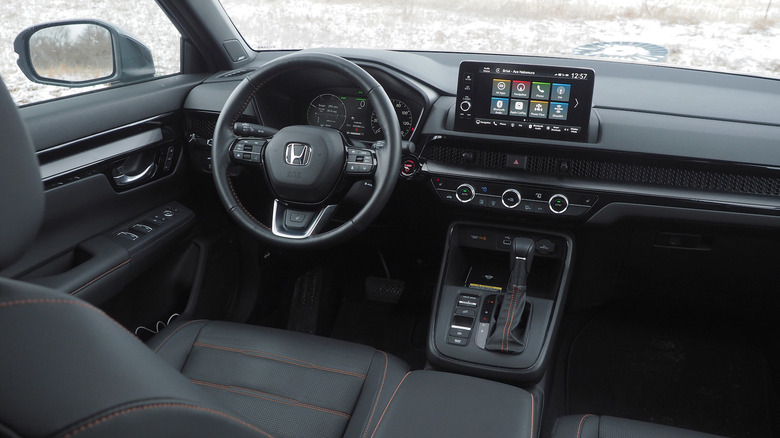 Chris Davies/SlashGear
Traditionally, those paddles would step through the gears. In the CR-V hybrid, they move through four different levels of deceleration strength. At the one extreme, the crossover will coast pretty much like a regular, gas-only car. At the other, you get into the realm of one-pedal driving — similar to other electrified vehicles — where lifting your foot off the accelerator sees the SUV slow considerably.
Exactly how you experience that can be a little confusing at times. For a start, it depends if the transmission is in "D" or "B" where the paddle defaults are different. The four levels operate in different ways in those two transmission modes, too. The CR-V hybrid is also reluctant to stick at the most potent deceleration level: it'll reset to stage 3 out of 4, in "B" mode, after each stop.
I like a high level of regen, personally, so I set the Honda to its most potent. Unfortunately, it's never enough to bring the crossover to a complete stop, but it does make for more comfortable urban driving. Unlike other mild-hybrids there's no dedicated EV mode — though given they're usually strictly limited in both speed and range, that's probably no great loss — only ECON, Normal, Snow, and Sport options.
Economy is king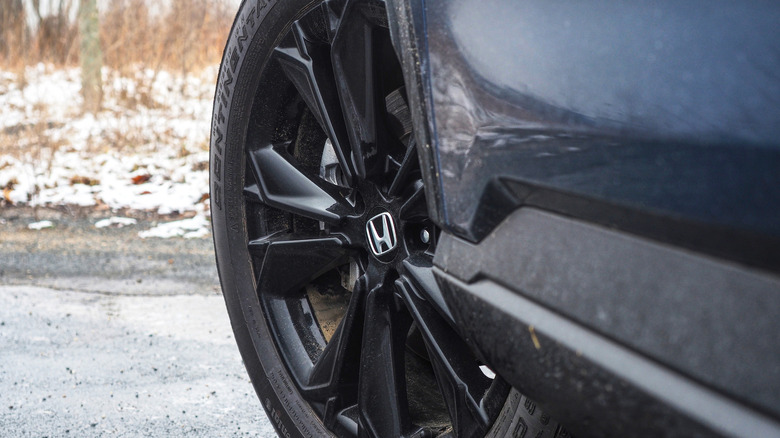 Chris Davies/SlashGear
Like in Toyota's 2023 Highlander Hybrid, the main goal here is extra economy. The 1.5 turbo CR-V with all-wheel drive is EPA rated at 27 mpg in the city, 32 mpg on the highway, and 29 mpg combined. The all-wheel drive CR-V hybrid, in contrast, pushes those numbers to 40 mpg city, 34 mpg highway, and 37 mpg combined.
In practice, my mixed use saw the CR-V hybrid clock in at just north of 30 mpg combined. Short, certainly, of the official numbers — perhaps I was making the most of the crossover's perky pull from a standing start too frequently — but definitely a marked improvement over Mazda's non-hybrid CX-50 turbo. Similar driving in that crossover saw just 23 mpg combined.
Where the Mazda holds its own is in handling. It's not to say the Honda never feels sturdy and settled, it just definitely makes no pretense at being a sporting vehicle. The CX-50, in contrast, handles with far more enthusiasm, and it sounds better too. The CR-V hybrid can grumble when pushed hard.
Also, like the Highlander, you pay a penalty in towing for going for the electrified model. The CR-V hybrid is rated for 1,000 pounds, whereas the turbocharged non-hybrid steps up to 1,500 pounds.
A spacious and well-equipped cabin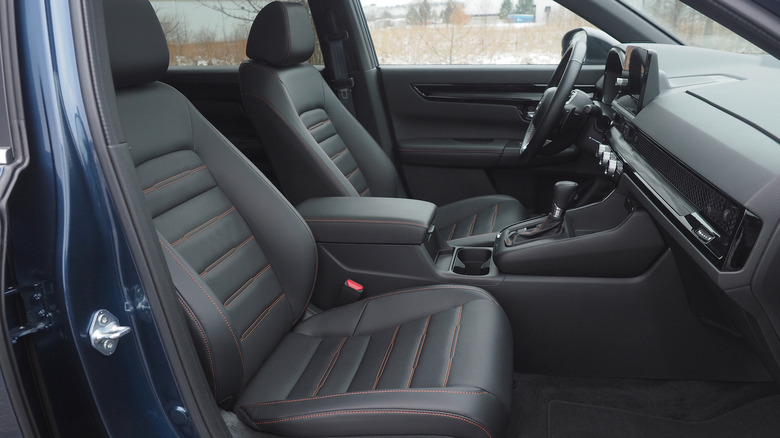 Chris Davies/SlashGear
The practicality continues inside, where Honda's cabin takes a step up in both usefulness and premium feel compared to the outgoing CR-V. The fact that this Sport Touring Hybrid is the flagship trim doesn't hurt, of course, though all versions are reasonably well-equipped.
Dual-zone automatic climate control, ambient lighting, heated front seats, power driver's seat adjustment, USB Type-A and Type-C ports, Apple CarPlay, Android Auto, and two 12V outlets — one in the front console, the other in the trunk — are standard. EX and Sport Hybrid trims get a 240W 6-speaker audio system and a 7-inch touchscreen; the EX-L and Sport Touring Hybrid have a 9-inch touchscreen, wireless smartphone connectivity, and a wireless phone charging pad.
Leather seats and a power-adjusted front passenger seat are standard on the EX-L and Sport Touring Hybrid, too. A solid-sounding Bose premium audio system with subwoofer is exclusive to the Sport Touring Hybrid, which also gets a heated steering wheel and navigation. Sadly there's no ventilated seat option, and only the upper two trims get one-touch up/down windows for both front and rear. EX and Sport Hybrid make do with that in the front row alone.
Taking on the category above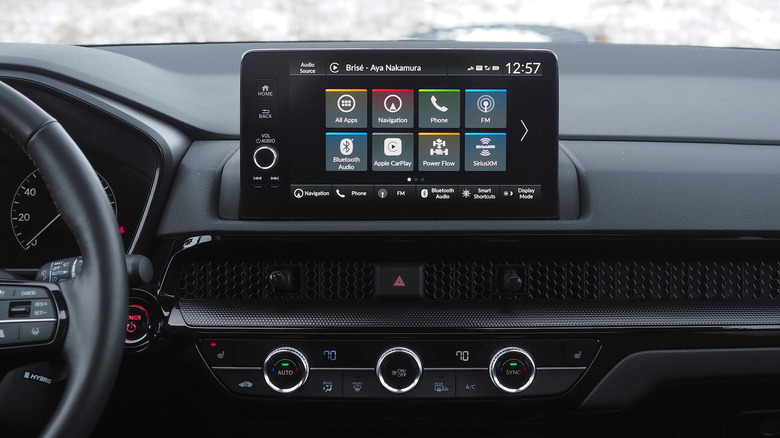 Chris Davies/SlashGear
Those omissions notwithstanding, the CR-V's cabin is a spacious and pleasant place to be. Honda's switchgear strikes a good balance between physical controls — including a volume knob — and reliance on the touchscreen, and the infotainment system prioritizes usability and clear graphics over too much UI gloss. The same goes for the 7-inch driver display, standard across all trims, which shows just the right amount of data.
It's the detailing that charms, though. The cross-dashboard mesh that hides the air vents, and the easily-twiddled joysticks to direct them, are carried over from the Civic. They, like the rest of the switchgear, are plastic, but it at least feels sturdy and there's never uncertainty as to how you're making adjustments.
Rear seat legroom increases by more than half an inch compared to the outgoing CR-V, and the 60/40 split bench can recline at up to eight different angles. Honda has made accessing the LATCH car seat anchors easier, too.
As for cargo, there's a slight compromise for going with the hybrid: no underfloor storage, as that's where the battery is, which means you get 36.3 cu-ft with the rear seats up (versus 39.3 cu-ft in the non-hybrid). Drop those seats, and it expands to 76.5 cu-ft.
Plenty of active safety tech (some of it touchy)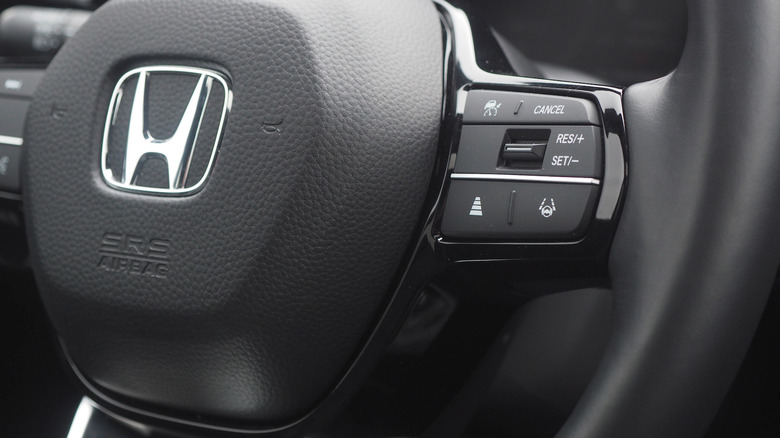 Chris Davies/SlashGear
Honda Sensing is standard across the board, including adaptive cruise control, lane keeping assistance and lane departure warnings, blind spot warnings, collision mitigation braking and forward collision warnings, road departure mitigation, and Traffic Jam Assist. The latter improves steering assistance in highway congestion, though it's always a Level 2, hands-on system so you can't tune out. EX-L and Sport Touring Hybrid cars also get low-speed braking control and parking sensors.
I'm a big fan of Honda making so much of its active safety tech standard, but Honda Sensing can be needlessly tetchy. For this 2023 CR-V, the front view of the camera and radar have expanded, promising a more encompassing perspective of what's happening in adjacent lanes. Unfortunately, I found it struggles with the lanes themselves at times, particularly outside of highways and well-structured urban settings.
Regardless of whether line markings were present or not, back roads tripped the lane departure alert repeatedly, the CR-V trying to nudge the steering despite my being perfectly centered already. There's no simple button to switch that system off, either.
2023 Honda CR-V Hybrid Verdict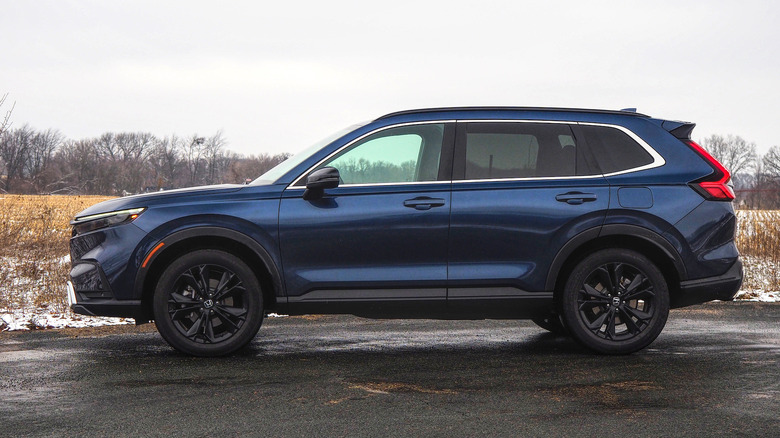 Chris Davies/SlashGear
Could I live with that periodic pointless bleating, given what else the CR-V hybrid brings to the table? Probably, yes. I'd feel a pang of jealousy whenever I saw a CX-50 next to me at the lights, but the Honda's better fuel economy, greater practicality, and improved tech makes for a better family crossover even if driving dynamics don't quite live up to the Mazda's.
The conservative price premium of the hybrid engine over Honda's non-electrified turbo CR-V means it's hard to argue with the benefits on a cost basis. If you really do need that extra towing capacity, then the CX-50's 2,000-3,500 pound rating — engine depending — is calling your name instead. Though the CR-V Sport Touring Hybrid's healthier equipment levels are appealing, at $34,450 a Sport Hybrid (before destination but including the $1,500 AWD upgrade) strikes a compelling balance.
Still, even at $39,845 (including destination) for this 2023 CR-V Sport Touring Hybrid, the Honda holds its own. Smooth on the road, reasonably efficient at the pump, and offering plenty of cabin space for passengers and their stuff alike, this stalwart — and benchmark — of the small SUV category makes a very strong argument.