2023 Mazda CX-50 Review: Carving Out SUV White Space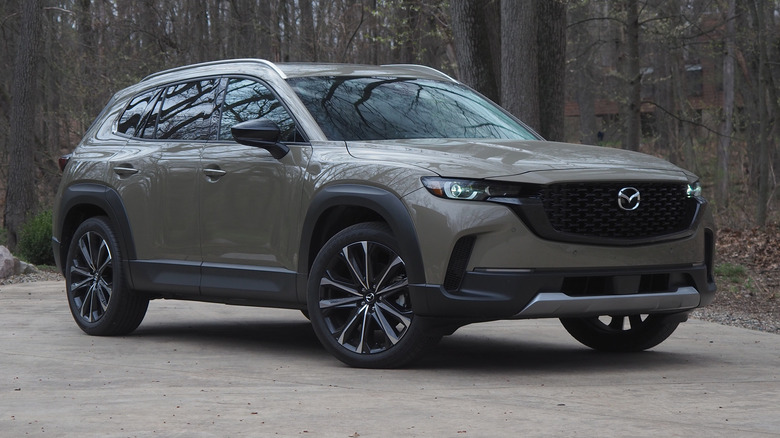 Chris Davies/SlashGear
Things are getting a little confusing in Mazda SUV land. The 2023 CX-50 follows the smaller CX-30 in seemingly duplicating some of the automaker's mainstays, namely the CX-5 and the CX-3. The last of those four has bowed out of the US market, but you'd be forgiven for wondering how the CX-50 and the CX-5 compare — or, for that matter, how they'll coexist.
It's a serious question, not least because in North America it's the CX-5 which bears Mazda's sales crown. With almost 170k sales under its belt in 2021, that model alone is responsible for nearly half of the company's business last year. Get the positioning right, and Mazda could find itself unlocking even more sales in its most lucrative segment.
Get it wrong, though, and it could just end up cannibalizing its most popular SUV.
Longer, wider, lower, and meaner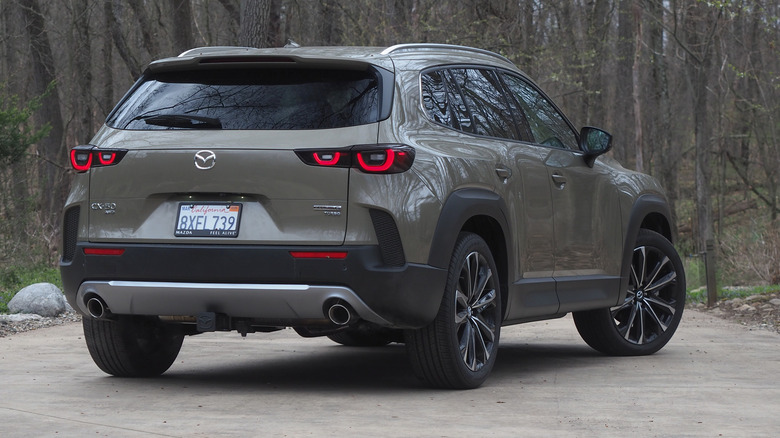 Chris Davies/SlashGear
Despite the names, the CX-50 is actually more closely related to the CX-30 than the CX-5. It's based on the same platform as the CX-30 — as is, for that matter, the excellent Mazda3 — though Mazda has stretched things for the CX-50. In fact, it's almost 7 inches longer and over 3 inches wider than the CX-5, though around 2 inches lower.
That dimensional massage helps gives the SUV a surprisingly different aesthetic, aided by Mazda's more aggressive styling overall. With chunky wheel arch cladding, a wide grille with matching color treatment, and a paring-back of the usual chromework, the overall feel is of a more purposeful and sporting interpretation of the crossover. The Zircon Sand Metallic paint job ($395) of this particular example only emphasizes that idea, an eye-catching finish that suits the CX-50 nicely.
If the CX-5 feels like an unassuming family hauler, then, the CX-50 is more reluctant to set aside its playtime ambitions. In Turbo form, there are 8.6 inches of total ground clearance — about an inch more than the CX-5 — in what feels like a very intentional nudge into Subaru Outback territory. 17-inch wheels are standard from the $26,800 (plus $1,225 destination) base 2.5 S on up to the $34,400 2.5 S Premium trim, but above that Mazda switches them out for far more handsome 20-inch versions.
Inside, style demands some compromise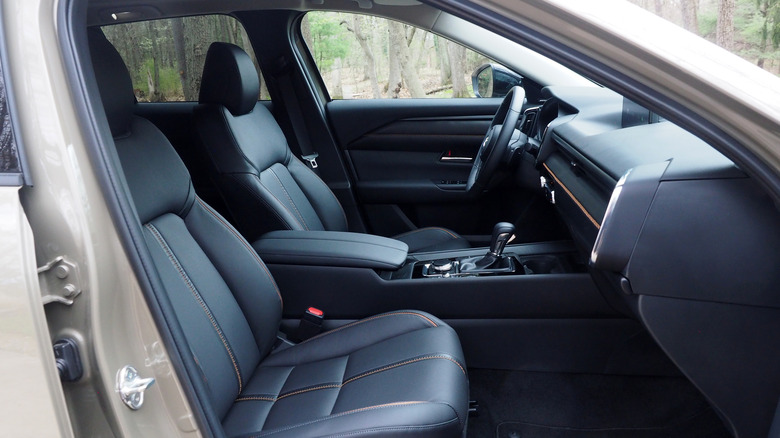 Chris Davies/SlashGear
Inside, it'll come as little surprise to hear that the exterior dimensions leave overall legroom and cargo space higher than what you'd find in a CX-5, but compromise the CX-50's headroom along the way. The roofline in the second row drops 1.5 inches compared to the CX-5, though at 37.5 inches it's not dire. Generally, things are comfortable enough back there for two adults.
As for cargo, with the rear seats up you get 31.4 cu-ft to play with: more than the CX-5's 30.8 cu-ft but short of the Outback's 32.5 cu-ft. Drop them, and that expands to 56.3 cu-ft in the CX-50: the CX-5 maxes out at 59.3 cu-ft by virtue of its taller roofline, but the Subaru bests them both. Its wagon-esque body offers a hefty 75.7 cu-ft with its second row flattened.
Two engines, but a clear winner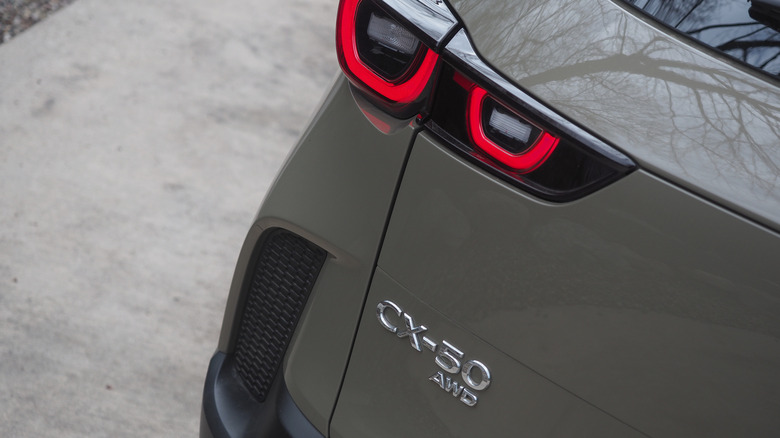 Chris Davies/SlashGear
Mazda's standard engine for the 2023 CX-50 is its 2.5-liter Skyactiv-G inline-four, naturally-aspirated with 187 horsepower and 186 lb-ft of torque. The Turbo model (from $36,400), as the name implies, throws a turbocharger on for 256 horsepower and 320 lb-ft of torque, assuming your budget stretches to premium gas. The Skyactiv-G Turbo will, at least, chug along happily on regular gas instead, though you sacrifice 29 hp and 10 lb-ft in return for frugality at the pump.
Either way, all-wheel drive is standard, along with a six-speed automatic transmission. The standard engine is rated for up to 2,000 pounds of towing capacity, short of the Outback's 2,700-pound rating with its base engine. As for the turbo, that bumps things up to 3,500 pounds in the CX-50, matching the specs there for Subaru's similarly-optional 2.4-liter turbo.
Mazda's non-turbo engine is no slouch and holds up unexpectedly well in the smaller CX-30. I suspect, though, that the turbocharged version in my review car is the powertrain to have. It's punchy and that uptick in torque — more than 40 lb-ft extra than you get in the Subaru — delivers its benefits well, both from a standing start and at highway speed maneuvers.
Mazda's focus on dynamics pays dividends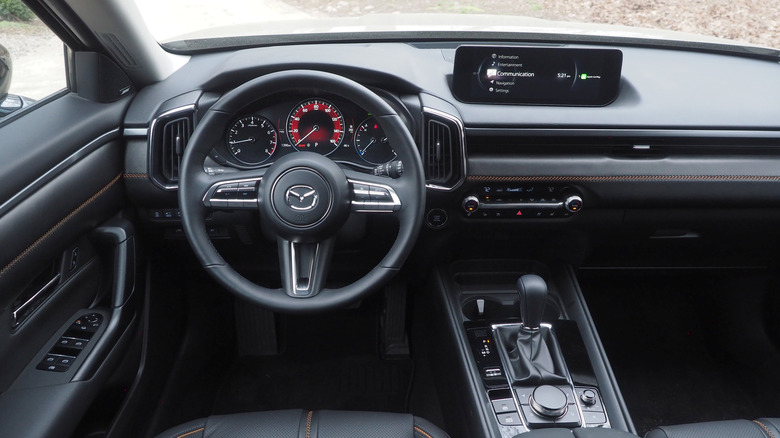 Chris Davies/SlashGear
In fact, the CX-50 is genuinely entertaining from behind the wheel. That's something we've come to associate with Mazda, not least because of its expertise at chassis dynamics. There's no adaptive suspension magic here, and switching into Sport mode only really makes the throttle more eager and instructs the transmission to hold lower ratios for longer, but this is still more fun than most midsize crossovers can manage.
Part of that is how neatly torque is handled, front to rear. Mazda's system intelligently shuffles that power between the axles according to driving style and mode, prioritizing the rear for straight-line acceleration. Come the corners, though, the firm suspension and some adept placement of torque leaves things impressively roll-free, while the turbo engine adds a welcome squirt of highly accessible grunt as you exit a turn.
The downside to such playfulness is the toll it takes on economy. The standard engine is rated for 24 mpg in the city and 30 mpg on the highway; the turbo sees them dip to 23 mpg and 29 mpg respectively. In my own, mixed driving — including a decent amount on the highway — I saw just over 23 mpg.
Off-road mode is new, but be realistic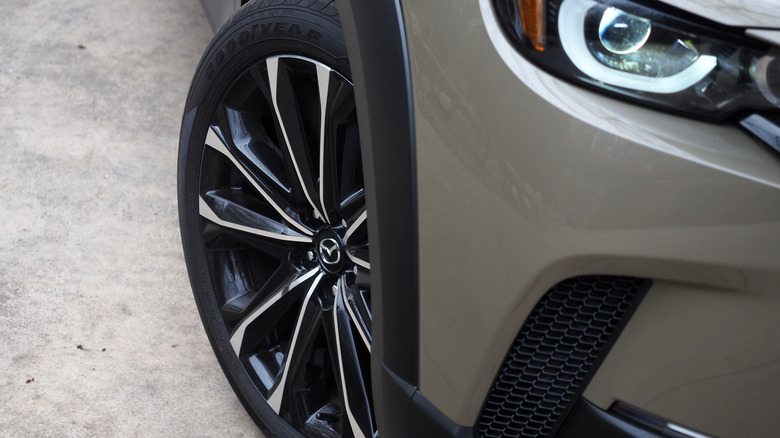 Chris Davies/SlashGear
Along with the increase in ride height, Mazda also added a new Off-Road mode to the CX-50. It's something the CX-5 lacks, though it's not going to turn the SUV into a Land Rover.
Basically, Mazda futzes with the way the traction control and electric power steering systems work, in the hope of bringing extra stability and predictability to the driving experience. Torque distribution is also adjusted, aiding grip on low-traction surfaces like gravel. There's no explicit hill-descent mode, though the CX-50 will tweak the transmission and brakes to try to smooth out low-speed maneuvers of that sort.
The overall result is generally positive, as long as you have realistic expectations. This wouldn't be my first pick for serious off-roading, but pointed down a series of dirt and gravel backroads the CX-50 held itself nicely. Compared to the Normal mode the crossover starts up in, Off-Road mode felt more stable in its steering and a little less squirmy in general. I suspect that's more than enough for the target audience here.
A high-end cabin with a mid-range price tag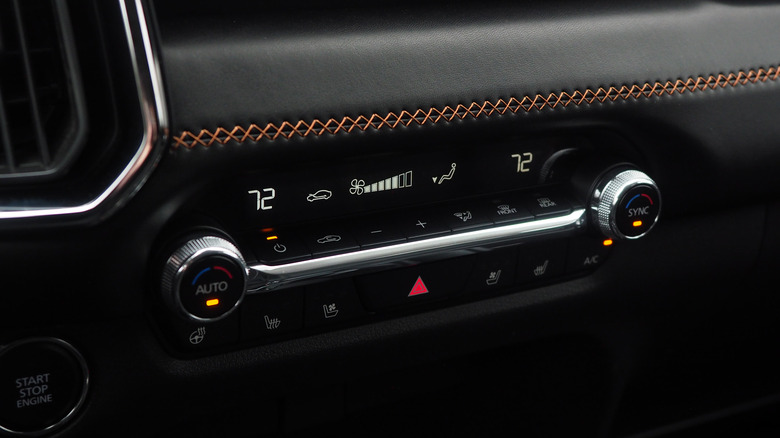 Chris Davies/SlashGear
That audience will probably be more focused on Mazda's cabin and the gadgets that the CX-50 brings to play with, and they won't be disappointed. Along with dynamics, the automaker has been demonstrating it can punch well above its segment for materials, design, fit, and finish, and this newest crossover is no exception to that.
Half-leatherette seating is standard once you get past the very base trim, and then leather comes standard on the 2.5 S Premium and all of the Turbo models. Mazda's contrast stitching — which features not just on the seats, wheel, and transmission shifter, but on the dashboard, too — looks great, as does the judicious application of chromed parts. Heated front seats arrive at 2.5 S Preferred trim and above, while ventilation is offered on the higher trims, along with a heated steering wheel and a sliding panoramic roof.
The end result is an interior that feels like it was benchmarked against Audi and BMW, not Kia and Subaru. The downside is that, if you really intend on going off-road, the Outback's more rugged cabin may be less impacted by the inevitable mud and scuffs. For most, though, the CX-50's materials refinement will be preferable.
Plenty of tech, and a few lingering frustrations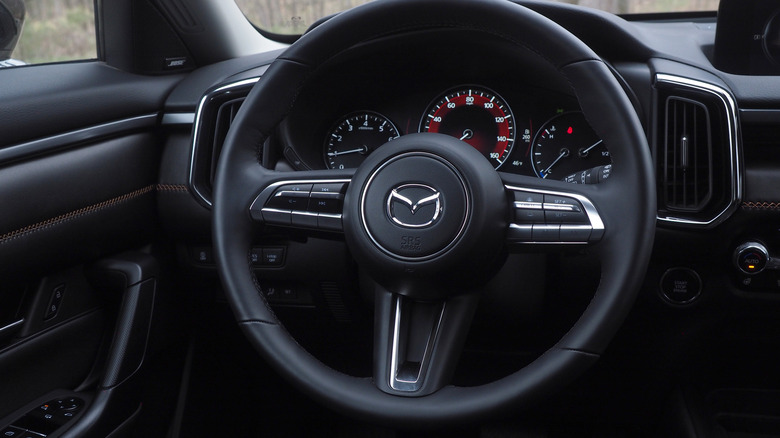 Chris Davies/SlashGear
Mazda's standard safety technology includes blind-spot monitoring with rear cross-traffic alerts across the board, plus lane-departure warnings with assistance, and front emergency braking support. Adaptive cruise control is standard, too, though top-spec cars get Traffic Jam Assist as well. That's a hands-on system designed to better keep you centered in the lane, but unlike rival tech it only works at speeds up to 40 mph.
All trims get a 7-inch driver display with restrained graphics, and either an 8.8-inch or 10.25-inch infotainment screen atop the dashboard. It's a simple system, navigated via a scroll wheel down in the center console that's flanked with shortcut buttons. A head-up display for the driving basics is standard on higher trims.
Wireless Apple CarPlay and wired Android Auto are supported, though then you run into Mazda's long-standing weirdness in how it allows for touchscreen use. Despite what its own infotainment system might imply, the CX-50's center display will in fact respond to your fingers in Apple and Google's smartphone projection interfaces. That, however, shuts off when you're driving, unless you dig into the settings and enable the "Touchscreen in Motion" option.
Even then, you'll be back using the scroll wheel any time you find yourself back in Mazda's UI. The positioning of the display itself, too, makes touch feel like an afterthought: it's quite a stretch away.
Don't let the overlap fool you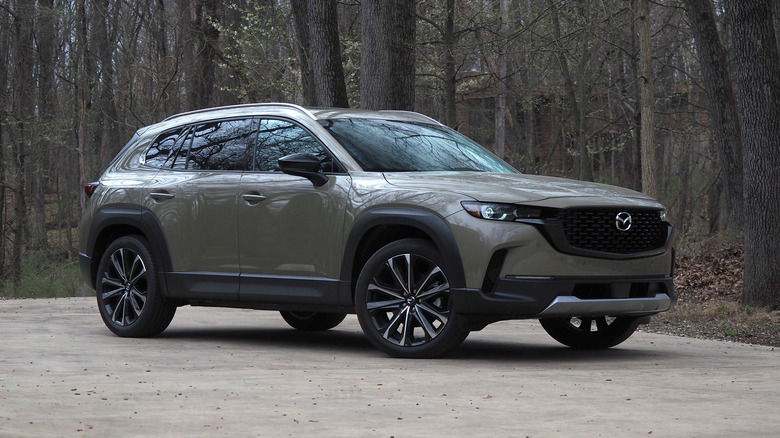 Chris Davies/SlashGear
Despite the clear overlap, the 2023 CX-50 manages to feel unexpectedly distinct from its CX-5 cousin. The crossover umbrella is a broad one, after all, and though the $26,800 (plus destination) starting price is only a few hundred dollars more than you'll pay for a base CX-5, at the higher echelons the CX-50 feels more purposeful and upscale.
The aggressive styling helps there, as does the new off-road mode, conspiring to nudge the newer crossover into "lifestyle vehicle" territory. Meanwhile, Mazda's reliably-excellent dynamics mean there's more here for the enthusiastic driver than is the case in most models in this segment, and the upscale interior is welcome differentiation — infotainment headaches aside — from rivals with similar price tags.
Sure, a CX-5 is a little more practical, and a Subaru Outback a little more rugged, but the CX-50 carves out an appealing niche of its own somewhere in-between. This new SUV feels like it falls even closer to where Mazda's audience clearly skews, usable without giving up entirely on the idea of driving engagement.