Ring Spotlight Cam Pro Review: Home Surveillance Made Easy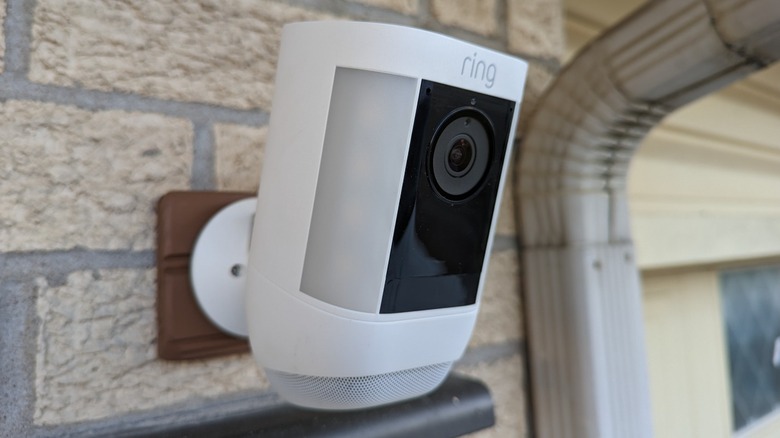 Justin Owen/SlashGear
We may receive a commission on purchases made from links.
Ring doorbell cameras have seen exponential growth over the past decade with the once-novel device being a must-have for home security. The company took off shortly after an appearance on Shark Tank in which it actually failed to make a deal. But as it grew and expanded, so have the products offered to accompany the doorbell units. A few of these that work within the Ring ecosystem include its Ring Alarm Pro, Ring Intercom, and a couple of new cameras, the Ring Spotlight Cam Plus and the Ring Spotlight Cam Pro — the subject of this review. The home security space is highly competitive and customers have camera options such as the Arlo Pro 3 or the Vivint Outdoor Camera Pro Gen 2, so it is important for Ring that this one is up to snuff if the company wants to keep an edge over its competition.
While the Ring doorbell camera continues to be its mainstay and flagship product, integrating companion devices is a practical way of expanding its already sizable customer base. Ring provided SlashGear with a camera for the purpose of this review. While I am fortunate no live tests with a genuine security threat occurred to test its effectiveness, here are my impressions of how Ring's latest security device stacks up through ordinary daily use.
Out of the box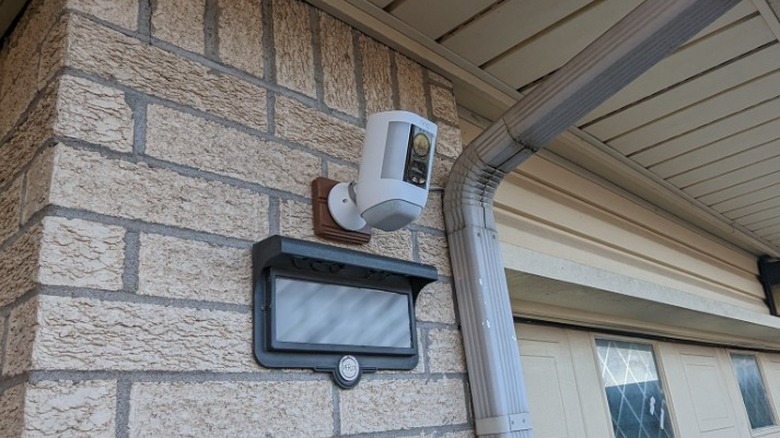 Justin Owen/SlashGear
The total package for the Ring Spotlight Cam is fairly compact. It can be ordered in one of two versions depending on the intended installation. For homeowners, the Spotlight Cam comes ready to wire to the house or it comes with a standard wall plug for renters or those wanting a simple installation. Regardless of which version is desired, it still must be mounted to a solid surface and comes with appropriate hardware. Instructions indicate that it can be mounted on a wall or hanging from a horizontal surface such as the underside of an eave.
Once you have it unpacked, the installation is easy. The camera itself hangs from a single mounting point on a base to the wall. The mount comes in two parts including a backing plate that is screwed to the mounting surface and covered by the circular mount that the camera hangs on. If done properly, the screws affixing the camera to the house are hidden, reducing the opportunities for someone to steal it. Since the mounting hardware is plastic, anyone who really wants it can rip it from the wall, but that is the case with nearly anything we buy, so putting it up high and out of the way is probably a good way to prevent that. 
As a renter, I reviewed the plug-in version to avoid the need for an electrician. I did create a small wooden base to mount the camera into some masonry and ensure secure mounting, which added some time to the installation. The total time from box to powering on was about 1.5 hours. Securing it to a wood-sided house would likely take less than an hour. Everything needed for a basic installation comes in the box.
Easy setup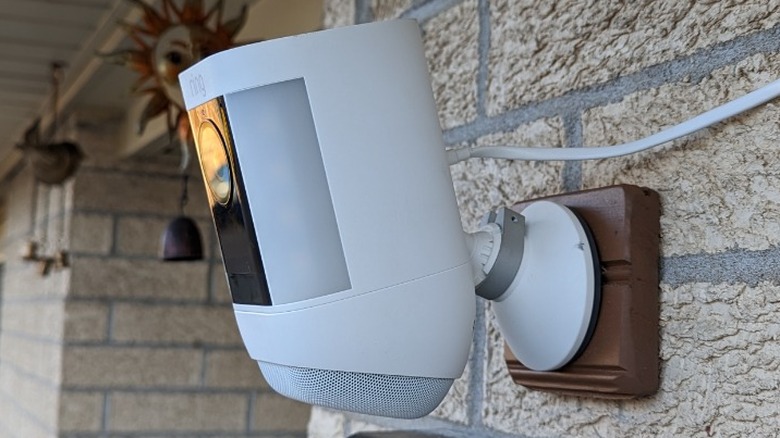 Justin Owen/SlashGear
After the Spotlight Cam is powered on, getting it working is pretty basic: download the Ring app and follow the instructions. The camera has a small QR code sticker that is used by the app to identify which product is being set up, but after that, the only thing you will need is your Wi-fi password.
Once connected, setting various functions and parameters on this camera is a highlight of this camera and offers a few functions to make it worth buying. Once the camera is live and connected to the app, a few things need to be set before it is ready to sit at the ready. There is a function in which motion alarms are set by area. The app will prompt you to set the area of detection used to trigger notifications, allowing the user to block out heavy traffic areas or ignore visitors to a neighbor across the street. Connected to this is a bird's eye view that uses an overhead view and corresponds to geolocation in the app.
Other functions include integrating the camera into the Ring app to work in tandem with other Ring devices. Schedules can be set so that motion is only detected at set times or can be snoozed for a set duration, avoiding constant notification during a party, for example. The app and camera functions are robust and versatile.
The Ring Spotlight Cam Pro features a 1080p HD camera with two-way audio and a flexible mounting system. A large speaker is located on the bottom of the unit and two very bright LED lights flank the camera, and are activated with motion or remotely controlled through the app. The motion detection for the lights is 270 degrees while the camera lens field of view stretches 140 degrees.
Practical security features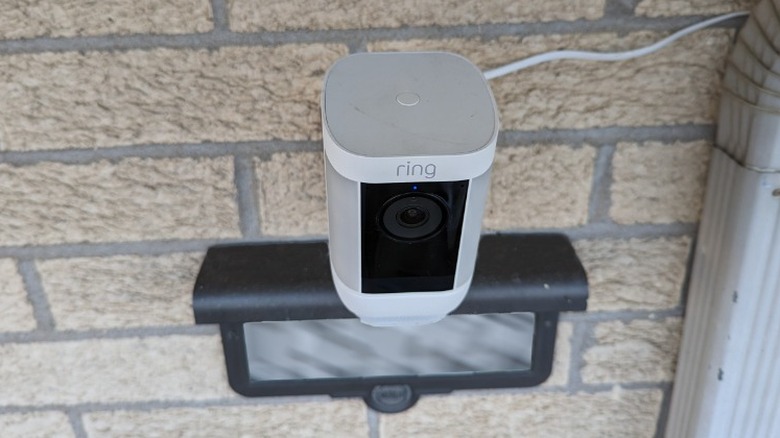 Justin Owen/SlashGear
This camera's image quality is excellent and the field of view is above average. From the front of my house, I can view most of the way up the street and nearly see the doors of houses next to mine thanks to the wide-angle lens. Furthermore, the resolution is excellent, offering the ability to zoom in surprisingly close, a helpful feature when trying to identify miscreants and criminals caught in the act. 
It also offers night vision with the option to have color even at night and the picture is nearly as sharp as the daytime view. The black and white option is offered for cameras that are battery-powered as it employs infrared and uses more power. The proliferation of doorbell cams has led to a multitude of bad behavior caught on camera, and this device catches much more detail than just a doorbell camera. While the doorbell cam is an almost necessary modern device, the Spotlight Cam is nearly as valuable a companion to a modern homeowner or renter.
In addition to the picture quality, the sound is also very good going both ways. The clarity from the microphone is excellent, picking up everything one might hear standing on the front porch. The Spotlight Cam also has a large speaker installed on the bottom of the device and is more than loud enough for visitors or intruders to hear. 
It plays a chime when someone walks past it and also offers a siren that can be activated through the app. The siren strength will draw attention from anyone around and is likely to scare off anyone looking to grab packages from your porch or to take advantage of an unlocked door.
App integration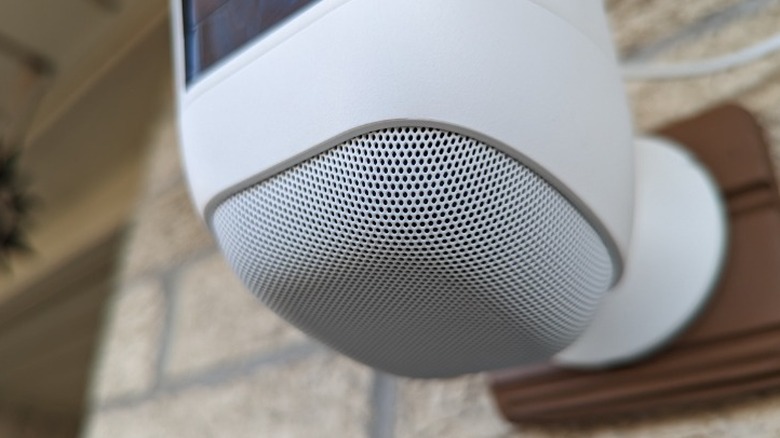 Justin Owen/SlashGear
The Ring app does several things well. The ecosystem to be used with other Ring products such as the doorbell, alarm, intercom, and more gives users an easy way to manage their household from front to back. Another feature that I found useful is the sort of social neighborhood function. It works much like the Nextdoor app in that it gives users the ability to spread alerts to others within the same geographical area. 
Being integrated with Ring also means videos can be quickly disseminated. I found many of the alerts to be trivial matters such as loose or lost dogs in the neighborhood. However, alerts posted with video from the area showed a person stealing tools in my neighborhood from at least one vehicle — and he was spotted trying to get into vehicles at two more locations. 
His vehicle was also captured in the video, which led another user to respond with the tag number after having seen it in the area. Hopefully, it will lead to an arrest.
Playback of recorded videos captured by the camera works well in the app and it is apparent the app is well-developed and mature. My aforementioned doorbell camera comes from another company with an app that leaves much to be desired in terms of functionality. 
Ring products cost more and it is apparent some of that expense goes into the software as much as the hardware. Having various Ring products connected to a single app can also reduce extraneous notifications. I get doubles every time I set off the camera and doorbell while entering the house.
Functional application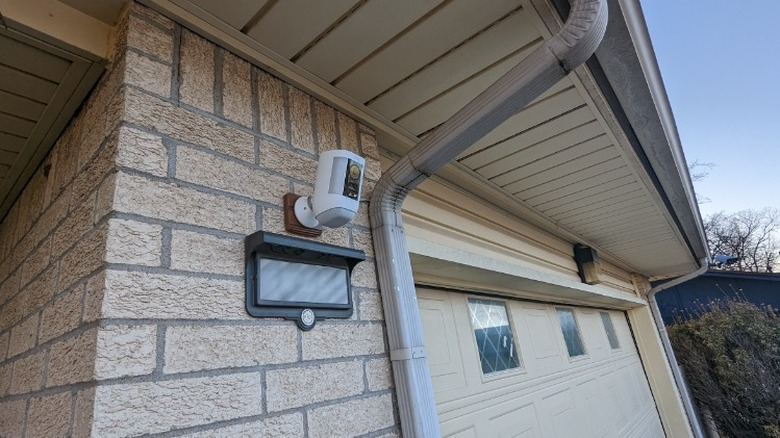 Justin Owen/SlashGear
While the Ring Spotlight Cam Pro is heavily marketed toward consumers, opportunities exist for a range of uses. With the seamless integration into a single app, a homeowner can install as many as wanted so long as electricity can be made available. Although it is weatherproof, nothing is stopping using it inside. It could be used for surveillance inside a large workshop, giving employers the ability to speak directly to employees from anywhere with a Wi-fi signal. Further integration with Ring's available alarm components makes for easy installation of full-scale property protection with the addition of just a few components.
For the millions of people who already have a Ring doorbell installed, the Spotlight Cam Pro makes for an easy decision to purchase. For anyone who currently has no doorbell camera at all, this should give an advantage to purchasing a Ring doorbell, as the Spotlight Cam is an easy addition for those who want extra security. And for those who have another kind of doorbell cam, this is still a good option for a security camera for added monitoring of your home or business.
Regardless of their purpose, all of these products operate on a subscription model, and the recurring expense of cloud video storage is the biggest drawback. We live in an age of endless subscriptions being tacked onto our monthly expenses, and nobody wants to add another ten or twenty dollars to that amount. Basic plans start at $3.99 per month for a single device and can run up to $20 for multiple devices with professional monitoring included. While you won't get the same sort of entertainment that you would from a Netflix account, peace of mind is a different sort of value altogether.
Conclusions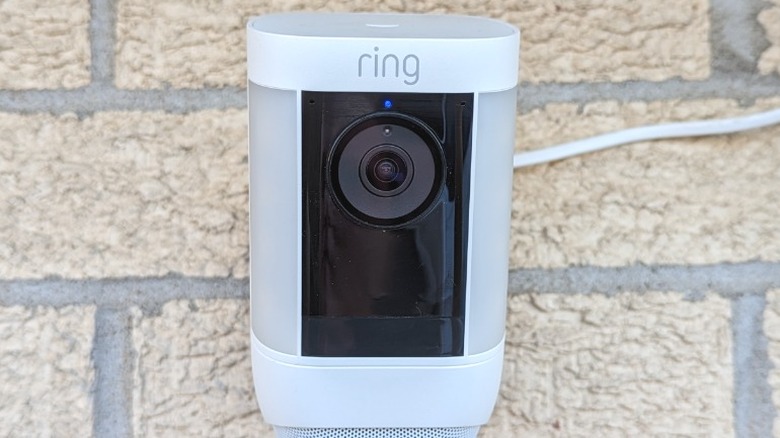 Justin Owen/SlashGear
Ring is at the forefront of easy DIY security and its offerings are impressive. The Ring Spotlight Cam Pro offers ease of use and high-quality images and sound. Its ability to integrate with a range of accompanying products is a huge benefit. Although the addition of yet another subscription is probably something to frown upon for most, the added sense of security is hard to quantify in dollars. 
Regardless, Amazon and Ring quantify the value of this camera at $229.99 at Amazon. There are less expensive alternatives on the market and many of them are surely competent and adequate products. A lot of the value in any Ring product is in the app and ecosystem — the Ring app is above average quality and the integration offered is matched by only a few competitors. Despite any shortcomings, the Ring Spotlight Pro is an excellent product from a company that looks to continue to be an innovator in the marketplace and is likely a good buy for most.