Vivint Outdoor Camera Pro Gen 2 Review: The Costly Spotlight Upgrade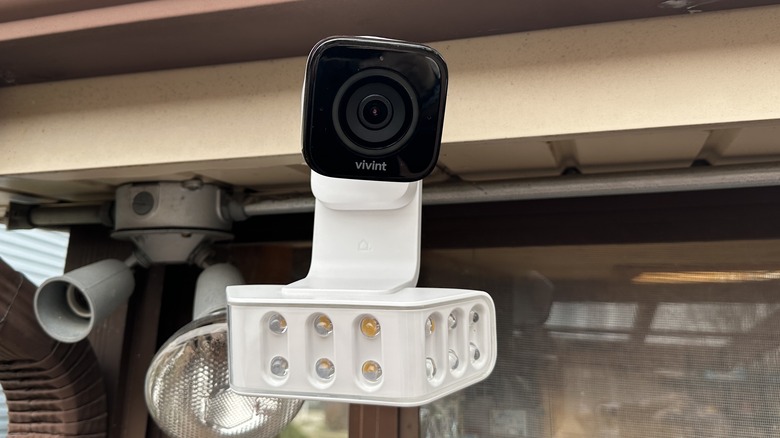 Adam Doud/SlashGear
Security cameras add a good layer of security to your home. But the mere presence of a camera won't necessarily stop bad things from happening around you. Vivint has had smart security cameras as a part of its whole-home security solution for some time, but until recently it lacked a certain extra punch that could actually deter malcontents before they do something everyone will regret.
We've already seen how the Vivint Doorbell Camera Pro can proactively protect your packages from porch pilferers, so now we're going to put aside the alliterations and dive into how Vivint can protect other areas outside your home. I've had Vivint's first-generation camera installed in my home for two years now, and I've been using Vivint's second-generation outdoor camera, with a nice addition, for two weeks. While I'm excited about some of the features this newer camera brings, I also have some serious reservations. 
A needed addition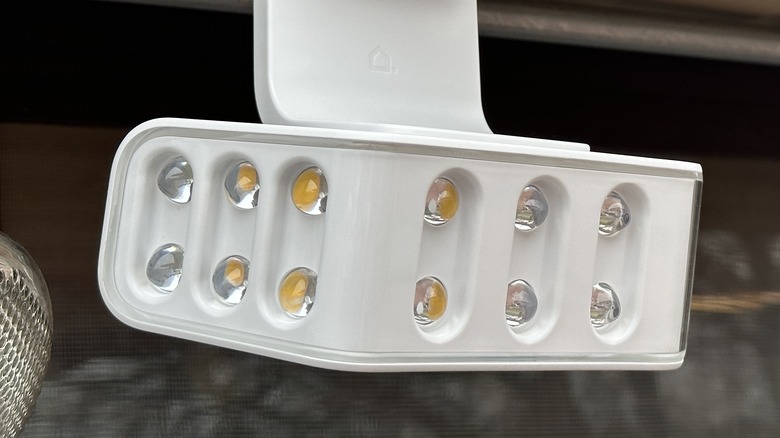 Adam Doud/SlashGear
The biggest addition that Vivint made to the outdoor camera Pro is a new add-on to the camera, the spotlight pro. The spotlight is made up of nine LED spotlight zones which can light up individually or all at once, depending on your use. The spotlight Pro provides 180-degree light for your camera that can be used as a gentle guide when people are detected, or as a deterrent when bad actors are around.
I used the spotlight pro most as a floodlight for my driveway and back deck. Unlike most motion-activated spotlights, the Spotlight Pro relies on AI to detect when a person is in the field of view to activate the camera, as opposed to just general "motion." The main difference is that the spotlight won't get triggered by a rainstorm, or animal moving through the yard. It only detects people, so you get a lot fewer false positives. When used as a floodlight, you can also turn off some zones, so you don't shine a light into your neighbor's yard.
I'm watching you, buddy!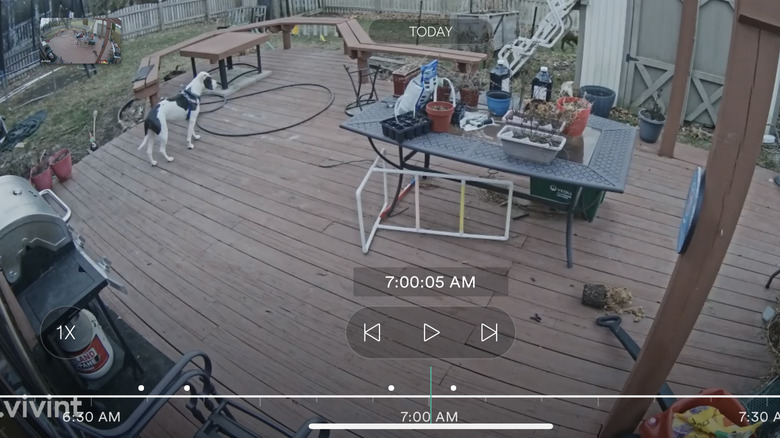 Adam Doud/SlashGear
It's when Deter Mode is activated that the Spotlight Pro really shines — if you'll pardon the pun. Each individual zone acts as its own spotlight, so to really get the point across to someone that the camera is watching them, the spotlight can shine only on that person and follow them as they move across the frame. Each light comes on in succession as the person moves side-to-side. It's a little more intimidating than just a wide floodlight if you ask me.
Additionally, the camera can give a loud whistle tone (or one of a set of other optional tones) to get a person's attention and capture a good, well-lit shot of their face (though you'll see that the shot may be overexposed). It's this combination of smarts that impresses me in a smart home-connected camera. Vivint designed the spotlight pro to use the camera's smarts to direct the beam which is a smart implementation.
Two peas in a very rich pod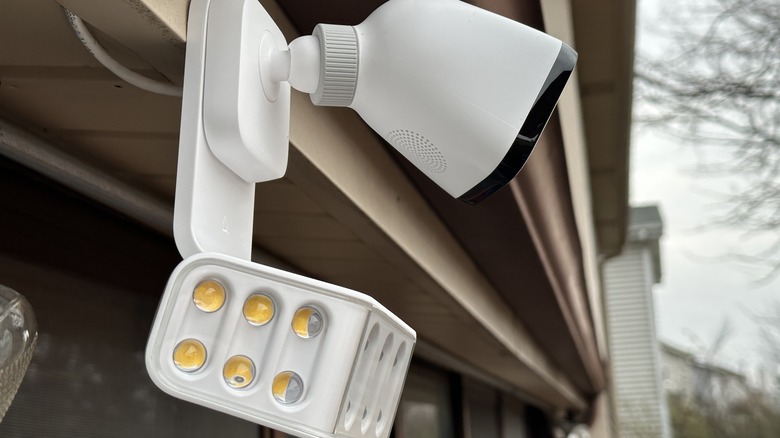 Adam Doud/SlashGear
Of course, there is a downside to all of this — cost. The Outdoor Camera Pro retails for $399.99 and the Spotlight Pro is another $249.99. That is a very high cost for an admittedly cool set of features but make no mistake you can buy a smart outdoor camera with floodlight included for less than half the cost. Also, consider that if you want the human tracking feature the spotlight pro gives you, you also need the camera — the former doesn't work without the latter. While the Spotlight Pro does answer a criticism I had about the first generation of outdoor cameras, it does so at a substantial cost.
I also had some trouble in the admittedly niche case of when I was outside at night using my telescope. I couldn't get the light to turn off, because it kept detecting a person and turning on the floodlight. Despite turning off every light setting I could find, the only way I could get rid of the light pollution was to move a bench and stand it up to obscure me from the camera so the light would turn off. I suspect this may have been an early bug in the software — I encountered it in the first week, and never again — but it's worth mentioning. But let's get back to the camera itself.
Similar hardware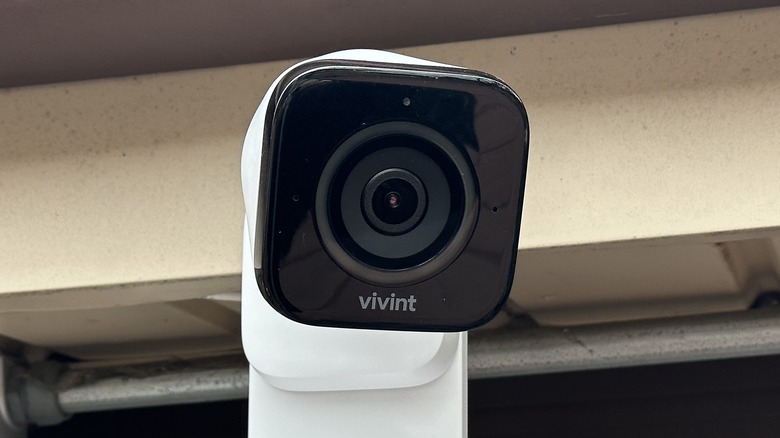 Adam Doud/SlashGear
If you put Vivint's first-generation and second-generation cameras next to each other, you'd have a hard time telling them apart. Front the casing to the guts, this is very much the same camera as the last generation. You get a 4K sensor (with a maximum output of 1080p), a 140-degree field of view, and like the Vivint Doorbell Camera Pro, all images and videos are stored on the device, reducing the strain on your local Wi-Fi network. Again, it's a welcome change. The only time video streams from the camera is when you're actually reviewing footage.
I asked Vivint about the 1080p output, and they told me it's a compromise they made for two reasons. First, most users view video footage on their phones, and Vivint didn't think the quality drop would matter to those customers. Second, 4K streaming takes up a lot more storage and bandwidth. Those are both fair points, but I'd like to see users get the option. After all, 1080p and 4K could spell the difference between making out a license plate on the street.
Speaking of the footage, it's very clear, though I haven't found it to be terribly useful when you zoom in. For example, when I punch in on my mailbox which is only about 60 feet away, the footage gets grainy. But for monitoring what's going on nearer your home, the footage is solid, even in direct sunlight. At night, the camera switches to infrared until a person is detected, at which point the spotlight kicks in.
Overall, I wouldn't call this a second-generation camera so much as an incremental half-step up from the first model. The local storage is nice, to be sure, but if you're not going to spring for the $250 Spotlight, there's no real need to upgrade.
Get off my lawn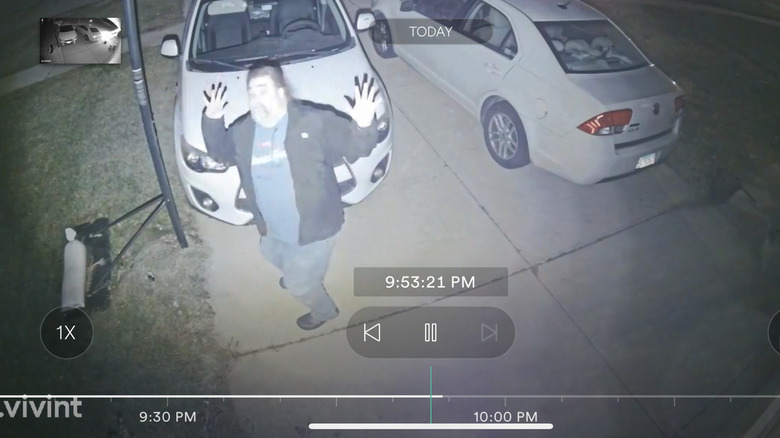 Adam Doud/SlashGear
Like the Doorbell Camera Pro, Vivint also uses the camera and AI to detect intruders on your property. When a person lingers in the field of view, the camera works the same way as the doorbell when a package thief is detected. The camera will play a warning tone (again, I have it set to a whistle) and a red LED circle shines around the camera to emphasize that a person is on camera. At night, the aforementioned spotlight pro fires up as well. While the follow spot is my favorite deterrent, there are other options including oscillating back and forth, blinking, or moving around in a half-circle.
The two devices combine to form an effective deterrent for any wrongdoers who may come along. Plus, you can set a time delay for the warning tone in case a wrongdoer is just a dog walker out for a late stroll.
All this is controlled in the app which is your one-stop shopping for all things Vivint. You can use the app to view your camera feed (which I definitely don't do every time I'm expecting a package), export clips, or adjust any settings, including deter mode settings.
Wrapping it up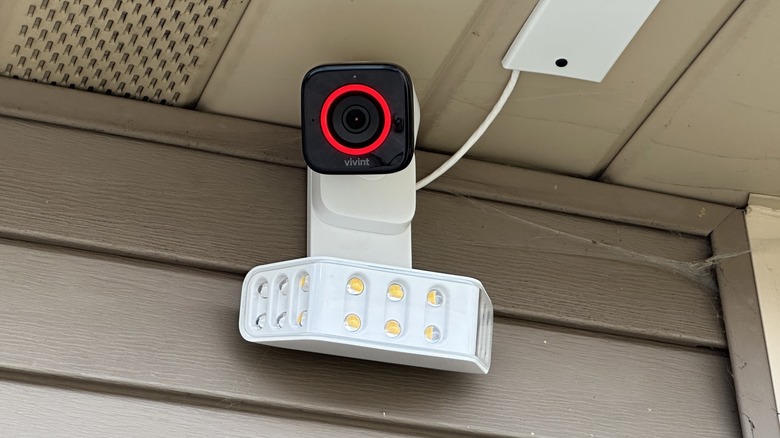 Adam Doud/SlashGear
Overall, the Vivint Outdoor Camera Pro isn't much of an upgrade over the first-generation camera. If you already have a Vivint home security system, there isn't much here to recommend an upgrade. If you want local storage, that's a different matter. If you want to spend the extra money on a Spotlight Pro, then you'll need the second-generation camera along with it. 
In this reviewer's humble opinion, neither of those is enough to justify the expense of an upgrade, especially considering how much that upgrade would cost. Another minor consideration is that if your existing Vivint camera is attached to the underside of your roof, the spotlight pro has to be installed on a wall, so you'll have an extra hole that needs to be covered up. 
If you're getting a new Vivint home security system, that's even more complicated. The camera itself is one of the most, if not the most expensive of its kind on the consumer market. Aside from the deter smarts, this camera doesn't offer much more than competitive offers from Arlo or Ring. If you're signing up for a new system, the cost of the convenience of having the whole system work together is hard to pin down.
Put simply, Vivint is the first app in my "Home Control" folder and it's far and away one of the most used apps on my phone. But the overall cost is enough to give anyone pause. If I didn't already have the Vivint system, and I wanted one, I'd probably pass on the cameras. This is simply too competitive a field to justify that high a price. The fact that the Spotlight Pro is an additional $250 above and beyond the already exorbitant price is almost insulting.