Vivint Doorbell Camera Pro Gen 2 Review: Proactive Package Protection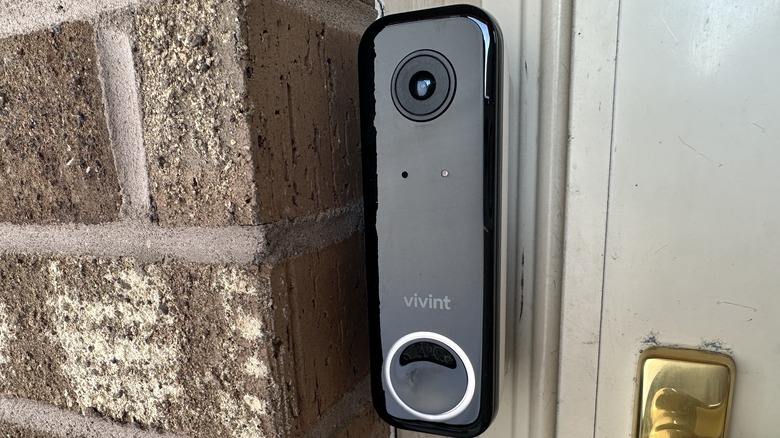 Adam Doud/SlashGear
One of the great parts about having a video doorbell is it acts as a deterrent from porch package thievery. The presence of a camera can stop a would-be thief in their tracks, but few doorbells actually proactively protect your packages from those thieves. Vivint's second-generation Doorbell Camera Pro goes a step further than passively recording activity to actively letting people know: there's a camera here, and it sees you.
That's one of the benefits of using the Vivint Doorbell Camera Pro — but there's another benefit introduced by this generation that I'm excited about. I've had a Vivint security system installed at my home for the past two years. I started with Vivint's original Doorbell Camera Pro when the original system was installed and I upgraded to the latest generation doorbell two weeks ago. In that time, I've come to enjoy the extra perks the new generation brings. 
A piece of the whole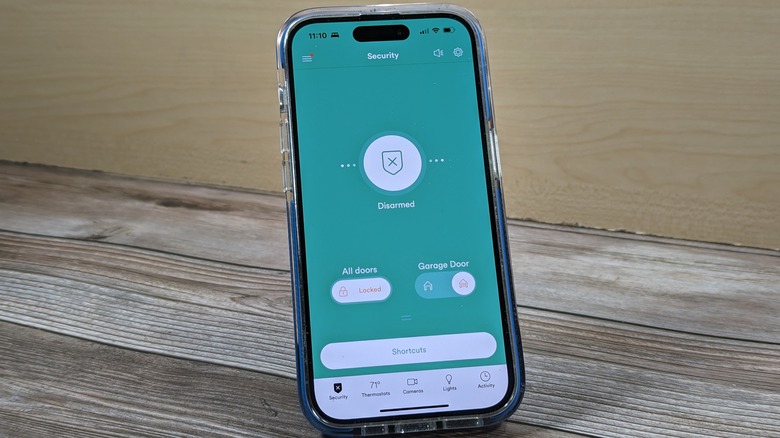 Adam Doud/SlashGear
The first thing I should mention about the Vivint Doorbell Camera Pro is that in my case, it is part of a whole-home Vivint package. That includes door and window sensors, fire alarms, door locks, outdoor cameras, indoor cameras, and water sensors. Central to all of that is a security panel I have installed in the living room that I can use to view the doorbell camera when someone rings the doorbell.
A Vivint security system isn't cheap, but neither is installing your own system piecemeal from various manufacturers. When you take into account all the pieces you would have to buy to cover all your doors and windows and cameras, smoke detectors, and more, the price of a Vivint system seems much more attainable, and it comes professionally installed which is very nice. The installers I've had have all been courteous and professional.
While you can buy and install the doorbell on your own, without a Vivint system, in this reviewer's opinion, you're missing the point just a little bit. For this review, I'll be looking at the doorbell as part of the wider ecosystem, but I'll also point out where things differ when it's installed on its own.
Bigger and better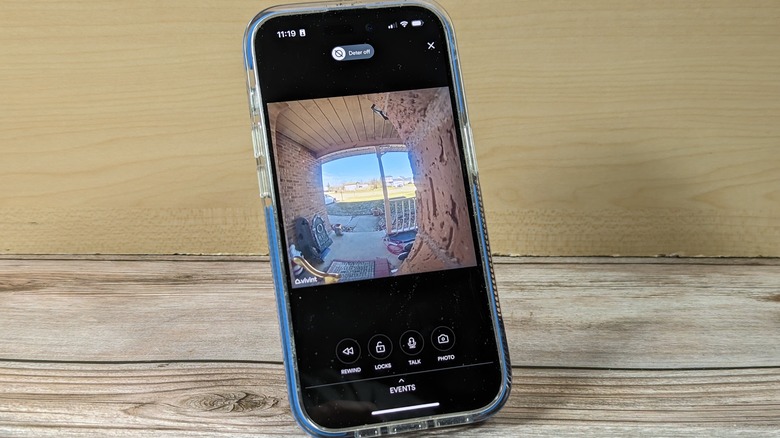 Adam Doud/SlashGear
The Vivint Doorbell Pro is a little bit chunky out of the box, certainly larger than its predecessor. At the same time, this generation is more in line with current competitors in terms of size, but I miss how svelte the last generation was. This generation has a large camera sensor at the top, a button with an LED ring around it on the bottom, and is covered in a shiny black plastic that should go with just about any exterior door. It's hard to go wrong with basic black.
The button's LED ring is lit all the time, prompting people to press the button. It also helps differentiate the button from the camera if someone is not paying attention. But the LED has another purpose that becomes useful when this doorbell's halo feature engages, which I will discuss below.
The camera on the doorbell is a 2K sensor with a 1664 x 1664 resolution. It has a 180-degree field of view vertical and horizontal. That's only 75% useful for me as my doorway is recessed into brick, so I can't see anything to the right, but otherwise, I can see anything in front of my door, including the welcome mat.
The doorbell also has an ambient light sensor, infrared LEDs for night vision, a 90 dB speaker, and a too-sensitive microphone that picks up seemingly any peep that happens anywhere on my street. Often, I've been watching the video feed and hear a garage door opening, only to realize it's my neighbor four houses down.
Overall though, you get all the major features you'd expect from a video doorbell. You can customize your ring chimes during various holidays, and you can do two-way communication either from the app or the panel. Plus, you get pretty sharp night vision.
Protecting your packages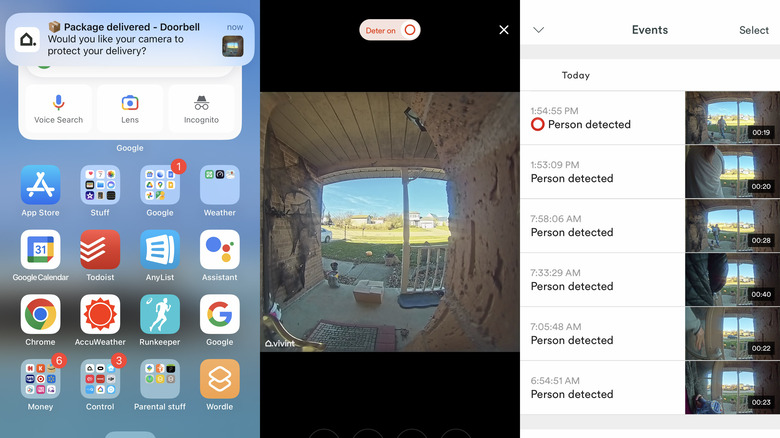 Adam Doud/SlashGear
What really makes the Vivint Doorbell Camera Pro stand out is that it proactively protects your packages from thieves. It does this through the use of artificial intelligence (AI). It can determine when a package handler is dropping something off. Then, through the Vivint app, it'll ask you if you want to protect the package with its Deter function. If you choose to, the doorbell will remain on guard. 
If anyone approaches the package, the doorbell will make a noise (there are several to choose from), and the LED right around the button will turn a menacing red to let the would-be pirate know they're being watched (and presumably recorded). I have it set to a whistle, which sounds pretty realistically human. The theory is, someone hears a whistle and looks in the direction of the sound to see who is whistling, thus giving you a nice face to capture on the camera.
Of course, at this point, if the package thief flees with your package, it'll be up to law enforcement personnel to finish the job. But what I like is Vivint's proactive measures. Video doorbells are nice, but one that tries to deter people from snatching your packages is a nice bonus, especially around the holidays when you'll probably be receiving more packages than usual.
It's not bulletproof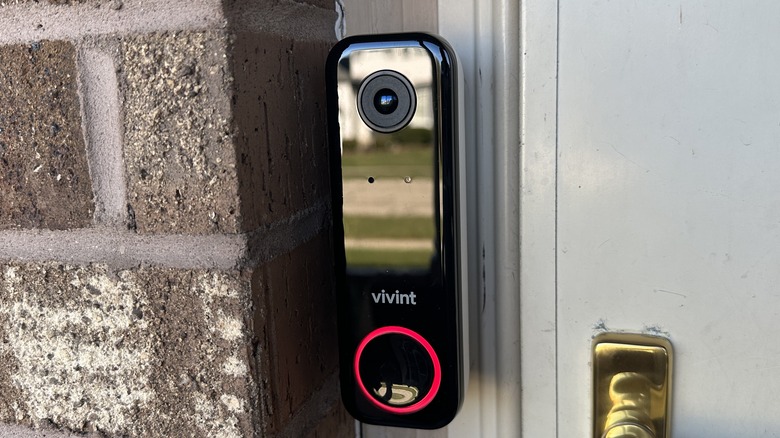 Adam Doud/SlashGear
That being said, I did have a bit of trouble with the package detection feature. I found package detection to be effective about 85% of the time, which is still good, but not a guarantee. When the package wasn't detected, it was usually because the package handler didn't actually step onto the porch. That's fair because You can set a detection zone and I set mine to the porch. I assumed the camera would look for the package, but it seems to look for both the package and the person delivering it. When it was detected, it was nice to know I could go grab it. Otherwise, I'd like to see a bit more reliability there, especially since Vivint has been working on this since before 2020 (when the first-generation doorbell came out).
Another issue that I ran into was an edge case. I have a smart package box that delivery people can put packages in which locks and keeps them safe. Normally, that box sits at the front of my porch, so it's in the field of view of the doorbell. However, when the box is in place, whenever anyone comes to my door, package handler or not, the doorbell thought I had a delivery and prompted me to turn on deter mode. This bug is a relic from the first-generation doorbell, so hopefully, Vivint is working on that. When the second-generation doorbell also showed this symptom, I removed the delivery box, so I could test the doorbell under more normal circumstances.
One major upgrade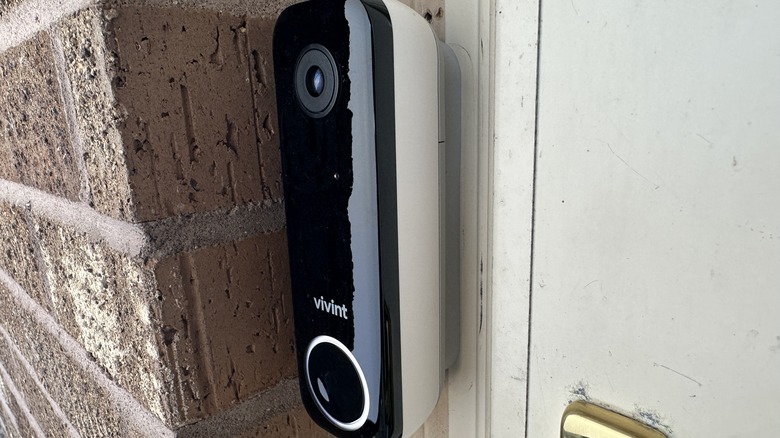 Adam Doud/SlashGear
The main reason why this generation of Doorbell camera pro is exciting is that the doorbell now has onboard storage for video clips. The previous generation of Doorbell camera Pro streamed its video to a smart hard drive over your Wi-Fi which, as you can imagine, takes up a good amount of bandwidth. Now, recordings are stored locally on the doorbell and only stream when you are actively watching the video feed. A single doorbell isn't that big a consideration, but when you add in a couple of outdoor cameras and an indoor camera, suddenly your Wi-Fi has had better days.
The Doorbell is capable of storing just 10 days of footage, which is not as much as the Smart Drive which could store 30 days. However, I will happily take that trade if it means less strain on my home Wi-Fi connection. In my experience, 10 days is usually enough time to know if you want to keep something or not. If you do, you can do so in the app.
One-stop shop app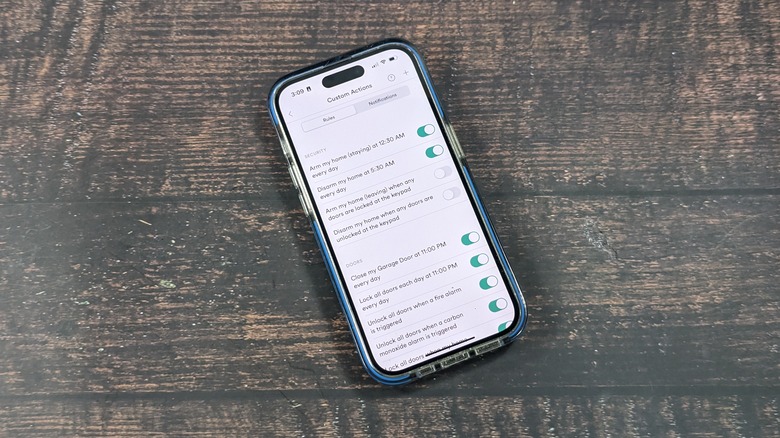 Adam Doud/SlashGear
The Vivint app is one of the most-used apps on my phone. I can control everything from the cameras to arming and disarming the house, to setting my Nest thermostat. The app integrates with third parties like Nest, MyQ, Kwikset, and Philips to control basically everything in my house, and the app makes everything work together. For example, when I put my code into the front door, Vivint can disarm my security system, turn on my living room lights, and set my thermostat to a given temperature.
For purposes of the Doorbell, the app lets you change settings like doorbell chime, turn Deter Mode on and off, and view/export footage. The app is laid out intuitively. It's easy to figure out how to get into settings and review footage. It gets a little tricky exporting footage because that option is only available in portrait, but when you're reviewing footage, you typically are doing so in landscape. That's really the only significant fault I found with the app.
I do have to give props to the app maker for one more item. When someone rings my doorbell, I get a notification with a thumbnail of the doorbell video on my phone and watch. I really dig that. Plus, side note, I can also arm my Vivint system from my watch. So mad props go out to Vivint's app team.
It's part of a system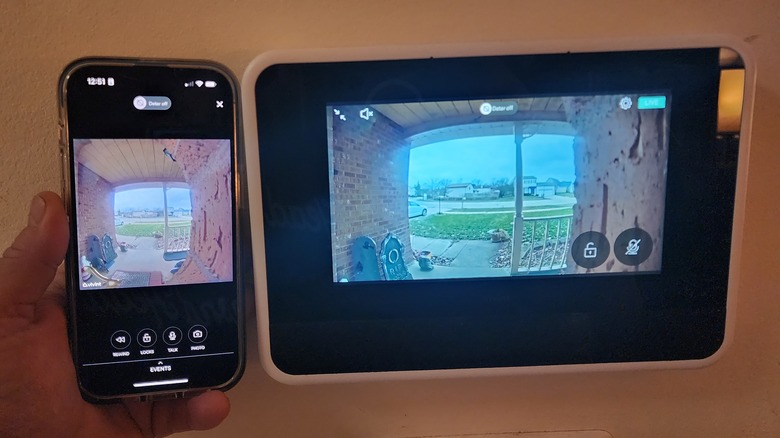 Adam Doud/SlashGear
The Vivint Doorbell Camera Pro can be purchased and installed without a Vivint system, but it's that system that makes the doorbell even better. Specifically, with a Vivint system, you get a security panel that you can use to set up new devices, arm your home, and watch camera footage. When someone rings the doorbell, the security panel switches to the camera view, so as I go to the door, I already know who's going to be there. That's a convenience that you don't get from many other video doorbells.
But the panel also can't take full advantage of the 180-degree vertical field of view. On the panel, the view to the top and bottom gets cut off. It's a little annoying and this is another problem that carried over from Gen 1. It's not the worst thing in the world, but if Vivint wants to tout that you get a full 180 degrees, you would think its own equipment would be able to take advantage of it.
Excellent Gen 2 upgrades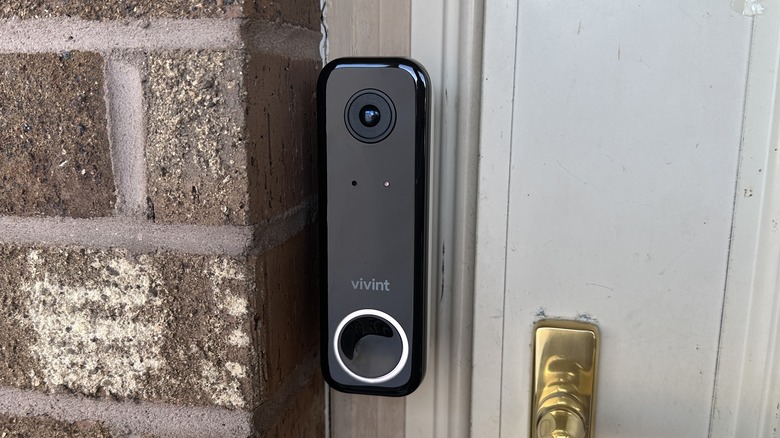 Adam Doud/SlashGear
There are a lot of options out there when it comes to video doorbells, and Vivint's is a solid contender in my opinion. Vivint is trying to actively solve a problem that people have. Packages get swiped, and this is a piece of hardware that is actively trying to stop that from happening. The theory is sound, and the execution is very not bad. I still think Vivint's AI has a little way to go before it can be really counted on, but Vivint is definitely on the right track.
Eliminating the constant stream of data to a central hard drive is also a big plus, and when you combine it with better optics this time around, this is a decent upgrade. It's not a no-brainer, but it's a compelling argument to be sure. You can buy the Vivint Doorbell Camera Pro from Vivint's website for $249.99 which is on the high side compared to the competition, but it's certainly in the neighborhood of the top spots, and this doorbell earns it.