You Can't Argue With Mercedes' EV Charger Epiphany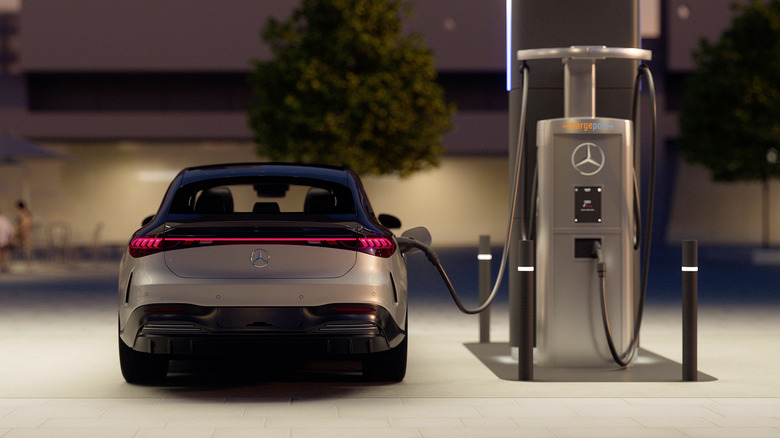 Mercedes-Benz
It's not a stretch to say that public charging for electric vehicles has been an underwhelming part of the transition to EVs so far. Unless you have a Tesla and access to the Supercharger network — and even then, growing demand has seen plenty of Elon Musk's stations with lengthy queues outside — the experience of finding a functional DC fast charger that actually delivers the speeds it promises is perhaps the most disappointing part of EV ownership.
That's a problem when you're trying to convince potential buyers to consider going electric, and even more of an issue when you're promising them a luxury experience. With that in mind, it's almost a surprise that Mercedes-Benz has waited so long to wade in with a self-branded network of its own.
To be fair, the automaker hasn't been averse to investing in chargers. It's a founding partner in the Ionity network, working with BMW, Ford, Volkswagen, and Hyundai on DC fast charging infrastructure in Europe, but its big CES 2023 news was the Mercedes-Benz high-speed charging network. According to Chief Technology Officer Markus Schäfer, the justification for this new investment was clear.
Public charging has some high-profile headaches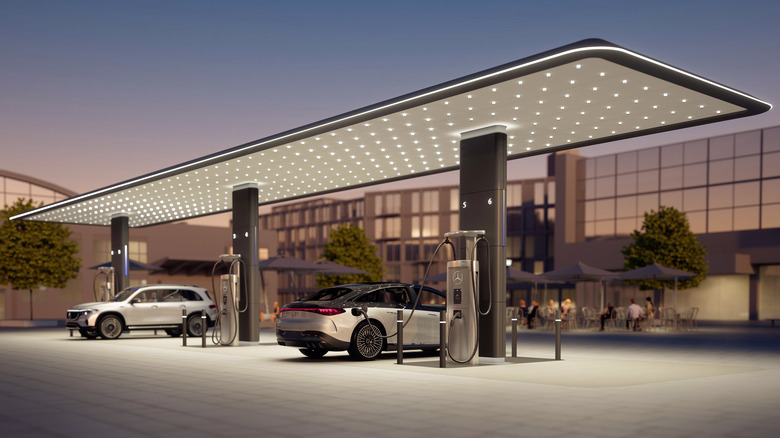 Mercedes-Benz
"Why did we do this? Because it's about the whole experience of a Mercedes customer," Schäfer explained during a CES roundtable with media, which Mercedes invited SlashGear to attend. "Whoever travels over the customers with an electric car knows all the shortcomings that are still out there. They're too spread out, they don't work, there's an issue getting connected."
They're not complaints limited to Mercedes owners, of course. Range anxiety, and finding the right place to plug in — and spending the least possible time waiting — have been lingering headaches for EV drivers from the get-go. Tesla's solution was to invest in a charging network of its own, a decision which has looked increasingly prescient in recent years, but rival automakers have been reluctant to wade into building out their own infrastructures.
Instead, the answer has generally been roaming agreements. With multiple third-party charging networks — including ChargePoint, EVgo, Electrify America, and others — already building out stations in the U.S. and beyond, Mercedes and other automakers have worked to make finding one of those chargers and activating a charging session more straightforward.
'Pretty okay' is not good enough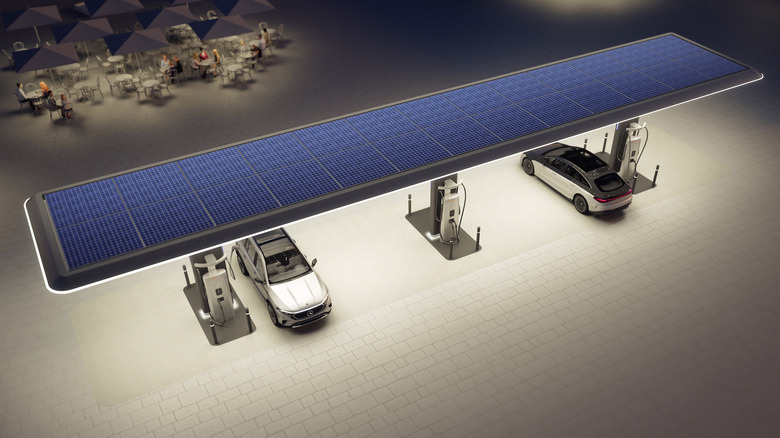 Mercedes-Benz
If you need to top-up your Mercedes EQS SUV, for example, the navigation system has a database of roaming chargers where it can guide you. New owners get a period of unlimited free charging sessions when they buy the EV too, and the MBUX infotainment can prioritize one of those locations in its search results, and even in some cases show you details of how many plugs are free at that time. Pull up at an Electrify America charger, say, and simply plugging in the car should be enough to automatically start up a session.
That's the theory, anyway. In practice, patchy availability data, broken chargers, sluggish speeds, and issues with authentication and payment have left the public charging experience deeply underwhelming. That's particularly severe, Schäfer agrees, when you're selling a six-figure EV.
"Yes, we have a great roaming network globally, with one million roaming partners, so it's pretty okay, what we're offering, but it's not really what we think the Mercedes customer should experience," the CTO concedes. "So, we want to give the Mercedes customer the best experience, the best electric car."
Reliability is the key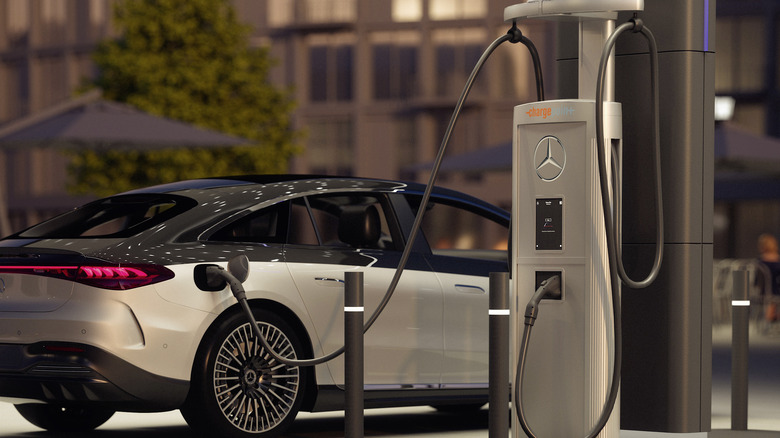 Mercedes-Benz
A big part of that will be maintaining the charging station hardware itself, and that's something Mercedes plans to take a hands-on role in. "We are the ChargePoint operators. The contribution by ChargePoint is the hardware — it's basically their charger," Schäfer explains. "It's not ChargePoint for the maintenance. That's all MN8 [Energy] and us. So, of course ChargePoint has spare parts, and you organize, you know, spare parts nearby. So we're going to have a logistics concept. And the goal is having the best uptime possible, really the benchmark uptime of the equipment."
Though aesthetically unique, using in-house designers, Schäfer says, the chargers themselves are a familiar beast inside. Initially they'll support up to 350 kilowatt (kW) rates, matching what alternative networks like Electrify America are offering. That's fine for Mercedes' current line-up of EVs, which top out at around 200 kW.
Down the line though, the goal is to upgrade as the cars get more demanding. "So 350 [kW] is taking us into the next years, but the system is on a modular basis," Schäfer explains. "So when ChargePoint delivers the hardware there's the capability with that to go beyond 350. So, we could go to 500 kW, if needed, it depends very much if the car can take it. But again, we're working on that, that our cars can take the higher load, and ultimately reducing charging time. That's the ultimate goal: to charge much faster."
An experience fit for EQ owners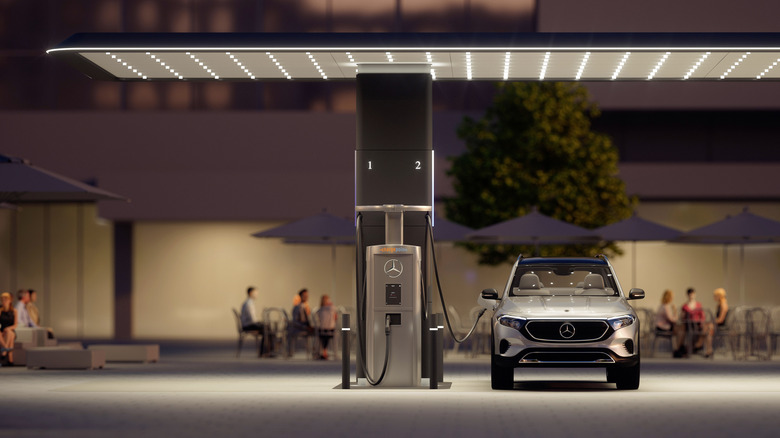 Mercedes-Benz
Mercedes' goals for the network are simultaneously ambitious and also a sign that it's playing catch-up in one key area of EV ownership. Its target is more than 2,500 chargers across 400 sites in North America by 2027, with the first apparently on track to go live midway through 2023. Eventually, the aim is more than 10,000 chargers across North America, Europe, China, and Mercedes' other main markets by the end of the decade.
They're big numbers, but the reality is that Tesla already has more than 40,000 high-speed chargers operational around the world. Mercedes' network will be different in some ways to what Superchargers offer — it'll be open to any EV driver from the get-go. Tesla's stations are only now starting to embrace other electric cars — but it's no stretch to say that it'll be the benchmark by which this new infrastructure is measured.
Then again, perhaps the real comparison will be broader than just raw numbers. Mercedes certainly seems to be leaning into the best of the existing charging experience — high-design locations, with an emphasis on security and convenience, and proximity to things like food and entertainment. The demand for the first models wasn't sluggish in its EQ series, even with the public charging teething pains. Meanwhile, if the automaker's focus on uptime lights a similar fire under the other networks out there, that could be no bad thing for the EV category as a whole.