Tesla Superchargers Are Opening Up To Any Electric Car In The US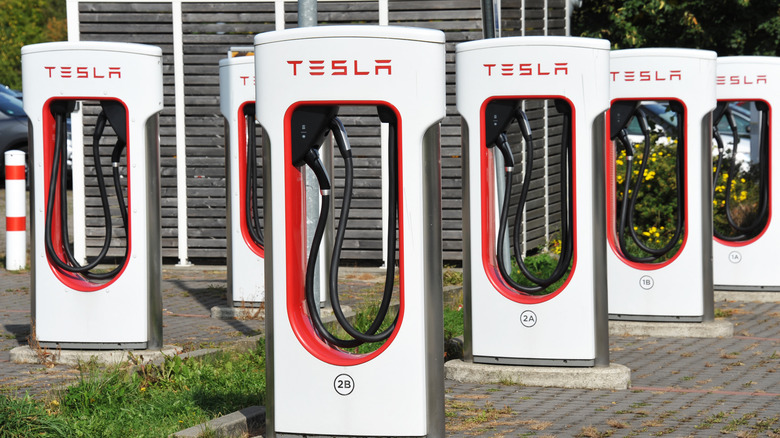 nitpicker/Shutterstock
Charging an electric vehicle in the United States is about to get a lot easier. The U.S. government and several major tech and car companies are working together on a major infrastructure project designed to drastically improve electric vehicle (EV) charging infrastructure in the nation. Elon Musk's Tesla is one of the big names on board with the project, which involves hundreds of millions of dollars in private funding, thousands of new charging points, and a significant number of "good-paying" jobs.
Government schemes to increase EV adoption aren't anything new. Incentives like tax credits and rebates have been used to drive uptake for several years. Some of those incentives came with a threshold, and Tesla hit its own a long time ago, so vehicles from other manufacturers may make more sense to the EV buyer on a budget. Choosing to opt for a non-Tesla electric vehicle does have a downside though, as non-Tesla cars can't currently access the company's 908 charging stations across the U.S. Luckily, this may be about to change very soon.
Tesla had already opened part of its European charging network up to non-Tesla EV owners, but access could be set to expand further under the new plan. In November 2021, Musk's EV company launched a pilot program that allowed non-Tesla EVs to use its fast-charging network at 10 of its Netherlands-based "Supercharger Stations." The scheme was then rolled out to select stations in Norway and France while adding that EV drivers from Belgium and Germany can cross a border to use the stations, too. The trial was intended to "increase EV adoption" overall but did not move beyond Europe. However, non-Tesla owners in the U.S. may be safe getting their hopes up.
Major companies are involved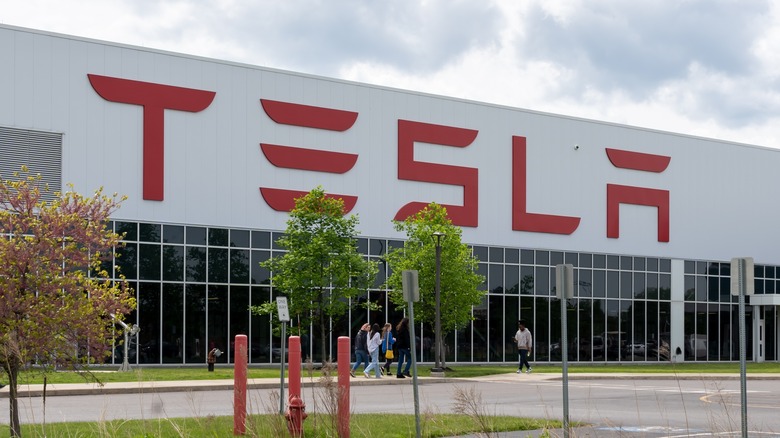 JHVEPhoto/Shutterstock
On June 28, the Biden administration announced it had secured a $700 million commitment from private sector companies to help "make EV charging more affordable and accessible." The White House claims the "record-breaking" investment will also create more than 2,000 "good-paying" jobs and result in a quarter of a million chargers being added each year.
Tesla's contribution to the scheme is centered around its New York-based Gigafactory. The plant, which is located in Buffalo, New York, currently produces the company's Supercharger stations. Elon Musk's electric car manufacturer intends to produce more of these stations, each of which is capable of charging vehicles up to 250 kW, and add them to its network. Tesla's biggest contribution to the project is its commitment to producing new equipment that will allow non-Tesla drivers to juice up their vehicles with Tesla's superchargers. According to Tesla, its V3 250 kW chargers are fast enough to provide around 1,000 miles of range in an hour, and 75 miles of range in five minutes.
The list of other companies committed to the plan includes Siemens, ABB E-mobility, Chargepoint, Flo, and Tritium. Electrify America, which has more than 750 charging stations spread across the continental United States, also made some major commitments. It announced the construction of "up to 10,000 ultra-fast chargers at 1,800 charging stations" across the U.S., which is more than the number of fast-charging stations currently available. The project is being funded by Siemens and The Volkswagen Group, which have pledged $450 million between them. In addition to its work with Electrify America, Siemens is also working on building a million EV chargers across the States during the next four years. As part of the project, the German company has already invested more than "$250 million in the U.S. in the past six months."
Infrastructure could be key to driving EV adoption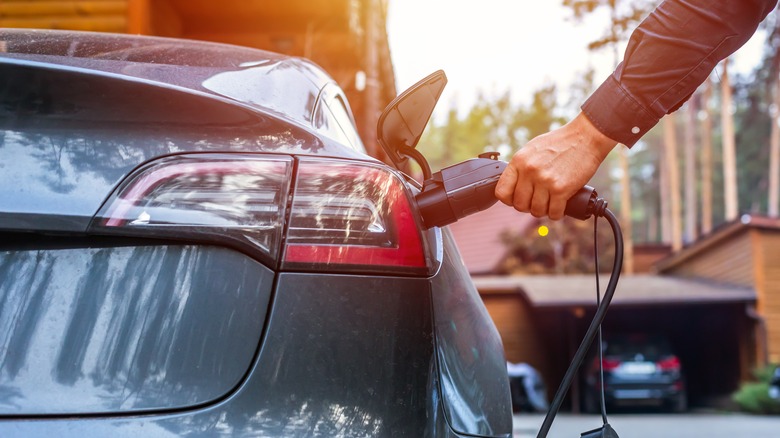 Drotyk Roman/Shutterstock
The project is part of the U.S. government's ambitious plan to "lead the electric future and make it in America," according to the White House's announcement. Federal government branches already have a commitment to buy additional electric vehicles by 2027 and have their vehicular fleet entirely electric-powered by 2030. Another ambitious target involves the promotion of electric cars and other zero-emission vehicles. By 2030, the U.S. government wants half of the new vehicles sold in the United States to be emissions-free. The Biden administration hopes the fuel efficiency and emissions standards it introduced in 2021 will "save consumers money, cut pollution, boost public health, advance environmental justice, and tackle the climate crisis," officials said.
Improving charging facility accessibility is a no-brainer when it comes to improving electric vehicle adoption and utility. According to the American Petroleum Institute, there are currently more than 145,000 "refueling stations" (stations that sell fossil fuels for vehicles) in the U.S. That's close to three times the number of EV charging stations in the U.S. and Canada combined, which the EPA estimates from April placed at 53,919. Those charging ports may also be poorly located. California, which is known for its EV adoption rate, has a ratio of over 27 vehicles per charging port. Wyoming, on the other hand, has around four vehicles per charging port. The technology powering EVs has come a long way in recent years, but the infrastructure available has been flagged as something that could hold EV adoption back. So the recent government initiatives, and private funding, may have made Biden and Co.'s ambitious targets achievable.