BMW, Ford, Daimler, and VW form Ionity for European EV charging network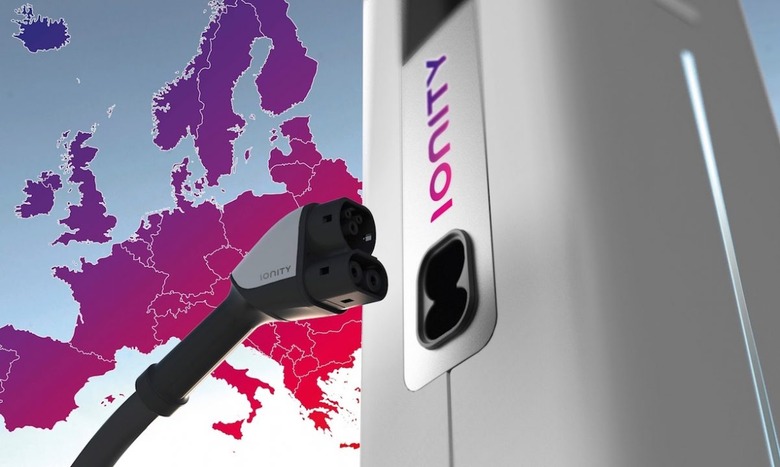 When it comes to the future of the electric car market and its growth, one of the biggest difficulties is the need for a wide range of charging stations that will support vehicles from different manufacturers. Well, four of the biggest automakers are now working together to form a solution — for Europe, at least. BMW, Daimler, Ford, and the Volkswagen Group have announced a joint partnership in Ionity, a venture that aims to build a huge network of fast chargers across Europe.
Each of the four car companies is bringing their expertise and finances together, with Ionity planning to install 400 high-power charging (HPC) stations over Europe by the year 2020. The first points of the network are already in progress, with 20 chargers to open in Germany, Austria, and Norway before the end of the year, each at 75-mile intervals. Another 100 will be built in 2018.
Each station is said to have a 350kW capacity per point, and support a variety of electric models as well as allow multiple vehicles to charge at once.
"The first pan-European HPC network plays an essential role in establishing a market for electric vehicles," said Ionity CEO Michael Hajesch in a statement. "Ionity will deliver our common goal of providing customers with fast charging and digital payment capability to facilitate long-distance travel."
Of course, BMW, Daimler, Ford, and VW have all realized that such a charging network is necessary to make owning an electric car more appealing to customers, which means Ionity will help each automaker sell more of their EVs planned for release over the coming years. Each of the four companies has an equal share in the venture, however they say any other manufacturer is welcome to join, allowing the network to grow faster and include more locations.
SOURCE Ionity