2022 Hyundai Kona N Review: The Right Sort Of Silly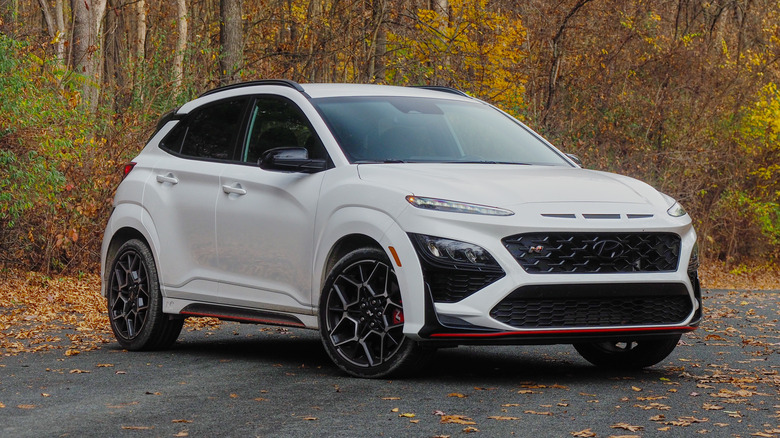 Chris Davies/SlashGear
Someone at Hyundai clearly has a sense of humor. That's the only workable explanation for the Kona N that I can come up with, a dinky daily driver with an outsized personality, more power than it rightly needs, and an emphasis on giving those on a budget a taste of what the Porsche-blessed among us get to enjoy. It is, quite frankly, not what you'd expect from an automotive behemoth busy turning its line-up into a gallery of earnestly appealing EVs.
In fact, the idea of the Kona N sitting in the same showroom as an Ioniq 5 seems, well, nonsensical. Like the kid in the back of the classroom who insists on wearing a leather jacket regardless of the weather, and who makes rude noises while the honor roll students are prepping for their ivy league entrance exams.
Thing is, enthusiasts have been unexpectedly spoiled in 2022, and while the rationalist would point to the rise of crossovers and SUVs as a sign that the auto market is maturing, that's not to say there's no fun to be had either. The Kona N finds itself skipping class with the new Toyota GR Corolla and latest Honda Civic Type R, even if Hyundai's recipe to make a bad boy isn't quite the same as that of its Japanese rivals.
Chunky and attainable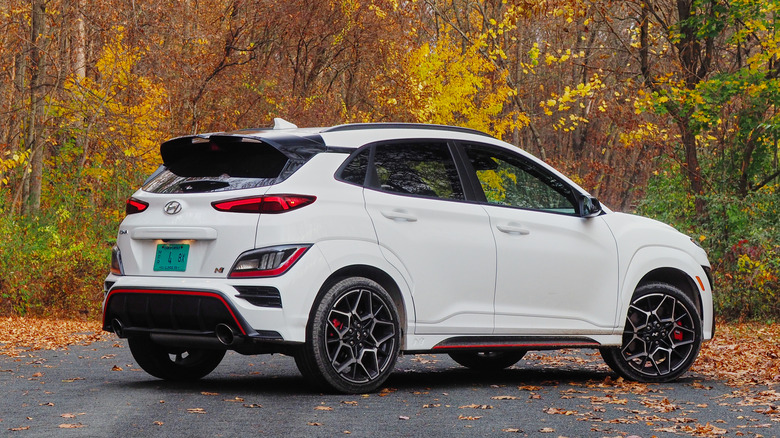 Chris Davies/SlashGear
It's a chunky, squinting little thing, and feels a bit like Hyundai gathered all its designers into one pot-luck studio and combined the leftovers of its other cars. The headlamps peer aggressively on either side of a triple-nostril slash in the hood's leading edge, while the lower fascia is more mesh than anything else. Only a small proportion of that is actually functional, mind.
Beefier moldings around the wheels make it look burlier than it is, while at the rear the oversized spoiler and red-rimed diffuser wouldn't look out of place on a car twice the Kona N's size. "N" logos are distributed liberally, lest anybody think you've turned up in a regular, budget Kona.
There's certainly a price delta, here. The standard, earnest Kona starts at a bargain basement price of $21,990, making it Hyundai's fourth-cheapest model. For a Kona N, though, you're looking at a nearly $13k premium, with a starting price of $34,700 plus destination. Of course, your money gets you a far more appealing car.
Look, if you want to call it an SUV, I'll call it an SUV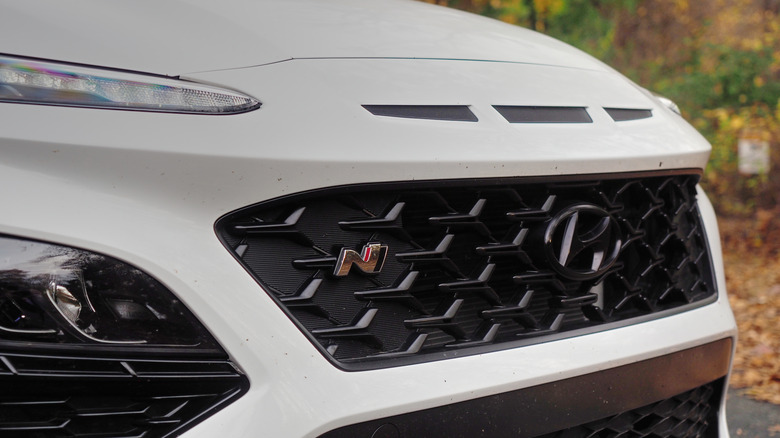 Chris Davies/SlashGear
Hyundai insists on calling the Kona N an SUV, but it's not, not really. It's really more like a hot-hatch, but I can't begrudge the automaker from wanting to coax the branding around to the segment which will sell the most. In fact, if it helps keep the Kona N bobbing above water — rather than getting discontinued in the U.S. as is the upcoming fate of the Veloster N — I'd be happy to refer to it by whatever term Hyundai would like me to.
There's no all-wheel drive — which is, to be fair, no longer viewed as a prerequisite for SUV status — and the 19-inch wheels with their skinny Pirelli P Zero rubber aren't going to encourage you to go off-road. Well, that's the theory, anyway. Out in the backroads of Michigan, on gravel and a smattering of mud, the Kona N could be readily provoked into charming squirminess.
In fact, compared to the polished, carefully managed fun of other enthusiast cars of late, the Hyundai takes an almost willful turn in the opposite direction. It's not that it's too much of a handful, or anywhere close to feeling dangerous, but the combination of torque steer and body roll seems intentionally dialed in to make you snort with glee.
Punchy but not overpowered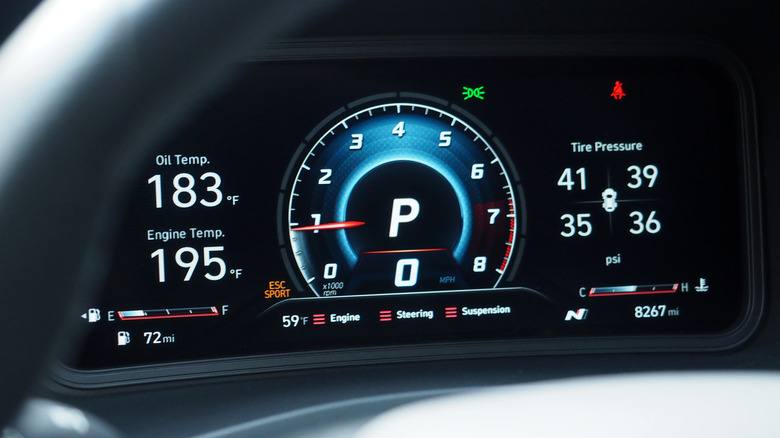 Chris Davies/SlashGear
If it works, it's probably because the Kona N is punchy but not overpowered. Hyundai's familiar 2.0-liter turbocharged inline-four is good for 276 horsepower and 289 lb-ft of torque. They may not sound like wild numbers, but in a diminutive thing like this, they're just right for snorting through the power band and feeling like you can actually use the grunt that's on tap out on real roads.
There's no manual transmission option, unlike on the Veloster N, but that's okay because the eight-speed dual-clutch gearbox is plenty good enough for both daily driving and more urgent jaunts. Switching between the Eco, Normal, Sport, and Snow drive modes are done with a knob down by the shifter, but Hyundai also adds some N-specific shortcuts to the steering wheel.
There are two blue "N" buttons, which summon your choice of the feistiest modes and change the whole cluster layout to suit. You can customize exactly what that involves, including different levels of engine, steering, suspension, ESC, and electronic limited-slip differential behavior. That's a welcome option, too, because at its maximum stiffness the Kona N's adaptive suspension can be painfully stiff if you have less-than-ideal asphalt.
Grins come standard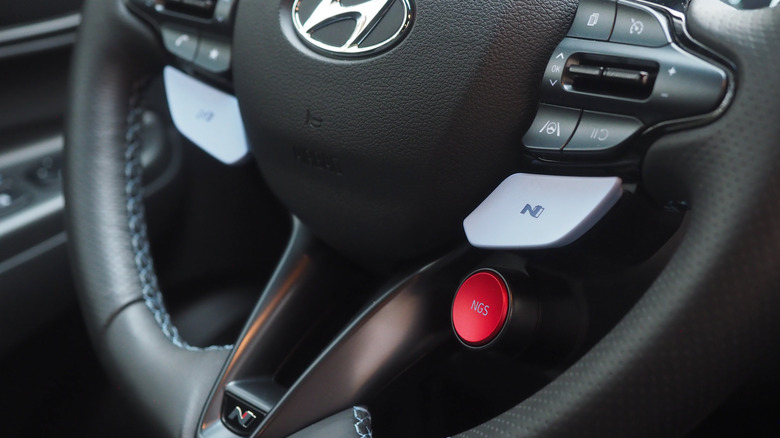 Chris Davies/SlashGear
Then there's the eminently silly NGS button, a red anodized shortcut to what Hyundai refers to as the "N Grin Shift" mode. Stab it, and you effectively get 20 seconds of overboost, the inline-four provoked into supplying a little more horsepower while the DCT downshifts for even more enthusiasm. A countdown timer on the driver's cluster screen tells you just how long you have left. 
It's all reminiscent of the most-excellent PSM Sport Mode button that Porsche offers as part of its Sport Chrono Package on select models. That also awakens the maximum settings when the urge to overtake (or just hoon) overcomes you; Porsche, however, charges as much as $3,400 to have it on a 911.
Jab the NGS button too often, of course, and you'll be finding yourself well short of the Kona N's already-not-so-great EPA fuel economy numbers. They claim 20 mpg in the city, 27 mpg on the highway, and 23 mpg combined.
A cabin with purpose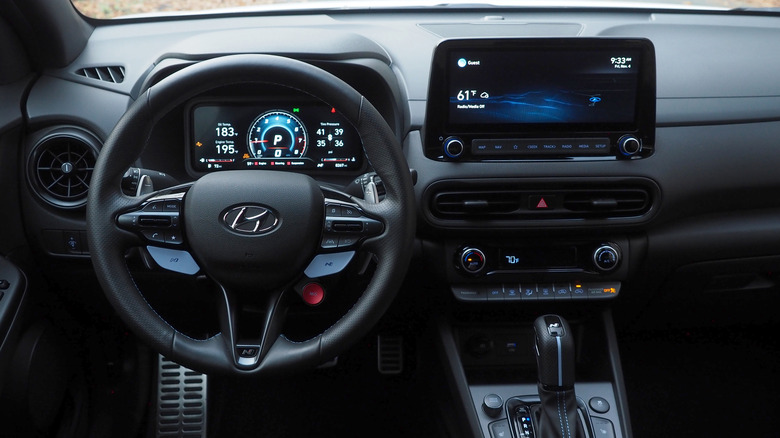 Chris Davies/SlashGear
Where things start to show their edges is in the cabin. The regular Kona's dashboard is a morass of black plastic and unlovable textures, and though there are touches to elevate the Kona N, for the most part, it's the same story. It doesn't feel bad, per se, it's just not going to be mistaken for anything premium.
There's a single trim, with keyless entry and push-button start, wireless phone charging, a single-zone HVAC system, and a 10.25-inch infotainment touchscreen as standard. Harman Kardon audio, Android Auto, and Apple CarPlay — the latter two wired-only — are included, too, and there are two USB ports up-front and one in the rear. The driver gets a 10.3-inch digital display for their gauges.
Money was clearly spent on the sports seats, which are supportive, heated, and wrapped in leather and suede. There are matching N-badged mats, a leather wrap to the transmission shifter, the scuff plates on the doors, and the sport pedals, too.
Hyundai has been generous with its active safety tech lately, and the Kona N is no different. Blind spot warnings and avoidance assistance, lane following assistance, rear cross-traffic collision avoidance assistance, and lane-keeping assistance are all standard. So, too, are forward collision avoidance assist with pedestrian detection, and safe exit warnings. Missing? Adaptive cruise control; you only get the old-school, fixed-speed version.
The hot hatch cohort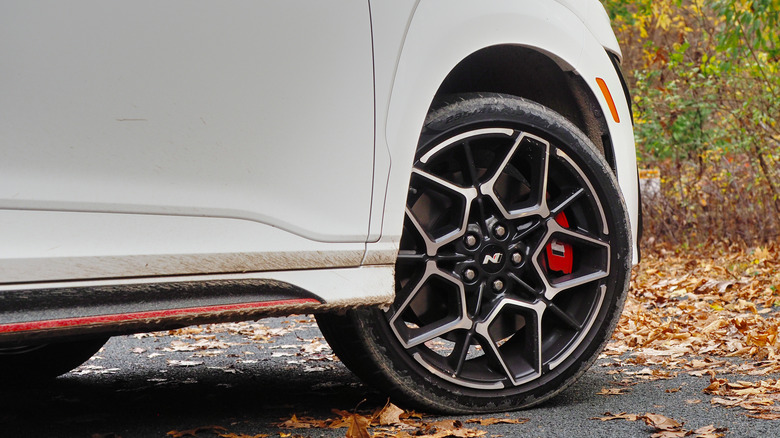 Chris Davies/SlashGear
It's hard not to see the Kona N as the car for MX-5 Miata owners to switch to when real life catches up with their diminutive roadster. Don't get me wrong, I adore Mazda's little convertible, and its stick shift is probably my favorite on sale right now. There's no way it can really be described as all that practical, however.
The Kona N, in contrast, can handle four adults okay and has 19.2 cu-ft of storage. Drop the 60/40 split rear bench down, and that expands to almost 46 cu-ft. Not bad for this dinky footprint. And both Hyundai and Miata have a similar wring-it-out spirit of making full use of what power is available, relying on dynamics rather than outsized displacement to affix a permanent smile on your face.
It's enough to make the new Honda Civic Type R look a little too mature and pretty expensive, though it puts the Kona N on a collision course with Toyota's GR Corolla. That's more expensive, even in its base Core trim, but you do get all-wheel drive for your $35,900 (plus $1,095 destination).
Hyundai Kona N Verdict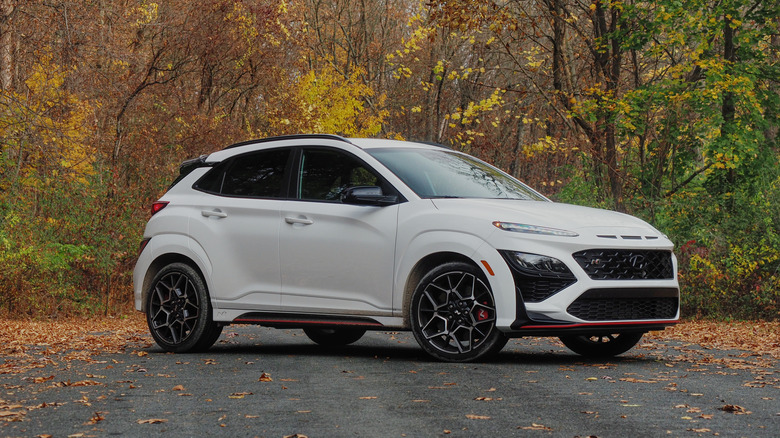 Chris Davies/SlashGear
The reality, though, is these are all niches within niches. There's a good reason for Hyundai to insist that the Kona N is an SUV, after all: that's the segment that is currently squeezing out everything else. Exactly how many people are in the market for a fireball don't-call-it-a-hot-hatch four-door with a snappy, snarly exhaust, gloriously weighted steering, and an appetite for being overambitious when it comes to traction is unclear.
I hope there's enough, though, to make this all worthwhile for Hyundai. The automaker has done plenty for enthusiasts lately, with models like the beguiling Elantra N, and it would be a dire shame if dreary sales left it thinking those efforts were for naught.
Because make no mistake, this is the epitome of attainable fun. Just about practical enough for daily use, but plenty powerful enough to staple a smirk to your face with its well-measured recipe of performance parts. The Kona N is built to a strict budget, yes, but it's one where the focus is resolutely on the kit that matters. It's – wisely – about the only sensible part of the whole car, and Hyundai deserves plaudits galore for making something so pleasingly silly.