2022 Hyundai Kona Review: More Than Just Good Value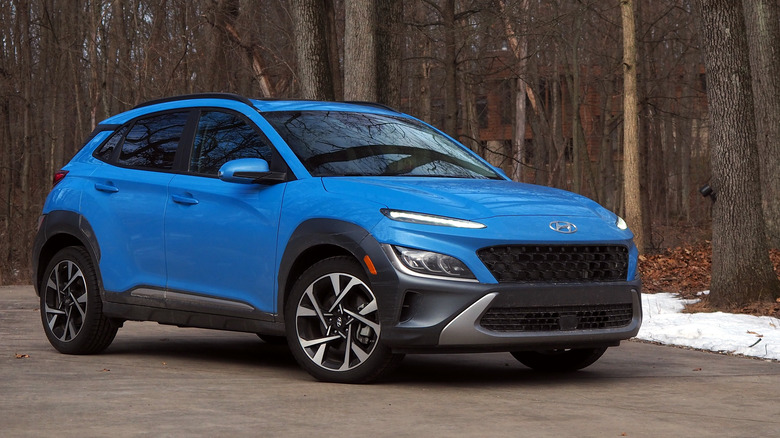 Chris Davies/SlashGear
The 2022 Hyundai Kona feels like a chunky little hatchback masquerading as a tiny crossover, and — while you can argue mistaken identity all you like — it's hard to argue with such affordable all-wheel drive. At a time when the auto industry seems to be focused on producing bigger and bigger SUVs, nudging owners up into increasingly expensive trims, and crossing its fingers that we'll overlook expensive gas prices, the Kona feels oddly refreshing.
It's part of a flourishing "small car" movement that Hyundai and its sibling brand Kia have been instrumental in. Models like the Kona may not have the road presence (or, for that matter, the practical potential) of a truck or true SUV, but they also feel like a nod to the fact that, on most trips, it's the driver alone onboard. At the same time, they also recognize that for many would-be owners, in many US states, features like all-wheel drive aren't just a nice-to-have but a necessity.
The 2022 Kona SE starts at just $21,300 (plus $1,245 destination) then, and if you want AWD it's just $1,500 more. My tester, a well-equipped Kona Limited, starts at $28,600 (plus destination). All-in, you're looking at $31,345 as-tested; that's about as expensive as the Kona goes, at least before you raid the accessories catalog.
Dinky and distinctive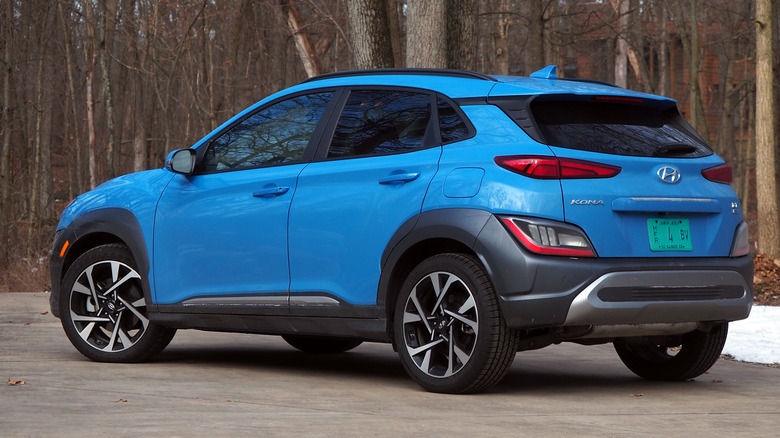 Chris Davies/SlashGear
Squint, and you could probably mistake the Kona for a dinky crossover. Hyundai's beefy plastic wheel arch cladding leans into that, while the stacked front fascia and split-out lamp clusters give the car some visual height. Side-on, there are hints of Bolt EV, particularly in the rear pillar, while the rear gets more cladding and similarly distinctive lights.
I'm not sure it's exactly handsome, but it's fairly distinctive for a small car. Perhaps more important, it doesn't look like your typical urban runabout. We can argue the relative merits of crossovers and hatchbacks until we're blue — or, more specifically, Hyundai Blue Wave — in the face, but the market seems to have made its decision regardless.
Hyundai may have leaned into that aesthetic, but the Kona is still a compact little thing. Just shy of 14 feet in length, and less than 6 feet wide, it's effortlessly maneuverable even in tight parking lots. The slightly elevated driving position and decent visibility help there, too.
Two engines but one clear choice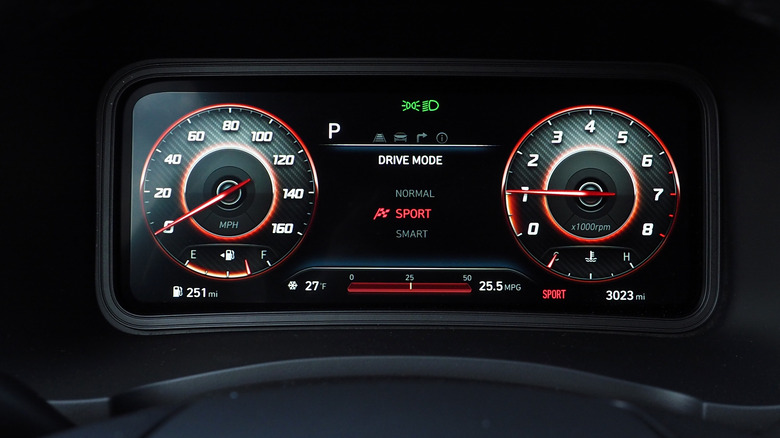 Chris Davies/SlashGear
Hyundai offers a choice of two engines, familiar from the Elantra sedan. The SE and SEL trims get a 2.0-liter four-cylinder with 147 horsepower and 132 lb-ft of torque, paired with a continuously variable transmission (CVT). From my time with it in the Kona's sedan cousin, I know it to be a smooth and laid-back drivetrain, focused more on bopping around town than delivering much in the way of excitement. In the Kona, it's rated for 32 mpg combined by the EPA.
The Kona N Line and Limited trims, meanwhile, switch up to Hyundai's more engaging 1.6-liter turbocharged GDI inline-4 engine, paired with a 7-speed DCT transmission. It packs 195 horsepower, though unlike with the Elantra N Line, there's no six-speed manual option. Not that, I suspect, there's a huge audience for a stick-shift Kona.
The more powerful engine is a welcome step up. It feels more eager and there's definitely more punch, while the DCT is swift to shift once you get past its occasional jerky stumbles at low speeds. It's a nice match to the Kona's unexpectedly engaging handling, too. I didn't have great expectations, given the price and positioning, but the little car is a big success at keeping the impact of bumps and potholes from shaking up the cabin. Perky seems like a particularly apt description.
AWD is a welcome option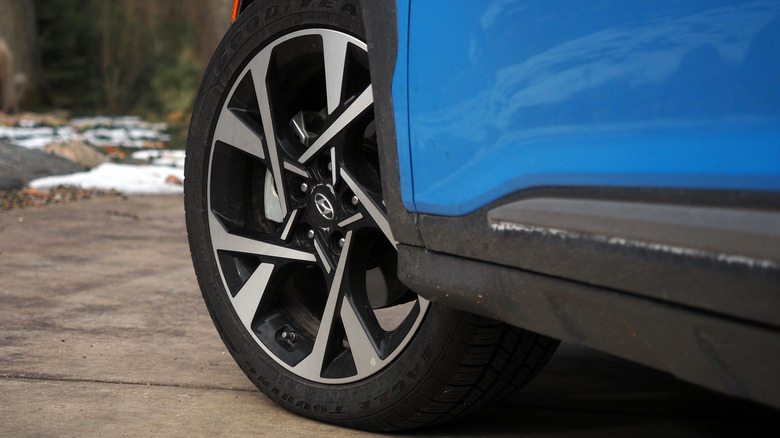 Chris Davies/SlashGear
All four of the Kona trims are front-wheel drive as standard. All-wheel drive is an affordable $1,500 option. While those in more temperate states may get along just fine with the default, being able to upgrade to having all the wheels driven makes a big difference to the Hyundai's usability in locations where snow and ice are an annual consideration.
It's something absent from the (cheaper) Hyundai Venue, despite that arguably looking even more like a compact SUV than the Kona does. Then again, the Venue starts under $20k.
Even with the AWD, don't expect to go playing on the off-road trails. The Kona's 6.7-inches of ground clearance falls short of a Jeep Renegade AWD's 7.9-inches, though I'd rather have the more comfortable Hyundai for day to day driving. There's also an economy penalty for all-wheel drive: the turbo engine is rated for 32 mpg combined in FWD form, but that dips to 29 mpg combined for AWD. In my own, mixed driving I saw just over 25 mpg.
A well-equipped cabin that could do with some jazz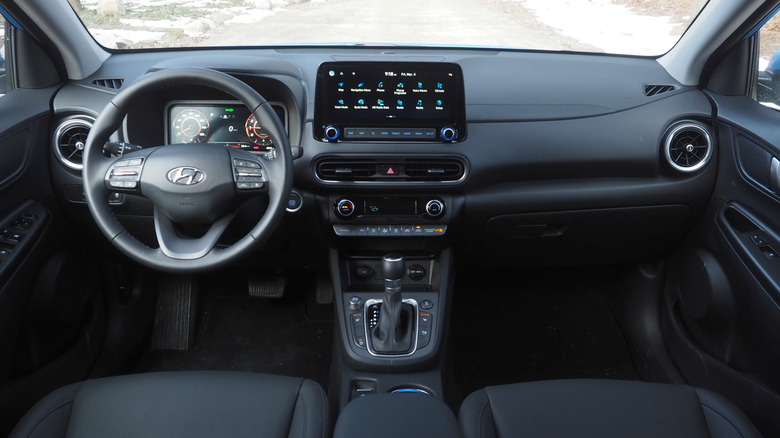 Chris Davies/SlashGear
Inside, the Kona's gray interior — the only color option on offer — is fairly dreary. A little more of the exterior personality wouldn't go amiss, but I'd even settle for just some brighter trim pieces. The Limited trim gets a power sunroof, lending some extra light, but that's part of a $1,700 Convenience Package on the SEL and not available at all on the SE and N Line.
Hyundai's plastics do, at least, feel sturdy and squeak-free. Limited trim adds leather to the seats, along with the steering wheel and shift knob, and there's also heating for those in the front pews too. The back seats — which split and fold 60/40 — are definitely on the snug side, as is the trunk. 19.2 cu-ft with the seats raised, and 45.8 cu-ft with them down, is low for the segment.
All trims have two USB ports in the front, Apple CarPlay and Android Auto, and keyless entry. SE, SEL, and N Line come with an 8-inch infotainment touchscreen that supports wireless smartphone projection. The Limited has a larger, 10.25-inch version with navigation (which is optional for N Line) but, oddly, goes back to wired projection. It does, at least, pipe your music through an upgraded Harman Kardon audio system with 8 speakers, and the top trim also adds rear USB outlets, SiriusXM, a wireless phone charging pad, and Hyundai's Bluelink Connected Car system with remote app access.
Safety tech isn't an afterthought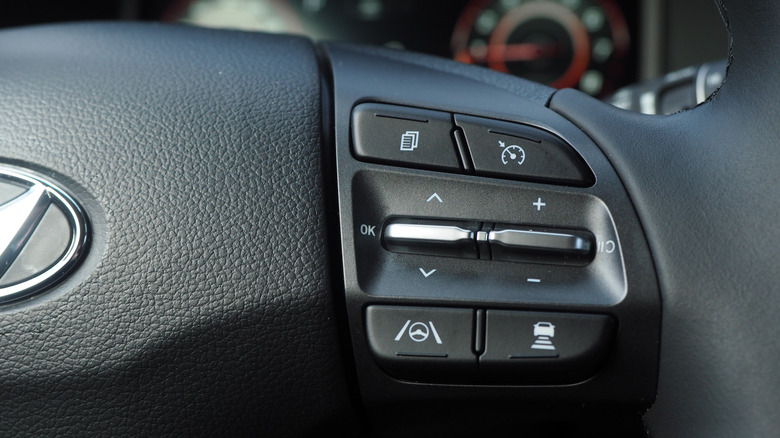 Chris Davies/SlashGear
I'm a fan of Hyundai's approach to active safety, which generally involves loading up even the base trims with plenty of protective tech. It's a nice contrast to some of the automaker's rivals, which still hold back features in the hope of provoking some upsell.
So, all 2022 Kona get lane-keeping assistance and lane following assist, tire pressure monitor, forward collision-avoidance assistance with pedestrian detection, driver attention warnings, and rear occupant alert. SEL and above add rear cross-traffic collision-avoidance assistance, blind-spot collision avoidance assistance, and safe-exit warnings.
If you're looking for a reason to justify the Kona Limited, though, Highway Drive Assist (HDA) might be sufficient. Hyundai's hands-on driver assistance tech combines adaptive cruise control with lane-keeping, and it's actually one of my favorite systems out there at the moment. Smooth, natural steering and attention monitoring which falls short of nagging without seeming blithe about safety make it unexpectedly comfortable and confident for long trips.
2022 Hyundai Kona Verdict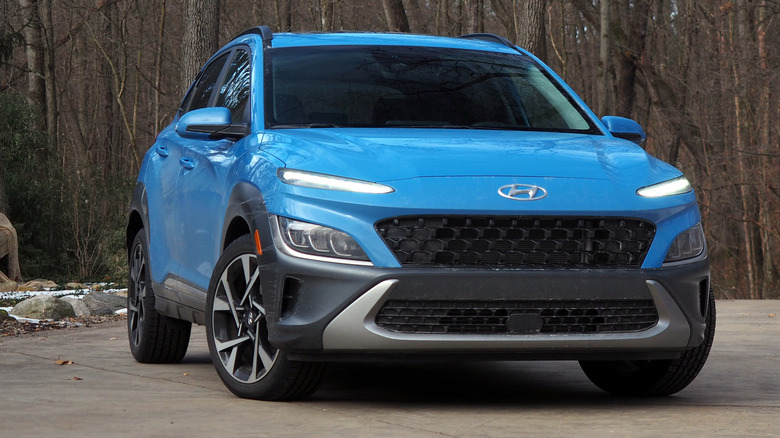 Chris Davies/SlashGear
While the trends of the industry might lead you to think otherwise, there's still fun to be had — and affordable fun at that — in smaller cars. Eager drivers wanting something crossover-esque don't just have the 2022 Kona to consider, but playful options like Mazda's excellent CX-30. Meanwhile the Subaru Crosstrek delivers standard all-wheel drive and actually feels like you could make use of it (within reason) in off-road situations.
The Kona holds its own, though, by virtue of its engaged driving dynamics, eager turbo engine, and strong level of cabin quality. You also get a healthy 5 year/60,000 mile warranty, 3 years of complimentary servicing, and 5 years of roadside assistance. Were it my money I might be tempted to grab the N Line trim which, even with AWD and destination added, still comes in under $29k, but it's not like a loaded-up Limited is too outlandish.
Or, of course, you could skip the bells & whistles and opt for something mighty affordable. At around $24k for a Kona SE AWD, you may not be getting all the gadgets — or, for that matter, the best engine — but there's a lot to be said for winter reassurance, nicely dialed-in road manners, and a comprehensive warranty that don't break the bank. Those who need more cabin space may want to look elsewhere, but everyone else will find a tiny SUV with plenty of big reasons to be a fan.