2022 Hyundai Elantra N Review: An Unexpected Treat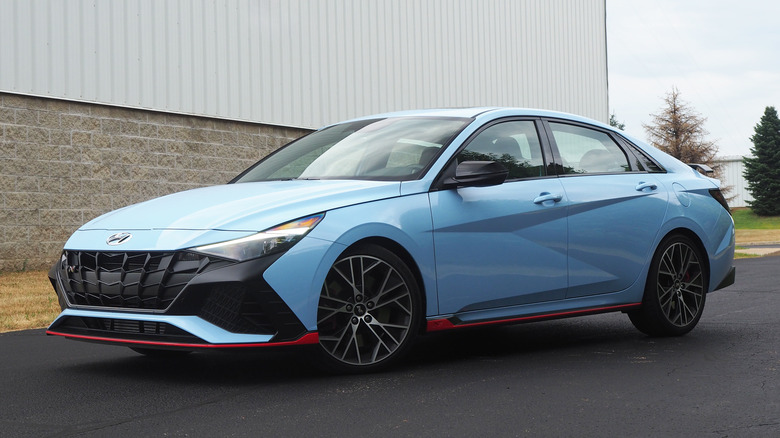 Chris Davies/SlashGear
Trust the headlines — and the automotive doomsday merchants — and you'd be forgiven for thinking that SUVs and trucks have ousted everything else on the market, and that the only options enthusiasts have left are crossovers with silly horsepower or Mazda's stalwart Miata. Not so, Hyundai counters, the 2022 Elantra N its antidote to dreary driving with a combination of attainable pricing, usable performance, and enough practicality to keep families happy.
The result feels more playful than a Golf GTI and offers more punch than a Civic Si, and though more expensive on paper than the Volkswagen and the Honda, Hyundai's "it just comes fully-loaded" packaging strategy certainly takes the headache out of ordering. In fact, the only real choice is whether you plan on rowing your own gears or not, though the keen driver may not actually want to listen to their first instinct there.
Love it or hate it style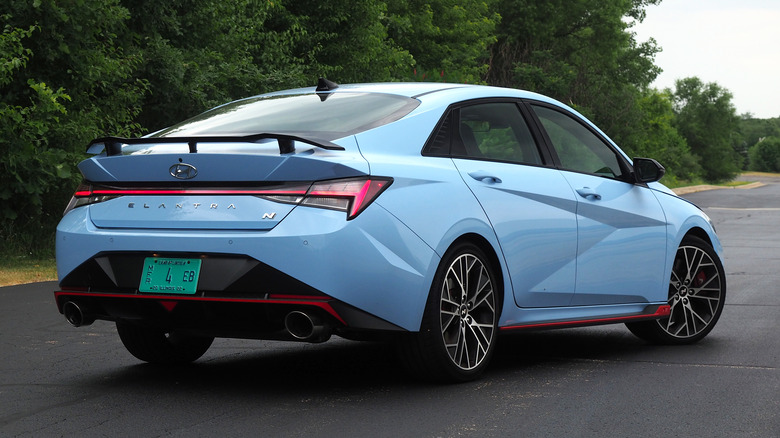 Chris Davies/SlashGear
In a segment that – in many cases – it feels like style forgot, Hyundai's angular aesthetic does at least stand out. Sharp creases, bold red highlights, and of course the N-exclusive "Performance Blue" paint (a $400 option) help bring out the most dramatic elements of the regular sedan's design, while an angular gloss-black spoiler and chunky dual exhaust tips leave the Elantra memorable from the rear, too. Whether you like it is a different matter, but taste is one of those subjective things. 
LED lights front and back are standard, along with a matte black front grille, gloss black side mirrors, and handsome 19-inch alloy wheels. Hyundai's tweaks aren't just aesthetic, however. The Elantra N gets stiffer suspension bushings, a reinforced chassis for improved stiffness, and new anti-roll bars, while the brakes are bigger than in the regular car.
The right amount of power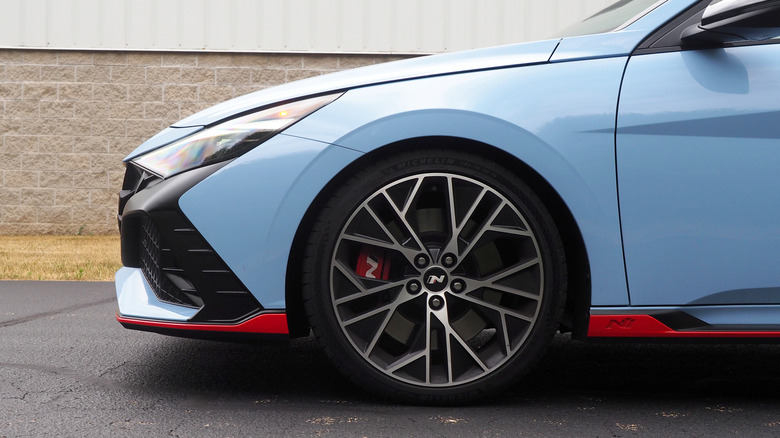 Chris Davies/SlashGear
The 2.0-liter turbocharged four-cylinder gas engine is a familiar thing from elsewhere in Hyundai's range, here tuned for 276 horsepower and 289 lb-ft of torque. It's paired with a 6-speed manual gearbox as standard, or an optional 8-speed wet dual-clutch transmission (DCT) that costs another $1,500 on top of the $32,150 (plus $1,025 destination) sticker price.
Regardless of who's shifting the gears, there's electronically controlled suspension and an N Corner Carving Differential (eLSD). The latter still sounds ridiculous — it's basically Hyundai's branding for an electronic, limited-slip differential — but we can't fault the results. It directs power to whichever of the front wheels stands to benefit the most with grip and dynamics.
From daily-driver to grin-inspirer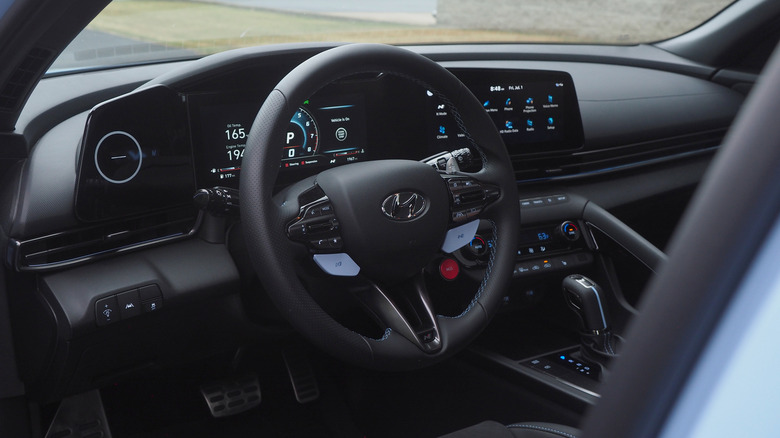 Chris Davies/SlashGear
As you'd expect there are multiple drive modes intended to make the most of all this. Eco and Normal modes do a reasonable job of taming the sedan for everyday use, softening the ride and keeping the engine's bolder whimsies dialed back. The standard-fit bucket seats are definitely snug even for slimmer drivers, however, and could be the limiting factor when it comes to day-to-day jaunts.
Switch to Sport or N, meanwhile, and things get more entertaining. Then the variable exhaust valve system gets throatier, the engine response gets more eager, and the DCT — as fitted to this review car — does its best to keep you in the midst of the power band. You can cycle through the modes with the dedicated button in the center console, or assign them (or the driver-tweakable Custom mode) as shortcuts to the two programmable "N" buttons on the wheel.
A good reason to go DCT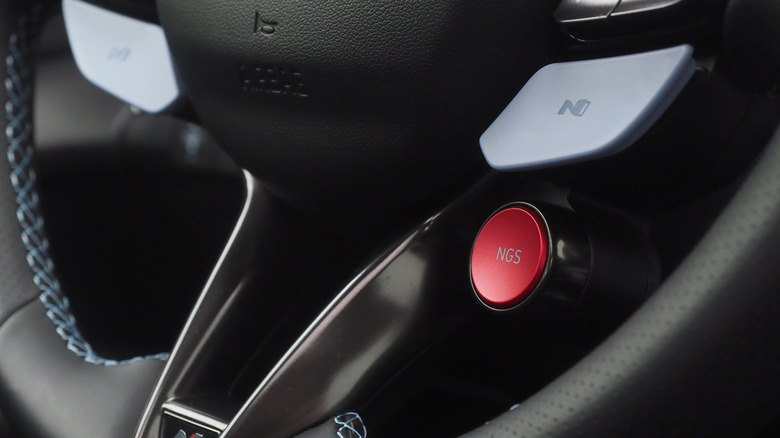 Chris Davies/SlashGear
While purists may demand the 6-speed stick shift, there are some good reasons to go for the automatic. The first is that it's no slow-poke, shifts being clean, smooth, and rapid. Hyundai's metal paddles are a nice touch — some performance sedans twice the price here are still making do with chintzy plastic — and you only get Launch Control with the DCT, too.
The same goes for overboost, triggered by the red "NGS" — "N Grin Shift" — button on the steering wheel. Stab that, and not only does the Elantra N twist all its settings to the max for 20 seconds, but you get a further 10 horsepower to play with.
Ample but not outlandish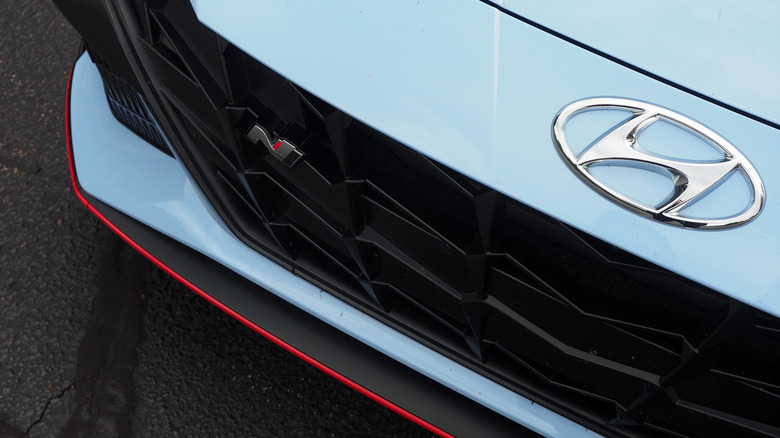 Chris Davies/SlashGear
And play you will. The Hyundai's "ample but not outlandish" power figures mean this isn't a car that relies solely on raw grunt to deliver those grins. Instead, you get to experience rewarding feedback through the steering, a communicative chassis, and the job-well-done of knowing you were in the right gear, at the right time, for the right maneuver.
The Elantra N's systems work with you, sure, but this isn't some over-processed video game of a car. It may be a completely different segment, but it's all reminiscent of what makes Mazda's Miata so engaging: usable horsepower that makes even everyday roads come alive without instantly catapulting you into license-losing speeds. Fun and accessible, rather than leaving you with the sense that you need a track day in order to tap what the Hyundai is capable of.
Sober inside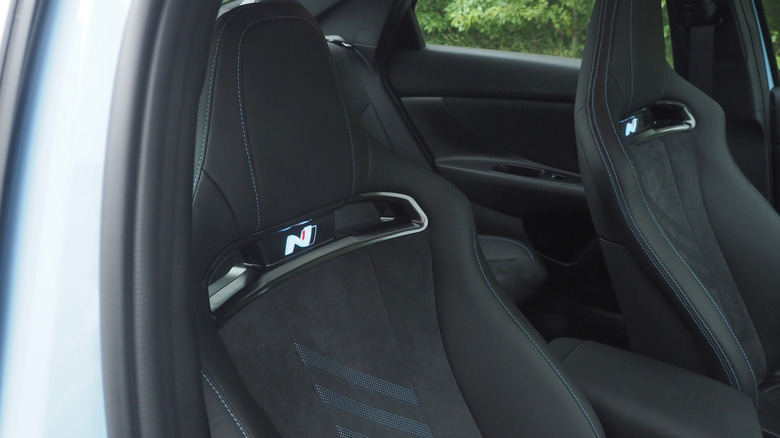 Chris Davies/SlashGear
Like the Veloster N's cabin, the Elantra N's interior errs on the dark-and-sober side. A smattering of pale blue switchgear and matching trim picks up on the stitching of the leather-trimmed and microsuede bucket seats — which also feature pointless-but-cool illuminated "N" logos — but for the most part, it's all black plastic in a variety of textures. Sturdy, if not especially stand-out.
Like the non-N version, there's space for adults front and rear, and despite the swooping roofline, there's decent headroom on the back bench. The curved backs of the buckets do eat into rear legroom a little, however, depending on how far back in their (manual) adjustment they've been pushed, and cupholders are conspicuous by their absence in the rear too. 14.2 cubic feet of trunk space is fine but not outstanding, and less than in the Veloster, and Hyundai stretches a reinforcing anti-roll bar behind the rear bench which limits the usability when you drop the single-piece seatback down.
Plenty of tech but a few oddities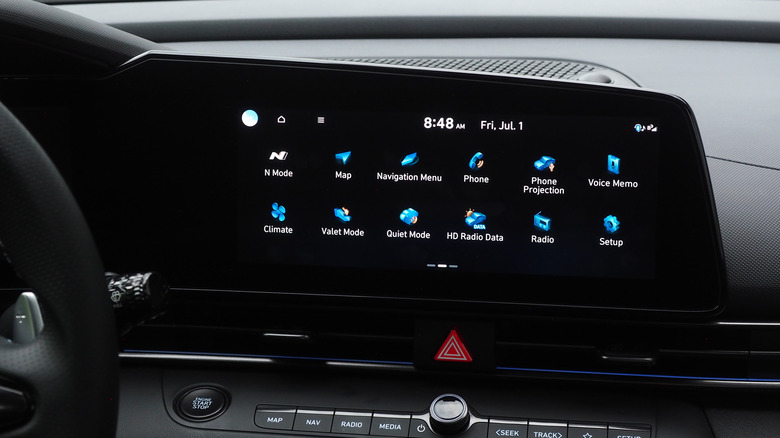 Chris Davies/SlashGear
As for tech, there's a 10.25-inch touchscreen atop the dashboard, running Hyundai's familiar and capable infotainment system with Android Auto and Apple CarPlay. Both are of the wired flavor, however, rather than wireless, which dilutes the usefulness of the standard wireless charging pad somewhat. A Bose 8-speaker audio system is standard, plus SiriusXM and two front USB ports.
Another 10.25-inch driver display gets a fulsome array of drive mode-specific graphics, which adds to the sense of drama when you switch between, say, Normal and Sport. Unfortunately it doesn't show the useful lane-adjacent camera view that other cars in the Hyundai group beam through when you hit the turn signal. For that you'll need to rely on the blind spot warning system.
Active safety all comes as standard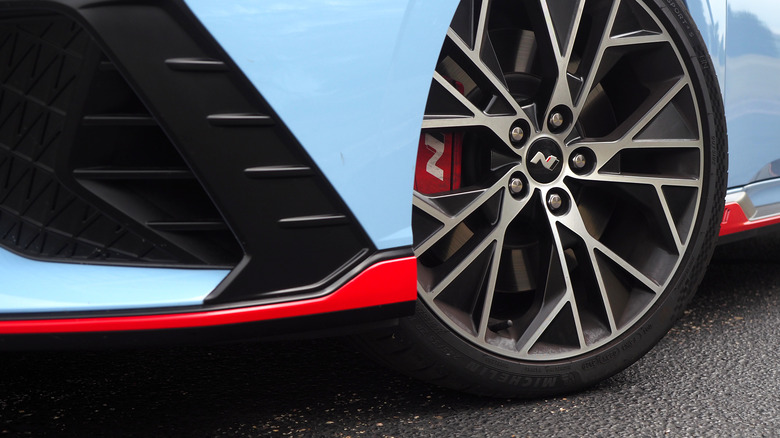 Chris Davies/SlashGear
It's welcome to see that come fitted as standard, as is forward collision avoidance assistance with pedestrian detection, rear cross-traffic collision avoidance assistance, and both lane keeping, and lane following assistance. Reverse parking sensors are standard; front sensors would've been a nice addition, frankly, given the low lip spoiler there is just crying out for a curb crunch.
Absent is adaptive cruise control, a decision made all the more strange given Hyundai's lane-keeping assistance is excellent. Stab the button on the steering wheel and the Elantra N will help guide you around corners. It just can't maintain pace with traffic ahead.
Farewell, hatchback cousin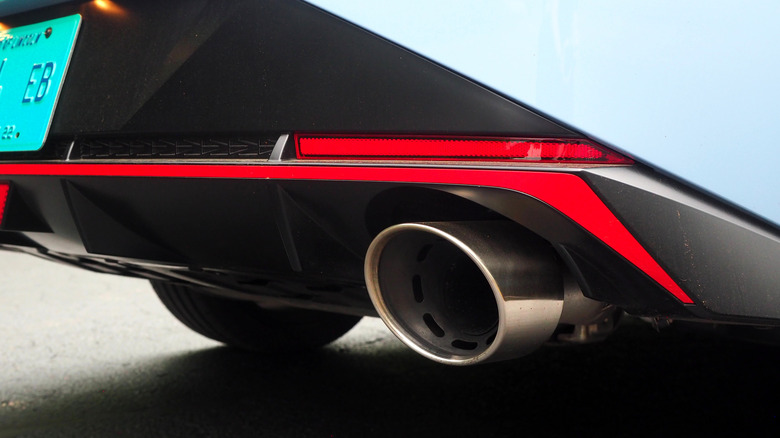 Chris Davies/SlashGear
Hyundai, for all it is apparently committed to affordable fun, isn't running a charity here. The arrival of the Elantra N has also sent the Veloster N out to pasture, with the automaker confirming that the oddball three-door hatchback will not be returning for the 2023 model year.
That's a shame, but it's hard to fault Hyundai's logic. The Veloster N was already a fairly tough sell, with its atypical design and compact size. It's not unreasonable to expect more people to be swayed by a practical four-door sedan — even a relatively small one like the Elantra — that happens to also be a grin-inducing good time, too. They'll just have to be okay with feeding it premium gas and a combined economy figure of 25 mpg.
2022 Hyundai Elantra N Verdict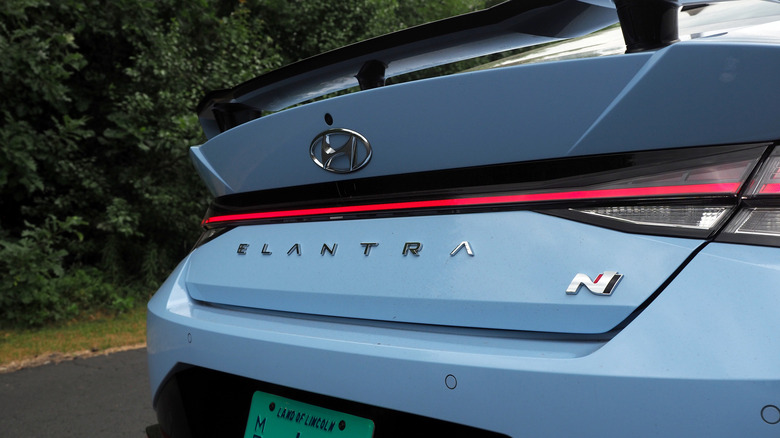 Chris Davies/SlashGear
It's hard to feel too begrudging about the Elantra N's thirst, though. Given the trajectory of the automotive world right now, anything focused on mainstream enthusiasts that doesn't assume they automatically want an SUV or have the budget for a luxury performance sedan can't be a bad thing. The fact that Hyundai's offering is so rewarding is the cheerful cherry on the top.
Powerful, but not too powerful; distinctive, but without sacrificing either practicality or everyday usability. Plenty of tech and safety features — albeit with a few head-scratcher moments — and all covered by a healthy 5-year/60,000-mile warranty, and 10 years/100,000 miles for the powertrain specifically. If the status quo has been leaving you cold, the 2022 Elantra N feels just the right amount of sensible silliness.