2022 Kia EV6 Review: Electric For The Mainstream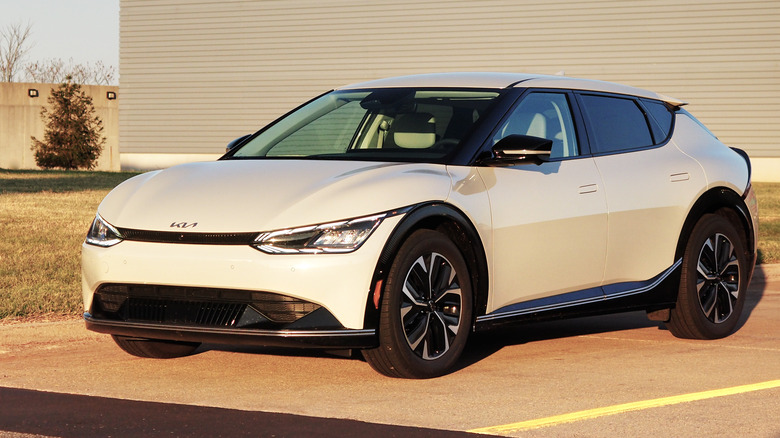 Chris Davies/SlashGear
Once upon a time, and not all that long ago, buying an electric car that wasn't a Tesla felt like a compromise. Range and technology were the usual justifications for sliding behind the wheel of a Model 3, but inoffensive styling and solid pricing didn't hurt, either. Fast-forward to today, though, and Elon's empire is — just as he infamously said he hoped would be the case — under attack from all sides. Whether luxury, crossover, SUV, or compact is your category of choice, there's now strong enough competition that Tesla needn't be the de-facto choice.
Little illustrates that dramatic evolution like the 2022 Kia EV6, or indeed its Hyundai Ioniq 5 and Genesis GV60 cousins. Reaping the practical rewards of efficient platform-sharing, yet avoiding copycat styling or EV-by-numbers dullness, the trio juggle space, speed, and sticker price in a way other Tesla alternatives have struggled to achieve.
For the electric-cautious, there's a familiar dealer network, a 5 year/60,000 mile warranty (plus 10 year/100,000 mile powertrain and battery warranties), and sufficient battery to squash range anxiety for most drivers. Those already onboard the EV train, meanwhile, will find the blend of performance and refinement they expect, along with some niceties that are only now trickling into the mainstream.
Aerodynamically head-turning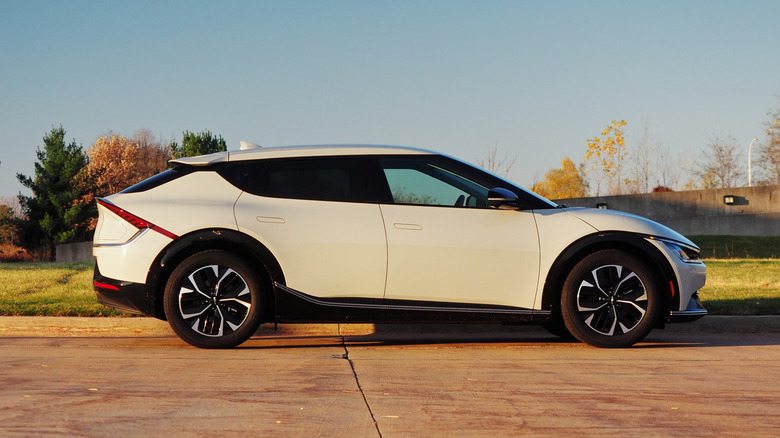 Chris Davies/SlashGear
From some angles, the EV6 looks like a moon buggy. From others, you could almost mistake it for a sports wagon. Its curvaceous profile is undeniably crafted with aerodynamics in mind, but Kia has managed to keep it looking distinct and interesting along the way.
I like it, but not everyone agrees, though I think that's probably better in the grand scheme of things than a car that is so bland as to be entirely forgettable. There's fun detailing, like the styling of the daytime running lights and the way the headlamp clusters slice into the front wheel arches, while the arching rear lamp bar is positively glorious.
Kia aids the aero with flush-fitting door handles, which pop out either manually or automatically depending on trim. You'll need a top-spec GT-Line to get the power handles, otherwise, there's a two-movement process involved: push at one end to extend it, and then pull at the other to actually open the door. Under the rear right lamp cluster, meanwhile, is a power hatch to hide the charging port: a tap opens it and closes it.
One platform, plenty of variations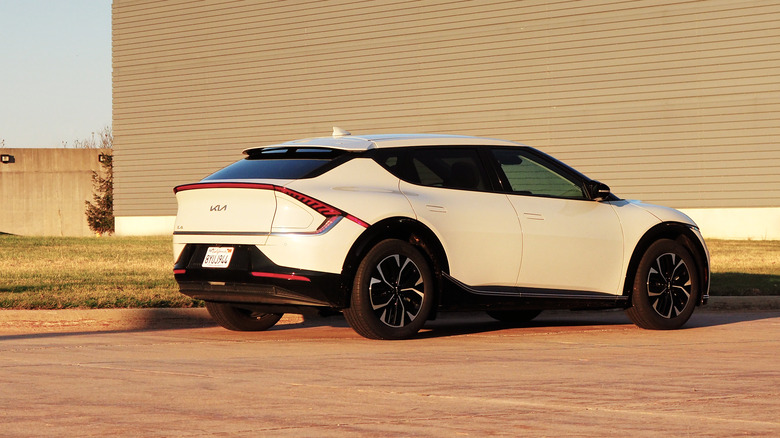 Chris Davies/SlashGear
Styling apart, the Kia is based on the same electric-only platform as the Ioniq 5 and GV60, the E-GMP architecture. That's designed for single and dual-motor applications, a fact that Kia takes full advantage of. You can have your EV6 in rear-wheel drive or all-wheel drive form, the former with a single electric motor on the rear axle, and the latter adding a second for the front wheels.
On top of that, there are different power and battery types. An entry-level EV6 Light RWD gets you a single 167 horsepower motor and 258 lb-ft of torque, plus a 58 kWh battery rated for 232 miles of EPA range. That starts at $41,400 plus $1,215 destination, while the EV6 Wind RWD starts at $47,500 and steps up to a 225 horsepower motor and a 77.4 kWh battery rated for 310 miles. An EV6 GT-Line RWD trim throws in extra equipment but no more power or range, from $51,700.
Then, there's the EV6 Wind AWD, which comes as standard with Kia's long-range battery and is EPA rated for up to 274 miles. Twin electric motors give it a total of 320 horsepower and 446 lb-ft of torque, with pricing starting at $51,400. A flagship — for now — GT-Line trim starts at $56,400.
Fast-approaching — only a slight pun intended — is the 2023 Kia EV6 GT. Announced back in August, its 430 kW and 546 lb-ft of torque are good for 0 to 60 mph in just 3.4 seconds, the automaker promises. That makes it not only the most powerful EV6 but the most powerful production car that Kia has ever offered.
No shortage of speed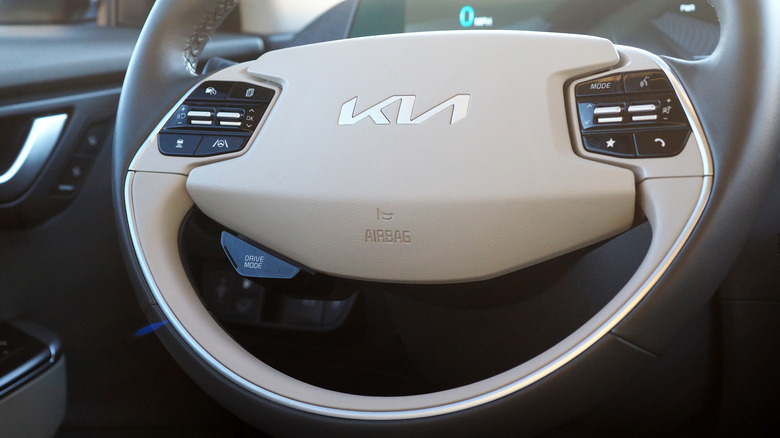 Chris Davies/SlashGear
For now, though, this EV6 Wind AWD feels plenty powerful. Not quite as punchy as the Genesis GV60 Performance AWD, which wields 429 horsepower and 516 lb-ft of torque, but more potent than the GV60 Advanced AWD with its 314 horsepower and 446 lb-ft. It'll also go further than either Genesis configuration, each of which is rated for 248 miles at best.
I'll confess, the sense of urgency in the punchy GV60 is great fun, but the EV6 is no slow-poke. As well as the surge of instant torque from the get-go, for a sub-5-second 0-60 time, the all-wheel drive Kia also feels nimble and poised. Like any EV it's no lightweight — that's the downside of big batteries and decent range — but it hides that reasonably well.
There's no adaptive suspension here, as the Genesis benefits from, but a combination of low center of gravity and reasonably firm tuning leaves the EV6 flat and unflappable. A big button on the steering wheel flips through the Eco, Normal, and Sport modes — holding it switches into Snow mode — but there's no whimsical Boost button as the GV60 offers.
Efficient and flexible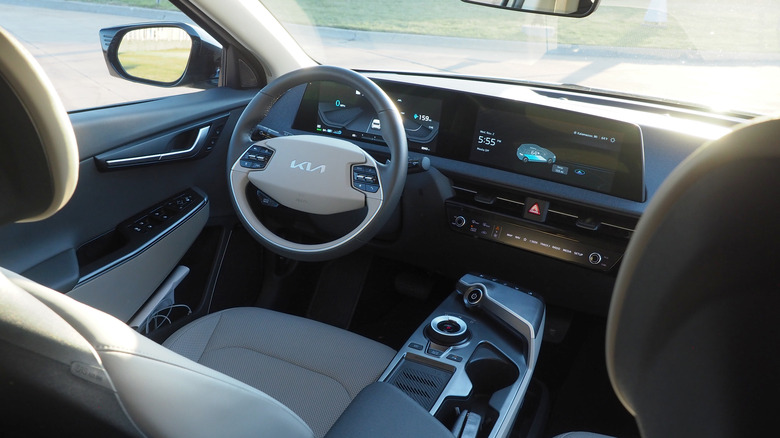 Chris Davies/SlashGear
As on the other E-GMP cars, the paddles on the EV6's wheel adjust the levels of regenerative braking. There's a one-pedal mode, though the Kia won't stay in it — unlike rival EVs — and you need to select that maximum setting every time you start the car up. At the other extreme, it'll coast smoothly, and rely on you deciding when to apply the easily-modulated brakes yourself.
With minimal thought to efficiency, I managed to clock in at a very healthy 3.3 miles per kWh. When it came time to charge up again, meanwhile, the EV6's DC fast charging support means, if you can find a 350 kW station, you're looking at around 180 miles of range added in 15 minutes. EV6 buyers get 1,000 kWh of inclusive Electrify America charging, too.
A welcome inclusion on the all-wheel drive EV6 configurations is a standard heat pump. That can help offset a drop in range in cold weather conditions, and in fact, Kia claims it can preserve around 40 miles of range when the temperature drops to around 25-30 degrees Fahrenheit. All but the Light trim get a power inverter, too, which can be used to plug in devices via familiar AC outlets.
A spacious cabin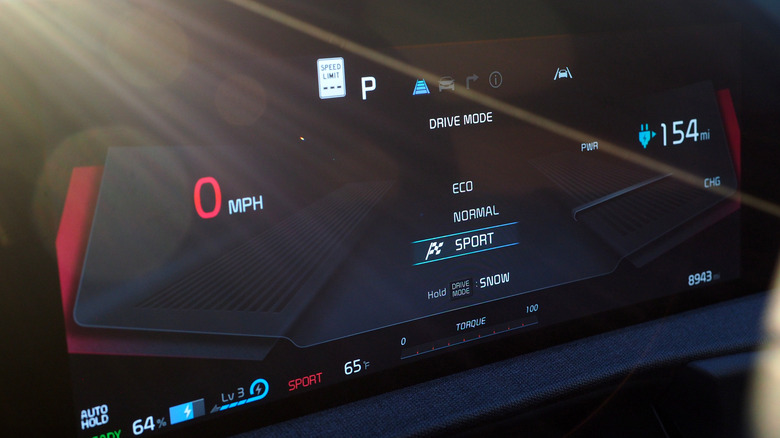 Chris Davies/SlashGear
Inside, the EV6 is a little more visually interesting than the cabin of the Ioniq 5, though falls short of the eye-catching aesthetic — and charming gimmicks — of the GV60. Dual 12.3-inch dashboard displays are standard, running Kia's straightforward infotainment system with wired Apple CarPlay and Android Auto support. A few extra menus have been thrown in to keep track of EV performance, too, while GT-Line cars have a head-up display.
All trims but the base get a 14-speaker Meridian audio system with subwoofer, and there's no shortage of connectivity: four USB-C for charging, and a USB-A for hooking up your phone. A wireless charging pad is also included as standard, as are dual-zone climate control and heated front seats. Ventilated front seats are standard on all but the base trim.
It's a pleasant and spacious place to find yourself, with lots of storage nooks and cubbies. There's 24.4 cubic feet of trunk to play with, down a few from the larger Ioniq 5, though dropping the rear seats expands it to just over 50 cu-ft. For the most part, everything is easy to control and navigate, though I'm still not a fan of Kia's switchable HVAC/media buttons. The touch-sensitive strip flips between the two sets of controls, saving space on a dashboard that isn't really short of that, to begin with.
Safety tech galore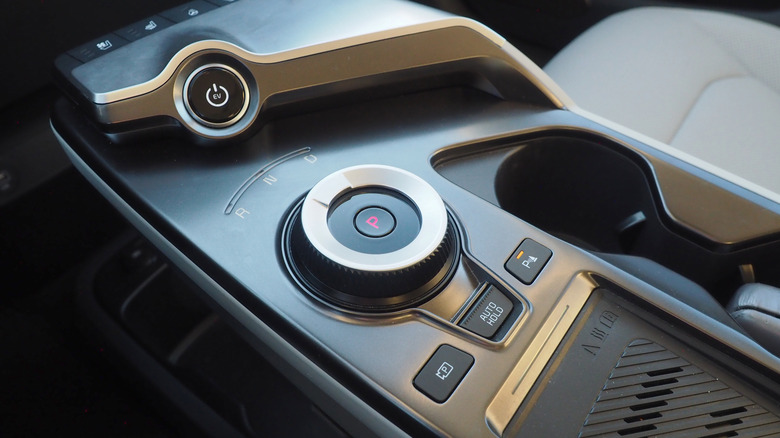 Chris Davies/SlashGear
The EV6 may not have the Genesis' glowing, rotating ball, but that doesn't mean it's entirely lacking in playful tech. Remote Smart Parking Assist, for example, can pull the car in and out of both perpendicular and parallel parking spaces, all controlled from the key fob. More useful still is the blind-spot view monitor, which beams a camera feed from the side mirrors to the driver's cluster display when you indicate.
Forward collision avoidance assistance is standard, as is rear cross-traffic collision avoidance assistance. Wind trim and up gets a 360-degree camera, lane keeping assist and lane following assist, and front/parking distance sensors. There's also Highway Driving Assist, Kia's well-tuned hands-on adaptive cruise and lane-keeping system, which adds subtle but convenient steering inputs to help reduce your workload on longer trips.
In all, including Glacier White paint ($495) and the standard 19-inch black alloy wheels, this particular review car clocked in at $54,110 including destination. Comfortably less than the Genesis, and a little more than a comparatively-equipped Ioniq 5, but it's worth noting that Hyundai is still limiting sales of its car to a handful of U.S. states. Kia's is far more broadly available.
2020 Kia EV6 Verdict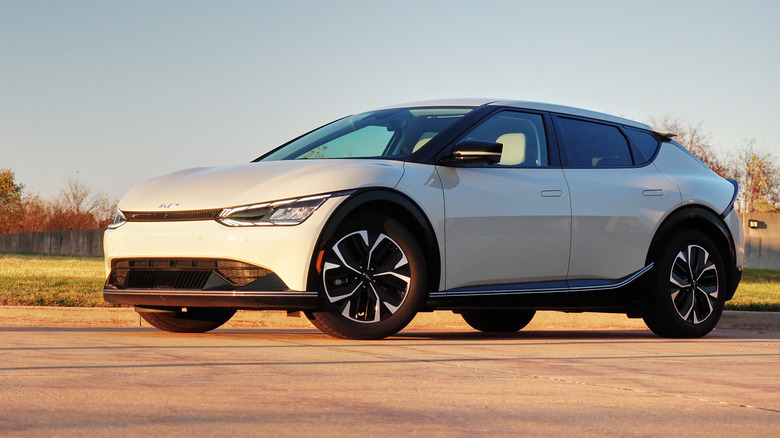 Chris Davies/SlashGear
That's fine, though, because the Kia feels like the most well-rounded of the three. After years of desperately hoping the mainstream automakers would wake up and smell the electric coffee Tesla has been brewing, the past couple of years have finally seen legitimate competition arrive. The EV6 is one such example, but alternatives like the Polestar 2, Ford Mustang Mach-E, and Volkswagen ID.4 all carve out as close to mass-market niches of their own as we've seen so far.
Even amid that fresh competition, though, the 2022 Kia EV6 comprehensively holds its own. Stylish, speedy, and flexible, it's tough to argue with Kia's recipe here. Though performance fans may want to wait for the EV6 GT set to arrive later this year, those hunting an attainable all-wheel drive electric car that doesn't compromise on range or equipment will find plenty here to enjoy.