2022 Range Rover Review: Luxury SUV Is Subtly Splendid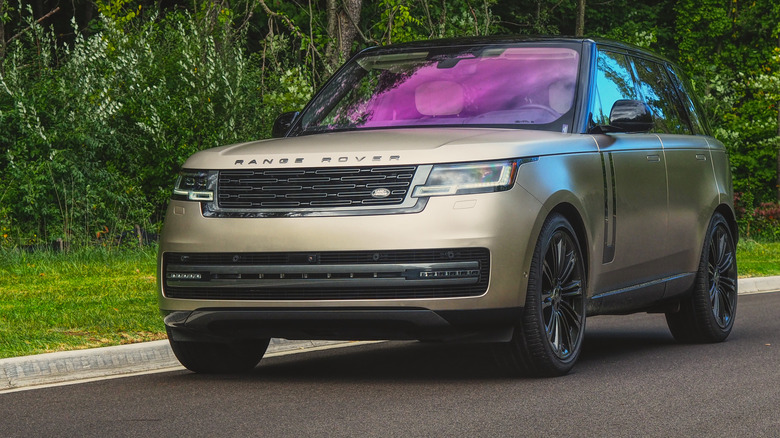 Chris Davies/SlashGear
Standing out in the luxury SUV category isn't easy, especially when you intentionally avoid bling. In an age of Maybach, Urus, Bentayga, and Cullinan — not to mention new additions like Purosangue and BMW's XM — opting for subtlety seems like a non-starter. Yet that's just, relatively speaking, what Land Rover's new Range Rover attempts, and the results are undoubtedly surprising.
Heritage helps, of course. Bentley, Rolls-Royce, Ferrari, and others are all newcomers to the SUV world; Land Rover's flagship nameplate, in contrast, launched more than five decades ago. As a result, the 2022 Range Rover can afford a little more balance in its "show and tell," with a legacy of cosseting and capability that requires no shouting.
All the same, the whims of luxe car buyers are notoriously changeable. Badge prestige is important, but so too are technology and unique features, not to mention superlative-worthy performance. With the competition fiercer than ever, the question is really whether the Range Rover is leaning too heavily on lineage to truly hold its own.
Monolithically minimalistic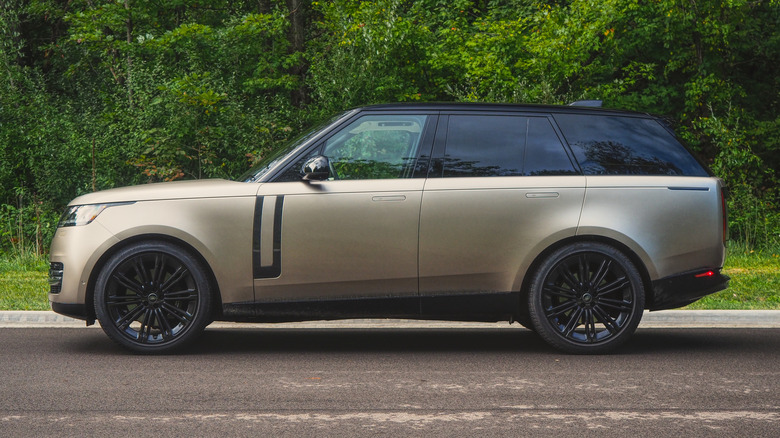 Chris Davies/SlashGear
It's a testament to Land Rover's design team that the evolution of the Range Rover aesthetic has seemed so graceful. At first glance, there's no mistaking this new, fifth-generation model for any other SUV. Side by side with the previous-gen, however, it's clear that the changes have been considerable, and thoughtfully implemented.
At a time when big SUVs have eagerly embraced "oversized" as a style language in itself — including vast grilles and comical proportions — the Range Rover's pared-back look is a delight. It's smoothly monolithic, avoiding creases and unnecessary surface detailing for their own sake. Instead, there's a sense that the whole SUV was carved by the flow of water across stone.
The shoulder line is particularly graceful, in part because of its clear sweep along the whole length of the Range Rover from the hood, but also because of the effort put into the window mechanism and how that meets the door. Recessed hardware leaves far less for the eye to get caught on.
One SUV, two lengths, three cabins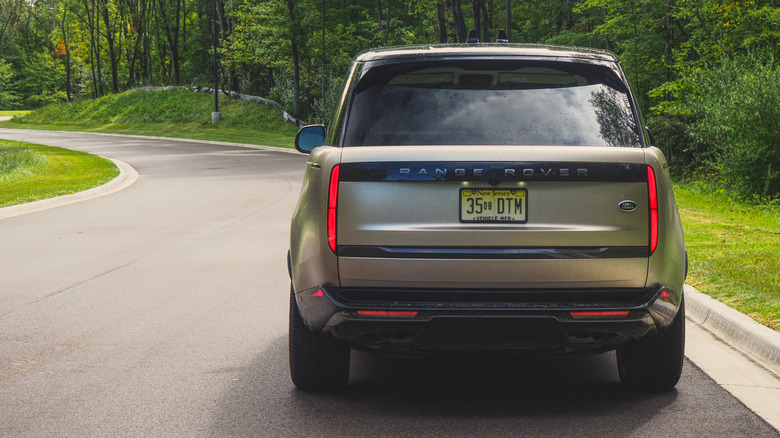 Chris Davies/SlashGear
I think I prefer the new Range Rover rump most, though. The gloss black panels — through which the taillamps glow like luminescent parentheses — are stately and crisp. They emphasize the subtle swell of the SUV's haunches and echo the black glasshouse and the lower rear fascia. It's a triumph of doing more with less.
This particular example is the Range Rover First Edition, starting at around $164,000. It's a trim on top of three different primary configurations that Land Rover offers: Short Wheelbase, Long Wheelbase, and Long Wheelbase Seven Seats. On top of that, there are also SE, Autobiography, and SV trims.
With that and a plethora of cabin configurations, Land Rover attempts to do what you might think impossible with just one SUV: take on all of the luxury and sports newcomers to the segment. Want practicality? A long-wheelbase seven-seater Range Rover will accommodate a sizable family. Like to drive fast? The performance-focused SV does 0-60 mph in as little as 4.4 seconds. Demand rear seat travel in style? A long-wheelbase fitted with Land Rover's upscale Signature Suite is a profligate way to spend all that cabin room on seating for just four.
Seats fit for stars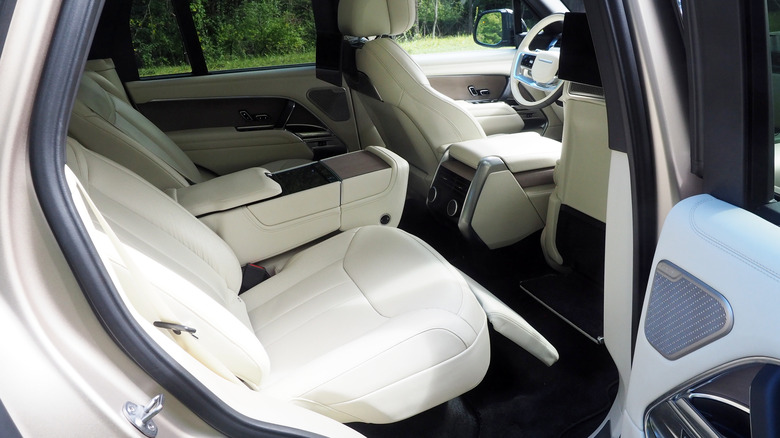 Chris Davies/SlashGear
This First Edition uses the short wheelbase and the five-seat Executive Class interior. You don't get the full ultra-lavish second row of the Signature Suite — which includes extra recline, a pop-out footrest, and a fixed center console — but the bench is hardly disappointing. The center seat folds down into an oversized armrest, with an integrated 8-inch touchscreen to handle climate control, multimedia, and seating settings.
Sit behind the front passenger, whose seat you can remotely shuffle forward, and there's a drop-down footrest. Obviously, there's also massage, heating, and ventilation, just like you get up front. Settings for position, seat folding, and more are all accessible through the front infotainment touchscreen too, including a useful "reset" button which sends them back to their defaults if the kids have been messing with the buttons.
It's all wrapped in Land Rover's beautiful extended leather package. That puts hide on the instrument panel, door toppers, upper arrests, console sides, and more. Real chrome trim is used, along with real walnut veneer. If you'd rather go green, there's an Ultrafabric and Kvadrat option which swaps the leather for textiles akin to wool and other fabrics, along with black birch veneer.
A big V8 for a big SUV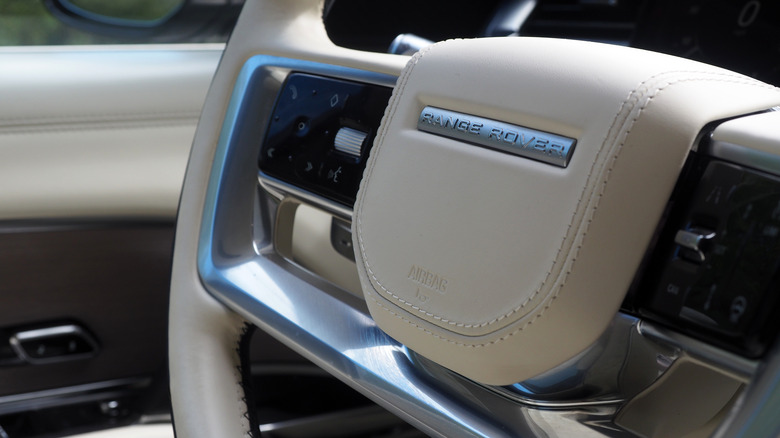 Chris Davies/SlashGear
That might assuage a little of your guilt over the First Edition's P530 twin-turbo V8, borrowed from BMW's catalog and then massaged by Land Rover. It's definitely a potent engine, with 523 horsepower and 553 lb-ft of torque, putting its power down adroitly via permanent all-wheel drive and 8-speed automatic transmission.
0-60 mph arrives in 4.4 seconds, though the long-wheelbase Range Rover nudges that up to 4.5 seconds. It leaves the SUV feeling honestly a bit silly: plant the accelerator and the back end squats down momentarily before the whole thing surges forward with a giddy eagerness. Happily, the brakes are up to the challenge of slowing things, while the standard air suspension does a surprisingly good job — all things considered and assuming realistic expectations — at squashing roll in the corners.
It's fun to do the point-and-squirt when straight-line opportunities arrive, but really this is peak wafting territory. The Range Rover ambles like a precious gem coasting through freshly-poured syrup, serene and hushed. It doesn't shout, but there's presence enough that even truck-jaded Michiganders turned to give me a second glance.
The electric roadmap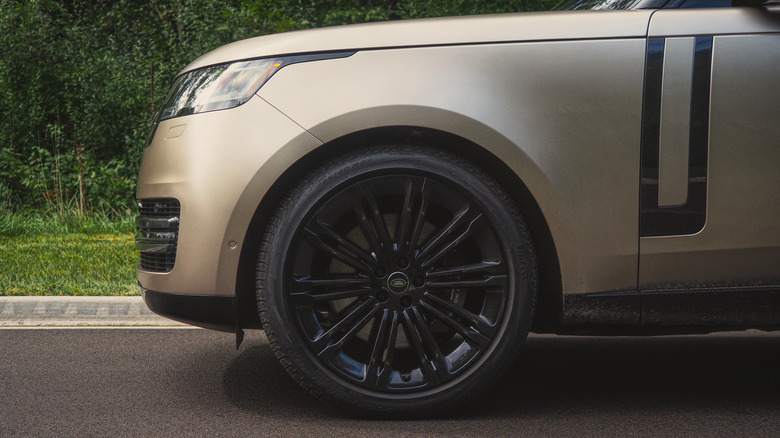 Chris Davies/SlashGear
With an 18 mpg combined rating (or 16 mpg in the city and 21 mpg on the highway), though, profligacy comes with its companion expenses (not to mention green guilt). There's a lot to be said, then, for opting for Land Rover's inline-six mild hybrid, the P400, standard-fit on the Range Rover SE from $104,500. It combines its 3.0-liters with some electric drive, for 395 horsepower and 406 lb-ft of torque. 0-60 mph comes in as little as 5.5 seconds, still more than respectable for an SUV of this size and weight.
If you want more electrification, the newest Range Rover P440e (from $108,400) is a plug-in hybrid. It keeps the six-cylinder turbo gas engine but adds an electric motor to take total power to 434 hp and 457 lb-ft of torque. Final EPA economy numbers aren't available yet, but Land Rover expects around 48 miles of electric-only range.
Come 2024, meanwhile, the fully-electric Range Rover will land. Exactly what that will deliver is unclear at this stage, Land Rover keeping its details close for now. Still, as we've seen time and time again, BEV makes a whole lot of sense for a luxury vehicle, where plentiful torque and hushed driving are an enviable combination.
Capability even if you never use it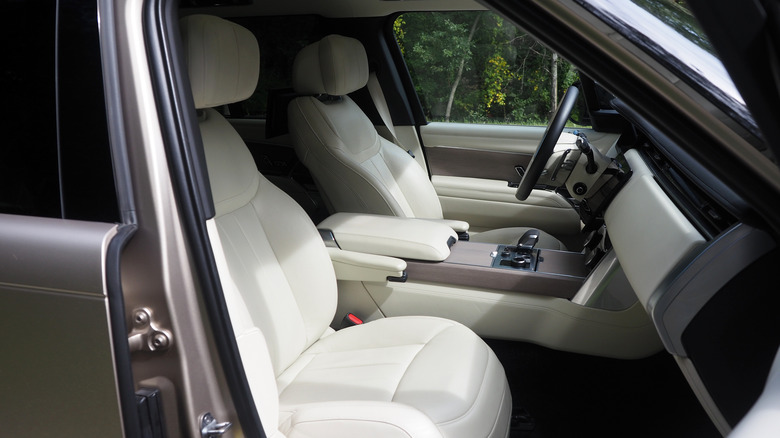 Chris Davies/SlashGear
With all-wheel drive as standard, along with rear-wheel steering for tighter turns and more stability during high-speed maneuvering, Land Rover has not neglected the SUV's off-road performance. Though it's difficult to imagine owners risking the $900 23-inch wheels of this First Edition example out in the mud, that doesn't mean the Range Rover is unwelcome off the asphalt. You just need to be brave.
Terrain Response 2 helps there, with various drive modes for different conditions and surfaces. There's wading support for up to 35.4-inch depths, along with up to 7,716 pounds of tow rating. An electronic active rear locking differential and torque vectoring by braking are also included.
I'm not entirely sure how many Range Rover owners will actually brave the wilderness (beyond, say, pulling the odd horse box). However, you can't help but admire how user-friendly the SUV makes all this outdoorsy stuff. Sensors in the side mirrors, for example, track water depth and warn you if you're approaching the limits; 360-degree cameras and even easy access to the overall car dimensions help reduce uncertainty in moments when you really, really don't want to be doubting the conditions.
2022 Range Rover Verdict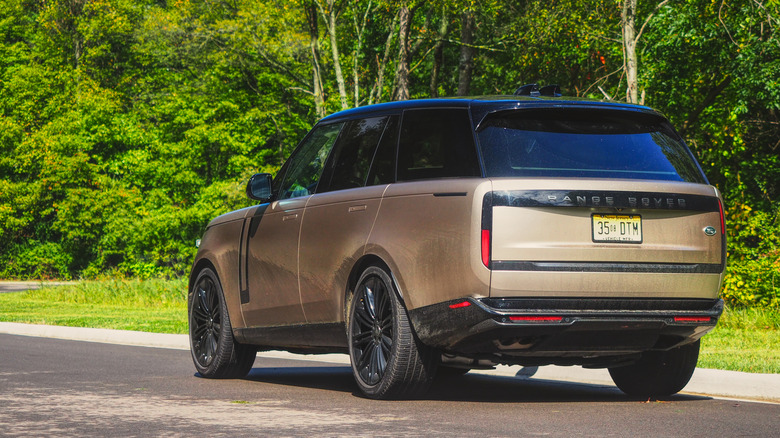 Chris Davies/SlashGear
In fact, perhaps the biggest takeaway here is that true luxury isn't just plush seats, massage features, or even an amazing-sounding Meridian Signature audio system. Don't get me wrong, they're all lovely, and rightly considered table stakes in a competitive market, but they're not what really lingers about the new Range Rover.
Instead, it's a combination of how special it makes a journey feel, with — paradoxically — how easeful and low-key it is, too. There's excess here, but it's not shouty, or blinged-out. Speed, but without compromising comfort. The new Bentley Bentayga Extended Wheelbase offers some of that too but in an undoubtedly more ostentatious format.
I'll confess, what I'm most excited about is the all-electric Range Rover. In the meantime, though, it's hard to think of more well-rounded rides than this V8 behemoth. Equally at home transporting royals as much as rappers, it's a daily driver that still manages to feel special enough for chauffeur duty. The luxury SUV market may be crowded these days, but Land Rover's flagship carves out its space nonetheless.