2023 BMW XM Revealed As A Hybrid SUV Monster: Power And Price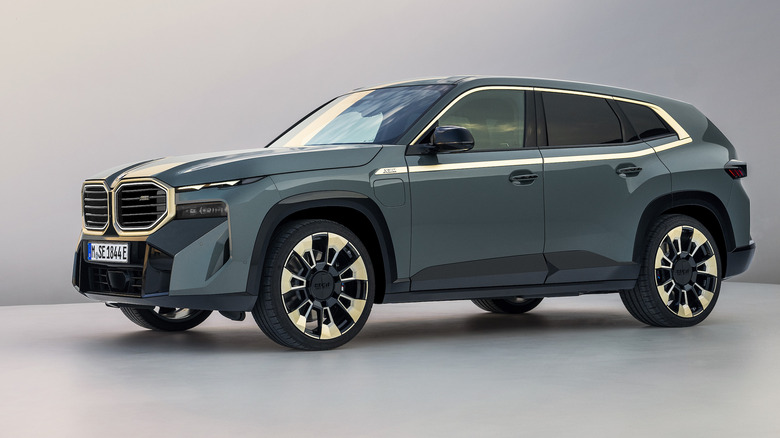 BMW
The 2023 BMW XM is a plug-in hybrid that puts monstrous M Performance power in a luxury SUV, but at what cost? When it comes to BMW's sporty hybrid range, the i8 is probably what first comes to mind. Despite being a head-turner, the underwhelming performance of its 1.5-liter three cylinder engine didn't exactly compliment its supercar-esque looks, despite the best efforts of some bolted-on electric motors, and saw BMW eventually kill it off in 2020. 
The automaker's latest foray into the sport PHEV world now offers beefy performance to go along with its aggressive exterior, however. In a press release, the German automaker introduced its first-ever electric hybrid BMW M model: a hybrid powerhouse "in a form never experienced before." Based on the striking — and controversial — XM Concept unveiled in late 2021, the production version sees some aesthetic changes as it heads to the factory.
The 2023 BMW XM is actually the first original M model since the iconic M1 supercar debuted in 1978. It certainly has power worthy of its M badge, utilizing a 194-horsepower electric motor paired with a 438-horsepower 4.4-liter twin-turbo V8 engine. This lets the XM go from 0 to 60 mph in just 4.1 seconds, BMW says, with a top speed of 155 mph. Opting for the M Driver's Package bumps the 2023 BMW XM's top speed further, to 168 mph, though if you're only using the electric motor then that drops to 87 mph. While its 30-mile all-electric range is certainly an improvement over the i8's, being economical isn't the only thing this M-powered hybrid brings to the table.
Driving fast like royalty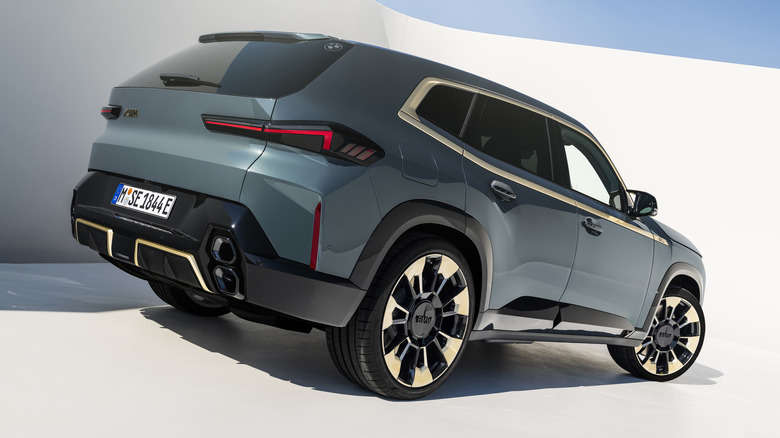 BMW
For a hefty SUV, the BMW XM can generate a thunderous 644-horsepower overall, churning out 590 ft-lb of torque as early as within the 1,600 to 5,000 RPM range. This powerful performance is thanks to an 8-speed tiptronic transmission and a hybrid V8 set-up similar to that powering BMW M's competition racecars. The XM will also be the first M model to feature Integral Active Steering, which allows crab-like driving maneuvers for quicker turn response and more secure lane switches. 
On the inside, the muscly hybrid blends together materials like vintage Merino leather, Alcantara, and carbon fiber trims. Its exclusive rear seats -– dubbed the "M Lounge" –- can accommodate three people, and features an illuminated 3D pattern cabin roof. The BMW XM also includes dynamic mood lighting as well, with the help of 100 LEDs that can also pulsate during potential collisions and incoming phone calls. 
The BMW iDrive 8 system returns to compliment a sizable curved infotainment display, and there's also adaptive headlights and M suspension, a head-up display, BMW's IconicSounds audio system for EVs, and 23-inch wheels all coming as standard. That's not so say BMW's notoriously optional heated seats will be included: they're actually part of an optional package, though they do at least include the side panels as well as the seat backrests and base. 
Pricing for the 2023 BMW XM will start at $159,000, with first production expected by the end of 2022. Meanwhile, an even faster, 735-bhp Label Red variant carrying an over $185,000 price tag is planned for 2023.