BMW Owners Are Stealing Their Heated Seats Back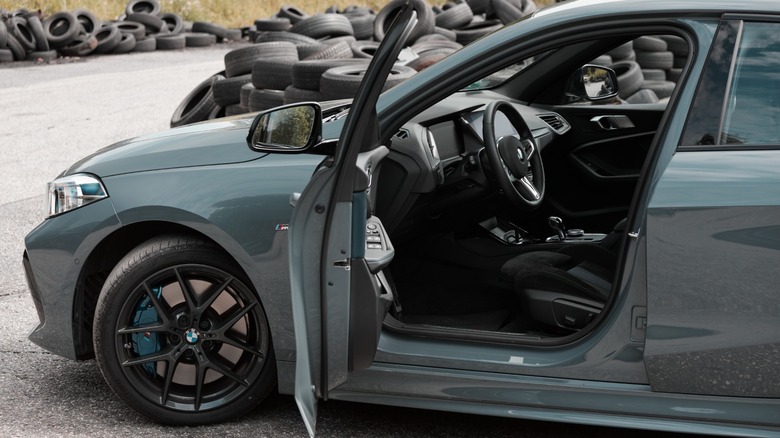 Artur_Nyk/Shutterstock
BMW's heated seats subscription has been drawing the ire of customers, and now they're finding ways to climb its notorious paywall. In 2020, the German automaker introduced its biggest software update ever with Operating System 7. While this software update included plenty of enhancements, it also contained something that irked some of its clientele: a bigger emphasis on microtransactions. BMW's ConnectedDrive Store started to deliver Functions on Demand including otherwise-locked features like adaptive M suspension, simulated exhaust sounds, and of course, heated seats. The resulting backlash of the announcement prompted BMW to respond tersely, explaining that 90% of BMWs sold in the U.S. already have heated seats by default.
The German manufacturer defended its software service subscription saying the system was put in place to give financial flexibility to those not willing to pay up-front for the extra features. The heated seat subscription can range from $18 per month up to $300 for three years. Since heated seats are already embedded into the hardware of most modern BMW models, owners have begun taking an alternate route to activate features currently blocked behind what is effectively a paywall.
The ConnectedDrive system is active in the United Kingdom, New Zealand, Germany, and South Africa. This system has not yet been activated in vehicles sold inside the United States. It'll be interesting to see if citizens of North America respond to software-locked features the same way as BMW owners abroad.
BMW hackers are bringing back the heat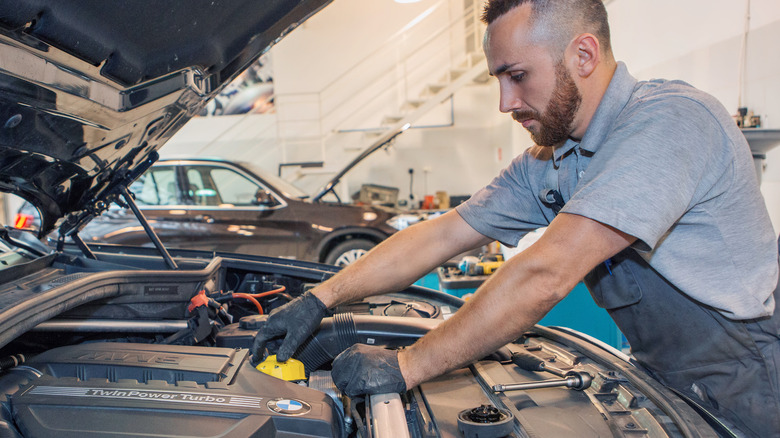 Tursk Aleksandra/Shutterstock
Many BMW owners dislike the idea of paying extra for something that's already installed in their vehicles. So, instead of going to a BMW dealership, some drivers have given life to their heated seats with gray-market services. These services can unlock paywalled features for a one-time fee. 
This is where Litchfield Motors comes in. Litchfield Motors is an auto performance center in the U.K. that tunes and upgrades vehicles. Its owner, Iain Litchfield, told Wired how it was possible to enable locked features like Apple CarPlay and voice recognition for as little as £40 ($48). Litchfield claims it's even possible to unlock features that are not exactly legal, such as enabling the car's ability to play content on in-car TV screens while the vehicle is in motion.
Litchfield himself specializes in cracking engine management systems that have been limited by manufacturers in order to unlock more power. Of course, he also knows people who can activate features as mundane as BMW's heated seats. Litchfield claims these modifications are "extremely popular" among BMW owners, and have been a booming business as newer cars depended more on ECUs (Electronic Control Units) to control and restrict functionality in vehicles of all sorts. 
Some shops concentrate on unlocking engine power and enhancing vehicles with modifications that can cost massive amounts of cash. Some of these shops won't bother with modifications like unlocking heated seats — that's been a modification that, for a while, was easy enough for the average at-home DIY car modder to handle. Recently, though, unlocking even the simplest feature has gotten a bit more difficult. The question is, how do they do it?
How do mechanics unlock BMW features?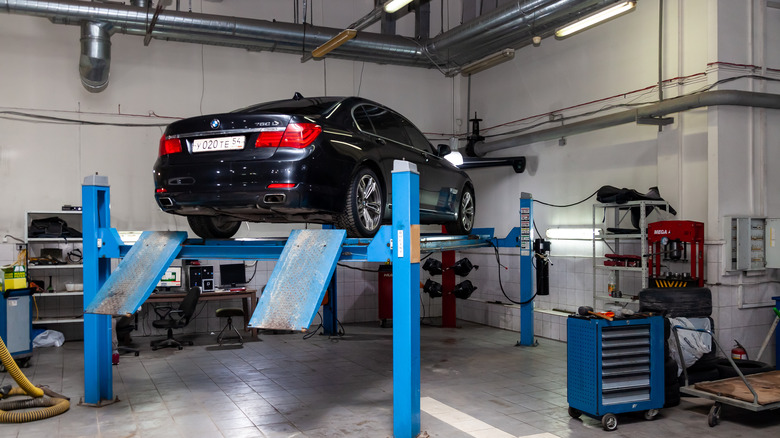 Aleksandr Kondratov/Shutterstock
While the process of breaking into a BMW's software system was easier in the past, Litchfield says it's become more difficult. This is due to BMW using encrypted Bosch ECUs in its modern fleet. Apparently, jailbreaking a newer model BMW is still possible, however — the process isn't all that different from unlocking or cracking a password-locked smartphone. Given the extreme measures taken to attempt to unlock smartphones due to privacy measures that aim to lock out any unscrupulous invader, unlocking a BMW's software system almost seems simple.
In this case, BMW is known for locking features using unique, encrypted digital codes called FSC Codes, according to The Autopian. For a fee, a specialist can reportedly generate an FSC code that unlocked previously locked features like heated seats permanently. That's just the tip of the iceberg in terms of customization, as owners can also add in things like custom chimes from a Rolls Royce, for example.
Unfortunately, going with this route could likely void the car's warranty, and could be problematic when BMW introduces new software updates at any point after the vehicle has had its software system unlocked. Although professional tuners likely have workarounds for those issues, it could lead to a lot more trips to the auto shop than simply paying BMW a single one-off fee for heated seats — if, indeed, the feature was activated by BMW when the vehicle was first purchased.