The Forgotten BMW Concept Car That's Still Futuristic Today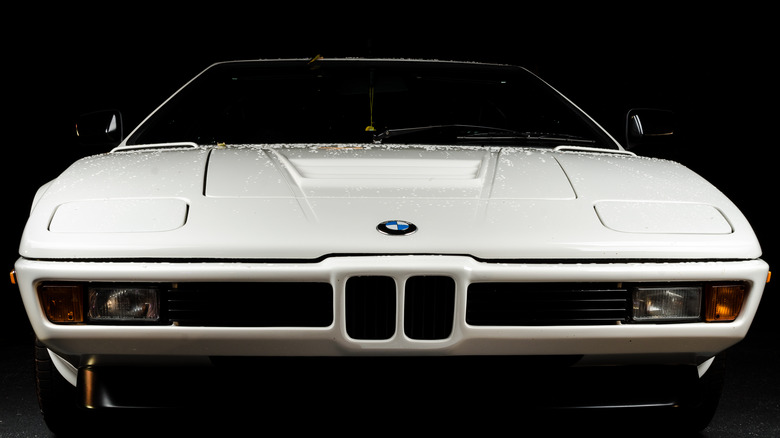 Marcelo Murillo/Shutterstock
BMW's first supercar had a successor that never made it to production, but what this concept car would've offered might make enthusiasts wish it's available today. It's not every day BMW decides to create a supercar, but in the '70s ... it actually did. This came in the form of the BMW M1 which debuted in 1978 (via BMW M). The M1 was designed by esteemed Italian automobile designer Giorgetto Giugiaro and was specifically created to compete in the German Racing Championship.
However, its overdue development process prevented it from competing, so BMW had to create its own M1 Procar series instead to showcase its racing prowess. Using a 3.5-liter 6-cylinder engine producing 277 horsepower, and capable of reaching speeds of up to 165 mph, the M1 was considered the fastest German car of its time. The first BMW supercar eventually went on to be a success in the motorsport scene, but with only 460 M1s ever made, it would've also been the last of its kind ... but was it?
Evolution of the BMW M1: Like father, like son
It turns out the M1 did have a son: a BMW concept car called the Nazca M12. It wasn't just a spiritual successor worthy of carrying the BMW supercar name; its scintillating design was also the product of Giorgetto Giugiaro's son, Fabrizio (via BMW). In fact, the young Giugiaro was only 26 when he came up with the Nazca M12's iconic looks, which consisted of aerodynamic contours, gullwing windows, carbon fiber frame, and overall Formula 1-esque aesthetics. It's safe to say BMW's supercar concept turned a lot of heads when it was first showcased during the 1991 Geneva Motor Show.
Just like BMW's 750i and 850i, the Nazca M12 utilized a monstrous 5.0-liter V12 producing 300 horsepower. Two more BMW concept cars based on the Nazca M12 were showcased years later, namely the C2 and C2 Spider, with the open-top variant even sporting a beefier V12 engine that reached 380 horsepower, according to its designers at Italdesign. But the thing is, the BMW supercar successor didn't go through production at all. Although the concept cars were introduced in 1992 and 1993, the lineup never went past the concept phase. Does this mean the world never got to see a BMW Nazca M12 supercar on the road? Well, not exactly.
Did the BMW supercar return?
BMW never really went back to making any more mid-engine F1-inspired supercars, unless you count the more modern i8 hybrid. While the M1's successor might not have been the sequel fans expected, that doesn't mean it never made its way onto the public market. In 2011, a pristine 1991 BMW Nazca M12 was actually being sold at a certain Czech dealership for a whopping €725,000, or about $742,000 (via autoevolution). This particular example was reportedly fitted with an Alpina-prepped 5.7-liter V12 that produces 379 horsepower and is capable of reaching speeds of over 200 mph. Some might be wondering how it was even possible for an unreleased BMW supercar concept to be for sale at the time.
Apparently, the one being sold was rumored to be made specifically for the Sultan of Brunei, according to TopGear. The rare BMW supercar also came with a measly 18 miles on its odometer, along with various luxuries including leather interior, air conditioning, and power steering. Unfortunately, BMW only made three Nazca M12s ever, so finding one today is a mighty tall order. From its gaudy racecar looks to its mesmerizing gullwing windows, the Nazca M12 definitely looks like a futuristic BMW supercar that took a trip to the past and never came back.