2023 Lamborghini Urus Performante First Drive: Dirt Drifting In The Gnarlier Super SUV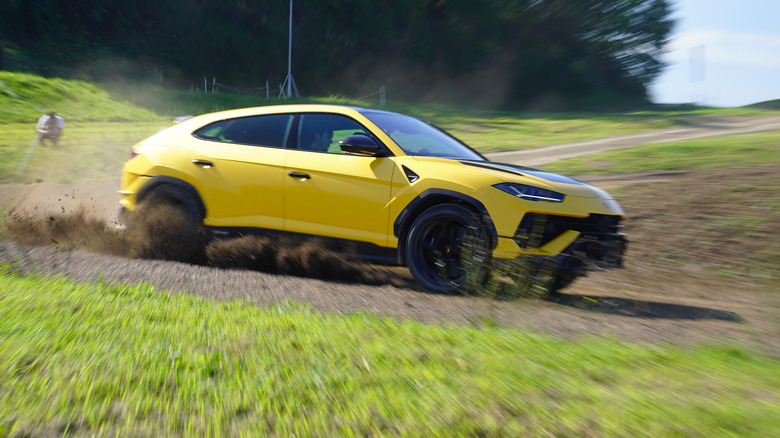 Michael Teo Van Runkle/SlashGear
Out behind the road circuit of Autodromo Vallelunga near Rome hides a small dirt course chock full of wide, sweeping turns and steep, hard climbs. Presumably, the track's designers envisioned a place for Fiat or Lancia factory drivers to hone their gravel stage skills—but surely no Lamborghini belongs in the rough world of rally racing. And yet, halfway through a day testing the new Urus Performante's on-track ability at Vallelunga, Lambo loaded up groups of select media and shipped us out into the dirt where we might live out our rally racing dreams tossing the new super SUV sideways through corners at top speed
Even as reps on hand readily admitted that approximately zero percent of Urus Performante owners will ever take their six-figure SUVs off the tarmac, what tiny fraction that might ever engage in such shenanigans is beside the point. Instead, as we fishtailed and skittered around bends at full throttle with rear wheels kicking up roostertails of rocks and the fronts at full opposite lock, the exercise proved Lamborghini's confidence in the new top-spec Urus chassis.
A huge suspension change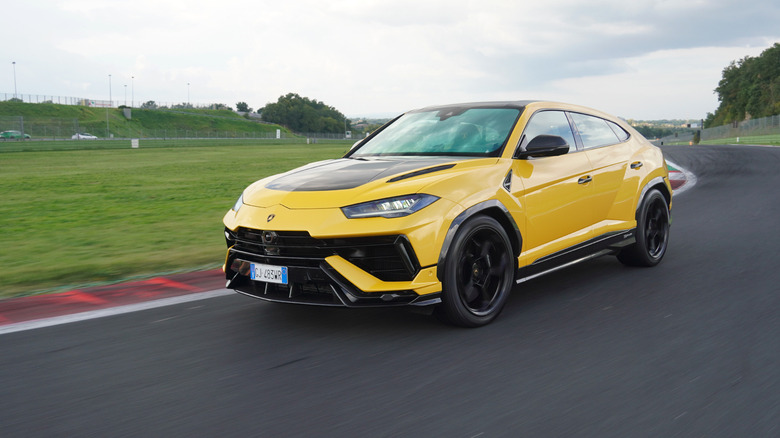 Michael Teo Van Runkle/SlashGear
Back on the pavement for another session, I quickly discovered how much more confidence those few minutes tossing the Performante through such slippery situations can instill. All of a sudden, hammering the brakes to produce some initial nosedive at corner entry felt entirely natural, hauling the steering wheel through apexes all the more so, and I even asked the front wheels to pull through corners before unleashing every ounce of the twin-turbo 4.0-liter V8 back out onto the straights.
The new-for-2023 Performante package adds a total of sixteen additional horsepower to the outgoing "base" Urus, though the more recently announced "S" intended to replace the original also receives the same power bump. Most importantly, the Performante swaps out an adjustable air suspension system for steel springs at all four corners that allow for a 20-millimeter lower ride height. Aerodynamic refinements simultaneously increase rear downforce by 38% and also provide better cooling for the engine and brakes via new inlet and venting designs. A revised Torsen center differential (which, appropriately, sounds very Audi) can send additional power rearward as needed, while active torque vectoring eschews faux-differential braking action in favor of dual clutchpacks on the way to the wheels. Lambo did add a new "Rally" drive mode, which turns traction control interference way down in the dirt but allows no rear-drive-only fun due to the Torsen center diff.
The Performante enhancements also result in 41 kilograms of weight savings (or a nearly 2% reduction). Whether even the most sensitive of Lambo's factory drivers can sense the effects of such dieting remains dubious, though every single driver at Vallelunga experienced the scalding pace this lowered, stiffened five-seater delivers when flipped into "Corsa" mode—all with a surprising amount of trunk cargo capacity coming along for the ride.
A comfort compromise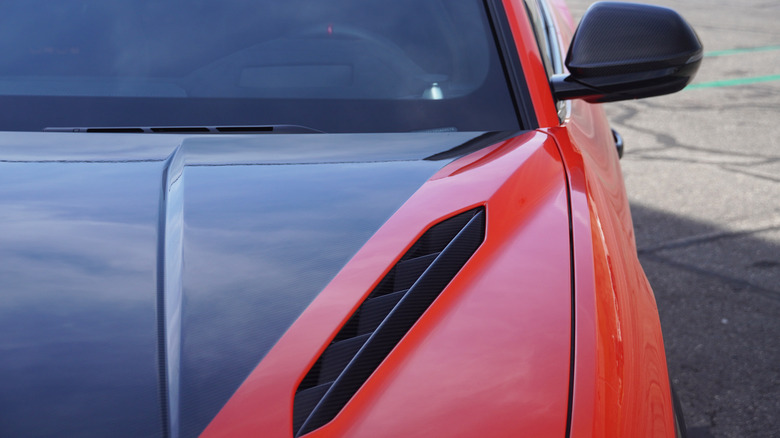 Michael Teo Van Runkle/SlashGear
Back in 2018, the original Urus combined ungodly power with smooth air suspension to create a grocery getter equally comfortable carving canyons with supercars (and thereby set the stage for today's Super SUV era). But the original active sway bars and dampers that allowed for such flat cornering also contributed to a gnarly surprise at full throttle, when the Urus bucked like a bull as fewer mechanical imprediments prevented a deep squat at every launch. The new Performante does away with such niceties in town, all in the name of more predictable weight transfer at, and past, the limits of traction.
On hand for the global debut, Lambo CTO Rouven Mohr discussed the challenge presented by the Performante's more clearly delineated priorities.
"We make some compromises, in the comfort point of view," Mohr told me. "The air suspension can more decouple the body from the road. This you lose, but nevertheless, we took care that if you drive in Strada, for instance, we reduce the damper force as much as we can so that you will be surprised how comfortable the car still is."
A super SUV that needs to be special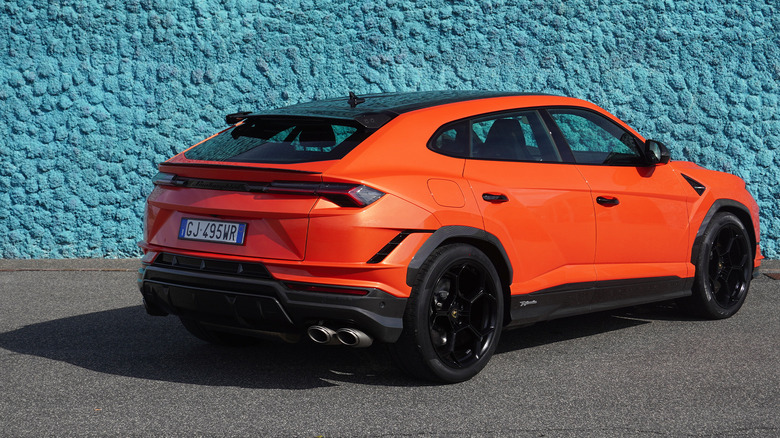 Michael Teo Van Runkle/SlashGear
Air suspension in the modern SUV era largely traces back through Porsche's history, as the first-gen Cayenne built upon the 959 supercar's adjustable ride height (which used hydraulic rams) and proved that a smooth ride with the convenience of variable ground clearance needn't sacrifice reliability—testing of the Cayenne's air suspension at the TransSyberia Rally revealed just that. Now, though, the Urus Performante stands further apart from its other range-topping VAG siblings, the RS Q8 or Cayenne Turbo GT.
And part of the Performante trim's entire raison d'etre might be to provide exactly that next level of differentiation: in West Los Angeles, Uruses (Urii?) are a dime a dozen and tend to take away from the special-ness of Lamborghini's other supercars. And considering this family hauler's $260,676 price tag (not to mention options and dealer markups that will likely escalate further into the six figure range), the Urus better be special.
Among the last of the old-school Lambos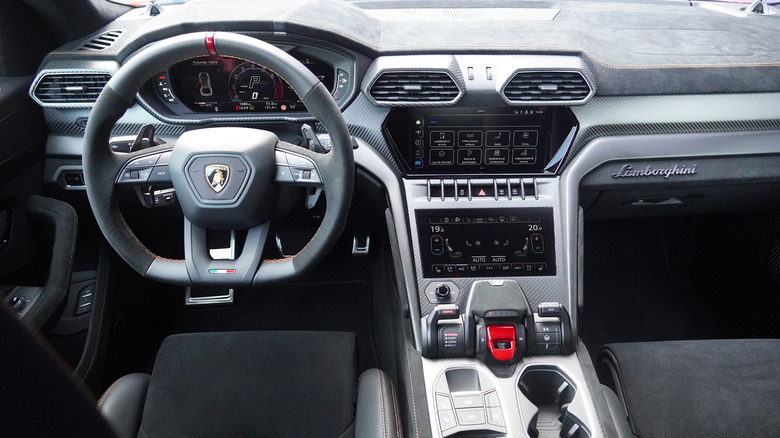 Michael Teo Van Runkle/SlashGear
A new set of color options and a clean interior revamp with more carbon fiber trim, dark brushed metals, and Alcantara on the dash, seats, and headliner further justify the Performante's MSRP bump over the original Urus (which started at $225,500 for 2022 models). Even the touchscreen and gauges feature different displays, including an arced tachometer borrowed from the Huracan Tecnica and STO.
And without a doubt, the Performante will retain a special place in history as Lamborghini moves steadily towards hybridization and full electrification. The last naturally aspirated Lambo V10 debuted this year in the Huracan Tecnica (other than a forthcoming rally version—a theme develops—coming any day now). And the Aventador will get one final V12 before new hybrid models arrive in 2023, the entire lineup goes hybrid by 2024 (including the Urus), and the first full EV debuts in 2028.
At the moment, buyers who spec Performantes now face a wait of up to 20 months before delivery, which means their orders will hit the streets as the new era more fully dawns. Lamborghini hopes to keep potential customers happy in the meantime with updates via app and a world tour of driving experiences—and nobody on a track with a Performante will waste their time thinking about such trivialities after enduring the full brute force of this screaming SUV anyway.
Unexpectedly usable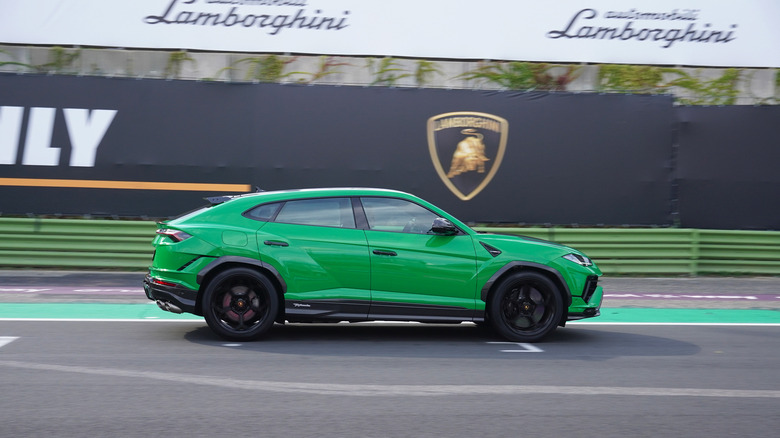 Michael Teo Van Runkle/SlashGear
Instead, blistering acceleration out of corners will snap heads back as the twin-turbo V8 hits peak torque of 627 lb-ft down low at 2,250 RPM, punctuated by snappy shifts from ZF's traditional eight-speed torque-converter automatic operated via aluminum paddles. That's before a hard stomp on the brake pedal clamps down the world-record-setting carbon-ceramic rotors, hauling the 4,700–pound SUV down from triple-digit speeds with ease and overwhelming the limits of tire grip—all despite a partnership with Pirelli for a new Trofeo R that reportedly shaved 1.5 seconds off the Performante's Nardo lap time.
I also snuck off for a quick lap out on the public roads around Vallelunga unbeknownst to Lamborghini (claiming to need a good spot for some shady interior photos). My main motivation involved whether—or how much—the steel springs increase jouncing, given the optional 23-inch wheels and low-profile Trofeo R tires. As a result, I can report that with the adaptive shocks set to "Strada" mode, the Performante definitely drives stiffer than a base model Urus equipped with air suspension, though not nearly to the point of discomfort. And during normal driving, the trans shifts with aplomb, the aero bits don't produce much wind noise, and the carbon-ceramics don't even squeal terribly.
The fact that Lambo's lawyers even allowed dirt drifting—by journalists, no less—still boggles my mind. After all, one little pebble stuck in a brake caliper might score a carbon-ceramic rotor to the tune of thousands of dollars. And in the name of full disclosure, I must also report that the two SUVs tasked with rally duties wore the base 22-inch wheels and Pirelli P Zero tires instead.
Talents few owners will call upon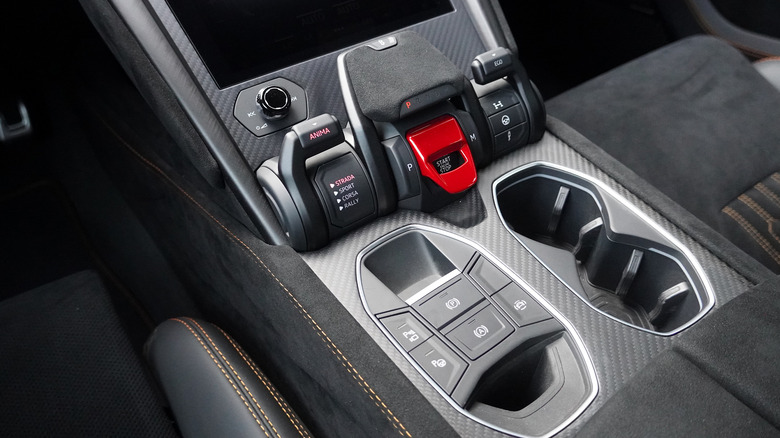 Michael Teo Van Runkle/SlashGear
On the rally course as well as the track, the Performante's exclusive titanium exhaust barking and popping at throttle lift, Lamborghini requested that we leave the traction control engaged. Even in Rally mode, noticeable power dips necessarily followed any sideways fun that bordered on anything near dangerous. But as fun as drifting feels—and as great as it looks—truly driving the Urus fast on such terrain involves avoiding such showboating. With the Torsen diff, torque vectoring, and rear wheel steering all fully engaged and a professional driver behind the wheel, the Urus can definitely handle the slop—proven by the Performante's new Pikes Peak SUV hillclimb record timed at 10:32.064 (besting the previous recordholder Bentley Bentayga by a full 17 seconds).
But again, nobody will do this in their Performante! Instead, Mohr's envisioned LA-to-Vegas cruising will be slightly less comfortable, the speed bumps in the Whole Foods parking lot will loom larger, and the sharper aesthetic will further differentiate the Urus from the common criticism that it's just a souped-up Audi, Volkswagen, or Porsche. On the other hand, winter ski trips to Aspen or Zermatt may well fit into the Performante's future—if a tire manufacturer develops a 325-mm winter tire, that is.
For Lamborghini, an electric future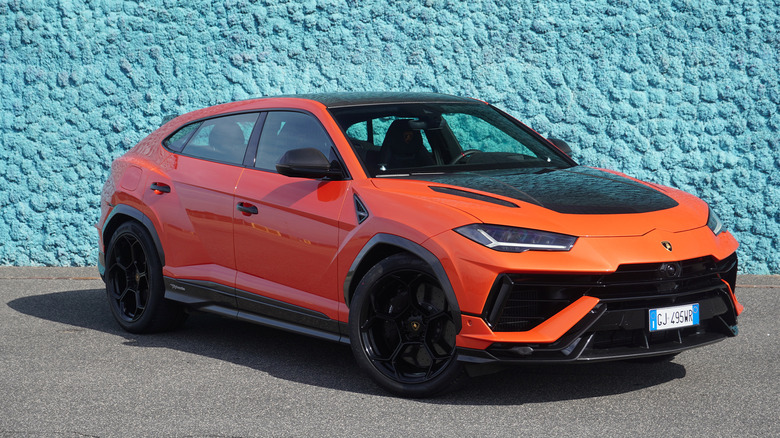 Michael Teo Van Runkle/SlashGear
Vallelunga provided the perfect setting to quiz Mohr about the future of Urus, given that on-track driving might best beg for a quintessential V12 option. "Even if I am in love with the V12," he replied, "I love also, let me say, to make the right decision of the engine for the right category of car... It simply doesn't make sense, to be honest."
Mohr didn't seem to be withholding some future surprise, not even in the face of Aston Martin's DBX707, which set a new standard for SUV output even before the Performante's Monterey Car Week debut this past summer at The Quail, A Motorsports Gathering.
At Vallelunga, Lamborghini boasted that Sant'Agata has already built and sold 21,000 Uruses, 84% of which ended up with conquest customers (who then tend to go on and buy a Huracan or Aventador). So why not go bigger and badder (except lower and leaner) for those who walk into dealerships and simply expect to buy the most expensive car on the showroom floor? Lamborghini sells dreams, after all, and sometimes those dreams end with a spray of grit and grime in a six-figure super SUV, effortless power pummeling away any potential nightmares about the cost to repair rock chips on carbon-fiber side skirts and ceramic brake rotors.