2022 Range Rover First Drive: The Benchmark Gets Broader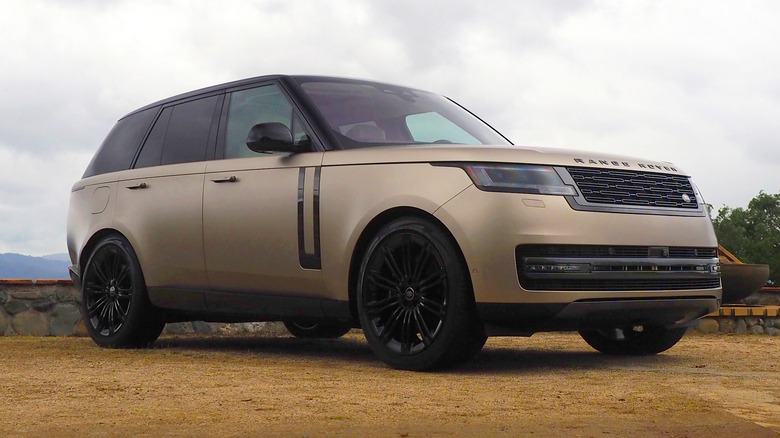 Chris Davies/SlashGear
Land Rover's iconic Range Rover line of luxury AWD vehicles has been setting the standard in that particular market segment for decades. For its fifth incarnation and with rivals opting to compete across dynamics, luxury, or sheer practicality, the 2022 Range Rover has come to embrace flexibility. The result of this is less the singular SUV icon of older generations, and more a pantheon of gods, the individual allure of each will depend on a given buyer's own priorities. Or, at least, that's most likely how Land Rover is hoping you'll see things.
Pricing starts at $104,500 (plus destination), though kicking up the power and the fancy trimmings will unsurprisingly send that spiraling toward the sky. The Sunset Gold Satin First Edition shown in the picture above, for example, lands at around $178,000; a nicely-equipped Range Rover SV, meanwhile, could easily hit the $262,000 mark or stretch even further beyond.
Familiar styling gets a sleek upgrade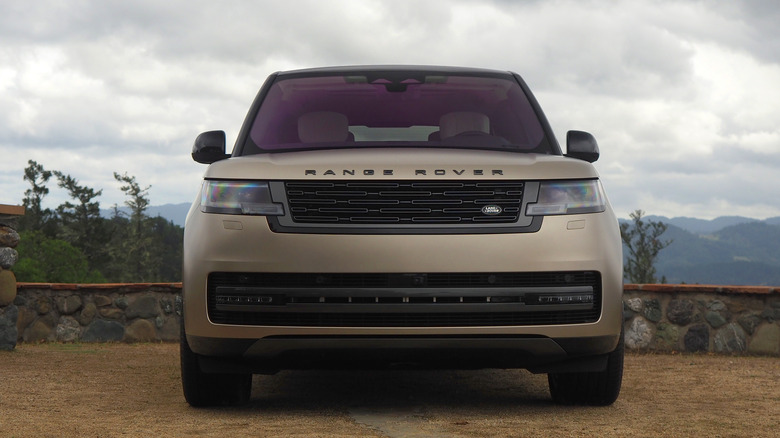 Chris Davies/SlashGear
Having an instantly-recognizable design language can be a blessing or a curse, but the 2022 Range Rover wastes no time in bringing its classic aesthetic cleanly up to date. In fact, you'd be forgiven for thinking not much had changed from the — frankly, still handsome — previous-generation Range Rover. It's only really when you view them side by side that the evolution becomes most striking.
At a time when rival SUVs are getting busier, introducing more stylistic flourishes, and intentionally aggressive surfacing, the Range Rover feels like a smooth oasis. The uninterrupted arc of the shoulderline and roofline remain, but now the glazing is more flush-fitting. It's particularly noticeable where the door meets the side glass, the designers hiding the usual trim pieces for something more pared-back and restrained.
Various different design packages can be added, with different metal inlays and contrast roof finishes, but the essentials are charmingly pure. The rear three-quarters is possibly my favorite view, the taillights glowing crisply through the gloss black trim, as the whole rear of the SUV tapers sleekly. It's a design that will age no less gracefully than its predecessors, I suspect.
One Range Rover, dozens of configurations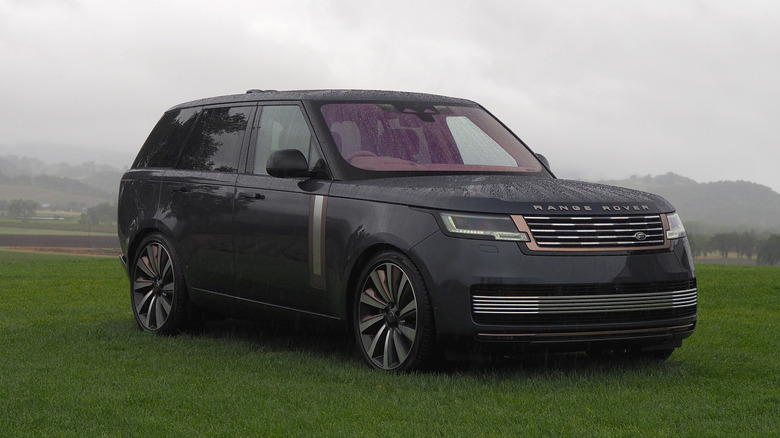 Chris Davies/SlashGear
Land Rover is spreading its net wide with the new Range Rover, a single SUV aiming to challenge an unexpectedly broad array of competitors. With that in mind, there are two wheelbases, three-seat configurations, and numerous trims to mix and match.
The "standard" SUV has five seats, is 16 feet 7 inches in length, and has a 118-inch wheelbase. However, there's also a long-wheelbase version, which takes the Range Rover to 17 feet 3 inches and stretches the wheelbase to 126 inches. With all of the length added in the second row, it has near-comically-long rear doors that open astonishingly wide; later, Land Rover will add a power-door option, upgrading the soft-touch latching with the ability to power open and close both the front and rear doors.
Those who need to carry more people can opt for the seven-seat configuration, and it's a surprisingly lavish implementation. Typically, third row accommodations aren't much to shout about, but in long-wheelbase form the Range Rover defies that expectation. The two rearmost seats are accessed by a power-folding and sliding second-row bench, which themselves can power-fold up or down, and offer enough legroom for adults in both rows simultaneously. In fact, there's up to 34-inches of third-row legroom, and that's without your knees being pushed up around your ears.
Third row headroom isn't quite as spacious as some rivals offer, a side-effect of that gracefully sloping roofline. However it's hard to argue with seat heating, dedicated vents, and USB charging ports. As with the five seat version, the second row center seat can fold down into a sizable armrest with an integrated touchscreen, that offers control over HVAC, entertainment, massage if fitted, and seat adjustments.
At the other extreme, there's the Range Rover Signature Suite. A near-$20k option on its own, it turns the SUV into a four-seater, with two power-reclining thrones in the second row that are separated by a long, fixed center console. You can have it on the standard and long wheelbase models, but it makes a lot more sense for the latter, especially when you push the front passenger seat all the way forward, pop out the footrest, and recline the rear seat into a plush lounger.
Two engines to start, then electrification gets interesting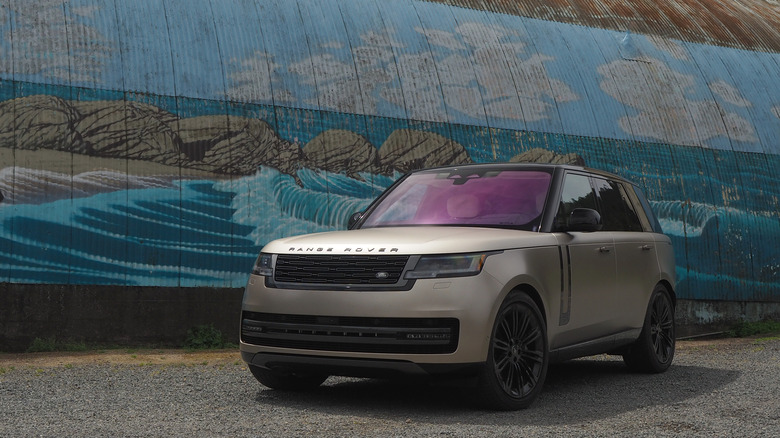 Chris Davies/SlashGear
At launch, Land Rover is offering two engines for the new SUV. The range kicks off with a 3.0L inline 6-cylinder gas engine, a mild-hybrid with 395 horsepower and 406 lb-ft of torque; it'll do 0-60 in 5.8 seconds, the automaker says, and has a 150 mph top speed. An eight-speed automatic transmission comes standard, as does all-wheel drive and air suspension.
The upgrade is a 4.4-liter twin-turbo V8, paired with the same eight-speed automatic. It delivers 523 horsepower and 553 lb-ft of torque, trimming the 0-60 mph time to as little as 4.4 seconds in standard wheelbase form, or 4.5 seconds in long wheelbase. Top speed is up to 162 mph in SV trims.
Arriving imminently is the Range Rover P440e, a plug-in hybrid that combines the 3.0L gas engine with a 105 kW electric motor and a 38.2 kWh battery. Unlike the mild hybrid, it'll have some degree of all-electric range: the current estimate is 48 miles on EV power alone. It'll also support up to 50 kW DC fast charging — taking it from 0% to 80% in under an hour – while a full charge on a 7.2 kW Level 2 home charger will take about five hours.
What's really interesting, though, we'll have to wait until 2024 for. That's when the first fully-electric Range Rover will debut, ousting the gas engine in favor of an as-yet-unspecified BEV drivetrain. The automaker is tight-lipped on specs like targeted range, power, and even details like how many electric motors the Range Rover EV will have, but it's not unfair to expect that — as with other luxury BEVs — the instantaneous torque and quiet power should suit the lavish SUV nicely.
An unexpected powertrain preference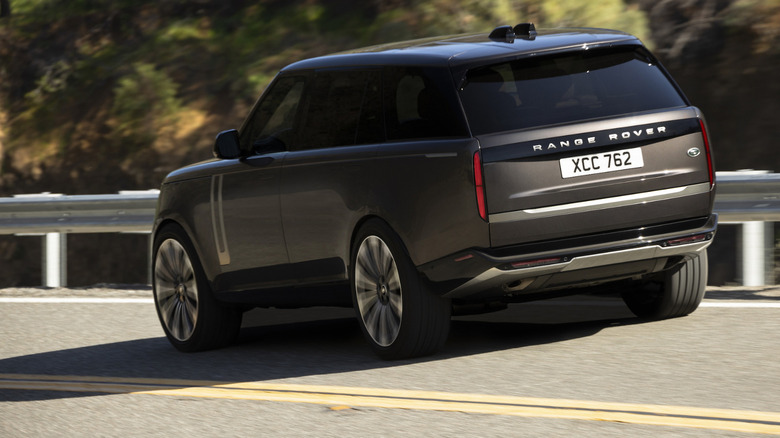 Land Rover
It's not unfair to have high hopes for the V8 engine: after all, it's supplied by BMW, albeit massaged heavily for Range Rover application. Sure enough, it's punchy and rewarding, and suits the SUV's character nicely. Acceleration is genuinely fast, even with curb weights in some configurations exceeding 5,800 pounds, with a healthy growl when you're pushing harder. Ease off on the gas, and the V8 could be the superlative long-distance cruiser, hushed and refined.
Imagine my surprise, then, when I found myself almost preferring the inline-6. The Range Rover's mild hybrid may be down on power, but 395 hp is still plenty; acceleration from a standstill is a little slower, sure, but you don't really miss the shortfall from the V8 in general driving. With less torque to deal with, however, the transmission is even silkier in its shifts.
I suspect the PHEV will deliver the best of both worlds when it arrives in short order, but for the moment I couldn't fault anybody for saving some money and opting for the six-cylinder engine. Especially given that, even with Land Rover's excellent air suspension — preconditioned via navigation data to suit the road ahead — and the firmness of the Dynamic drive mode, this is not an SUV you want to hurl into tight corners. Much better to use the reassuringly effective brakes to shed speed before the turn, and then judiciously apply an ample squirt of power to exit, giving the laws of physics the respect they deserve.
It's not to say the Range Rover SV is lacking in alacrity. Straight line pace has all the pomp and thunder you'd expect from something this large and this potent, and the soundtrack gets a little more boisterous too. Nonetheless, weight and height demand some accommodation, and it's clear that Land Rover's tuning errs more toward cosseting than, say, the turn-happy Aston Martin DBX707.
Off-road talent, for the adventurous few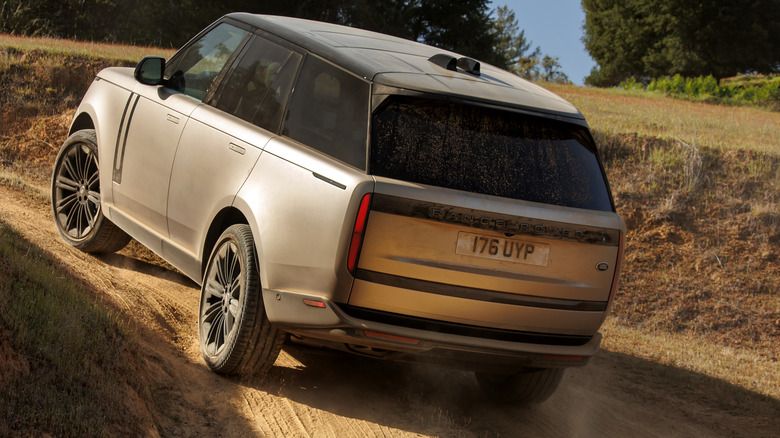 Land Rover
Twist the drive mode knob in the opposite direction from Dynamic, meanwhile, and you find the off-road settings the Aston could only dream of. For Land Rover it's a point of pride, of course: the Range Rover has to be worthy of the badge, even if most owners likely won't take their six-figure SUV into any more rustic terrain than an unpaved road or over a parking lot curb.
The air suspension plays a big part, here, as does the all-wheel steering that comes as standard. The latter helps deliver a sub-36 foot turning circle, while the former allows the ride height to elevate as much as 11.6-inches. A short front overhang and sharply angled rear leave the big SUV beguilingly maneuverable, and there's up to 8,200 pounds of tow capacity.
There are plenty of electronics to help out should you be feeling sufficiently adventurous, including hill-descent mode and a low-speed cruise control with reassuring traction in mind. The challenge, at times, is figuring out how to access them, which can require a borderline-arcane series of button presses and switch taps.
Ironically, then, leaving the Range Rover to its own devices generally seems to deliver the best results. 23-inch wheels probably shouldn't be your first choice for a rally drive, but they handled muddy, rutted terrain in a brief off-road jaunt just fine on the gleaming Range Rover First Edition short wheelbase. Happily there are low-level corner cameras to help get through obstacles without scuffing those expensive rims.
Tomorrow's platform brings advantages today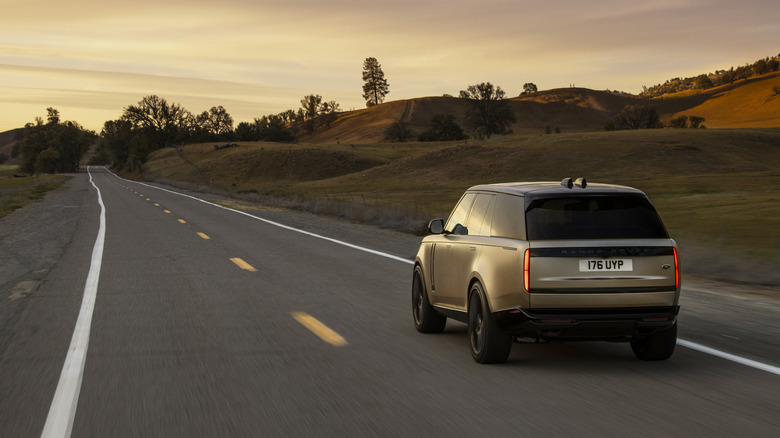 Land Rover
What it truly highlights, though, is the uptick in rigidity from Land Rover's new MLA-FLEX architecture. Debuting on the 2022 Range Rover, it was an unexpected switch given that the previous-gen SUV had itself launched with a new platform. MLA-FLEX, though, was designed with electrification in mind, and along the way, the automaker took the opportunity to make it stiffer and quieter.
In fact, it's as much as 50% more rigid than the old SUV, and there's a 24% improvement in noise transmission. Upper trims get fancy active noise cancelation headrests — a first for the industry, creating little quiet zone bubbles for each passenger — and a Meridian Signature sound system that taps accelerometers and microphones to counteract wheel and engine noise via its 35 speakers, but even in cars without the electronics it's a remarkably hushed place. Wind noise, in particular, is absent, with the slippery body helping cut buffeting and hiss.
High cabin quality, with some head-scratcher decisions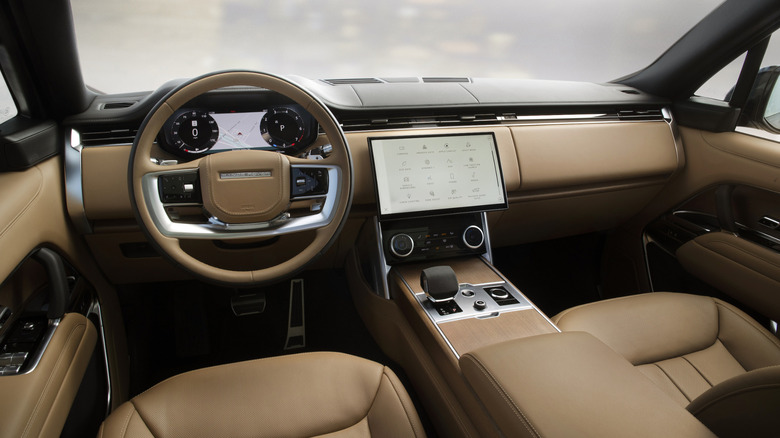 Land Rover
As with the exterior, the cabin retains some key Range Rover cues: the strong horizontal lines of the dashboard, for example, and the distinctive adjustable armrests. It's combined with a judicious application of technology, all based on Land Rover's newest EVA 2.0 platform. That includes an embedded 4G LTE connection and OTA update support, paving the way for easier future updates.
Pivi Pro, the automaker's infotainment system, runs on a 13.1-inch center touchscreen. It's a classy interface, uncrowded and swift in use, though you can also use wireless Apple CarPlay and Android Auto if you prefer. Embedded Amazon Alexa and Spotify are standard, too. Below the touchscreen is a dedicated HVAC panel, with multifunction dials, while a wireless phone charging pad sits below that. The driver gets a pleasingly-crisp digital instrumentation display
As you'd expect, there's a wide choice of leather options, including extended hide which reaches across the whole headliner. Land Rover, though, is also experimenting with less traditional materials, including various engineered fabrics which feel unexpectedly modern. Real metal, together with marquetry wood inlays, are available, and there are big plans for bespoke options where effectively your budget is the limit for customization.
Obviously the most appealing seating is in the Signature Suite, where Land Rover has allowed some razzle-dazzle to emerge. Tap the right touchscreen button and a sizable table rises out of the center console, poised atop a graceful — and 3D printed — metal stem. Another button brings a pair of cupholders whirring into view, ideally placed for the Dartington Crystal glassware that lives, along with a full-sized bottle, in the refrigerator between the 24-way adjustable, heated, cooled, and massaging seats.
For the most part it's all beautiful and cohesive, straddling a line between classic and modernity. Some elements may depend more on individual taste: Range Rover's ceramic used on the interior trim in two of the SV design packages may be the real deal, but the high-gloss finish leaves it looking a little too close to plastic for my liking.
An SUV with few rivals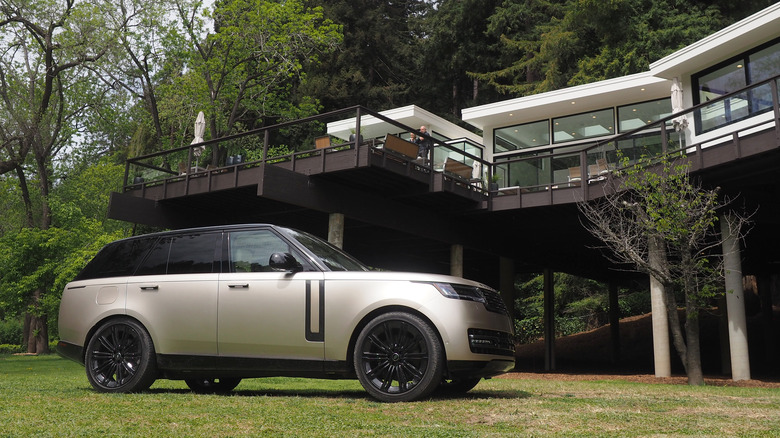 Chris Davies/SlashGear
High-end SUVs are big business right now, and the pickings have never been richer. Still, it's a little harder than you might first expect to locate a direct competitor for this new Range Rover.
Cullinan is, at easily twice the price and at least four times the glitter, well out of consideration. An Aston Martin DBX or Lamborghini Urus are more aggressive from behind the wheel, but they're also smaller and lack that restrained hint of old-money. BMW and Mercedes-Benz have big, burly three-row SUVs that compete on paper, but the Germans are perhaps too unmemorable — or, in Alpina and Maybach form respectively, too try-hard — to be entirely competitive in practice.
That leaves us with Bentley's Bentayga, which is less graceful on the outside, has a nicer (though not as spacious) interior, and is a little more rewarding to drive. If you need the three rows, though, and can sacrifice some eagerness from behind the wheel, the Range Rover should be your pick.
Sales of the new SUV are already underway, though I'd be tempted to hold off until the plug-in hybrid arrives. Electrification really does suit these big luxury models, and the PHEV Range Rover should whet appetites for the BEV nicely.
What stands out now though, beyond the considered design and the smooth driving experience, is how capably the 2022 Range Rover satisfies across its freshly-broadened range of flavors. It's just as convincing as a family hauler as it is a modern day limousine, while those who simply want a timeless SUV that's clearly special without necessarily shouting about it will find little to disappoint. Yes, there are individual reasons why you might wish to consider each of its competitors, but there's also a very good reason why the Range Rover has long been the benchmark by which they're measured, and that's something this fifth generation holds admirably true to.