Pixel 7 Pro Hands-On: Google's Unexpected Challenge To iPhone 14 Pro Max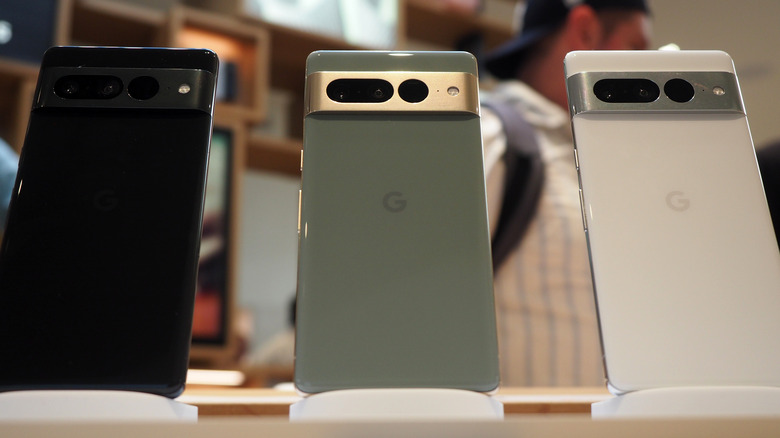 Chris Davies/SlashGear
There's a sense of familiarity about the Pixel 7 and Pixel 7 Pro. Google's latest Android smartphones may only have made their official debut today, but the search giant's decision to effectively spoil the surprise — rather than leave that entirely to the leak merchants — months in advance means the two new handsets feel much more like known quantities than rival announcements manage to land as. Factor in the subtle evolution of Google's Pixel design language, and you can't be blamed for wondering exactly what you should be excited about, here.
Evolution, though, is a good thing. Just ask any fish that grew legs and managed to come on shore and find a tasty apple. Just as Apple's big iPhone 14 launch a month ago was a case of refinement and steady improvement rather than reinvention, so the Pixel 7 and Pixel 7 Pro haven't felt obliged to throw out what works simply for the sake of looking new.
The result is smoother, sleeker, and generally more polished than earlier Pixel phones, though without losing the element of underlying Googleyness we've come to expect. As always, the company's biggest challenge will be standing out in a crowd of Samsung and Apple options, beyond appealing to the loyal cadre of Pixel fans (and Nexus fans before that) out there.
A sleeker design, but still familiar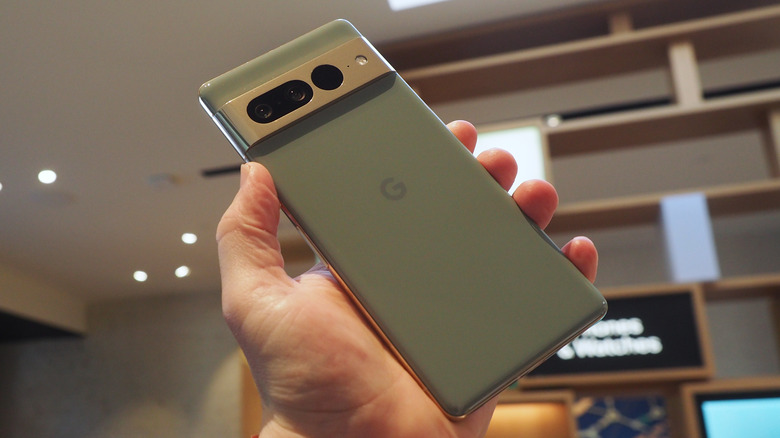 Chris Davies/SlashGear
Last year's Pixel 6 and Pixel 6 Pro made bold use of Google's glass and metal construction, putting an intentional focus on the rear cameras. With their body-spanning camera bar protruding significantly, it was an unmistakable focus on the photography tech that Pixel has long been associated with. Throw in some tasteful glass panels and you had a striking, if moderately divisive, pair of handsets.
For 2022, Google has refined that. The camera bar remains, but it's more fared-in and less in-your-face. It also trims back on the black glass, replacing most of that with metal and leaving a much smaller panel for the sensors to look through. The result feels more premium and definitely less chunky.
I'm a fan of Google's matte-finish metal on the Pixel 7, too, which is a nice counterpoint to what are (as always) a tasteful set of color options: Obsidian and Snow on both, then Lemongrass on the Pixel 7 and Hazel on the Pixel 7 Pro. The softer edges should also be a little easier on your fingers than the crisp sides of the iPhone 14 and iPhone 14 Pro, which can demand you suffer for their style if you tend to balance the bottom of the phone on your little finger when you hold it.
Two excellent displays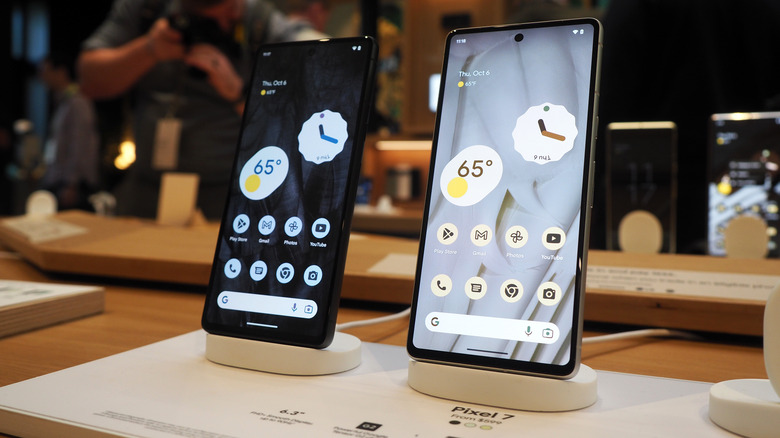 Chris Davies/SlashGear
The front is the biggest difference between the two phones. The Pixel 7 comes in a little larger than Apple's smaller display, with a 6.32-inch OLED panel running at 2400 x 1080 resolution. It has a 90Hz refresh rate — not quite the 120Hz that we're seeing elsewhere, but a solid balance when you consider this is the more affordable of the two. Generally, it's a great-looking screen.
Problem is, the Pixel 7 Pro display is even nicer. It's an iPhone 14 Pro Max matching 6.7-inches in size, running at 3120 x 1440 resolution and supporting 120Hz refresh rates. Apple's screen will go brighter — 2,000 nits versus the 1,500 nits that the Pixel 7 Pro tops out at — but that's unlikely to make a day-to-day difference beyond bright, direct sunlight.
The big news is the camera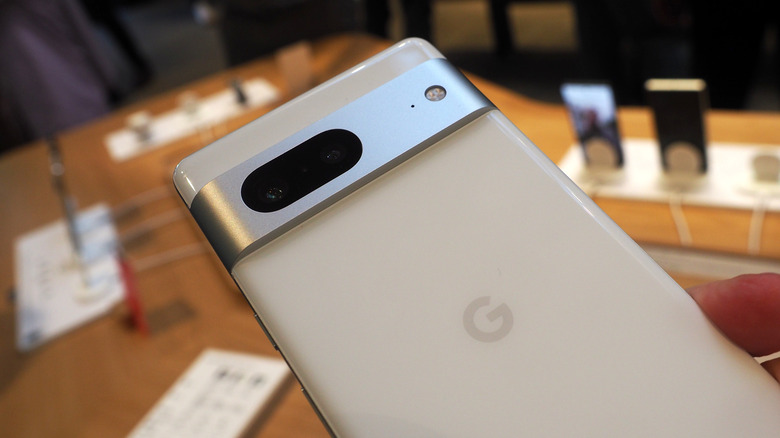 Chris Davies/SlashGear
Flip them over, meanwhile, and you find the hardware that most people are probably interested in. Both Pixel 7 and Pixel 7 Pro have a 50-megapixel wide camera, a 12-megapixel ultra-wide with f/2.2 aperture and almost 126-degree field of view, and an f/1.85 aperture and laser-detect autofocus (LDAF). The Pixel 7 Pro throws in a 48-megapixel 5x optical zoom.
Obviously, hardware is only part of the story here, and as always Google has a long, long list of tech that it's delivering with the power of its new second-generation Tensor G2 chipset. That includes familiar favorites like magic Eraser and Night Sight — here performing faster than before, Google promises — but also new additions including motion blur in video capture.
We'll have to wait until reviewers have spent some time with the two phones to see just how the cameras actually hold up in practice. It's fair to say that there are plenty of people who consider the Pixel 6 Pro to hold the top spot in smartphone photography, so expectations are high this time around. Over the aisle at Apple, the iPhone 14 Pro switched things up with a far larger primary sensor than usual — though still, at 48-megapixels, slightly lower resolution than what Google is packing here — though opinion is still fairly split as to whether it's using all those megapixels to their maximum. Software plays a huge role, after all.
No flashy features, just usable tech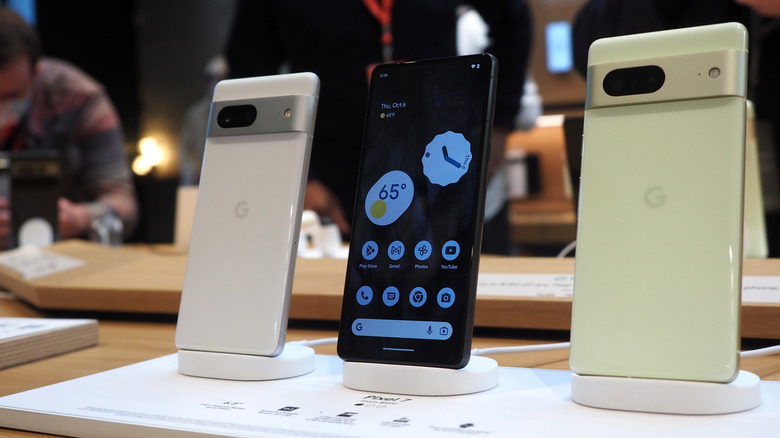 Chris Davies/SlashGear
Elsewhere, there's WiFi 6e, 5G — though with mmWave only on "select models," Google says — along with stereo speakers, three microphones, and an under-screen fingerprint reader. There's the usual IP68 dust and water resistance, Corning Gorilla Glass Victus front and back, and a fingerprint-resistant coating which kinda-sorta works from my experience.
What there isn't is a big, whizz-bang feature like those Apple announced. Where the iPhone 14 series can speak to satellites in an emergency when you don't have coverage, Google's Pixel 7 and Pixel 7 Pro don't have any such magic. Of course, it's tech you hope you never have to use, and on the flip side, Google hasn't done anything so dramatic as to ditch physical SIM cards. Both new Pixel phones support a single physical SIM and an eSIM, which I think is probably more in keeping with the state of the eSIM market right now.
Google's new feature focus, instead, is on usable software. The ability of Android 13 to transcribe voice notes in messages, for example, for when you can't listen in a quiet space, or the upcoming ability of the voice recorder to split out different speakers based on their voice. They may not be quite as jaw-dropping as the idea of fitting satellite calling into a standard-sized handset, but they may end up being more useful day to day.
Priced to sell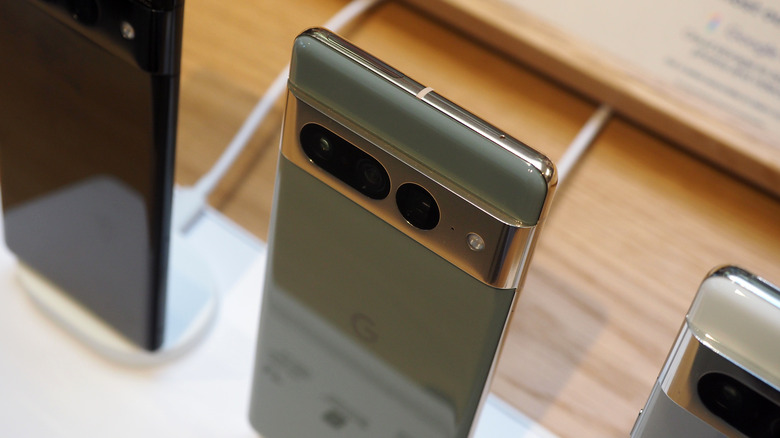 Chris Davies/SlashGear
Overall, there's a compelling mix of the familiar and the new here. What remains to be seen — something the reviews will have to tell us, so stay tuned for that — is how the Pixel 7 and Pixel 7 Pro hold up to everyday life, and whether they're sufficient to raise Google's profile beyond just its cohort of most avid followers.
That's a big issue, as we've seen that Google can be ruthless when it comes to cutting loose projects that aren't working — even if they're the subject of huge investment. The decision to axe Google Stadia only this month is an ominous one, and though it seems unlikely that Google would immediately do the same with Pixel, there are undoubtedly project managers watching sales like hawks to see if the money spent is paying off.
As for the phone pricing, that's confirmed at $599 for the Pixel 7 and $899 for the Pixel 7 Pro. That might be the biggest story here, in fact: when Apple is charging literally hundreds of dollars more for its comparatively-scaled smartphones, the Pixel 7 becomes a whole lot easier to justify. Sales kick off today, with handsets shipping next week.