Apple iPhone 14 Review: Getting Flashbacks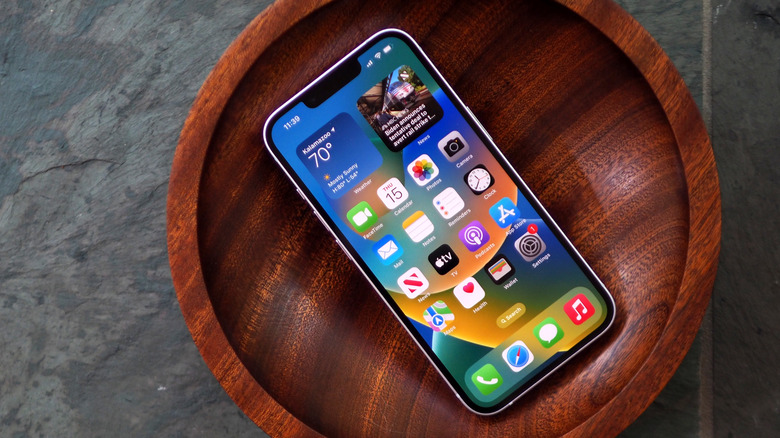 Chris Davies/SlashGear
It's easy to get carried away and lose sight of just how far we've come in the smartphone world. Apple's iPhone 14 is 7.8 millimeters thick but can communicate directly with satellites, boasts photographic talents that eclipse dedicated cameras and action cams, and does so starting at just $799. That's genuinely impressive, and if it seems any less so then that's only because the rest of the iPhone 14 family eclipses this entry-level model with even more ambitious features. Reader, I suspect we're spoiled.
Apple has called time on its push into "mini" phones after two years, leaving the iPhone 14 the smallest and cheapest of this year's new family. There's no iPhone 14 mini, but instead, Apple's pendulum has swung in the opposite direction and given us the iPhone 14 Plus. That packs a larger, 6.7-inch screen, the same size — though with a notch, not a Dynamic Island — as the iPhone 14 Pro Max.
I liked the iPhone 13 mini, and it seemed like plenty of people said they wanted a more compact smartphone that didn't necessarily sacrifice camera, processor, and other features. Unfortunately, they clearly didn't get around to actually buying it, at least not in significant numbers. It's not hard to see Apple's strategy to go larger instead as a more sensible one, given there are almost certainly people who — whether for reasons of eyesight, media consumption, or just liking bigger screens — want a larger panel without having to cough up the cash for the most expensive iPhone.
Minute differences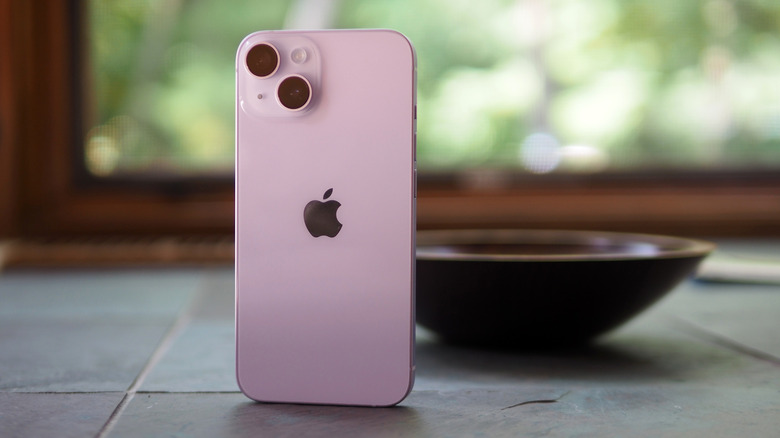 Chris Davies/SlashGear
I would not fault you for being unable to distinguish between this year's iPhone 14 and last year's iPhone 13. Apple's aesthetic has evolved so slowly here, it's really only the absence of a SIM tray in 2022's handset, and the differing array of color finishes, which set the phones apart. For the iPhone 14, your choice consists of the subtle Purple you see here, along with Midnight black, Starlight silver, Blue, and (PRODUCT)RED.
It's still Ceramic Shield glass on the front, which Apple says is more resilient to cracks (though which I've found has no trouble acquiring its share of micro-scratches), and still offers IP68 dust and water resistance.
I miss last year's punchier blue — this time around it's a more pastel version — and the striking green is gone as well. Of course, a lot of people will promptly slap their new smartphone into a case, though if you're upgrading from iPhone 13 to iPhone 14, plan on buying a new one too. As we've seen before, a change in the camera bump on the back means the cutout on iPhone 13 cases won't quite accommodate the newer design.
A final outing for the notorious notch?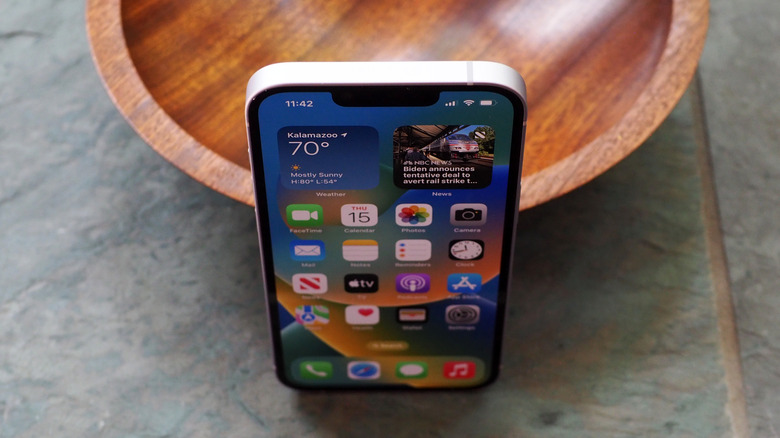 Chris Davies/SlashGear
The screen is a 6.1-inch Super Retina XDR, effectively the same OLED panel as we saw last year, too. On the one hand, that's no bad thing: Apple's display tech is color-rich, has plenty of contrast, and is generally easy on the eyes. It does, though, mean the criticisms of last year's screen still apply.
So, you still get a 60Hz refresh ratio, where Android rivals are gleefully upgrading to 120Hz. Will you notice the difference on the daily? Not if you haven't been looking at a faster refresh panel, probably not, but it still feels miserly on Apple's part. If you want 120Hz, you'll need the ProMotion-branded iPhone 14 Pro and iPhone 14 Pro Max. Where those more expensive models get an always-on display, too, the iPhone 14 does not.
The other controversy — and one which has lingered a lot longer than I ever expected it to — is the notch. Cutting into the top of the screen, the familiar-but-apparently-infuriating cutout houses Apple's TrueDepth camera used for Face ID and selfies, plus the iPhone 14's earpiece speaker.
Frankly, I stopped noticing the notch in day-to-day use years ago; my eyes just don't really register it anymore. Others, I am fully aware, find it the OLED equivalent of a thorn in their heel. In 2022 you actually have another option, namely spending more and getting the iPhone 14 Pro and its Dynamic Island (which is shaping up to be equally divisive), but I suspect at this point you'll know whether the notch is a personal dealbreaker or not.
Last year's chip is still up to this year's challenges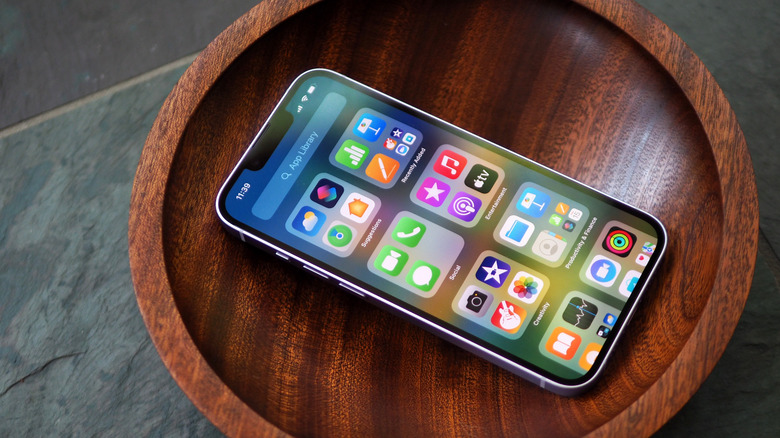 Chris Davies/SlashGear
Inside, meanwhile, the familiarity continues. Rather than a wholesale upgrade to the latest chipset, the iPhone 14 and iPhone 14 Plus stick with last year's Apple A15 Bionic; the new A16 is saved for the Pro-branded pair.
It's a decision that makes a lot of sense, from a positioning standpoint at least. The A15 is hardly lackluster, and iOS 16 — as comes preinstalled — runs with a smoothness that will be familiar to anyone with, well, an iPhone 13 running Apple's newest release. There's an argument that it'll impact how long the iPhone 14 is supported with future iOS upgrades, which I can understand, but at the same time, Apple is so far ahead of the pack with just how far back it delivers new iOS releases too, I'm not sure I buy into the panic there.
Really, though, it's about setting expectations. The iPhone 14 and iPhone 14 Plus are meant to be the mainstream iPhones, and the A15 is more than sufficient for that audience. If you want more performance — just like if you want more camera tech, or a better display, or any of the other reasons the iPhone 14 Pro commands an advantage — then that upgrade feels consistent with, say, the step from a Mac mini to a Mac Studio.
eSIM, for better or worse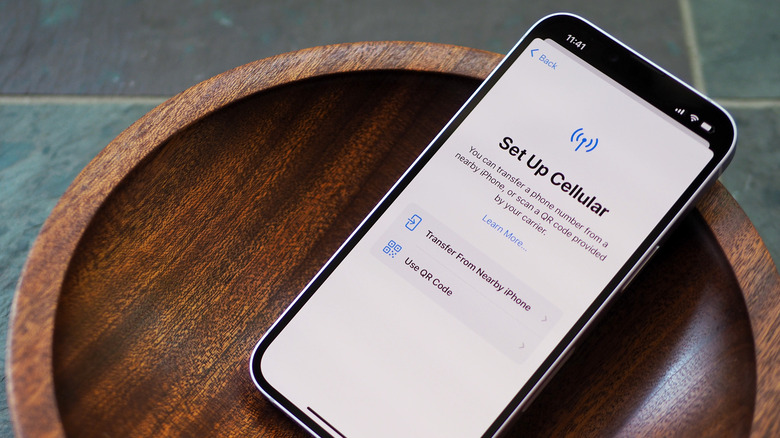 Chris Davies/SlashGear
So, just what are Apple's changes for 2022? Most obvious is the omission — for U.S. spec iPhone 14 at least — of a SIM tray. You can no longer swap a physical SIM card between devices, with Apple building on its existing eSIM support by making it the only option for American users.
How big a deal that is to you will depend on a list of factors. For most, I suspect it won't matter at all: an eSIM iPhone 14 activates quickly and painlessly — I transferred existing lines from one iPhone to another, and whether or not I was moving from SIM or eSIM it took a couple of minutes to complete — and you can store eight (or even more, carrier-depending) eSIM on the same device. Of that eight, two can be active simultaneously, so you could for instance have both personal and work lines usable on the one iPhone 14.
Those who may struggle with eSIM are users who are in the habit of regularly switching a physical SIM card between handsets. Maybe you like to use one smartphone at the weekend or another during the week; maybe you're a phone reviewer, or tester, in the habit of moving SIMs around as you spend time with different handsets. They're niche concerns, yes, but Apple has set itself on a collision course all the same with this wholesale switchover.
Storm in a teacup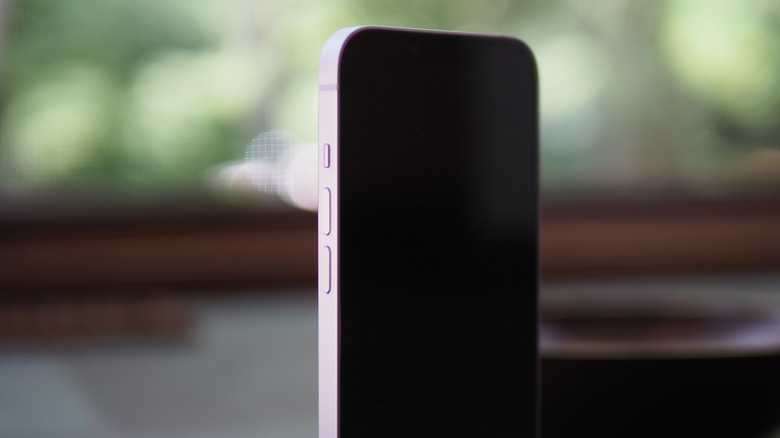 Chris Davies/SlashGear
The other issue is roaming. Time was, whenever I traveled internationally I'd invariably end up getting a local SIM card and putting it in my unlocked phone, primarily to benefit from cheaper data rates. These days, it's far more commonplace for your home carrier to have free or cheap roaming plans, which makes finding a local SIM when abroad less of a requirement.
It's also worth noting that many carriers around the world offer eSIM themselves at this point, saving the headache of finding a store to buy a physical card (and usually having to navigate foreign languages to do so). As with a physical SIM, your iPhone 14 will need to be unlocked to support that, even with eSIM, so it's worth checking with your U.S. network before you travel.
My gut feeling is that the eSIM-only switch will be more of an issue for iPhone 14 Pro and iPhone 14 Pro Max users, if only because they may tend toward global travel and SIM-swapping generally. For everyone else, the reassurance of knowing nobody can whip out your SIM card and in the process disable location tracking on your stolen iPhone 14 is probably a bigger deal than whatever flexibility they may have given up.
New camera hardware and software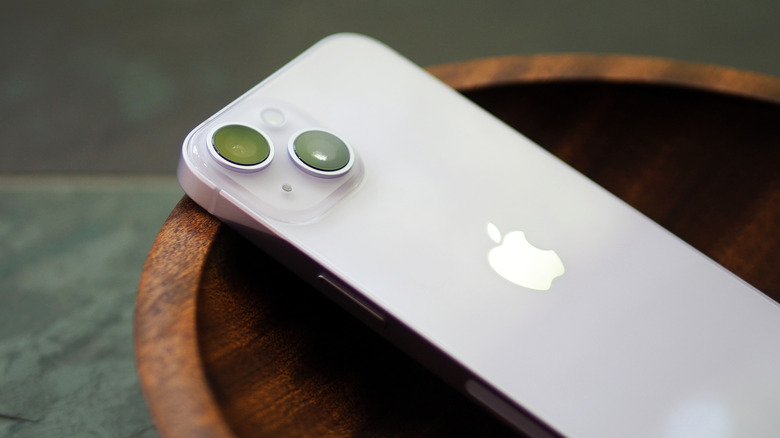 Chris Davies/SlashGear
While the numbers may look mighty similar on paper, the iPhone 14 does bring new camera hardware to the party. It's just not as big an upgrade as the iPhone 14 Pro is over its predecessor. The wide camera is still 12-megapixels but is physically larger, with larger pixels and a faster f/1.5 aperture; the upshot, Apple claims, is up to 49% better low-light performance.
It's combined with Photonic Engine, a new way of processing images that harnesses the existing Neural Engine and Deep Fusion computational photography system. Yes, there's a lot of branding going on, but the upshot is a claimed jump in low- and mid-light performance, including in the ultra-wide camera despite that basically being the same sensor as last time. Even the front camera — which now supports autofocus and has a faster f/1.9 aperture — benefits from the new pipeline.
The difference is there, in the final shots, but don't expect a night-and-day result. While there's more detail and a little less noise when dealing with darker scenes, mixed bright and dark settings can still get over-exposed in places. What I've noticed benefiting from more is the iPhone 14's ability to snap a shot more rapidly because of the bigger sensor and aperture. That helps cut down on blur when you're dealing with moving subjects, like kids or pets.
Leave your GoPro at home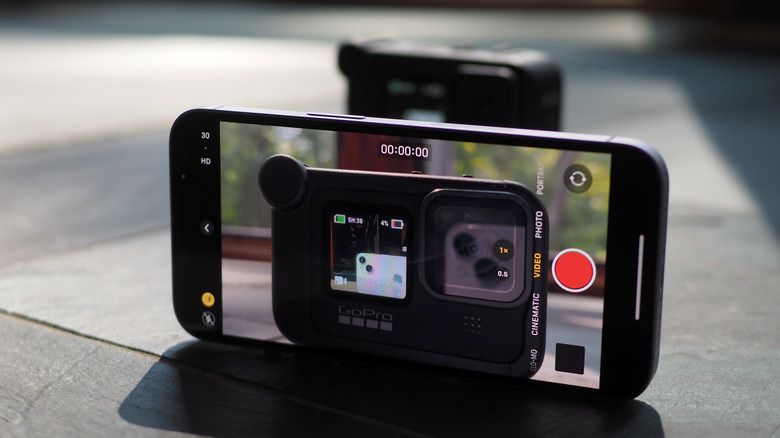 Chris Davies/SlashGear
On the video side, there's now Action Mode which uses optical image stabilization and cropping to deliver less-shaky 2.8K 60fps Dolby Vision HDR footage. Supplied with brightly lit scenes and we're talking GoPro-rivaling results, which is impressive. On the flip side, when things get darker — which, to be fair, the average GoPro can struggle with too — the effect isn't quite so slick.
Then there's Cinematic mode, which launched on the iPhone 13 series last year, but which here gets an upgrade to support up to 4K resolution. The principle is the same: using a real-time depth map of the scene to deliver movie-style focus shifts, either controlled manually or left to the iPhone 14's AI-powered cinematographic eye. It's fun, but it still feels a little like a gimmick for everyday shooting. Happily the standard 4K video mode (which supports up to 60fps) is more than good enough to do the trick in most settings.
The big new features you never want to need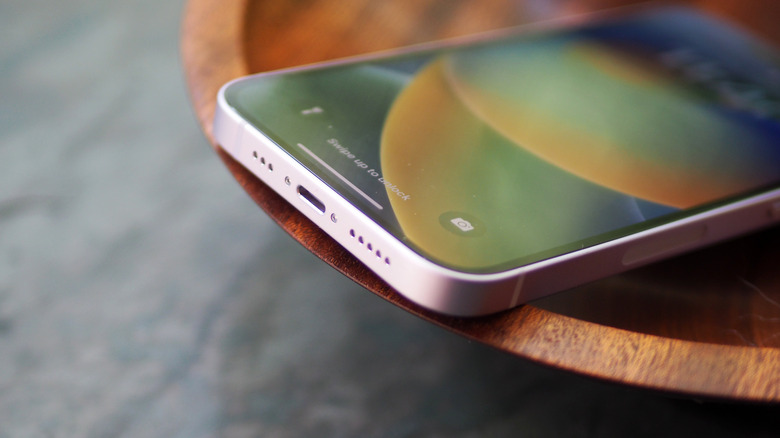 Chris Davies/SlashGear
Beyond that, the iPhone 14 feels mighty familiar. It has MagSafe charging on the back, topping out at 15W, Qi wireless charging which will only hit 7.5W, and a Lightning port on the bottom. Apple still isn't ready to embrace USB-C, and it still doesn't include a power adapter in the box, or wired headphones.
U.S.-spec phones have 5G in both Sub-6GHz and mmWave forms, along with WiFi 6, Bluetooth 5.3, Ultra Wideband, and NFC. No WiFi 6E, though. Three storage options are available: 128GB, 256GB, and 512GB.
Ironically, two of the big changes for 2022 are things you probably never want to use. Crash Detection promises to summon the emergency services should the iPhone 14's sensors spot you've been in an accident, while come November you'll be able to use Emergency SOS. That unlocks satellite messaging — hitherto the preserve of big, chunky, expensive devices — for sluggish but potentially life-saving communications when you're out of traditional cellular service. I've not been able to try it myself yet, but I've no doubt that Apple will feature case studies of how both have proved to be vital lifelines at its next big event.
As for power, while the iPhone 14 Plus will apparently boast the best battery life of any iPhone, the promise for its smaller sibling is the usual "all-day" estimate. That fit with my experience, so figure on a nightly recharge.
The value of the new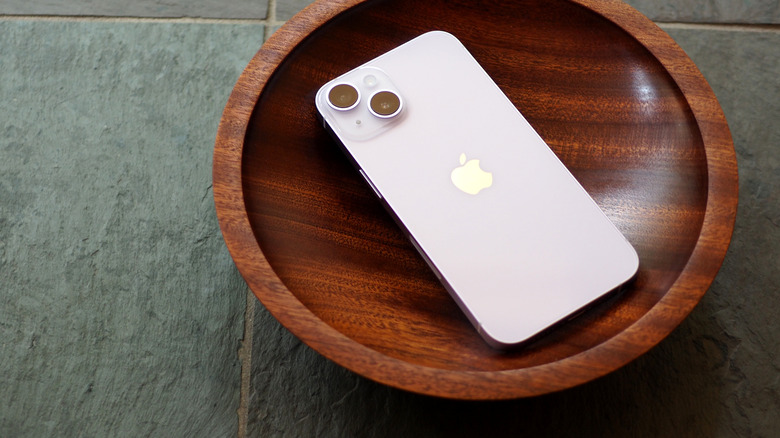 Chris Davies/SlashGear
Here's the thing. Unlike with some previous launches, where the prior year's iPhones were quickly sent off into retirement, Apple is keeping the iPhone 13 around for the moment. The iPhone 13 mini is now $599, for those still committed to that small screen lifestyle, while the iPhone 13 starts at $699. That's $100 less than the starting price for the iPhone 14.
It leaves a quandary, certainly, because just who should and should not consider the iPhone 14 is more complicated than it has been in other years. If you're an iPhone 13 user, don't bother. If you simply must buy a new phone, then think about whether a bigger screen with generally the same specs is satisfactory, and wait for the iPhone 14 Plus, or embrace the altogether more potent and feature-plentiful world of the iPhone 14 Pro and iPhone 14 Pro Max.
The argument against the iPhone 14 upgrade gets a little softer as you hit iPhone 11 or earlier. Even then, I suspect most people considering the jump could just as well be served by an iPhone 13 and $100 left in their pocket (or, for the same as a 128GB iPhone 14, a 256GB iPhone 13).
iPhone 14 Verdict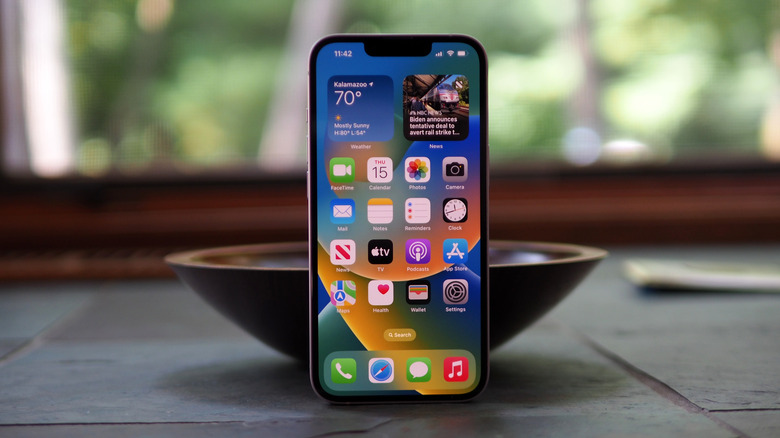 Chris Davies/SlashGear
That's not to say the iPhone 14 is disappointing. More a reflection that last year's iPhone is still competitive, and that the considerations around price feel more relevant at this point in the market versus those considering splashing out on an iPhone 14 Pro.
Honestly, I look at Apple's 2022 iPhone family and I can't help but have flashbacks to 2017. Like the iPhone 8 and 8 Plus five years ago, the iPhone 14 is a perfectly satisfactory refinement of what we've already seen. Problem is, it arrives alongside Apple's vision of what comes next and, while the iPhone 14 Pro doesn't upend the familiar in quite as extreme a way as the iPhone X did, you definitely get the sense that we're seeing another inflection point in the smartphone's history.
Whether you care about which side of that you fall upon now comes down to your budget and your appetite for the bleeding edge. Apple has made another solid smartphone, but it's no stretch to say the iPhone 14 is the least fascinating of 2022's models. For a lot of people, that's entirely what they're looking for in a relatively affordable phone, but I couldn't say I'd be surprised if your eye was caught by the fancier features debuting on the iPhone 14 Pro.