iPhone X Review: This changes everything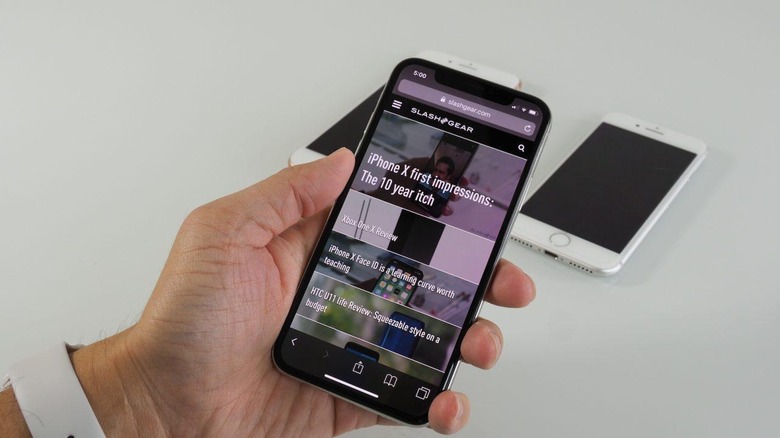 EDITORS' RATING: 9/10
Over the past few years I've openly cheated on my iPhones with Android and, on few occasions, with Windows Phone. Moving forward, as much as a serial cellular cheater can, I can see myself being monogamous with the iPhone X. Apple's most controversial smartphone is also its most compelling, and while this little slice of the future may take some getting used to, I suspect the pay-off will make it worthwhile.
The iPhone 4 was, in my opinion, hands-down one of Apple's finest designs. It featured a glass back, something 2017's iPhones harken back to, but it also fit neatly into your hand. Announced all the way back in 2010, its 3.5-inch display is comically tiny these days, though screen size aside, fast-forward to the iPhone 7/7 Plus and, now, the iPhone 8/8 Plus, and while the design changed to take on a more modern form factor, the larger top and bottom bezels remain. The iPhone lineage is strong, at least in terms of design, though that consistency can breed discontent. Sure enough, my eyes wandered to shinier, more interesting form-factors elsewhere.
Consider my attention well and truly grabbed with the iPhone X, the reboot I've been waiting for. While there's still plenty of core overlap with the iPhone 8 Plus, on top of that this new flagship gets an eye popping edge-to-edge display, a brand new TrueDepth camera enabling biometric face detection called Face ID, one of the best dual-lens rear camera systems on the market, and all wrapped in in, dare I say, one of the sexiest looking designs available today. In short, it's time for a new beginning and that starts at ten.
I can imagine there are some of you getting to the end of that paragraph, even ardent iPhone enthusiasts, and shaking your head in disagreement. I concede, the iPhone X isn't for everyone. Allow me to save you some time, and help me out with some honest answers to the following questions. Do you love the current iPhone design? Is having the home button and Touch ID absolutely a must? If your answers are "yes" then the iPhone X probably isn't your upgrade.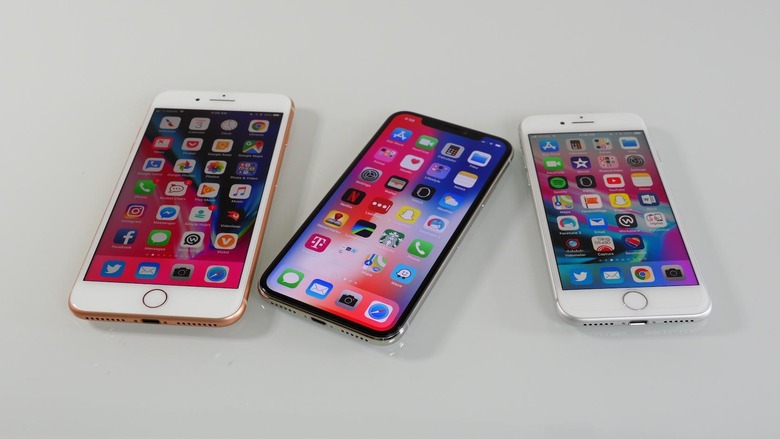 If, though, you're on the fence because of the iPhone X's higher price, keep reading. By the end of this review, I think you'll have come to realize that the iPhone X is worth every penny.
To notch or not to notch
The most contentious aspect of the iPhone X is the shape of the display, and I was no different in my initial reaction. If you've never seen the iPhone X in real-life, then I think it's a fairly natural response. Personally, after looking at the live photos from the phone's launch event in September, I started to think about how much I dislike the thick bezels at the top and bottom of the current iPhones, and suddenly my quarrel with the notch seemed a lot less important.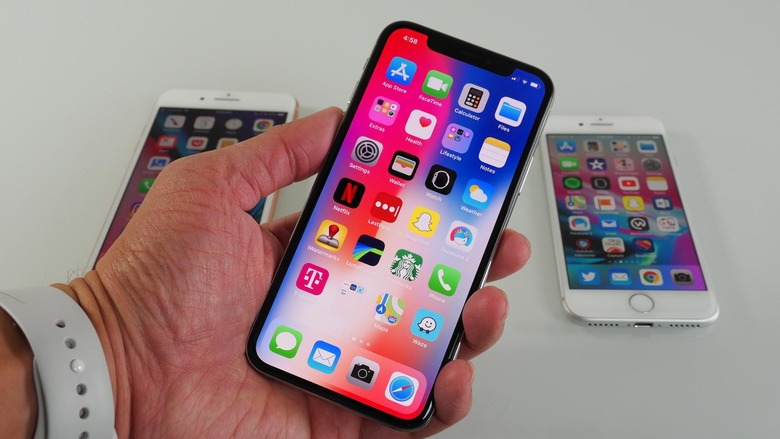 From a design and symmetry perspective, the 5.65 x 2.79 x 0.30 inch dimensions are close to perfect to both my eyes and my hand. Had the TrueDepth camera system been designed to sit completely above the display, rather than intrude into it, that OLED panel could no longer be edge-to-edge. That would, frankly, be a travesty.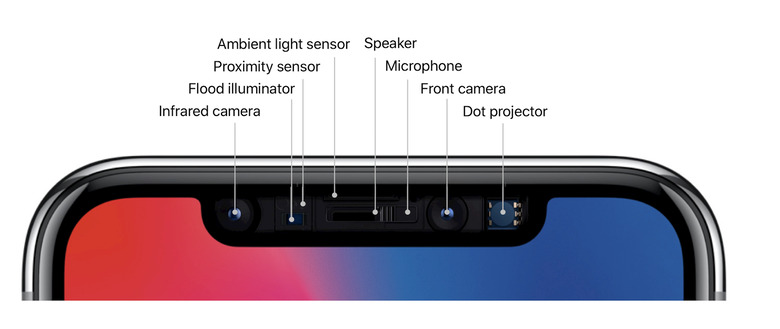 I may be in the minority here, for now at least, in agreeing with Apple's design choice to not only integrate but encourage application designers to embrace the notch. If you disagree, and it's a deal-breaker, then the iPhone X – or future iPhones and, I predict, iPads – won't be for you. Nonetheless, I'd still recommend giving it a chance.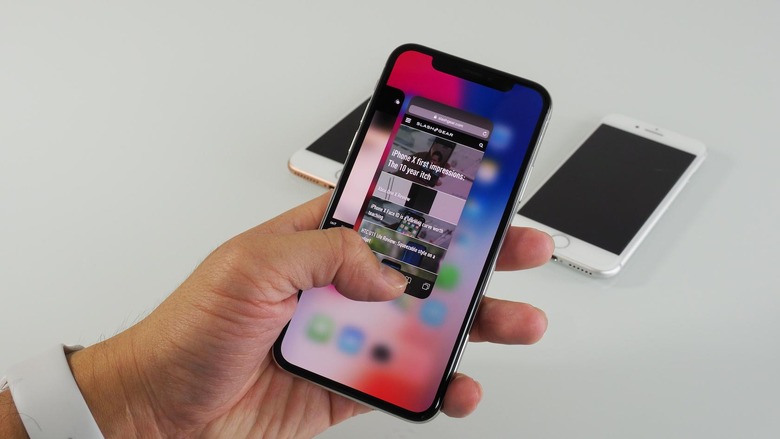 That's because, in the real world, the brain quickly accepts that the notch is there but then your attention is drawn away toward the content on the new organic light emitting diode (OLED) display. It's a welcome change from the LCD panels used in every previous iPhone. Now, there's nothing inherently wrong with LCD – just look at the iPhone 8 and 8 Plus, they're certainly pleasing to the eyes – but, to Apple's credit, they've pushed the technology as far as possible. Even so, it can't compare to the higher brightness levels and crazy-impressive contrast ratio of 1,000,000:1 that the iPhone X offers.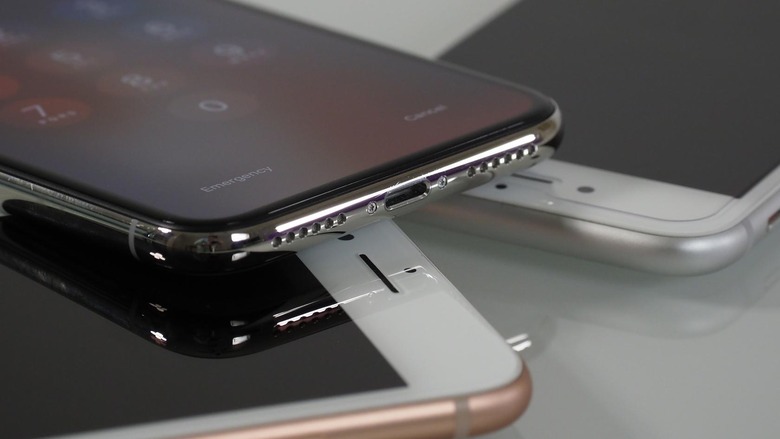 It's a healthy reminder that not all OLED is created equal, too. The furore around the Google Pixel 2 XL's underwhelming panel has made me doubly thankful for that of the iPhone X; Google's screen looks pale in comparison, while Samsung tends to oversaturate the colors.
Continuing its spread from the iPad Pro is TrueTone, which uses a multi-element ambient light sensor to constantly track the color temperature of the light environment you're in, and adjust the display to match it. The result, so the theory goes, is a display that looks more like regular paper to the human eye, regardless of the lighting conditions. Each iPhone X is individually calibrated at the factory prior to getting shipped out. While TrueTone may not have the exact accuracy that designers are looking for, it does make using the phone more comfortable (and, of course, you can always just turn it off).
Considering how much time we spend staring at our phones, Apple also decided to reinvent the way the iPhone X authenticates you. It's called Face ID, and it makes the new iPhone probably the most intimate device you'll own.
The Face ID courtship starts with enrolling your face; I recommend reading Chris Davies' in-depth explanation of the system to understand more. He encouraged me to test out the enrollment sporting a fake mustache, and who am I to deny him such small pleasures, right? So I did, and then I ripped it off my face, forgetting that the glue was, well, super-sticky. The result? A noticeably red rash. Did Face ID care? Nope. The magic tech powered by the TrueDepth camera happily granted me entry.
It wasn't't until much later, into the early morning in fact, when I went to bed and had my first failed encounter with Face ID. It took me a second to figure it out, but then I realized that I was by then wearing glasses in a pitch-dark room. The light level isn't an issue – Apple's flood illuminator washes your face in infrared light – but the Neural Engine, powered by Apple's A11 Bionic chip, had only seen me with contact lenses before. After I punched in my passcode, Face ID added the new information to its record of my overall face.
Fast forward a couple of hours of restless sleep, and I woke up with one eye half-shut and my face feeling swollen. Sure enough, Face ID asked for my passcode again. The next night, lying in bed with my glasses on, it asked for it again, but since then I haven't had a hitch with the face recognition.
Until Apple, there hasn't been a single smartphone on the market that has offered such an advanced level of biometric facial scanning. Sure, Android had a "face-recognition" feature, but it's proved relatively straightforward to fool with a photo or video clip. Samsung's retina scan on its recent Galaxy devices has proved better, but in my experience it's more finicky in daily use.
It's taken something like TrueDepth to get to this stage. Rather than a single camera, it's actually a cluster of components: a proximity sensor, ambient light sensor, infrared camera, flood illuminator, 7MP camera, and the dot projector. Really, it's that last part that's the secret sauce. During enrollment – and every time afterwards – it's literally painting your face with 30,000 invisible dots, that can be used to make an instant depth-map.
In the case of Face ID, all that information gets passed to the Neural Engine and is compared to the encoded version of your face structure that's only ever locally saved in the secure enclave, Apple's name for its encrypted chip. However, that's not all the depth data is good for.
For instance, the iPhone X can keep the screen from dimming as long as it sees you're looking at the display. It'll keep the contents of lock screen notifications masked, until you're paying attention. For developers, as long as they've implemented the existing Touch ID APIs properly, their apps should automatically work with Face ID too. And then there are Animoji, the twelve animated emoji which mimic your own face. They feel a little gimmicky, but I wouldn't be surprised if they're a hit as the iPhone X reaches more users.
Design and navigation go hand-in-hand
Drag your eyes away from the notch which houses the TrueDepth camera, as well as the speaker and microphone, and you'll find an elongated side button on the right edge. Over on the left, there's the ring/silent switch, as well as the volume rocker. Down on the bottom there's the Lighting connector, microphone, and stereo speakers.
Flip to the back, and you're greeted with a pair of 12-megapixel cameras, now vertically stacked since the internal components had to shuffle around to accommodate TrueDepth. For the most part, the iPhone X's cameras are the same as those on the iPhone 8 Plus. However, there are some welcome changes.
Unlike the iPhone 8 Plus' telephoto lens, for instance, the iPhone X has optical image stabilization for both photos and video. The new quad-LED True Tone flash now supports Slow Sync and has a claimed twice the uniformity of light. As a result, foregrounds and backgrounds appear much more balanced. It's actually highly noticeable when you're using the flash in dark environments, as my test shots taken during a Halloween party this week show.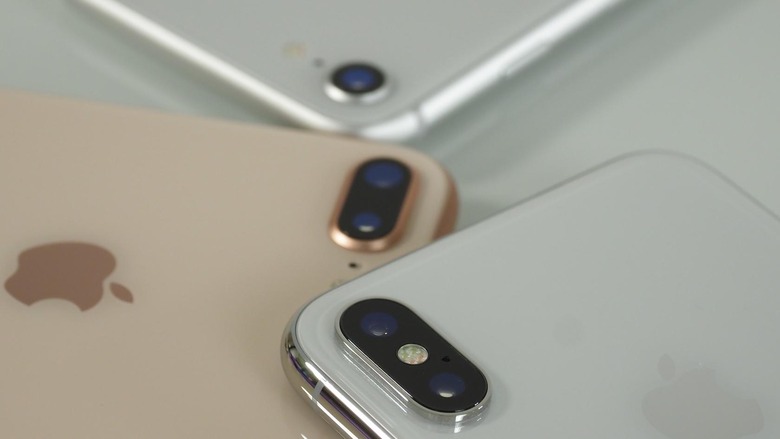 The new image signal processor (ISP) in the A11 Bionic is responsible for detecting and identifying objects, people, motion, and lighting conditions in each scene it's presented with by the camera. It's something even more critical to understand when using Portrait mode, too, since it then needs to identify the sky, foreground, background, any objects, and tree lines, in order to create the correct amount of synthetic bokeh effect.
Apple achieves its blurred backgrounds in Portrait mode by using a two-camera system. For everyday snaps, there's a 12-megapixel camera with a wide-angle, f/1.8 six-element lens. The second, telephoto camera has a slower f-stop of f/2.4, and uses what Apple refers to as a state-of-the-art seven magnet solution. Together, you get a 2x optical zoom as well as the various Portrait modes we've seen already on the iPhone 8 Plus: Natural Light, Studio Light, Contour Light, Stage Light, and Stage Light Mono.
It's a very different approach from that which Google took with the Pixel 2 and Pixel 2 XL. They use a single, f/1.8 aperture, 12.2-megapixel camera to achieve a similar bokeh affect, only relying on computational wizardry to get depth information from a single sensor. The same principle applies to the Pixel 2's front facing camera as well, whereas on the iPhone X the much more sophisticated TrueDepth camera does all the heavy lifting.
I still need much more time with both devices side-by-side before I can definitively declare a winner. However, here's a quick laundry list of the pros and cons. The Pixel 2's setup is much more flexible, since there's just one, much faster camera responsible instead of Apple's slower f/2.4 telephoto lens. As a result, I've found it can cope with adding fake blur in even darker environments. It's not to say that Portrait mode on the iPhone X underwhelms, and often it can produce images worthy of making prosumer DSLR cameras sweat bullets.
There's a lot of digital and computational photography happening in the back-end. Still, Apple calls it Portrait mode for a reason: it isn't intended for inanimate objects. This is where the Pixel 2 has another advantage, since it doesn't seem to care who or what it's taking a picture of.
As for the front, for the most part selfie-Portrait mode utilizing a 7-megapixel sensor and f/2.2 aperture lens works fine. The lighting and angle needs to be just right for the depth of field effect to turn out right, mind, and that doesn't just mean avoiding dark settings. I've had it refuse to work because the sun was too bright outside, even after I moved into a more shaded area. The Pixel 2 XL didn't hesitate at all and delivered a great looking shot. This is one of those moments where Google's KISS hardware approach has merit, since it almost seemed like all the iPhone X's various sensors were overwhelmed by the bright sunlight.
As for regular photos, for the most part I had great success. There have been a small number of images taken with both the rear and front cameras, which didn't come out tack-sharp. Some were just overexposed, while others were both overexposed and somewhat blurry. I suspect it's the sort of thing that Apple can tune over time with software tweaks.
The heart of an iPhone 8
It's not just the iPhone X's physical size which is similar to that of the iPhone 8: what's inside is broadly the same, too. All three of Apple's 2017 iPhones use the new A11 Bionic, come with 64 GB or 256 GB of storage, and are splash and dust resistant. Unsurprisingly, then, my experience of iOS 11 on the iPhone X has suggested broadly the same – or slightly better – performance compared to its iPhone 8/8 Plus brethren.

My battery testing is ongoing, but so far the iPhone X is looking much the same as the iPhone 8: it'll get you through a full day or so. There's Qi wireless charging, but even for a $999+ device Apple doesn't include either a charging pad or, more frustrating still, a fast-charger in the box, despite the iPhone X supporting it.
I've also come across some iOS 11 oddities. Certainly there are third-party apps which aren't ready for the iPhone X's new display shape, though I'm seeing updates addressing that every day. Weirder is the unused space at the bottom of Apple's onscreen keyboard, which I can only assume is to avoid inadvertent home gestures. Still, I wish it had been used for something more productive.
Wrap-up
There's something both familiar and foreign about the iPhone X. On the one hand, it conjures memories of earlier iPhones, with aesthetic cues borrowed from the past ten years of designs. At the same time, though, the hardware has been pushed back to the periphery as much as current technology allows it. Apple's vision is of a smartphone being little more than a frame to the digital world, and the iPhone X is the purest expression of that we've seen so far.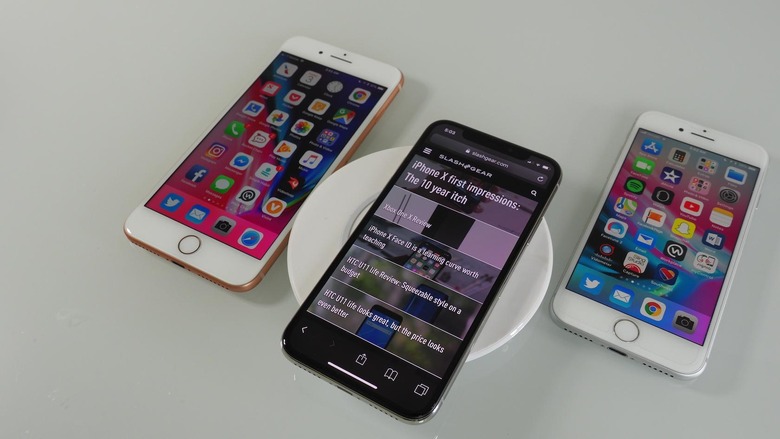 Change can be difficult to stomach, I know. The absence of the home button – replaced by a portfolio of gestures that will require some homework to learn fully – and the notched screen are likely to cause the most headaches, though in my experience it's been a quick process to assimilate both. For all the complaints that people "can't unsee" the TrueDepth camera's intrusion, after a few days use I just wasn't noticing it any more.
There's no denying that the iPhone X is expensive. It's the gateway to Apple's next decade of smartphone design, and the price of early entry is always going to be high. I suspect 2018 will bring more affordable implementations of the technology we're seeing here; if you've the patience for it, or the skepticism for that matter, waiting to see how things pan out is undoubtedly sensible.
Here on the cutting edge, though, "sensible" is close to being a dirty word. The iPhone X isn't perfect but, just as the original iPhone rebooted the smartphone world, this tenth anniversary milestone will have a disproportionate impact on the industry as we know it. More specifically, it's the blueprint for another ten years and a welcome line in the sand that leaves some of the more over-familiar aspects of iPhone behind. That alone earns the iPhone X a place in my pocket.