iPhone 7 Review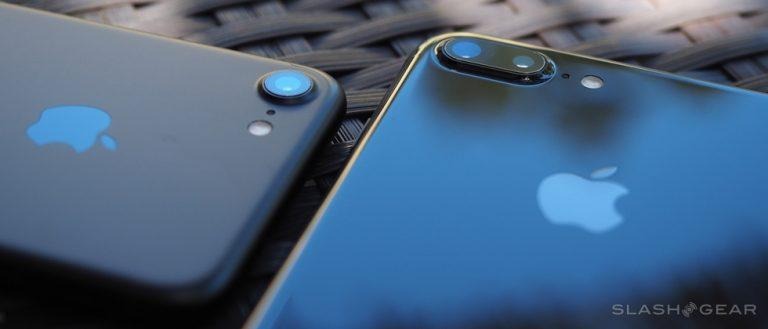 It's ironic, a new iPhone is usually the specter hanging over rival smartphones, but it's the promise of their unannounced successor that looms above the iPhone 7 and iPhone 7 Plus. Mauled even before launch by vocal criticism of Apple's decision to abandon the decades-old headphone jack, and stung by accusations that these new handsets play it safe rather than push the envelope, could 2016's iPhone really be a disappointment?
Think evolution not revolution for the iPhone's aesthetics this generation. If the whispers are true, the big changes are coming next year for the smartphone's tenth anniversary; until then, it's a refinement of the iPhone 6s style.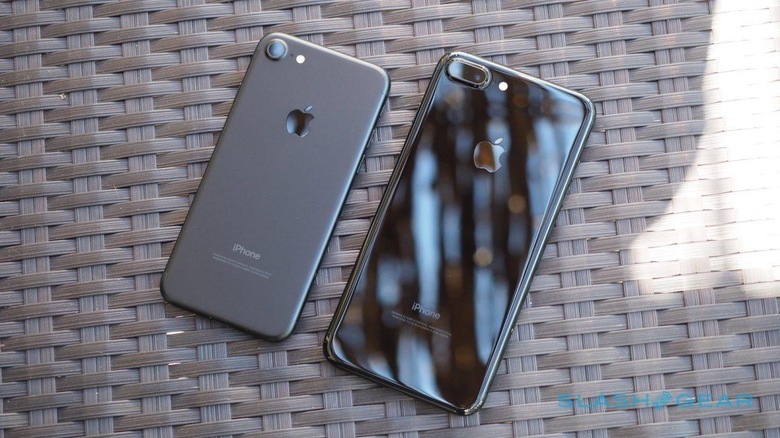 It's a successful one at that. The seam between display glass and metal is a little smoother; the antenna strips on the back are a little more discreet. The camera lens no longer feels like it's just been dropped on the metal, the body instead flowing out to embrace it.
Equally welcome is the IP67 splash, water, and dust resistance. No, it's not quite the IP68 that the Galaxy S7 offers – the difference comes down to water immersion, with the iPhone 7 capable of surviving depths of up to 1m – but if you've ever accidentally dropped your phone in the sink or wished you could use it safely while in the bath, you're in luck. Just remember, Apple's warranty still doesn't actually cover water damage.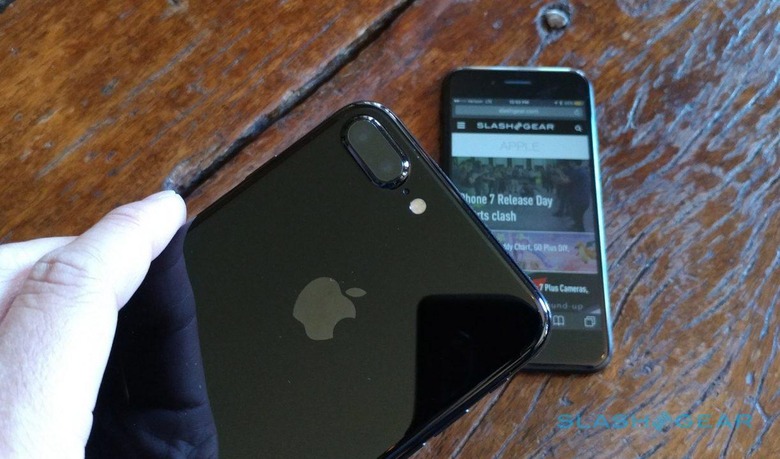 The Rose Gold, Gold, and Silver finishes are back once again, but they're joined by new Black and Jet Black options this time around. Black is a stealthy matte finish, much darker than space grey, while Jet Black puts the aluminum shell through a cavalcade of processes the complexity of which is only overshadowed by the hyperbole by which Apple describes them.
The end result is a high-gloss finish that feels almost plasticky, and which is catnip to scratches and scuffs or, as Apple calls them, "micro-abrasions". Unless you can guarantee a dedicated microfiber-lined pocket within which to coddle your Jet Black precious, a case is probably the best route.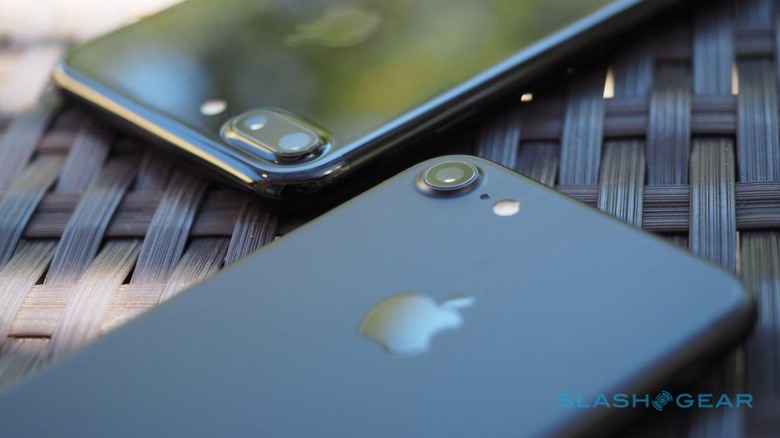 That'll probably have to be a new case, even if you were an iPhone 6s owner. While the dimensions are the same, the tweak to the camera design means the opening on every existing case I tried was too small.
The very best iPhone 7 cases of 2016
Your mom always told you that it's what's on the inside that counts, and that holds true for the iPhone 7. Star of the show is Apple's new A10 Fusion chip, another homegrown design that pairs two low-power cores with a pair of high-performance cores, the former handling power-sipping tasks while the latter step in for more intensive processing.
It's not a new concept, but Apple's fairly unique position of designing both silicon and software helps set it apart when it comes to optimizing performance. I've not experienced any slow-down or sluggishness in either the iPhone 7 or iPhone 7 Plus while using them; apps load without lag, long lists of photos scroll and expand without pausing to cache thumbnails.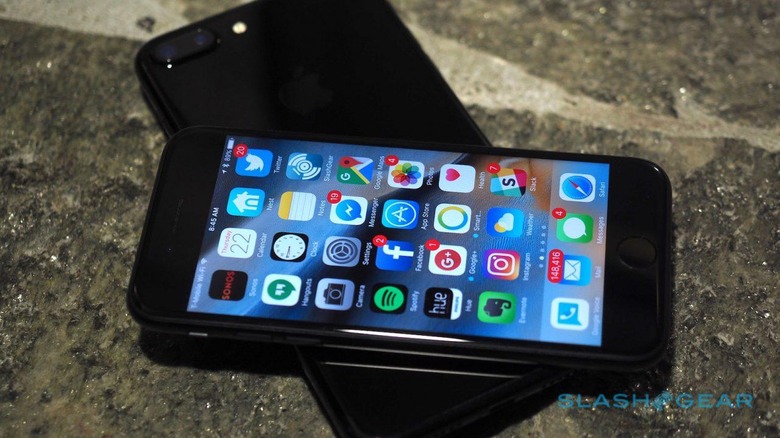 We generally don't get to see the full benefits of a new chipset until developers start pushing the envelope with their apps, and the A10 Fusion will be no different.
While the headphone jack is sorely missed by some, I suspect the death of the 16GB iPhone won't be so quickly mourned. Apple's decision to double the storage to 32GB on its cheapest handset is a welcome one, even if it's rather overdue, while the 128GB and 256GB versions should have enough capacity for those taken by 4K video.
Meanwhile, the combination of the new A10 Fusion and various other tweaks and changes – not least accommodating slightly larger packs – have led Apple to promise up to two hours more battery life than the iPhone 6s from the iPhone 7, and up to an hour more on the iPhone 7 Plus versus the iPhone 6s Plus.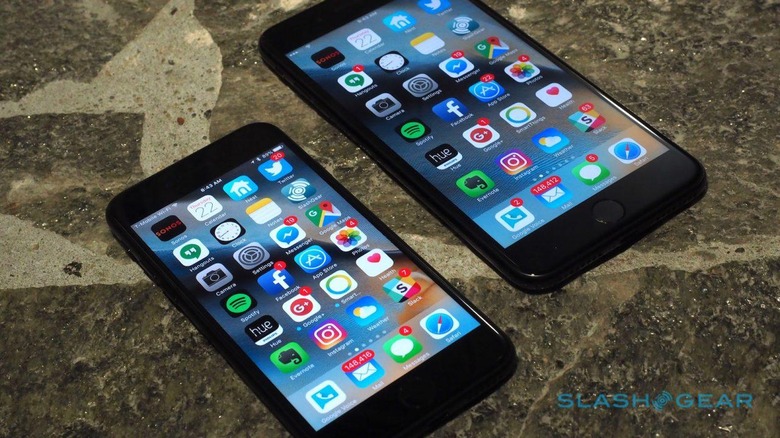 I'm resigned to using a battery case on an iPhone 6s if I want to get through a full day on a single charge, so any improvement on how long I can stay away from an outlet is welcome. With my typical use, the iPhone 7 made it into the evening before I needed to switch into low-power mode.
As for the iPhone 7 Plus, that got through a whole day and well into the second, without my giving any consideration to frugality. I'm confident you could get through a weekend trip away from the charger if you were mildly more careful. Unfortunately, when it actually comes to charging you're stuck on a cord: Apple is yet to embrace wireless charging.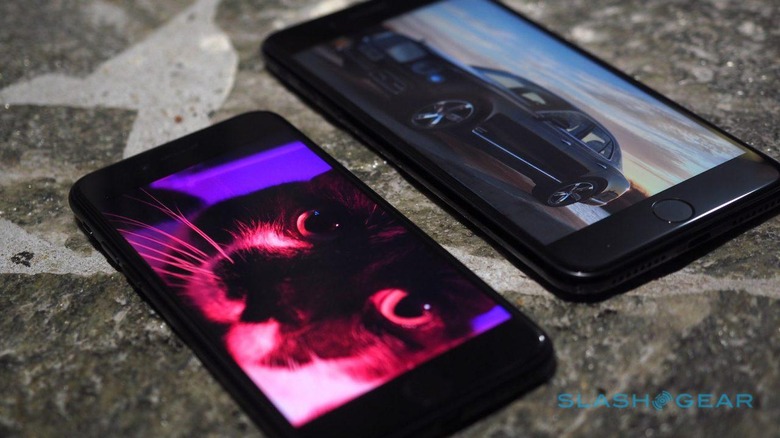 The familiar 4.7-inch and 5.5-inch display sizes are along for the ride again, as are the 1334 x 750 and 1920 x 1080 resolutions for the iPhone 7 and iPhone 7 Plus respectively. They're actually very different panels over the 6s generation, however.
For a start, they support the DCI-P3 wide color standard that Apple made such a big deal of adopting with the 5K Retina iMac. That means more colors and greater vibrancy, and you really notice it when you have the iPhone 7 side-by-side with one of its predecessors.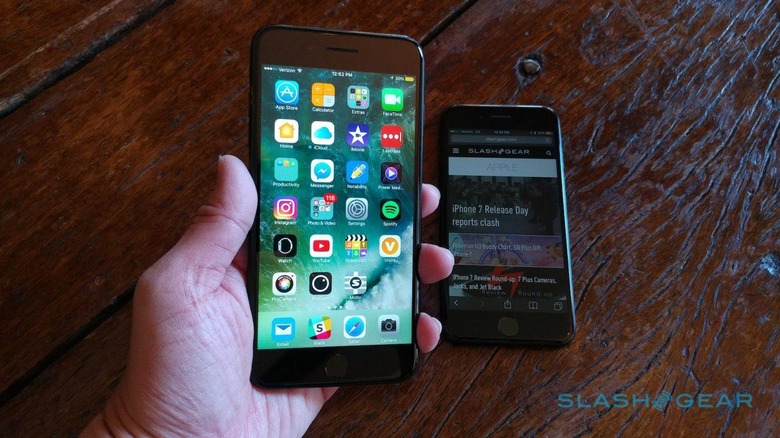 Unfortunately the True Tone color temperature adjustment which makes such a difference on the iPad Pro 9.7 is absent, presumably because the sensors that it relies upon were simply too big to fit inside.
Maybe more useful, though, is the increase in brightness. The 6s generation was billed as delivering up to 500 nits, but the iPhone 7 cranks that up to 625 nits. It pays dividends when you're outdoors, trying to make out what edits you've made to that all-important Instagram update.
Underneath, while the home key may look like the carefully bevelled button we're familiar with, in reality this is the first iPhone with Apple's new touch-sensitive button. No movement at all: like the MacBook's trackpad, Apple relies on the new Taptic Engine to mimic the feel of a click.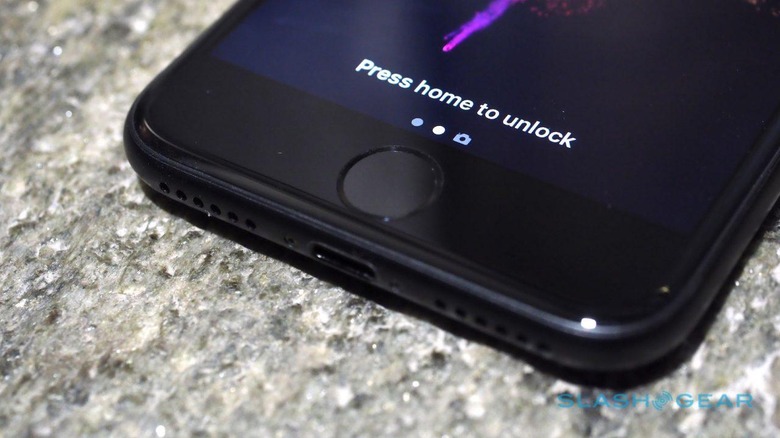 The switch from a physical to a capacitive touch home button has real benefits, of course. For a start it cuts a point of water ingress, helping Apple to make the iPhone 7 water-resistant to IP67. It's also less likely to suffer hardware issues, at least in terms of mechanical failure. I've not had a home button break on me in my years of iPhone use, but I have noticed that, over time, they're a little more mushy than the sharp "click" of a brand new device.
They're both good reasons for the change, but it's going to take some getting used to all the same – as are the implications. Because, just as there are benefits to how your iPhone 7 will now perform, there are some considerations to bear in mind too.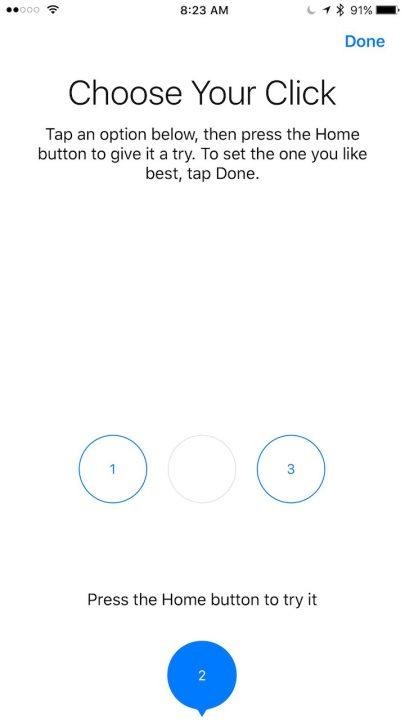 Most noticeable is simple button-feel. Apple offers three haptic levels to choose between, though none quite replicates the crispness of a physical button. Lending to the confusion is how varying degrees of pressure are interpreted: a short, light press unlocks with Touch ID but keeps you on the lock screen notifications; hold your finger down a little longer and you go to the iOS home screen. Don't press too long, though, as you'll get Siri.
I found dipping into the Accessibility menu in iOS 10 and changing the home button behavior to "Rest finger to open" helped it feel a little more like the unlocking process on my iPhone 6s running iOS 9. That way, just gently pressing your fingertip against the Touch ID sensor is sufficient.
Simple muscle-memory will eventually kick in, I'm assuming, and teach my fingers the nuances of the capacitive button. Unfortunately, there's a second issue which will be less readily addressed.
You can press a physical button with anything. Indeed, I'd got used to pressing the home key on the iPhone 6s with my knuckle if I wanted to wake it but just to check notifications. It doesn't matter if you're wearing gloves, or doing it through the fabric of an arm strap case.
A capacitive button, though, demands flesh. The nature of the sensor is that it responds to skin: if your fingers are covered then the button won't recognize them.
Selfishly – since I don't use an arm strap and live in climates warm enough that my bare fingers are seldom clad in gloves – I'll gladly sacrifice that for what the new Taptic Engine can do in apps. Developers get access to the new hardware and, if the UI-with-weight tidbits that Apple has dropped through iOS 10 are anything to go by, it'll do more for making iPhone interactions feel like real buttons and toggles than skeuomorphism ever did.
The loudest howling about the iPhone 7 is the death of the headphone jack. Apple may be ready to pour one out for the 3.5mm connector, but many music fans aren't, and they've made their feelings very clear.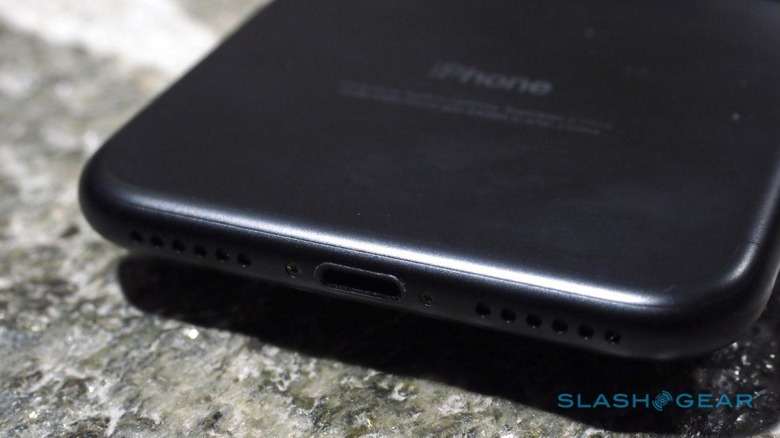 Here's the official argument: a headphone jack takes up a lot of space, proportionally, and a lot of the time that space is basically full of empty air. Apple wants to put other things in its place, and since it already has a port – its own, proprietary Lightning port – why not have that serve double-duty? Meanwhile, it also helps with making the iPhone 7 water-resistant.
You can pick as many holes as you like in that theory – Apple wants to rule audio with an iron fist of DRM; Apple wants to sell more Lighting adapters and make more money licensing connectors; rivals like Samsung can manage to waterproof their phones without sacrificing the 3.5mm jack; etc. – but I sincerely doubt Apple will be listening.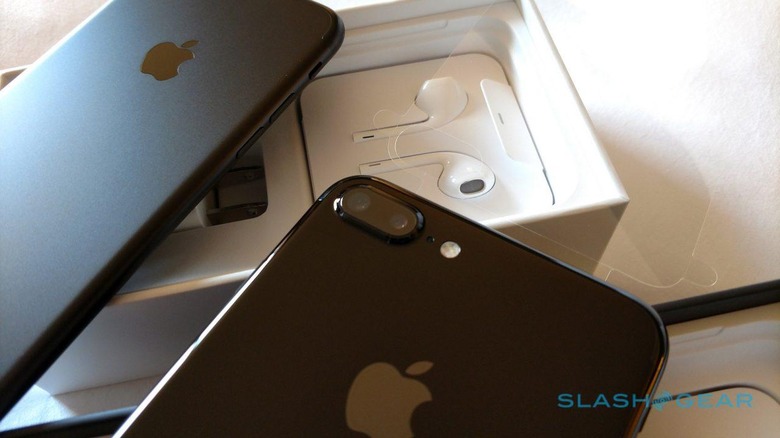 So, what's the reality like? For some, doing everything via Lightning will be a non-issue: Apple includes a Lightning to 3.5mm adapter in the box (spares will cost you nine bucks apiece) and the familiar EarPods headphones now terminate in a Lightning plug. If your ears are happy with them – and, the research apparently suggests, iPhone users overwhelmingly are since they most likely stick with the bundled set – then you'll probably not notice a difference.
If, like me, EarPods refuse to stay lodged in your ears and you have a preferred set of alternative wired headphones, then the bundled adapter is the answer. I noticed no change in quality switching between 3.5mm and Lightning.
Whether you're an EarPods user or a third-party wired headphones fan, listening or charging is an either/or affair. We've already seen one Lightning-splitter that allows for charging and music simultaneously, but I suspect most people will just pick their battles and stomach the limitation: either they charge, or they play music.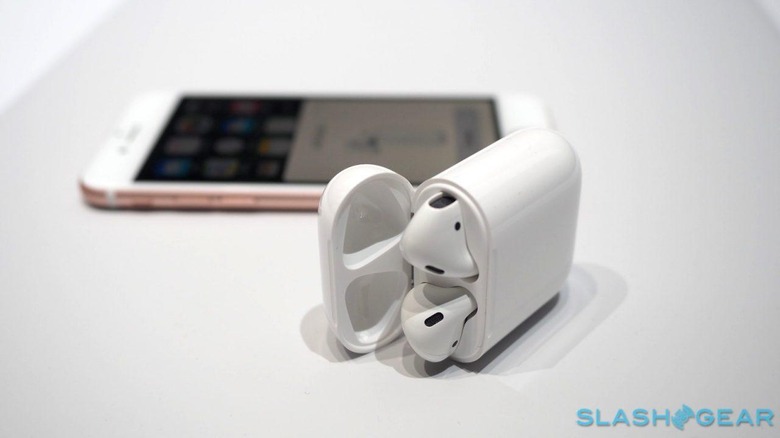 That is, unless you embrace the wireless world that Apple is so keen to drive us to. Bluetooth headphones aren't new but they might seem a lot more appealing than they used to be; they also suffer the same frustrations, like forcing you to remember to charge them.
Come October, Apple will have its own offering, the $159 AirPods. I've tried them and, just as with the EarPods they so closely resemble, actually getting them to remain in my ears is the biggest issue. Perhaps I have weird ears, but a good rule of thumb is that if you struggle with EarPods, AirPods will probably not be the solution.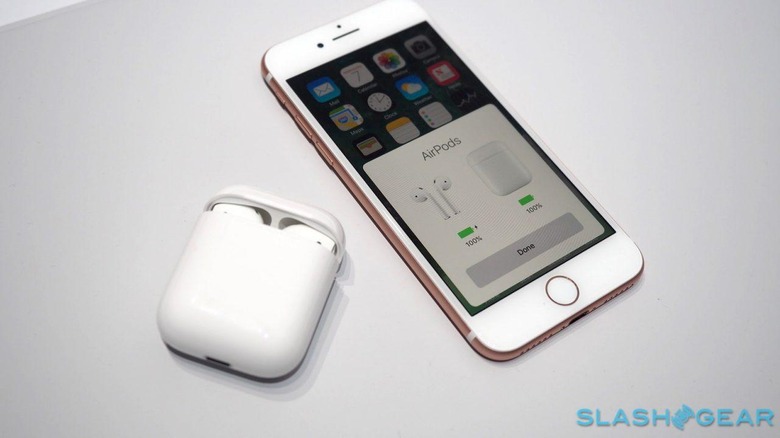 It's a shame, as Apple has established a new benchmark for Bluetooth convenience. Courtesy of the W1 chipset, which basically handles all the handshaking, PIN exchanging, and general connection establishment, joining the AirPods to the iPhone 7 is a joyfully headache-free process. My hope is that we'll see the same streamlining spread to car infotainment systems and wireless speakers, too, since they can be equally annoying.
NOW READ: AirPods hands-on
Of course, you could always just use the iPhone 7's new stereo speakers. Joining the existing speaker on the bottom edge of the handset is a second, up within the earpiece for better stereo separation (assuming you're holding the phone in landscape orientation).
Volume is up, as is clarity, and music is less tinny at the treble end. Bass sees an improvement too, though you need to be realistic about how much you can really hope to coax out of a smartphone speaker. I've found the changes are actually more noticeably beneficial for hands-free calls.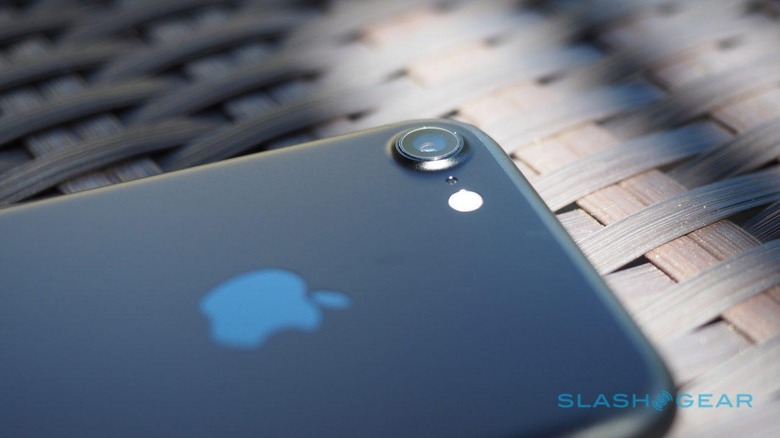 Then there's the camera. Or, in the case of the iPhone 7 Plus, cameras – plural.
I'm not in the habit of using the zoom on a smartphone because, bluntly, they're almost universally bad. Digital zooming is really just a lackluster way to describe cropping, and that means subpar resolution and blockiness. You're much better off moving physically closer to your subject, if at all possible.
The iPhone 7 Plus addresses that with a second sensor on the back. You get the same 12-megapixel sensor with an f/1.8 aperture, 22mm-equivalent lens as the smaller iPhone 7, but right next to it is another 12-megapixel sensor, this time with an f/2.2 aperture, 56mm-equivalent telephoto lens.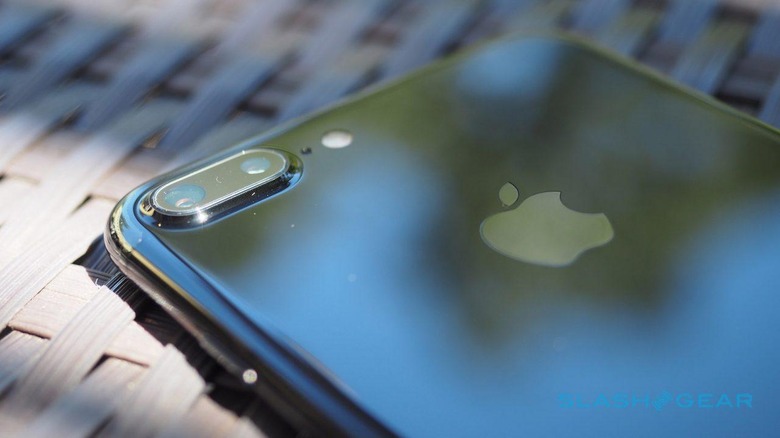 It means that, while the iPhone 7 offers the same 5x digital zoom as the iPhone 6s before it, the iPhone 7 Plus has a 2x zoom with no loss of quality. Combined with the digital zoom that's 10x in total; yes, you're going to see a dip in how great your pictures look at that point, but it turns out that 5x offers a surprisingly pleasing balance of quality and close-up.
There's good news and bad news on image stabilization, too. The good news is that, unlike in previous generations, both the iPhone 7 and iPhone 7 Plus have optical image stabilization; before, you'd need to pick the bigger of the two for that.
The bad, though, is that only one of the cameras on the iPhone 7 Plus gets OIS, and Apple opted to make that the regular sensor, not the telephoto one.
Now, in some ways that makes sense: after all, the assumption is that the wide-angle camera will be used more frequently, so it should see OIS getting the most use. On the flip side, however, is the fact that the telephoto lens arguably benefits more from stabilization, since shake and micro-movements are only exaggerated the more you zoom in.
All the same, I can't help but be wowed by what the iPhone 7 and iPhone 7 Plus are capable of. The improvement in lens aperture – f/1.8 versus f/2.2 in the previous generation – promised better low-light performance, and it delivers in spades.
It's not just about producing a brighter frame overall, but how the phones deal with contrast and detail. The iPhone 7 and iPhone 7 Plus can use lower ISOs for a start, helping cut down noise, while the OIS means slower shutter speeds are practical without leading to blurring or smearing. Expect crisper edges and more detail if you're blowing things up.
The True Tone flash now has twice the number of LEDs for more power, and promises to better compensate for flickery lighting like you can get with fluorescents too, but you might find you don't actually need it so often given the other enhancements.
Things get even better when you treat the iPhones to plenty of natural light, though the previous generation was already solid there, and so side-by-side comparisons show less of an obvious improvement. Suffice to say, you're in for bright and accurate colors.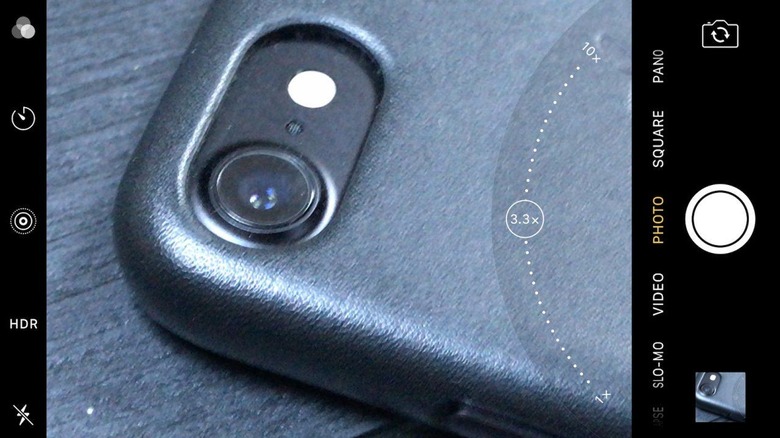 The big surprise to me personally is how much I've found myself using the telephoto lens on the iPhone 7 Plus. With its redesigned UI that puts a useful "2x" button right next to the shutter release, the camera app makes toggling between wide and telephoto straightforward; alternatively, you can slide your finger up and down across the zoom scale, and it's almost imperceivable when the view switches between the two sensors.
It works just as well in video mode, too, as you can see in the above clip. Both the iPhone 7 and iPhone 7 shoot at 4K/30fps or 1080p/60fps resolution, with a maximum slow-motion setting of 720p/240fps. In the following video, you can see low-light performance at the 2016 FIA WEC Race at Circuit of Americas:
In daylight conditions, in this video, you can see how well the iPhone 7 handles fast-moving cars:
As for the optical image stabilization, that demonstrates its benefits in this take-off and touch-down sample video:
As I've found myself saying a few times already, things look set to only improve with the camera. For a start there's now support for RAW output: iOS 10's camera app still spits out JPEGs, but there's a growing list of third-party alternatives that will give you access to the core files should you want to dig in deep in Photoshop or similar.
Meanwhile, Apple has a new Portrait mode – which identifies the subject and then artificially blurs the background around them – coming in an imminent update. That promises lashings of bokeh, the firefly-esque glints of diffused light you get with a shallow depth of field, through software trickery rather than the fancy lenses you'd traditionally require, though it'll be limited to the iPhone 7 Plus.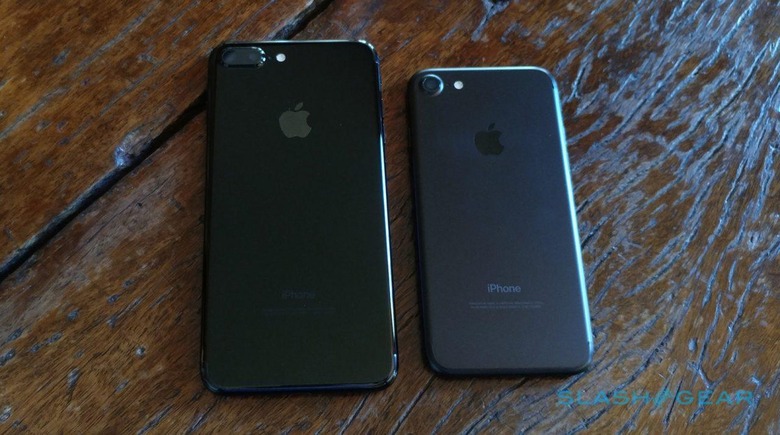 Are we at the iPhone pinnacle? For the moment, yes, though that tenth anniversary celebration looms on the smartphone horizon. In several ways, the iPhone 7 and iPhone 7 Plus feel like precursors to what's expected to be a far more revolutionary change next year: Apple getting us used to the absence of a headphone jack and a greater reliance on haptics over moving parts, so that it can build on that in 2017.
That could've left this year's devices as mere placeholders along the grand old iPhone journey; that it doesn't is testament both to the iPhone 7 and iPhone 7 Plus' improvements, and to the solid starting point they began from.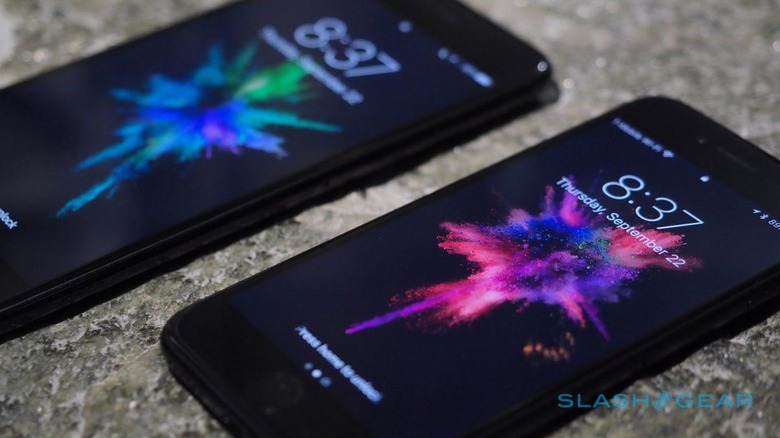 Better cameras, faster performance, and water-resistance are probably enough to convince many that it's time for an upgrade. They have, after all, the potential to legitimately impact your day to day experience of living with an iPhone. The decision is a whole lot easier if you're using an older iPhone, too: the iPhone 7 will be a significant improvement.
All the same, I couldn't blame you for sticking with your iPhone 6s or 6s Plus, installing iOS 10, and holding out another twelve months to see what the seeds sown in the iPhone 7 bloom into. That way, you get to prolong your love affair with the headphone jack, too.
In the end, it comes down to whether you want to go along with Apple for the ride, or sit and watch what happens from the sidelines.
Vincent Nguyen contributed to this review. Check out the gallery below for more full-resolution images from the iPhone 7 and iPhone 7 Plus, with zoom comparisons and more.