Google Pixel 2 Review: Android camera magic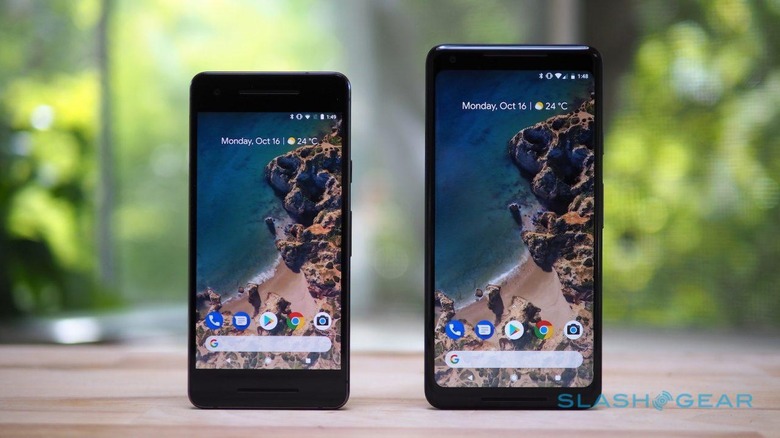 If there's a rockstar of the Android world in 2017, it's the new Pixel 2. Google's own smartphones may not sell in as great a number as, say, Apple's iPhone or Samsung's Galaxy, but they're arguably no less important in their own way. The Pixel 2 and Pixel 2 XL embody Google's vision of hardware, software, and artificial intelligence, all working collaboratively.
It's a vision that gives privacy advocates sleepless nights and demands you buy into the idea of Google's cloud wholeheartedly. It also comes with a premium price: the Pixel 2 starts at $649, while the Pixel 2 XL kicks off at $849.
Design and Hardware
One phone, two sizes. The Pixel 2 may be made by two different companies – HTC is responsible for the regular model, LG for the Pixel 2 XL – but the familial resemblance is strong. Whether that's a good thing is questionable.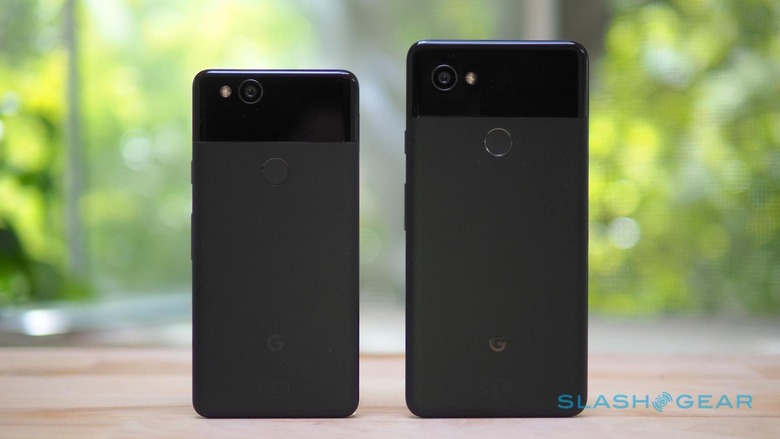 I can't exactly call either phone beautiful. There's a utilitarian charm there, perhaps; pleasure to be taken in the textured metal of the back panel, which still shares space with glossy glass covering the antennas, or the general sturdiness of the frame. Ergonomically, the all-black – which Google fittingly calls "Just Black" – of these review units is discretion embodied.
If standing-out is your intention, better to go for the Clearly White (Pixel 2) or Black & White (Pixel 2 XL) which at least throw in some contrast. Best of all, though, is the Kinda Blue finish, sadly only offered on the Pixel 2.
The smaller phone is 5.7 x 2.7 x 0.3 inches and 5.01 ounces; Google has given it a 5.0-inch display. The Pixel 2 XL, meanwhile, is 6.2 x 3.0 x 0.3 inches and 6.2 ounces. It has a 6.0-inch display.
Whichever you pick, you get Qualcomm's Snapdragon 835 chipset, paired with 4 GB of RAM and either 64 GB or 128 GB of storage. Sadly there's still no microSD slot, and nor is there a 3.5mm headphone jack. If you want headphones, Google is expecting you to either go wireless – such as with its own new Pixel Buds – or use the 3.5mm adapter that plugs into the Pixel 2's USB Type-C 3.1 port.
For some, that will be a huge annoyance. Speaking personally, I'm okay with embracing our wireless future. Any Bluetooth headphones should work with the Pixel 2's Bluetooth 5.0 radio, but Google supplied me with a set of Libratone Adapt headphones since they're one of the first to earn the "Made for Google" branding.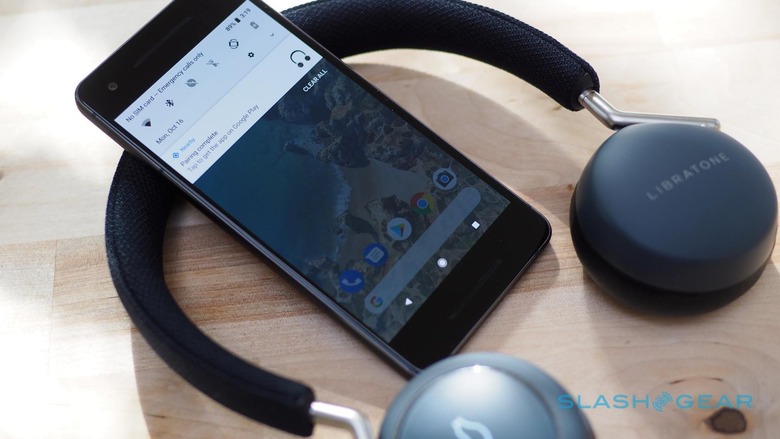 It means they support Fast Pair, which is essentially for the Pixel 2 what the quick-connect feature that makes AirPods so seamless to use with an iPhone is for Apple. Turn compatible headphones on nearby and a dialog box opens up on your phone to pair them. No annoying codes, no manual scanning. Just simple and quick connectivity, and best of all it'll be rolled out to all Android 6.0+ devices.
Otherwise, there's WiFi a/b/g/n/ac 2x2 MIMO (2.4/5 GHz) along with NFC and a whole host of carrier bands. In the US, that means that although Verizon might be Google's "official" network partner, the Pixel 2 is just as happy on AT&T, T-Mobile, and Sprint. If you're a Project Fi user you don't even have to worry about a nanoSIM, either, since the Pixel 2 has an eSIM.
Unfortunately it's not happy on a wireless charger. While Samsung, LG, HTC, and even Apple have embraced the flexibility of cable-free charging, the Pixel 2 is an unrepentant hold-out. Similarly, while your Galaxy S8 or LG V30 promise IP68 water and dust resistance, the Pixel 2 tops out at the slightly-less-resilient IP67, just like the iPhone 8.
Display
Google has two screen options for the Pixel 2, and I have to confess, I'm not especially enamored of either of them.
The Pixel 2's 5-inch panel is an AMOLED screen running at 1920 x 1080. Google is promising 95-percent DCI-P3 coverage, and a hefty 100,000:1 contrast ratio. However, I can't quite get past its chunky bezels at the top and bottom, which visually conspire to making the screen look much smaller than it actually is.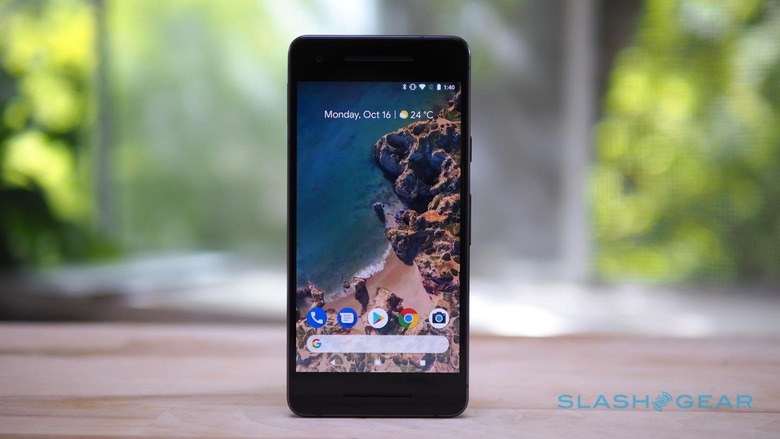 Over on the Pixel 2 XL, there's a 6-inch pOLED running at 2880 x 1440; unlike the 16:9 aspect Pixel 2, the Pixel 2 XL uses an 18:9 aspect screen. On paper, it should be the same as we've already seen on the LG V30, though actually it's a custom panel made to Google's specifications. Sadly, to my eyes and those I've shown it to, the panel looks fairly washed-out and lifeless. Even with the "vivid colors" toggle flipped on, side-by-side with an iPhone 8 Plus or Galaxy Note 8 and the Pixel 2 XL looks just plain pedestrian. Look at it from anything other than straight-on, meanwhile, and there's a noticeable blue tint.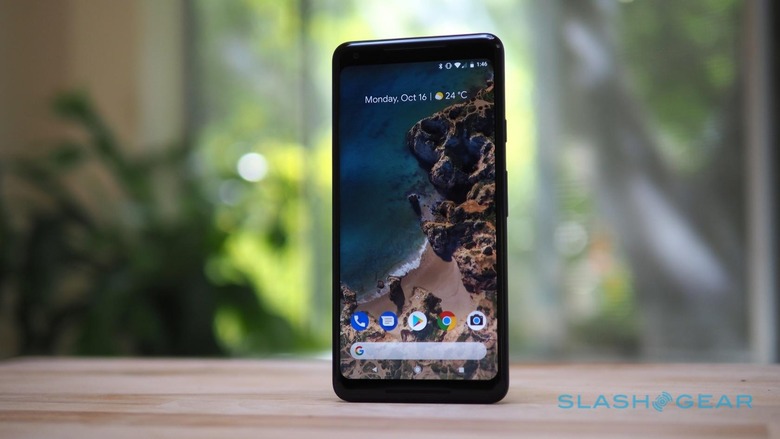 In fact, I'm more impressed by what's flanking both panels. Google has given both versions of the phone stereo front-firing speakers, and as you'd hope they sound great. Music overall is something of a hobby for the Pixel 2. A local database of tracks – updated weekly – and always-listening microphones means the phone can tell you what's currently playing without you having to ask for it first (and without any data being sent to the cloud).
Sadly its insistence on offline functionality means the number of songs it'll actually recognize is comparatively short, versus something like SoundHound. Google tells me the current version is non-final, so it could well improve closer to the Pixel 2 arriving on shelves.
Camera
I confess, I worried when I saw that Google had stuck with a single main camera sensor. At a time when most of the Pixel 2's rivals are embracing twin lenses, it felt like that was a decision that could instantly date a brand new phone. Turns out, though, there's plenty you can do with some very clever algorithms.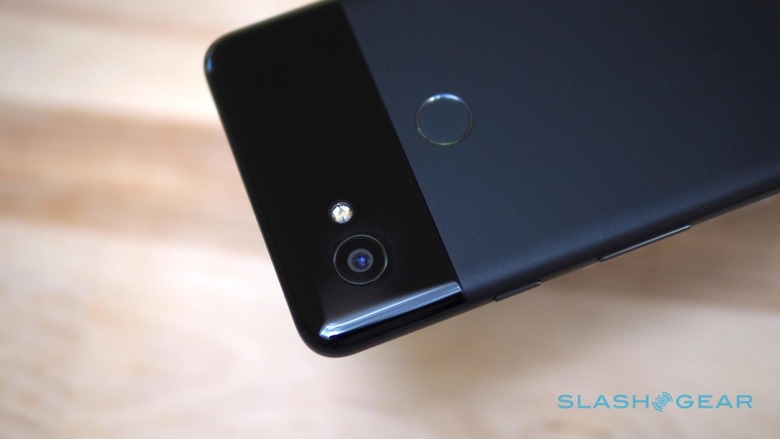 Both the Pixel 2 and Pixel 2 XL share the same 12.2-megapixel main camera. It now has an f/1.8 aperture, rather than the f/2.0 of the original Pixel, and both optical and electronic image stabilization. The laser autofocus of before has been joined by dual-pixel phase detection. It'll shoot up to 4K at 30 fps video, or 1080p at up to 120 fps.
On the front, there's an 8-megapixel fixed focus camera, with f/2.4 aperture. It tops out at 1080p at 30 fps. However, because Google is doing its photographical magic tricks with software rather than dual camera hardware, the selfie-cam doesn't miss out.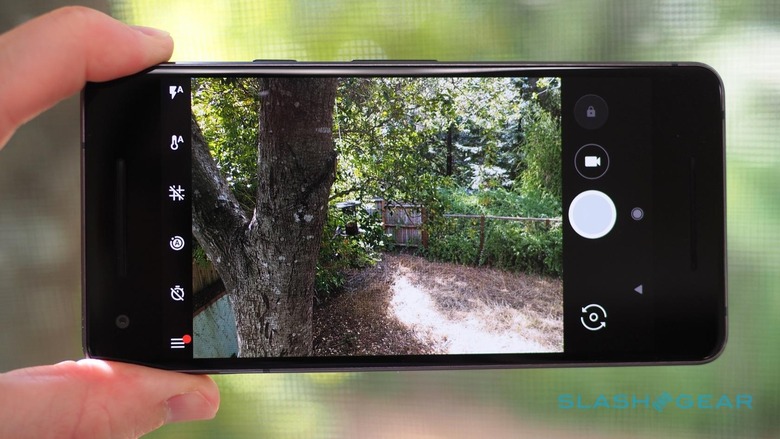 The main camera is fast. Very fast. Quick to load – double-tapping the power button launches it even before the lock screen – and quick to take shots. Moving subjects that left a blur on rival smartphone cameras were crisp and clean in the Pixel 2's shots.
Its images are bright, colorful, and show great contrast. The steadying hand of Google's algorithms are never far away, no matter how you're shooting. Stills are automatically captured as Motion Photos, the Pixel 2's take on Live Photos from the iPhone, where a few seconds of video brackets each picture. They're automatically trimmed to what the software thinks is the cleanest loop, too, and you can export them as short movies or GIFs through Google Photos.
HDR is also on by default, the Pixel 2 firing off numerous frames to combine their data. Interestingly, it does that in preference to relying on the optical image stabilization and longer shutter speeds. Again, the results can be astonishing: plentiful detail and minimal grain. Google has actually developed its own system-on-chip, the Pixel Visual Core, which not only does the HDR processing but at a fraction of the energy the Snapdragon 835 would demand. Right now, oddly, nothing actually accesses it: even the Pixel 2's own camera app isn't touching it. That should change eventually, though, and in time Google plans to also open Pixel Visual Core access to third-party apps using the Android Camera API.
It's the Pixel 2's Portrait mode where the power of Google's software really shows its hand. Early, software-driven attempts to add background bokeh, or blur, to single-camera devices had generally lackluster results. Better were the dual-camera approaches, like the iPhone 8 Plus' Portrait mode, which can build a depth map of the scene by using both slightly-offset cameras simultaneously. Even so, they can still struggle with fine detail like hair, and get things wrong around the edges of subjects.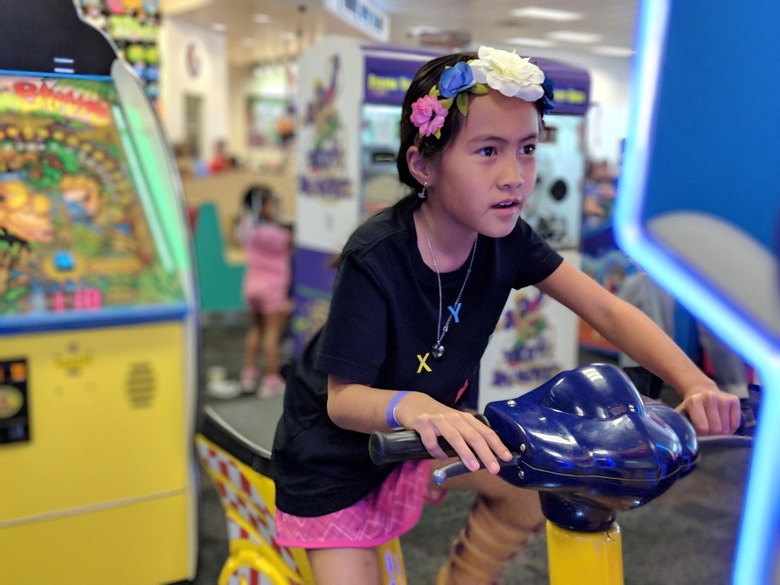 Google took a data-first approach, training the algorithm responsible for Portrait mode with millions of sample faces, and then combining that with the dual-pixel data from the new sensor. On paper, with an offset so small as to be invisible to the human eye, it shouldn't work. In practice, it's producing some of the best Portrait mode images I've seen.
I take a lot of iPhone Portrait mode photos of our cat, but often her whiskers either suddenly fade out or just cut off into blur prematurely. The Pixel 2, however, keeps those tiny hairs crisp, even as the background is blurred. If you're not in the habit of running a feline photo studio, you should see the same benefit around human hair: no more weirdly fuzzy beard halos, for example. The fact that the Pixel 2 uses its f/1.8 aperture for bokeh shots, too, whereas the iPhone 8 Plus is relying on its f/2.8 telephoto camera, makes a big difference too.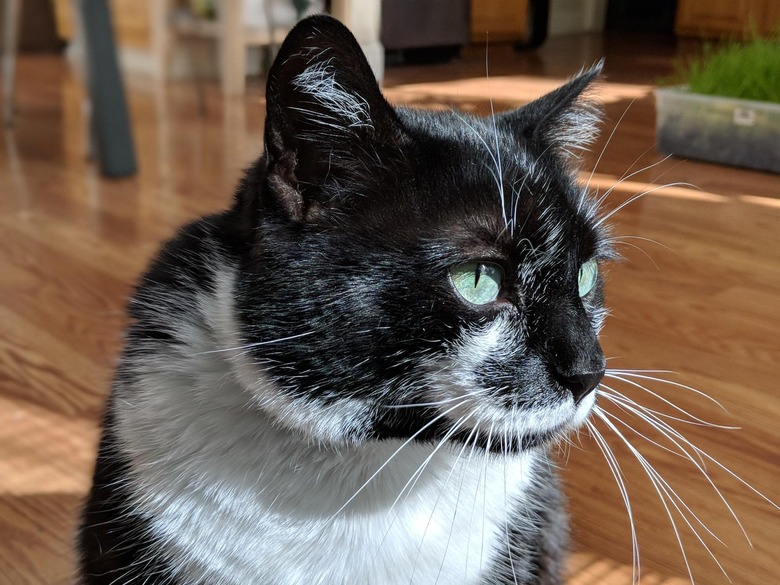 Since it's software that's at the heart of the system, not hardware, it means Google can extend Portrait mode to its front facing camera too. The selfie cam obviously doesn't have the dual-pixel sensor, and the resulting photos aren't quite as refined around the edges as when you use the back camera, but it's still very impressive. It also means that both sizes of Pixel 2 get the functionality, as opposed to Apple only offering it on its larger iPhone.
The other place that the software and hardware partnership shows its worth is in video stabilization. There's none of the jelly-like wobbles or judders some phones suffer, just the OIS and EIS working in tandem.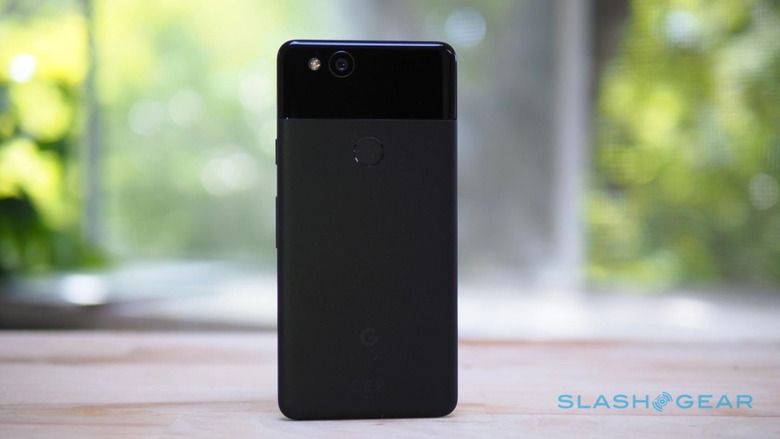 Some of the more playful features I couldn't test yet. Google's AR stickers, interactive characters and emojis that you can drop into photos and video captured on the Pixel 2, will be arriving in the coming months. Face-retouching, which does at least smooth your skin out without making you look entirely rubbery, isn't available in Portrait mode yet; it'll arrive in mid-October.
Google Lens
Google Photos is also where the Google Lens preview was added, though when it rolls out fully it'll be predominantly accessed through the Google Assistant. Effectively it's Google using the depths of its internet knowledge to do landmark, art, media, and other recognition from your photos. We'll have to wait for the proper release to test it out fully, of course.
For the moment, it does a reasonably good job spotting what's in your photos. Identifying the Golden Gate Bridge is table-stakes, but Lens was able to recognize lesser-known public buildings too. It didn't get tricked into thinking a Subaru BRZ was a Toyota 86, and it recognized Liu Wei's "Two Drunk Painters" from a recent SFMOMA exhibition.
Android 8.0 Oreo
It's fair to describe the Pixel 2 as a delivery mechanism for the latest and greatest in Android. Like was the case with the Nexus series before it, this is Google's opportunity to show what it believes smartphone software should look and operate like.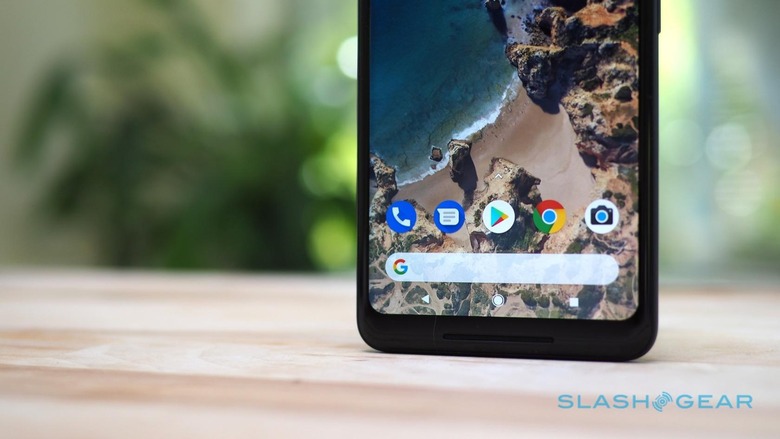 So, the Pixel 2 gets headline Oreo features like an always-on display, voice-activated Google Assistant, and Smart Storage which intelligently removes local copies of old media that has been backed up to the cloud so you never run out of storage. Apps icons now get notification dots to indicate there's something new waiting for you inside and, while there's no iPhone-style 3D Touch, long-pressing an icon does pop open a notification preview and a shortcut menu. Arguably Google's system is even more flexible, too, since you can drag those individual shortcuts out and give them their own homescreen icons.
On that homescreen, the search bar has been relocated to the bottom, where it's easier to tap with a thumb when holding the Pixel 2 XL one-handed. Its place has been taken by a new "At-a-Glance" space that looks, initially, like a date and weather bar, but which dynamically changes to show upcoming calendar events and traffic alerts. Google says it plans to build on that with more notification types.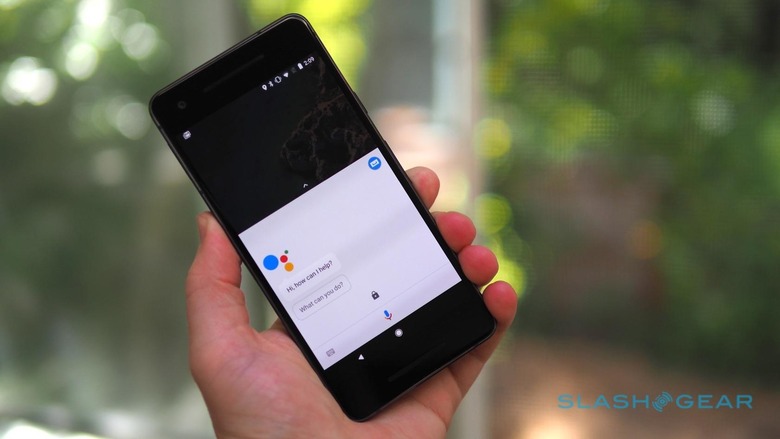 Some features feel more gimmicky than others. The Pixel 2 and Pixel 2 XL's Active Edge borrows the squeeze-trigger idea from HTC's U11: grip the lower half of Google's phone, and it'll summon the Assistant without having to use the "Ok Google" keyphrase. It took a little tweaking of the sensitivity settings before I could pick up the phone without inadvertently triggering Active Edge too. Unlike HTC's system, you can't redefine Active Edge to launch other apps or services, either, though there is a squeeze-to-silence feature for incoming calls.
Google Duo users will find an option to start a video call now baked into the dialer and contacts list, and it'll work cross-platform whether the person you're calling is on iOS or Android. Eventually, you'll be able to switch an existing voice call to a video call, too. If you have a Google Home, meanwhile, you'll soon be able to broadcast messages from the Pixel 2. Saying "Broadcast home," and then a message will turn the smart speaker into a bullhorn by which you can order around your kids or terrify your pets.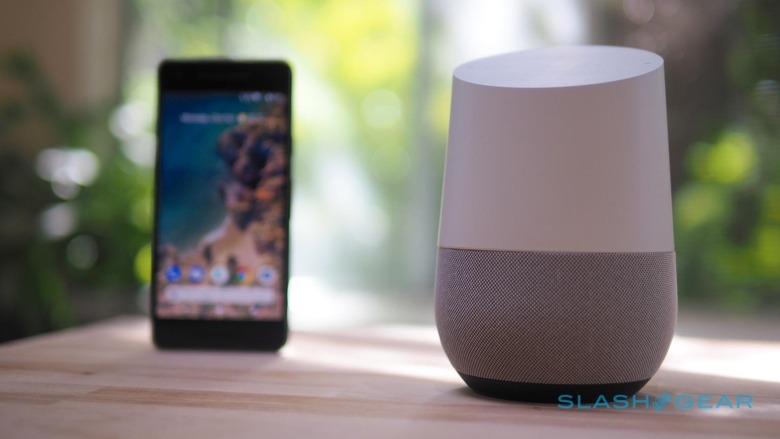 Of course, many of these features will be shared by any other device upgraded to Android 8.0. If I were reviewing an iPhone right now, I'd probably point out that software feature parity could dilute some of the appeal of a brand new phone, in fact. As has become all too clear over the years, however, Android is a different affair.
There's no guarantee that the Android phone you're using will ever get an official upgrade to Oreo. Google says the Pixel 2 will get OS and security updates for a minimum of three years, but not every phone-maker is so conscientious.
Battery
The Pixel 2 packs a 2,700 mAh battery, while the Pixel 2 XL steps that up considerably to a 3,520 mAh pack. As I said, there's no wireless charging support, which seems a missed opportunity; we can probably blame the predominantly metal body for that.
Instead you get fast charging that, if you use the supplied 18W USB-C adapter, promises up to seven hours of battery life from a 15 minute charge. That's a best-case scenario, naturally. You'd need to turn the always-on display off, for instance, and Google is counting standby time in that seven hour figure.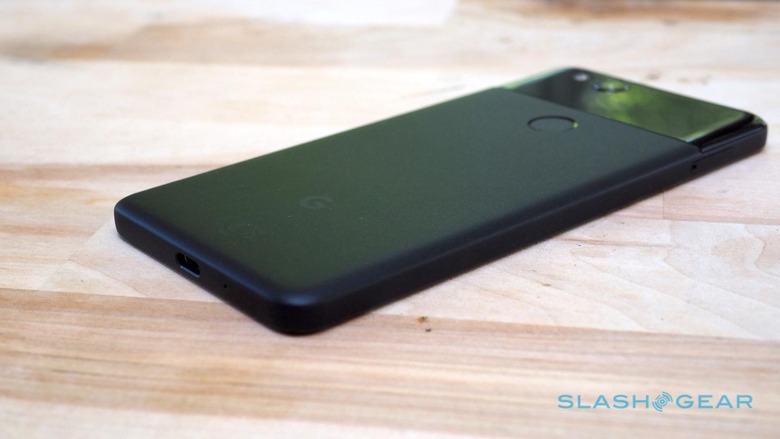 More realistically, I've been seeing around a day from the Pixel 2, and about a day and a half from the Pixel 2 XL. That's with my typical use: push the Snapdragon 835 to its limits with games and you'll see much less battery life. Conversely, hit the Power Saver button from the drop-down in the notifications tray, and you'll prolong it, though at the cost of background data for syncing, performance throttling, and some other handicaps.
Wrap-Up
There's a core cohort of Pixel fans for whom the Pixel 2 is an automatic upgrade. Given the original phone's enduring camera quality, still praised even among its newer, flashier peers, and Google's tendency to debut its most cutting-edge services on its homegrown devices, I can't blame them. For that audience, the Pixel 2 and Pixel 2 XL offer even greater camera quality, faster performance, and useful hardware features like Active Edge and always-on notifications.
For the rest of us, though, trying to choose between the Pixel 2, Pixel 2 XL, and a competitive selection of well-regarded rivals, the decision isn't quite so straightforward. As I wrote about the original Pixel, part of that comes down to how invested in Google's platform you are: the Pixel 2's best features rely on as much of your data being in Google's cloud as possible. It also demands a few compromises.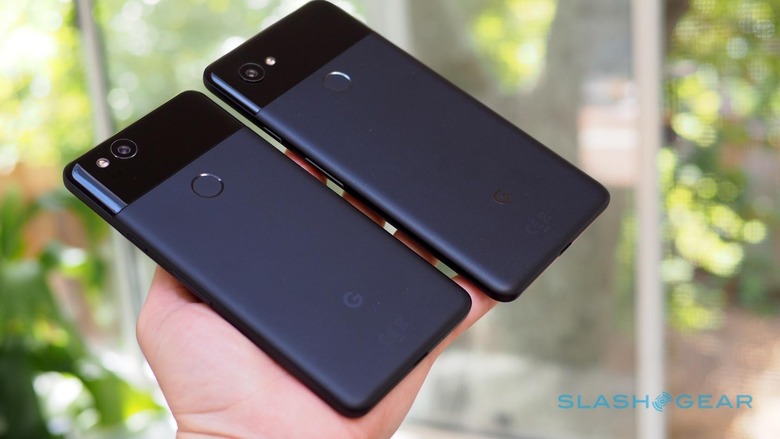 There are better displays out there, and more engaging hardware design. The upcoming iPhone X has its mightily clever TrueDepth camera and Apple's fast acceleration into augmented reality to recommend it, among other things; on the Android side, Samsung's Galaxy S8 and Galaxy Note 8 are sleeker, their OLED is more engaging, and like the latest iPhones they have wireless charging support, which the Pixel 2 does not. On the flip side, what Google is doing with its photography algorithms is nothing short of astonishing.
Of Google's two phones, I lean toward the Pixel 2 XL. Its screen may not be the finest, but the extra size and much smaller bezels compared to the Pixel 2 make it a more rewarding everyday device. If your online life is on Google's servers, and you prize camera talents above all else, the Pixel 2 is the best combination of that. Just be sure you can live without wireless charging and a headphone jack in the process.