iPhone 8 Review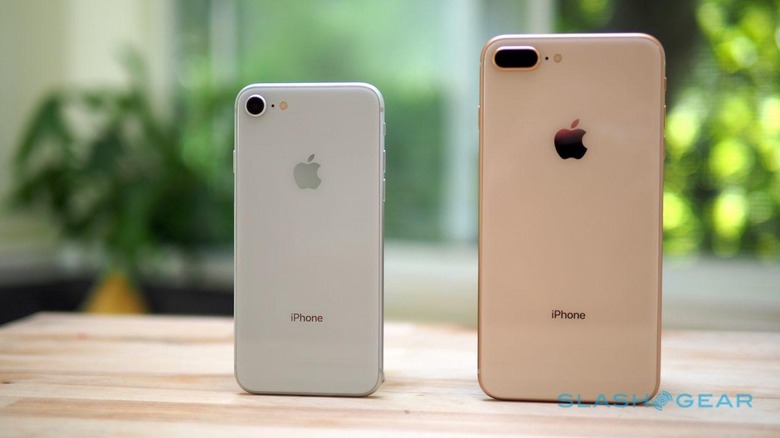 "Familiarity breeds contempt," or so the old proverb goes, and never has that been more topical than for the iPhone 8 and iPhone 8 Plus. In any other year from the past decade, Apple's new smartphones would be the topic of endless fascination and discussion. In 2017, though, they're almost forgotten in the shadow of the iPhone X. While "X" may mark the spot where Apple's future lies, however, the realities of price, availability, and carrier upgrades means many more people will switch to an iPhone 8 or 8 Plus this time around. So, are they being short-changed?
That new old design
Apple might call the iPhone 8 and iPhone 8 Plus' design tried-and-tested. Critics might point to the new phones' similarities to three generations of previous devices. That's not to say there aren't some changes this time around, it's only that their subtlety is only exaggerated by the styling of the iPhone X.
So, the front and back are now both glass, using a special formulation Apple and Corning cooked up (it's not an iPhone exclusive, but so far Apple is the only company using it). The promise is even greater durability than any other smartphone glass, though I'd still recommend avoiding dropping it. Around the edge runs a band of 7000 series aluminum.
There are only three color options for the moment – space gray, silver, and gold – and while there's water and dust resistance it's still the IP67 of the iPhone 7, slightly behind the resilience offered from some recent Android phones. Of course, Apple hasn't backtracked on what's still one of its most controversial decisions, to abandon the 3.5mm headphone jack. You still get a Lightning to 3.5mm adapter in the box; it's still fairly easy to forget or lose.
TrueTone Display
At first glance, you'd be forgiven for thinking there was no change in the iPhone 8 and iPhone 8 Plus' displays. Certainly, they're still 4.7- and 5.5-inches respectively, running at 1334 x 750 and 1920 x 1080 resolution. Apple still uses excellent Retina HD LCD panels, and outdoor visibility is solid.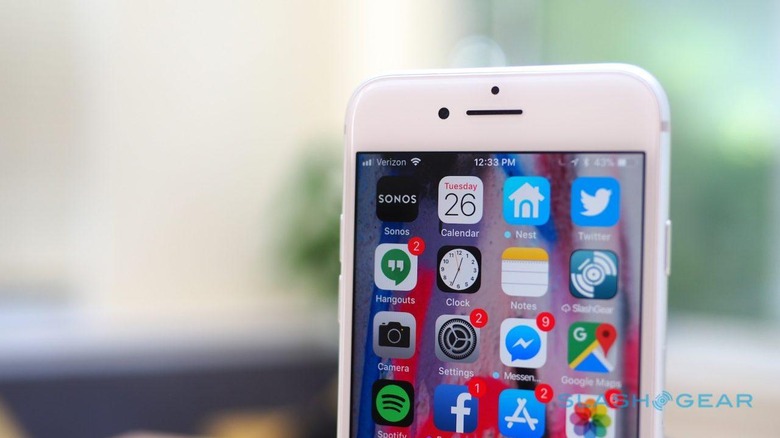 The main change is True Tone, borrowed from the iPad Pro. While the new iPhones can of course adjust their backlight brightness according to ambient lighting conditions, additional sensors also assess the color temperature of the space. Then, the white balance on-screen is adjusted so as to keep things looking natural.
It's one of those things that, though it sounds minor on paper, actually makes a significant difference in your everyday use of the iPhone. Ironically you don't really notice what it's doing until you turn it off: then, generally, you find that the non-True Tone result is colder than with the system active. Apple says it can help avoid eye-strain, which is a tricky thing to quantify. Nonetheless, I do prefer the look of the iPhone 8's screen when True Tone is switched on.
Camera and Portrait mode
Here's another "it looks the same on paper" thing: yes, the iPhone 8's camera is 12-megapixels, like the old model, but no, it's not the same. In fact it's a whole new sensor, larger and faster, with deeper pixels that avoid crosstalk – where light bleeds between them, reducing accuracy and detail – and a new color filter. You still get optical image stabilization and a True Tone flash that can match things like skin tones, but Apple says it's now more uniform so that illumination is more consistent. It'll also strobe slightly when combined with a slower shutter speed, for improved low-light performance.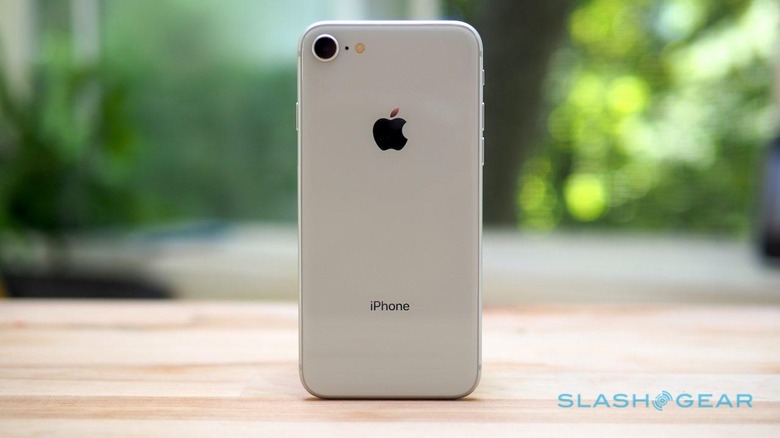 As has become clear over the past couple of years, though, there's far more to good mobile photography than just an adept sensor: software, and the processing silicon that runs on, can make or break it. For the iPhone 8, Apple has cooked up its own image signal processor that's part of the A11 Bionic, in addition to a homegrown video encoder. The goal has been to try to make more settings automatic, and in the process improve how well that automation performs.
In practice, that decision pans out well. The iPhone has always epitomized the allure of just-point-and-shoot, delivering generally solid and occasionally excellent images with minimal effort from the user. The iPhone 8 doubles down on that: by default, Apple hides the HDR setting and just chooses whether to use it or not in the background. If you want, you can add the old button back into the UI from the settings, giving manual control over auto/on/off.
More noticeable is Apple's evolved approach to post-processing. In the past, I'd come to expect more accurate colors from iPhone photography – even if that meant they were relatively muted – whereas rivals like Samsung pumped up the saturation a little. This time around, though, the iPhone 8 gives its shots a nudge toward richer colors.
Purists might not be happy, but I suspect most – myself included – will prefer it. You'll also be pleased with the slight improvement in low-light performance, the ability to catch fast-moving subjects with less blur, and the general speed at which autofocus locks.
The iPhone 8 Plus packs a second camera. It's still 12-megapixels, but where the main camera on both phones has an f/1.8 aperture, the Plus' telephoto is f/2.8. It also lacks optical image stabilization, which is a shame as that's something the Galaxy Note 8 manages to squeeze in for both of its sensors.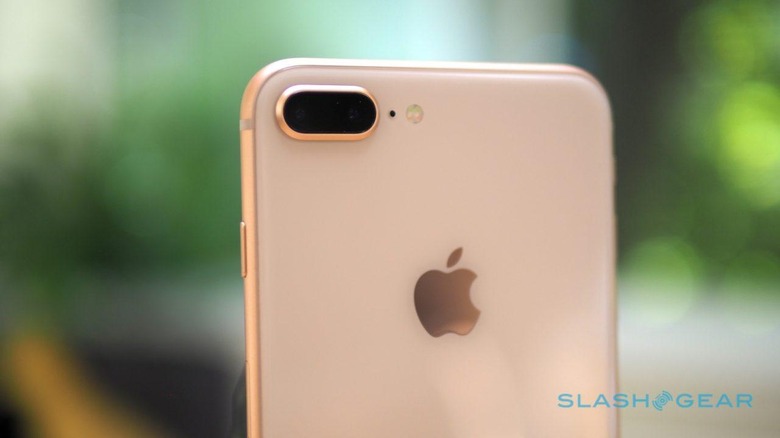 The headline feature is the updated Portrait mode. The original functionality – automatically adding selective background blur – has now graduated from beta, joined with some experimental new features called Portrait Lighting that promise more dramatic or flattering lighting. Apple set its photography team to work looking at how professional shutterbugs light their subjects, and then built an AI that could translate such an effect within the iPhone 8 Plus' camera app.
By default, you get the usual Portrait mode – now named "Natural Light" – though tweaked to make for more pleasing faux-bokeh in the background and a smoother line around the subject. However you can switch to the new modes and see the impact in real-time. "Studio Light" and "Contour Light" bring out facial details or emphasize facial structure, respectively, while "Stage Light" and "Stage Light Mono" leave the background in darkness to mimic the impact of being in a spotlight on-stage.
Some work better than others. The Studio and Contour lights are subtle but often effective, though you'll probably want to get the angle right as they can emphasize jowls if you're not careful. The Stage Light modes are more hit and miss, however.
If all the stars align, the effect can be tremendous. A luminous face, floating in a sea of black. Sadly that's proved to be a fairly rare occurrence: more often, I've found, the cut-line around the face is misjudged and the whole illusion is ruined.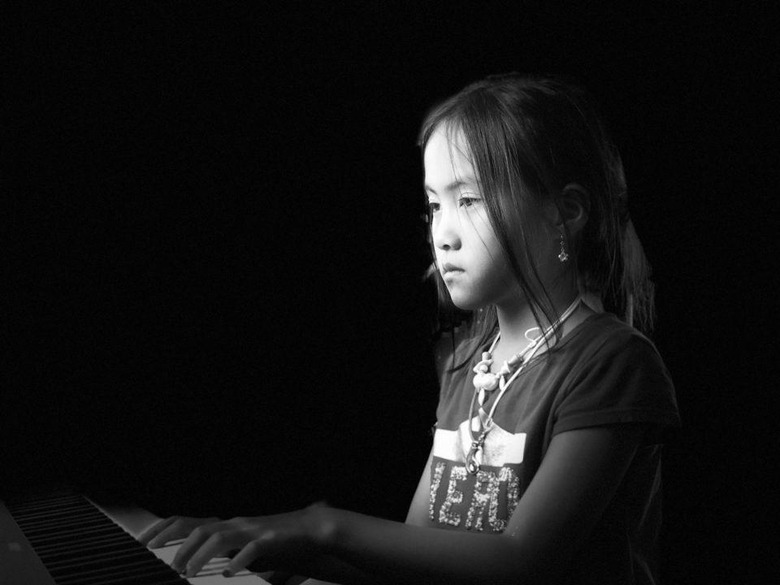 Sadly there's no way to manually adjust any of the Portrait mode settings, though you can flip between them either before you capture the photo or afterwards, when you're looking at them in the Photos app. That's also where you can revert to the regular image: no longer do you get two copies of each shot, one processed and one not.
As for video, there are some new talents there, too. You can now capture 4K footage at 24 fps, 30 fps, or 60 fps, with slo-mo support for 1080p at 120 fps or 240 fps. It's saved in HEVC format by default, which Apple is using for its improvements in compression; a recent update to iMovie adds compatibility. If you'd rather, you can switch back to H.264, but then you won't have access to the 4K 60fps and 1080p 240fps modes.
That would be a shame, as they're both impressive. 60fps recording in particular is eye-catching, with a smoothness that's mighty pleasing, especially when dealing with fast-moving subjects. The iPhone 8 handles tricky filming situations like when there are TVs in frame, too, with none of the lines that some cameras can leave when trying to capture at 60fps. Videos sound better, too, courtesy of much more impressive stereo speakers on both iPhone 8 and iPhone 8 Plus.
iOS 11 and Apple A11 Bionic
iOS 11 isn't exclusive to the iPhone 8 and iPhone 8 Plus, but they should demonstrate the new platform at its best given they each pack Apple's newest mobile processor. The A11 Bionic is another of the Cupertino firm's own designs, but rather than six million dollars it has six CPU cores.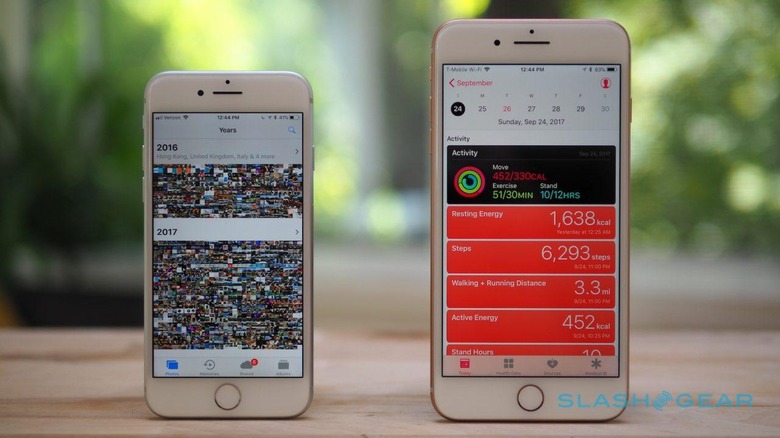 Two of those are more potent performance cores, up to a quoted 25-percent faster than their predecessors in the A10 Fusion. The remaining four are high-efficiency cores, themselves up to 70-percent faster than before. As ever, the magic is primarily in how iOS and the A11 Bionic juggle core implementation, favoring the frugal silicon when possible in an attempt to prolong battery life. Conversely though, the iPhone 8 can summon all six cores to work together if the circumstances demand it.
The result is, frankly, what you'd expect when one company is designing the hardware and software. iOS 11 is snappy and responsive, though you'd probably need to compare it side-by-side with an iPhone 7 and iPhone 6s to spot actual performance differences. Really, what stands out for me is that the iPhone 8 is whippet-fast while being more efficient, which is important since Apple actually made the batteries slightly smaller this time around.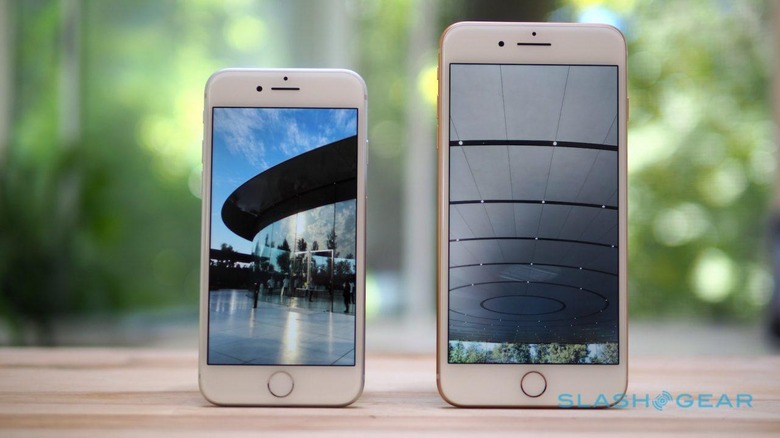 At the same time, Apple has also developed its own GPU this time around. It's a claimed 30-percent faster than that of the iPhone 7, and has been designed to work perfectly with the Metal 2 graphics architecture. Of course that's important for things like gaming, but it's especially valuable for Apple's newest obsession, augmented reality (AR).
ARKit, the software platform Apple released for augmented reality, has been available to developers for several months now. It's with the iPhone 8 and iPhone 8 Plus that it really comes into its own, however. Apple says plenty about how it calibrates the cameras on the production line, and has added newer, more accurate gyroscope and accelerometer sensors, but what you should take away is that the end result of digital graphics interacting with the real world viewed through your iPhone's screen is cleaner and more immersive.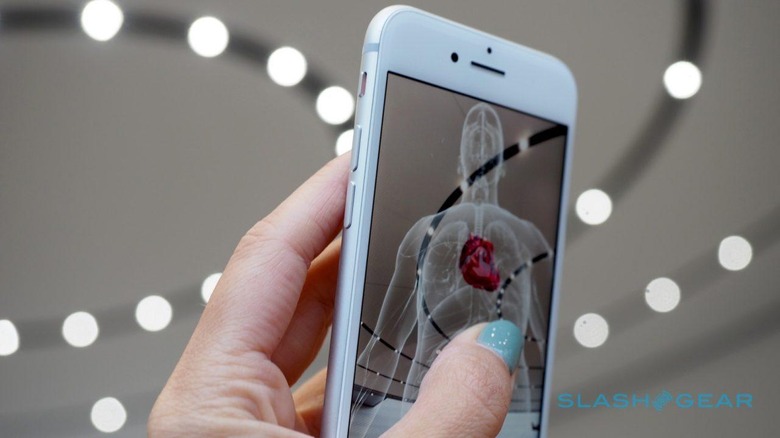 AR still needs its "killer app", and we're in the early days for both the technology in general and ARKit specifically. Much of the current software is clever in a demo way, but I question how much it'll actually get used on a regular basis. IKEA's app to map scaled virtual furniture to your room is fun to play with, as is the ability to have tiny mech warriors battle across your coffee table in The Machines, but they still feel a little like proof-of-concepts more than anything.
Wireless Charging, finally
It's hard to believe that it took Apple a decade to add native wireless charging support to the iPhone. Better late than never, though, and while there have been adapters and cases which add the technology to previous models, there's nothing quite so elegant as having it built right in.
Unlike Android-based rivals like Samsung's last few generations of Galaxy, which have generally hedged their bets and included both of the popular wireless charging standards, Qi and PMA, Apple has placed its bet on just one. That's Qi – pronounced "chi" – which looks set to gain a big advantage in the marketplace as a result.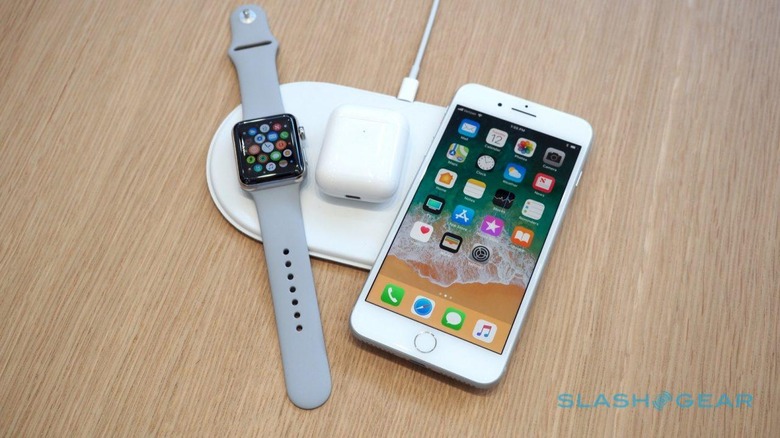 For the moment, Apple is recommending a handful of third-party wireless chargers. You can find examples from Belkin and Mophie in company's store, priced at $59.95 apiece, though in theory any Qi-compliant model should work. I've tried several, and found that both the iPhone 8 and the iPhone 8 Plus can be a little finicky about positioning: more than once I placed a phone down on a charging pad, briefly saw it was charging, but then realized it had stopped. A small nudge to shift the position was usually sufficient to get things working. It's worth noting that wireless charging is significantly slower than wired, too.
Next year sometime, Apple's own AirPower charging pad will be released, which will simultaneously charge your iPhone, Apple Watch Series 3 and, if you have the right case for them, your AirPods too. If you haven't got a wireless charger to hand, or just want the swiftest charge possible, the iPhone 8 supports wired fast charging. Unfortunately, while you'll get the quickest rates with a higher-wattage charger, Apple still includes its regular 5W example in the box.
Similarly frustrating, you'll find a USB Type-A to Lightning cable in there, too, even though that requires a separate adapter to work with any of the company's recent MacBook or MacBook Pro models. At least there's no problem with charging through a case.
Battery
Apple doesn't talk numbers, but the battery capacity in both the iPhone 8 and iPhone 8 Plus is slightly down versus their predecessors. Credit the A11 Bionic, therefore, for the promise that each should last about the same length of time nonetheless. It's a claim that turned out to be accurate in my experience.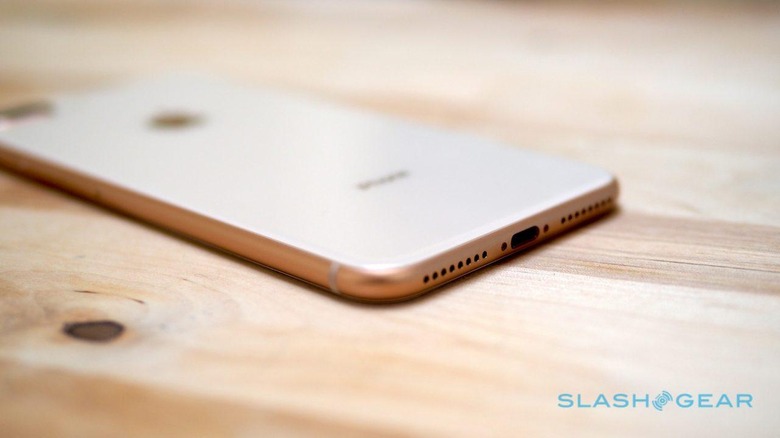 That means you can usually expect a day of typical use before you'll need to find a charger, wired or wireless. One morning, with the iPhone 8 Plus having been ill-positioned on the wireless pad on my nightstand, I found it hadn't recharged at all after a full day of use the previous day; even so, it still had more than 30-percent remaining when I realized my mistake.
But what about the iPhone X?
Apple's smartphone launch this year has ended up a little complicated. The handsets we expected to be the iPhone 7 and iPhone 7 Plus are actually the iPhone 8 and iPhone 8 Plus. Atop those, in both specifications and price, is the iPhone X.
The iPhone X fits in-between the 8 and the 8 Plus in physical size, but its screen is closer to that of the larger device. Although it's based on the same A11 Bionic chipset, and has a dual camera on the back like the iPhone 8 Plus, the iPhone X also gets a more advanced front camera system, Face ID facial recognition, and other advantages.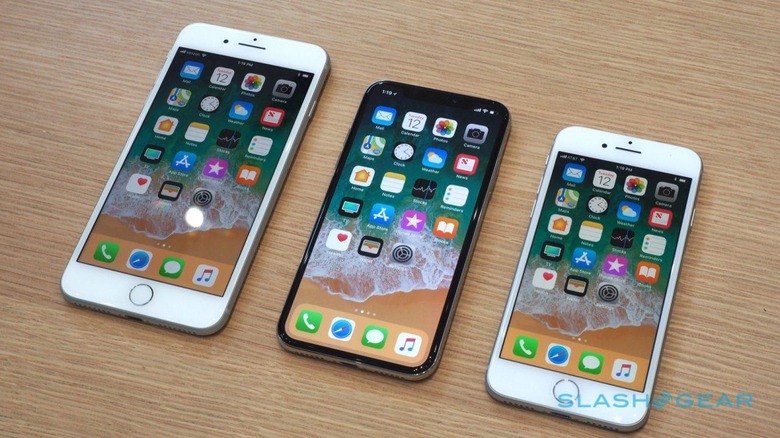 MORE iPhone X hands-on
There are some good reasons why you might still want to go with the iPhone 8 or iPhone 8 Plus, mind. Not least is price: the iPhone X starts at $999, making it several hundred dollars more expensive. It's also going to be far rarer, whereas supplies of the iPhone 8 and iPhone 8 Plus are fairly broad right now. If you hold out for the X, you could be waiting until well into 2018 before stock frees up.
Though the iPhone X covers a greater percentage of its front with display, the iPhone 8 Plus screen is still bigger. If you're used to cranking up the font size because of your eyesight, that means you're still going to fit more text on the bigger, cheaper phone. Finally, though not inconsiderably, there's the usual risk of being an early-adopter. The iPhone 8 and iPhone 8 Plus may be the last of Apple's previous design, but that means their technology is tried and true. In contrast, the iPhone X is more likely to experience teething pains of some sort.
Wrap-up
Reviewing the iPhone 8 and iPhone 8 Plus is a little like a kid reviewing Christmas Eve. Sure, you'll get a day off school and probably some chocolate too, but you can't forget the main event is just around the corner. The smartphone world always has one eye on what's in the pipeline, but Apple has managed to overshadow itself most comprehensively with the iPhone X.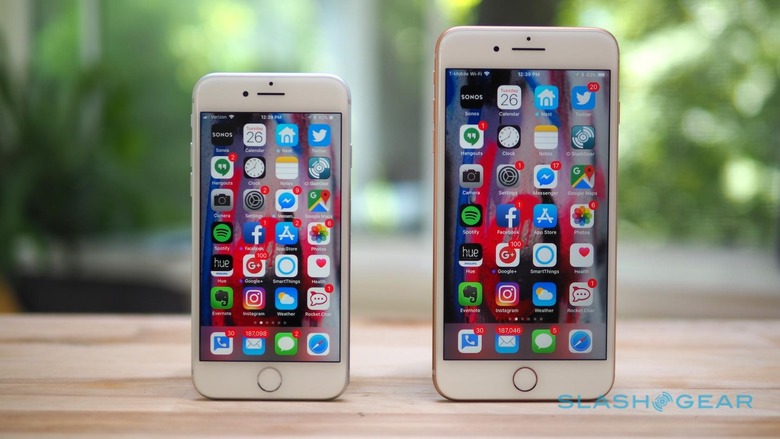 It's a pity, because the iPhone 8 and iPhone 8 Plus are good devices. If you're an iPhone 7 or iPhone 7 Plus owner I'm not sure there's enough here to warrant an upgrade, especially since you're getting iOS 11's enhancements as a free download, but those with an iPhone 6s or earlier will see significant improvements. That's from $699 or $799 for the iPhone 8 or iPhone 8 Plus respectively, too, rather than the $1k+ an iPhone X will set you back.
The rational choice, therefore is one of these two glass-bodied handsets. My inclination of the two is toward the iPhone 8 Plus, for its excellent dual-camera system. Nonetheless, prepare yourself for the inevitable pangs of jealousy as soon as you see an iPhone X in the wild.