The iPhone 14 Plus Takes An Easy Route To Success: First Look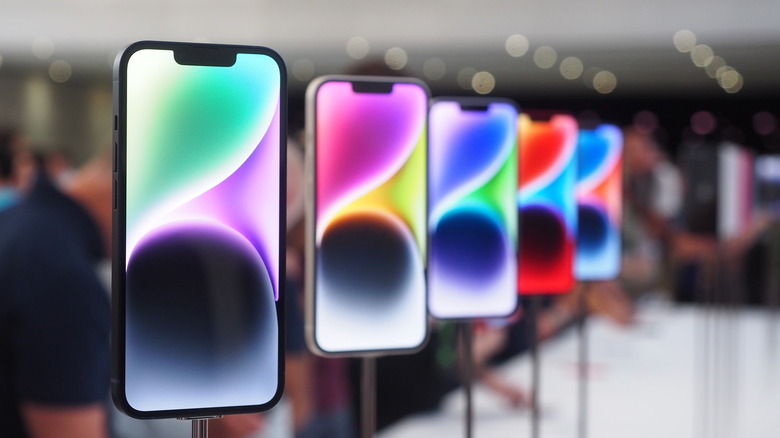 Chris Davies/SlashGear
With the iPhone 14 Pro and its fancy new Dynamic Island, you'd be forgiven for forgetting all about the new iPhone 14 and the iPhone 14 Plus. That would be a mistake, however. Apple's more affordable new smartphones may not have the triple-camera array or the full array of features that encourage people to spend four figures on a new handset, but that just makes what is included all the more intriguing.
The result is a combination of what works, blended with a few things to give some 2022 sparkle. At first glance, indeed you'd be forgiven for not really seeing much difference between this year's phones and last year's. Of course, what really matters is what's missing.
Retired with unceremonious haste is the mini form factor. Apple opted not to replace the iPhone 13 mini with an iPhone 14 mini, with lingering rumors of poor sales of the smallest iPhone signing the 5.7-inch screen's death warrant. Certainly, there were plenty of people who said they wanted a smaller smartphone that didn't compromise on the camera or processor. Problem is, they just didn't buy it.
A big swing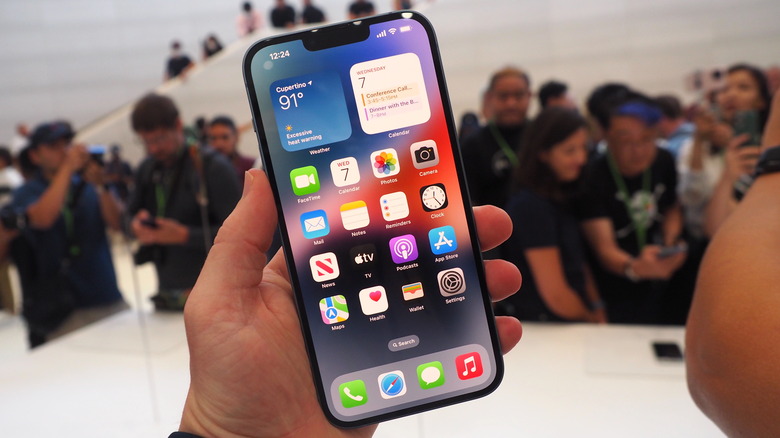 Chris Davies/SlashGear
Instead, in a wholesale swing to the opposite extreme, 2022 is the year of the big phones. There are just two sizes of the screen now, for the iPhone 14: either 6.1 inches or 6.7 inches. The latter borrows the same screen dimensions as the iPhone 14 Pro Max, offering an option for those wanting more pixels but who don't necessarily have the need — or budget — for Apple's most capable handset.
It feels, in the grand scheme of things, like a sweet spot. The iPhone 13 mini had charm, but felt niche. The iPhone 14 Plus, though, feels like it will appeal to a lot more people. Competitive pricing helps. The iPhone 14 starts at $799, while the iPhone 14 Plus starts at $899. Apple is really hammering on its trade-in deals, though, which in the U.S. could be up to $800 depending on what old phone you might have.
A stealthy upgrade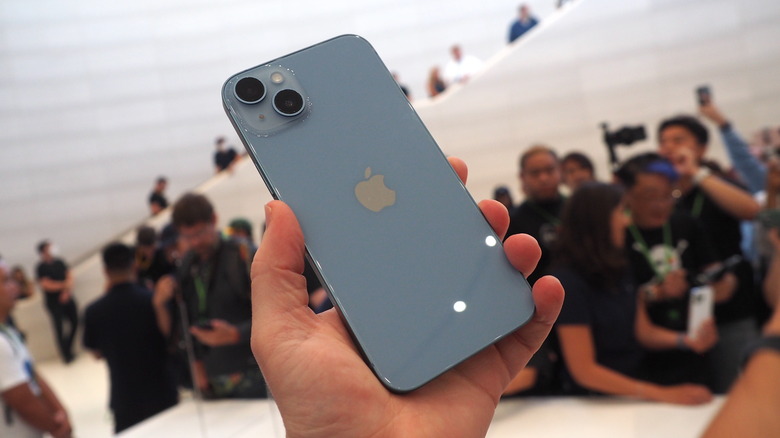 Chris Davies/SlashGear
Don't expect people to know you've upgraded, mind. Unlike with the Dynamic Island on the iPhone 14 Pro, there's no obvious way to see that this is the iPhone 14 versus the iPhone 13 from the front, at least. The familiar — and still bizarrely controversial — notch remains, with the TrueDepth camera for Face ID. Having seen what Apple has done with the dynamically-reshaping blob on its more expensive phones, it seems almost a disappointment that the notch stays still.
That's not to say these are bad screens, though, with Super Retina XDR OLED panels that support 1,200 nits of peak brightness. The iPhone 14 Plus boasts Apple's best battery life from an iPhone, so the company claims, too. It'll charge up with MagSafe or Lightning — the switch away to USB-C is still yet to land — and even the chipset inside is the same Apple A15 Bionic rather than the new A16 reserved for this year's Pro phones.
Goodbye, SIM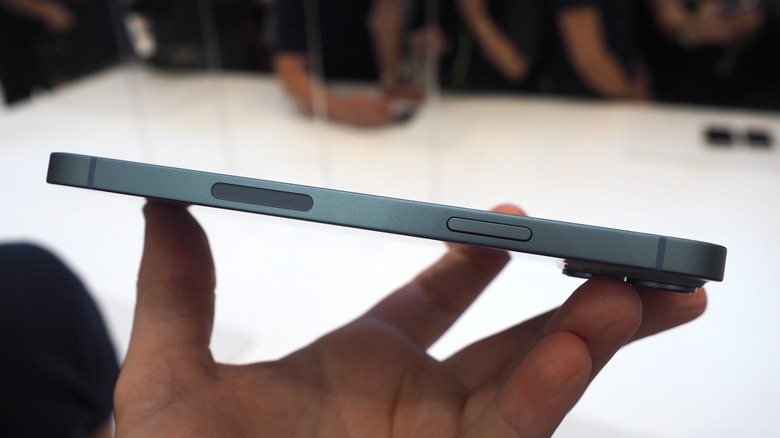 Chris Davies/SlashGear
What's missing — and may be most controversial – is the SIM slot. In the U.S., at least, Apple is pushing people wholesale to eSIM, by ditching the physical SIM tray altogether. That means no more buying an unlocked phone and just dropping in your current SIM, or one you buy when roaming.
Apple's argument is that it's in the best interests of users. After all, adding an existing or new line is, in theory, much simpler with an eSIM: Apple claims you can even do it without the iPhone 14 having a WiFi connection. Carriers like eSIM, too, as it makes devices easier to provision and new lines easier to upsell.
All the same, I can't help but wonder whether this is one of those decisions that we'll look back on and rue. Getting away from fully-locked smartphones was a big deal when it came to consumer flexibility: even now, the fact that some devices are SIM-locked can be confusing (and expensive) to everyday tech users. Now, it feels like we're handing back some of that wrested-away control to the networks.
A sensible update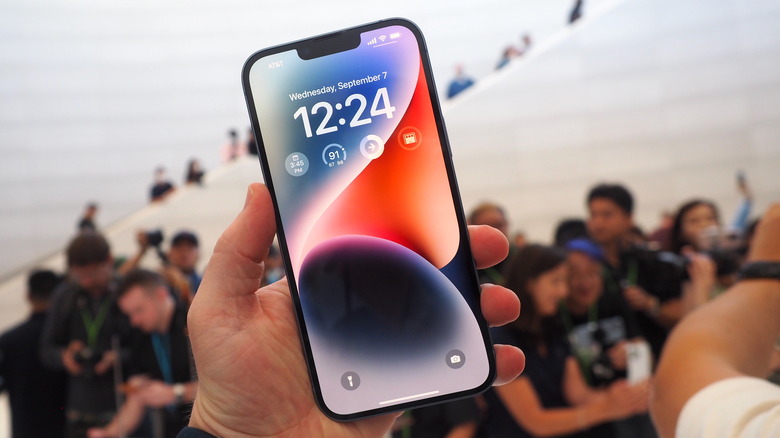 Chris Davies/SlashGear
The reality for the average iPhone 14 or iPhone 14 Plus buyer, though, is that they might not have a need to change SIM through their whole two-year contract. Maybe, then, there's an argument for Apple leaving SIM trays in its Pro series (which it opted not to either) and trialing this arguably consumer-friendly tech on, well, regular consumers.
It's those regular consumers who I think will be pleased with the iPhone 14, and the iPhone 14 Plus particularly. Big screens sell phones, as do dependable cameras; the changes here aren't as dramatic as they were for the iPhone 14 Pro camera rig, but 49% better low-light performance is a big deal.
The iPhone is, of course, Apple's bread and butter. It's the biggest contributor to the bottom line, its flagship product, and — as Tim Cook said at the keynote today — the device at the center of things like AirPods and Apple Watch. Not every iPhone needs to be a dramatic revolution, just like not every iPhone buyer is necessarily looking for cutting-edge features. The iPhone 14 Plus bringing a bigger screen within reach of more people may well be enough on its own.