iPhone 14 And iPhone 14 Plus Ditch Mini As Apple Goes Big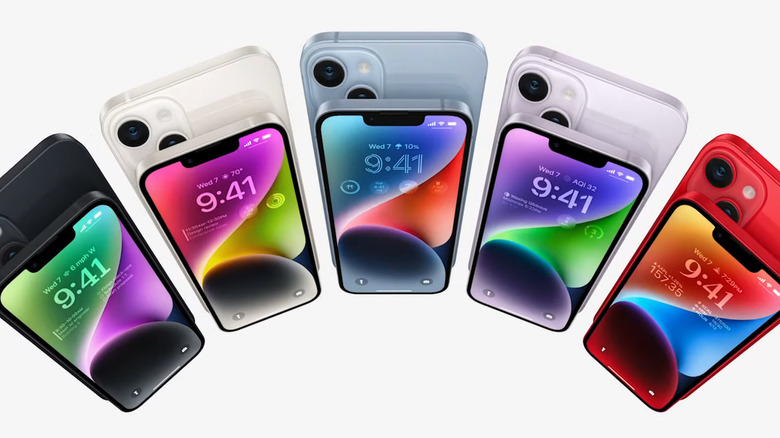 Apple
When it comes to the iPhone 14 family,  Apple iPhone Mini is no longer an option. The iPhone 14 will come in two sizes, a standard 6.1-inch model and a 6.7-inch iPhone 14 Plus. Display quality is a large part of Apple's identity, and its latest phone is not going to let the side down. Both displays are said to be a Super Retina XDR OLED offering both 1200 nits peak HDR brightness and 2m:1 contrast. Dolby Vision support is also included and the display will be protected by Apple's cutting-edge Ceramic Shield system. As with previous iPhones, the case is made of aerospace-grade aluminum and comes with five color options: midnight, starlight, blue, purple, and the new Product which is a vibrant red color.
Powering everything and pushing performance to its limits is Apple's A15 Bionic chipset. The five-core GPU and six-core CPU offer two times the performance and four times the efficiency of previous devices. While you may think more power will require more energy, Apple claims the iPhone 14 will actually offer "the best battery life ever in an iPhone." Apple has redesigned the phone's internals with thermal performance in mind, so the phone's temperature should also stay lower than ever before even under heavy load.
Focusing on the camera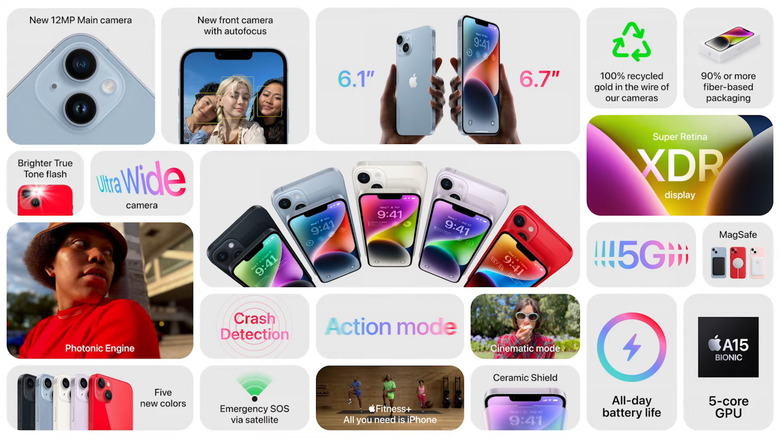 Apple
A smartphone's camera is what really sets it apart. You can get a functional phone that can meet most of the average smartphone users' needs for a couple of hundred dollars — but if you want to take high-quality pictures, you'll need a high-end phone. The iPhone 14's camera system is a clear statement from Apple. The company wants to stand out from the pack and the new flagship's camera setup does just that.
Customers will have access to a 12MP main camera which is capable of capturing extreme detail through its use of 1.9-micron size pixels, f/1.5 aperture, and Sensor-Shift OIS. The camera's software allows for better motion freezing. Low light photography tends to separate the wheat from the chaff in the camera phone world, and on the iPhone 14, Apple has improved its low light capture capability by almost 50%. An Ultrawide camera is also present.
For selfies, the phone has a new 12MP f/1.9 true depth front camera. A hybrid system means that the focus system also works in low light, and a "photonic engine image pipeline" makes for better low light pictures overall. The photonic engine isn't exclusive to the front camera and works on all of the phone's cameras. For fans of shooting video, stabilization mode has been improved, Action mode uses the full sensor improving overscan and roll correction, and Dolby Vision HDR support is included.
The U.S. models are eSIM only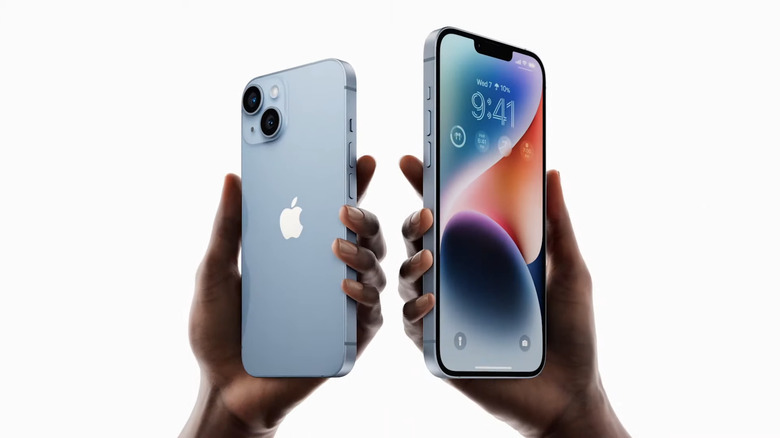 Apple
The rumors proved to be true, in the United States at least, and the iPhone has dropped the sim tray. Instead, a focus has been placed on the eSim system — a built-in version of the sim card that can be set up with a simple scan of a QR code. With an eSIM, iPhone users can quickly transfer existing plans to their phone or add new plans that will work alongside the ones that are currently installed. Multiple plans can be used on the same phone, and iPhone users can switch between them in the settings menu. You don't need a WiFi connection to activate a plan or switch an eSIM either, just scan and go. 
The other major connectivity-related announcement involves the iPhone's use of satellite communications. Users will now be able to call for help from almost anywhere in the world, with their phones sending an emergency SOS signal via the satellite network. The SOS service will work, even if WiFi and cell service are unavailable. Crash detection also exists, and the emergency services will be automatically called in the event of an emergency. Unsurprisingly, the iPhone 14 and iPhone 14 Plus feature 5G connectivity too.
Apple fans can expect to pay at least $799 for the standard iPhone 14 with the larger iPhone 14 Plus starting from $899. The iPhone 14 will ship on September 16, and the iPhone 14 Plus is set to be released a few weeks later on October 7. Customers eager to secure a new iPhone can place pre-orders from September 9.