Here's Your iPhone And Apple Watch's Most Important New Feature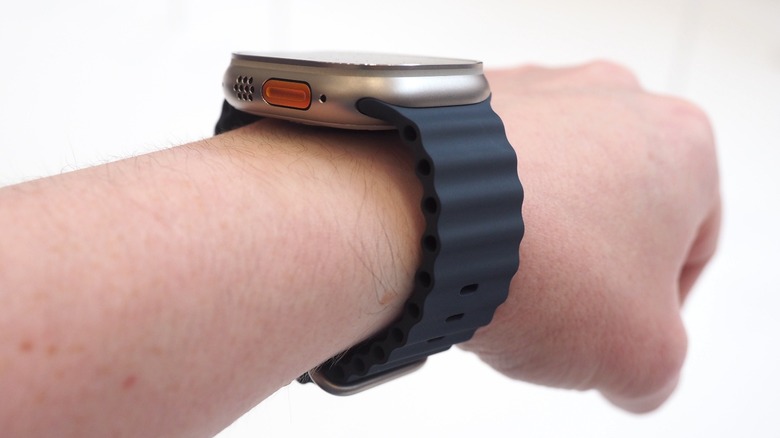 Chris Davies/SlashGear
Apple's latest lineup of phones and smartwatches has finally been officially introduced. There are updated innards like a faster chip, impressive capabilities such as temperature sensing, and cool new software-hardware amalgamations like the Dynamic Island on the iPhone 14 Pro. However, one aspect that really stands out this year is the focus on life-saving features. 
One such addition is a car crash detection system that is destined for the iPhone 14 and Apple Watch Series 8 as they gear up for a market release next week. As the name makes abundantly clear, the goal is to sense if a person has been in an automobile accident and is potentially injured. When this occurs, the device will automatically contact emergency services to get medical help. Apple says it has tested the car crash detection system in lab conditions using a million hours of driving and crash analysis data with real cars. 
Apple has fitted the iPhone 14 lineup as well as the Watch Series 8 with a high dynamic range gyroscope and high-G accelerometer to sense sudden impact events. Think of it as arming a fighter jet pilot with a wearable that can measure the extremely strong G-force they experience as a result of extreme speed and aerial maneuvers. The onboard sensors inside the Apple Watch Series 8 and iPhone 14 series will do just that for events like high-speed front or rear impact, T-bone, a vehicle rolling over, side crash, and so forth.
How does Crash Detection kick in?
The car crash detection system needs dedicated hardware on compatible devices with watchOS 9 and iOS 16. There's no downloadable app — either in-house or third-party — involved here. Apple says the new dual-core accelerometer packed inside the iPhone 14 is capable of measuring G-force of up to 256G magnitude, and it's this sensor that provides the core movement data to detect if the user has been involved in an accident.
Similar is the case with the Apple Watch Series 8 and its Ultra sibling, both of which now feature upgraded accelerometer and gyroscope setup. However, the car crash detection mechanism collects data from a few more sensors to really nail things down. For example, the onboard barometer will see if the cabin pressure inside a car has suddenly changed due to the opening of airbags.
Additionally, the mic will pick up any loud noise arising from a crash-like scenario, while the GPS system will look for abnormal variations in distance covered and velocity. All this sensor data is then collectively processed by advanced motion algorithms. Once the system determines that a life-threatening incident has happened, it takes the next step of calling emergency services.
What happens after an accident?
Once the sensor data from an Apple Watch and a compatible iPhone suspects that a crash has happened, it checks up on users if they are alright with an on-screen prompt. If the incident is not severe, users can simply swipe away the prompt. However, if the user is incapacitated and the iPhone or Apple Watch's crash detection prompt doesn't receive a response from the user within ten seconds, it automatically dials an emergency helpline. 
If a connected iPhone is nearby when an Apple Watch detects a crash, the call is routed through the phone for better signal and audio quality. In addition to connecting users with emergency services, the device(s) will also share your location data with the responder. Plus, it will also notify your emergency contacts about the incident.
Apple also assures that the car crash detection algorithms only start collecting sensor data when users are driving. Apple suggests that its system has been found to be effective for different types of vehicles such as SUVs and trucks. Car crash detection will be ready to roll on the iPhone 14 series and Apple Watch 8 series (including Apple Watch Ultra and Apple Watch SE) at launch.