Apple iPhone 14 Plus Review: The Bigger Display Decision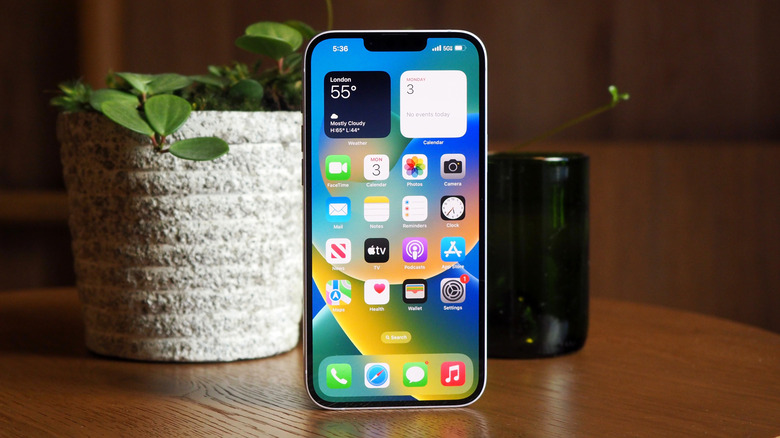 Chris Davies/SlashGear
Size isn't everything, but sometimes it's real nice to have. That's pretty much the argument for Apple's iPhone 14 Plus: a fresh addition to the 2022 smartphone line-up that feels plenty familiar. Combining the scale of the iPhone 14 Pro Max with the features — and, very nearly, the price tag — of the iPhone 14, if it's a compromise then it's a compelling one.
Starting at $899, it's the second cheapest in the iPhone 14 family. The allure here is scale: now, one of Apple's most affordable options is also its largest. It also puts the emphasis right back on whether you think of yourself as a content creator or a content consumer.
That may sound like an obvious — dare I say easy — judgment call, but this year's decision has been made much trickier by Apple's move to add greater separation between its entry-level and its flagship phones. At a time when the iPhone 14 Pro reveals the next generation of hardware and design decisions, too, you'd be forgiven for thinking of the non-Pro phones as the last of an old breed.
It's time to embrace iPhone eSIM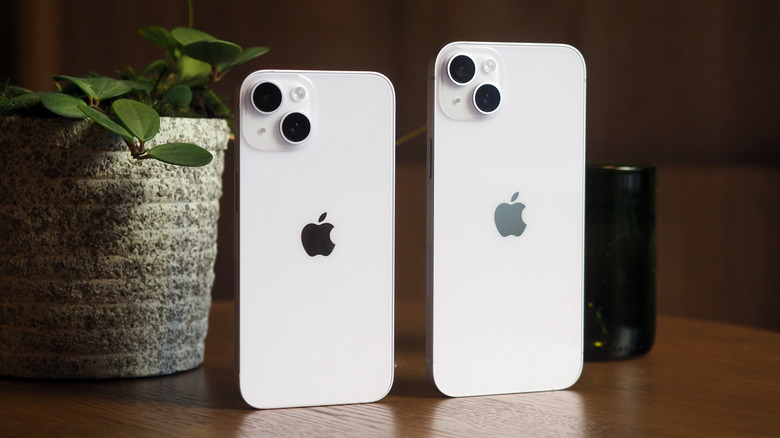 Chris Davies/SlashGear
It's not to say new features are completely absent. Like the iPhone 14, the iPhone 14 Plus sees Apple switch wholeheartedly to eSIM — in the U.S. at least — rather than supporting a physical SIM card. It remains controversial, even if most accept that eSIM is an inevitability; Apple has definitely been aggressive in its adoption, here. Being able to quickly switch eSIM accounts from one iPhone to another is definitely welcome; the two phones need only be near each other for the on-screen prompts to walk you through it.
Moving from an Android phone, or if you have an older SIM, might require calling your carrier to finesse the process. For most people that will only happen once, though I've now done it multiple times across different devices and only run into an issue once (which was carrier-side). For international service, an increasing — though not universal — number of carriers are offering short-term eSIMs for travelers looking to use local networks. Is the situation perfect? No, but I suspect it's not quite the consumer nightmare that some are painting it as.
A safer smartphone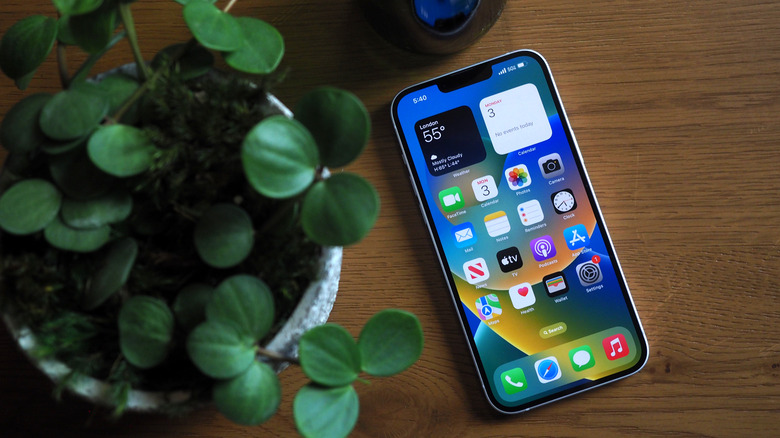 Chris Davies/SlashGear
The other big inclusions for this generation of iPhone are Emergency SOS and Crash Detection. The former somehow manages to squeeze satellite phone connectivity into the iPhone 14 Plus, albeit with such low bandwidth that iOS will walk you through making the most of every byte as you summon help on a distant mountainside or signal-averse gully.
Crash Detection, meanwhile, seems destined to be the subject of Apple's next big heartstring-tugging keynote video. A bevy of sensors promises to spot when you're in an accident and automagically contact the emergency services. I'm not sad to say that I've not had the opportunity to test either system in practice, though it's clear plenty of people are excited about the technology. In fact, it's among the key upgrade reasons a SlashGear survey found people were considering upgrading to the iPhone 14 Pro or iPhone 14 Pro Max, and it works exactly the same way on this more-affordable iPhone 14 Plus.
Bigger screen, less money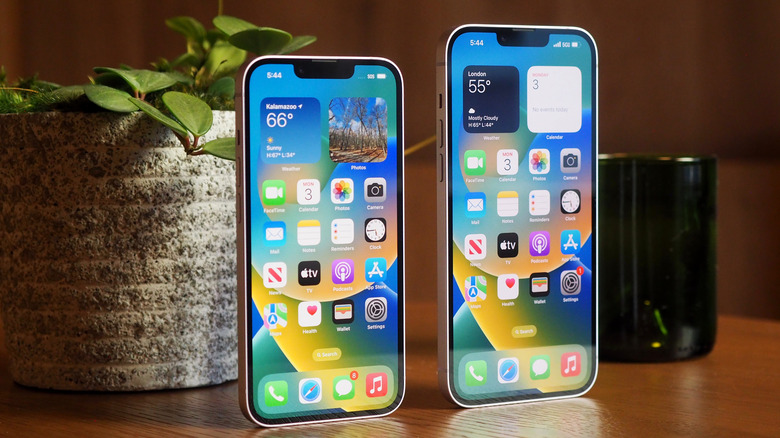 Chris Davies/SlashGear
In fact, there's impressive parity there across the whole iPhone 14 range. If you wanted the biggest screen, though, until now you had to pay the biggest price. Last year, for instance, the iPhone 13 Pro Max was — with a 6.7-inch display — the largest of Apple's line-up. It also came with a whole host of features, like triple cameras, to justify its "Pro" badging, and a $1,099 price tag.
Problem was, there was no way to get the display real estate without the rest. That meant people with vision issues — who might want to crank up the iOS font size to levels unwieldy on a 6.1-inch iPhone — or who just wanted to watch videos on the biggest screen possible needed to cough up the four-figure price tag just like Apple's most demanding users.
After retiring its "mini" experiment, Apple is now trying out a bigger alternative. For 2022 there are just two screen sizes, 6.1-inches, and 6.7-inches, and for the first time, you can have the latter in Pro and non-Pro forms.
Not quite iPhone parts recycling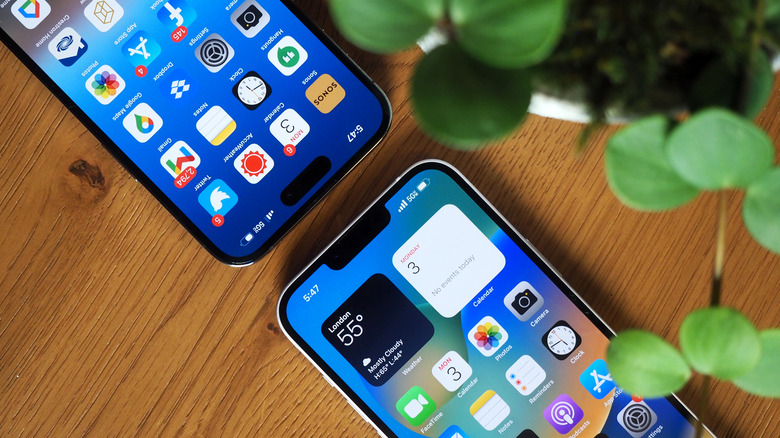 Chris Davies/SlashGear
The result is the iPhone 14 Plus, and it's effectively an iPhone 14 but with a bigger display. That means you still get a notch at the top, not the Dynamic Island that's currently exclusive to the iPhone 14 Pro and iPhone 14 Pro Max. In fact, it looks a whole lot like the old iPhone 13 Pro Max, but again, looks are deceiving.
Apple isn't just recycling last year's Pro screens, here. Instead, it's a bigger version of the Super Retina XDR panel on the regular iPhone 14, with 2278 x 1284 resolution, True Tone, and P3 wide-color gamut support. However you don't get the 120Hz ProMotion refresh rate, nor the extra brightness that the iPhone 14 Pro Max offers: the iPhone 14 Plus delivers 800 nits typical brightness or 1,200 nits for HDR content.
It's the difference between a good screen and a great screen. I still believe that, for most people, the absence of 120Hz support doesn't really start to rankle until you've spent time with a phone that offers it: if you're coming from a non-ProMotion iPhone then you won't be disappointed, but if for some reason you're switching from the iPhone 13 Pro Max you may miss it. The brightness shortfall versus the 1,000-2,000 that an iPhone 14 Pro Max can manage only really makes its impact known when you're outside in direct sunlight.
The cost of longevity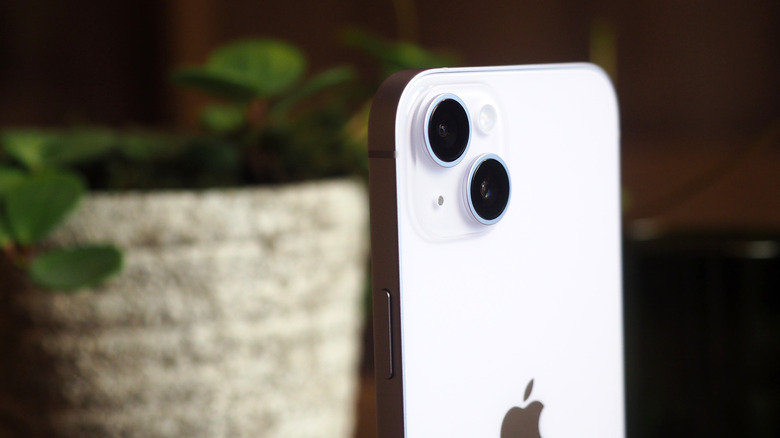 Chris Davies/SlashGear
The same "you'll know if you need it" argument could be made for the chipset. Unlike in previous years, Apple opted to stick with last year's SoC — the A15 Bionic — for the iPhone 14 and iPhone 14 Plus, reserving the newer, more potent A16 Bionic for the Pro versions. It's another decision that adds intentional space between the Pro and non-Pro phones.
Honestly, I doubt most people will be able to tell the difference. While there's an argument to be made around longevity, and the idea that Apple may have longer software support for its more recent chipset, for the average person buying a phone and keeping it for 2-4 years I don't think that really shifts the needle.
If you really want that longevity, you have to decide if it's worth the $200 premium between the iPhone 14 Plus and the iPhone 14 Pro Max. Of course, the newer SoC isn't the only distinguishing factor.
Solid cameras but lacking Pro sparkle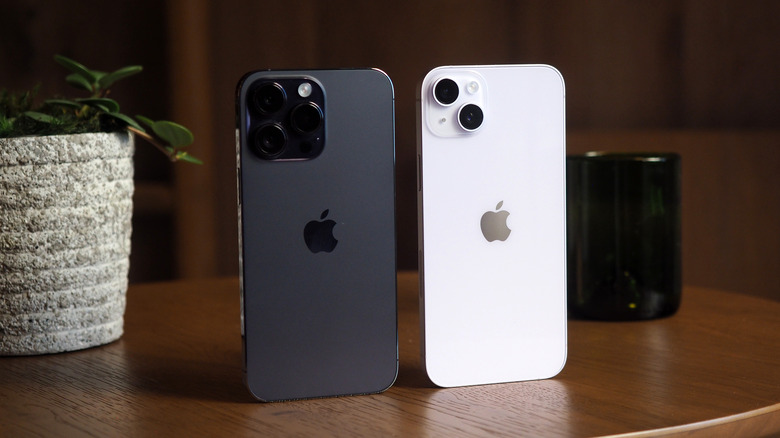 Chris Davies/SlashGear
The biggest distinguishing factor when deciding between a Pro and a non-Pro iPhone is probably the cameras. The iPhone 14 Plus has the same sensors as the iPhone 14: a 12-megapixel main camera (borrowed, in fact, from last year's iPhone 13 Pro) and a 12-megapixel ultra-wide. There's no optical zoom, unlike the 3x of the iPhone 14 Pro models, just a 2x digital zoom that's serviceable but — like most digital zooms, frankly — only okay.
You still get Apple's new Photonic Engine, its Deep Fusion and Smart HDR 4 system, Portrait and Night modes, and all the usual computational photography magic that helps coax unexpectedly good images out of mobile-scale sensors. The leap from last year's phones isn't massive, though that's more a comment on how good 2021's iPhones were than a suggestion that this year's are lackluster. 
Low-light shots have a little more detail and better contrast, though the bigger primary sensor of the iPhone 14 Pro does a markedly better job. Close-up shots can require a little trial and error to get the focus lock just right.
For the big improvements, though, with the iPhone 14 Pro models getting a whole new, higher-resolution sensor, keen photographers will probably want to step up there. Honestly, if you take your imagery seriously, then the $200 delta between iPhone 14 Pro Max and the iPhone 14 Plus looks like a reasonable upsell. The mere $100 difference between this Plus handset and the iPhone 14 Pro feels even more negligible.
iPhone 14 Plus Verdict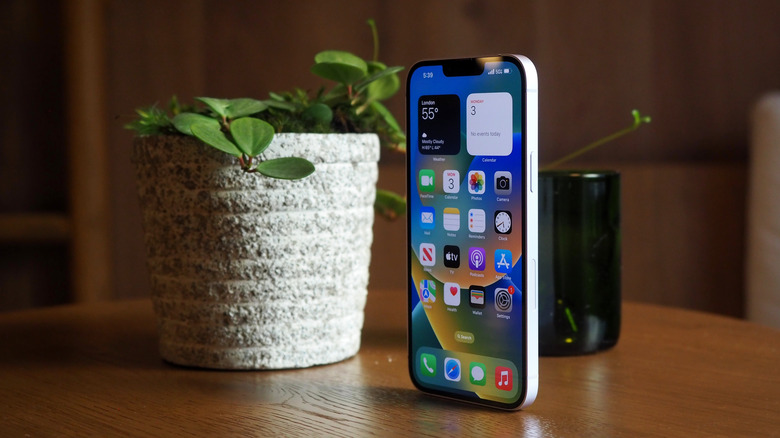 Chris Davies/SlashGear
If the iPhone 14 Plus has a challenge, then, it's that by intentionally adding extra separation between the Pro and non-Pro series this year, Apple has made it much easier to justify opting for the more comprehensive smartphones. The Plus does have some other benefits: it has, Apple says, the longest battery life of any iPhone so far, at up to 20 hours of streaming video or up to 100 hours of audio playback. In my own mixed use, I'm easily getting through the day and well into the next. It's also, despite being considerably bigger, actually lighter than the iPhone 14 Pro is.
If you only want the bigger screen — and literally just the increased size, not the smoother refresh or better outdoor visibility — then the iPhone 14 Plus is a decent saving. Factor in some healthy carrier promotions, though, not to mention the trade-in deals that Apple and others are offering, and the step up to an iPhone 14 Pro Max really isn't all that big.
Does that make the iPhone 14 Plus less appealing? I still think there are people for whom a cheaper route to a big screen makes sense, probably more sense than the iPhone 13 mini ever did in the grand scheme of smartphones. That judgment call comes down to just how much the iPhone 14 Pro's camera talents appeal, and maybe what you already have in your pocket to trade in.
The iPhone 14 Plus can be purchased starting on October 7, 2022, directly from Apple for a starting price of $899 with 128GB internal data storage. This device will launch in five colors, including Blue, Purple, Midnight (black), Starlight (white), and (PRODUCT)RED.