The Most Expensive Car In Charles Leclerc's Collection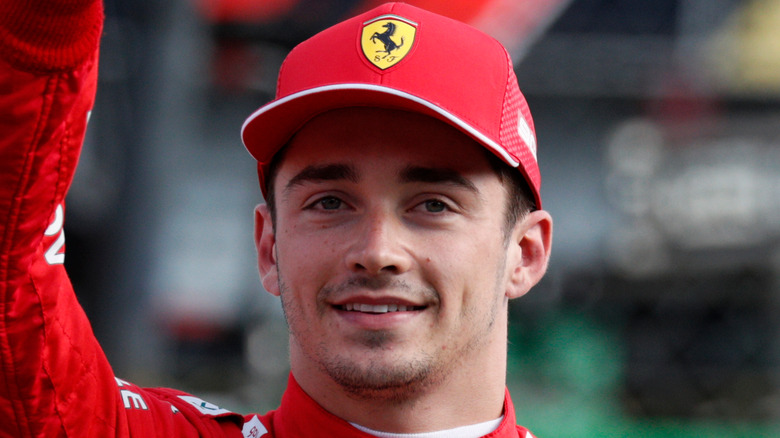 sbonsi/Shutterstock
Ferrari Formula One driver Charles Leclerc has been a racing prodigy since birth. Born on October 16, 1997, in the dreamy French microstate of Monaco, Charles Marc Hervé Perceval Leclerc became a French karting champion in 2009 at the tender age of 12 and captured the Monaco Kart cup at 13. He also won the GP3 Series championship in 2016 and the FIA Formula 2 championship in 2017 at only 20 years old. He joined the Ferrari Driver Academy in 2016 and made his F1 debut with team Alfa Romeo Sauber in 2018. Leclerc joined Ferrari in 2019 and became the second youngest driver to qualify for pole position at the Bahrain Grand Prix that same year (via F1).
Moreover, Leclerc outscored his former teammate Sebastian Vettel by 24 points in the driver's championship during his maiden F1 year, as reported by ESPN, leading Ferrari to offer a contract extension until the 2024 season, nearly tripling his $3.5 million salary in 2019. And in 2021, Leclerc extended his Ferrari contract until 2026 to earn anywhere from $12 million to $15 million annually until 2025.
Charles Leclerc could effortlessly amass a fancy and expensive car collection with all those earnings, but which is the fairest (and costliest) of the lot?
Charles Leclerc: Ferrari comes first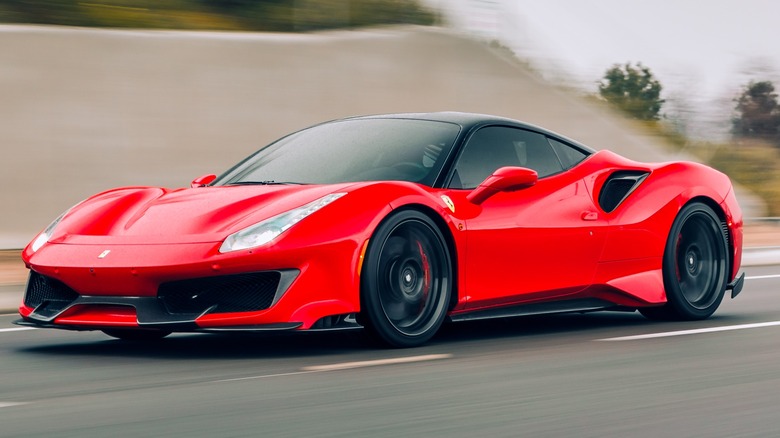 Brandon Woyshnis/Shutterstock
Scuderia Ferrari's top F1 driver deserves nothing less than the best to wear the prancing horse badge. According to 21Motoring, the Monégasque has a Ferrari GTC4 Lusso ($300,000), a Ferrari Portofino ($227,000), a Ferrari 488 Pista Spider ($350,000), and a Ferrari 812 Superfast, the latter costing upwards of $330,000. The video below by TheTFJJ shows Leclerc taking his Ferrari 488 Spider for a spin around the streets of Monaco.
The most expensive Ferrari in Leclerc's garage is the amazing SF90 Stradale, the first-ever Ferrari with a plug-in hybrid architecture. But unlike other plug-in hybrids, the SF90 Stradale rockets from 0 to 60 mph in 2.0 seconds, as found in Car and Driver's official testing. It also reached the quarter-mile in a bewildering 9.5 seconds at 148 mph, making it the quickest vehicle tested by the publication. It's the type of performance expected from a $507,000 supercar with a twin-turbo gasoline V8 engine, three electric motors, and a combined 986 horsepower and 590 lb-ft of torque (per The Car Guide).
More cash, more cars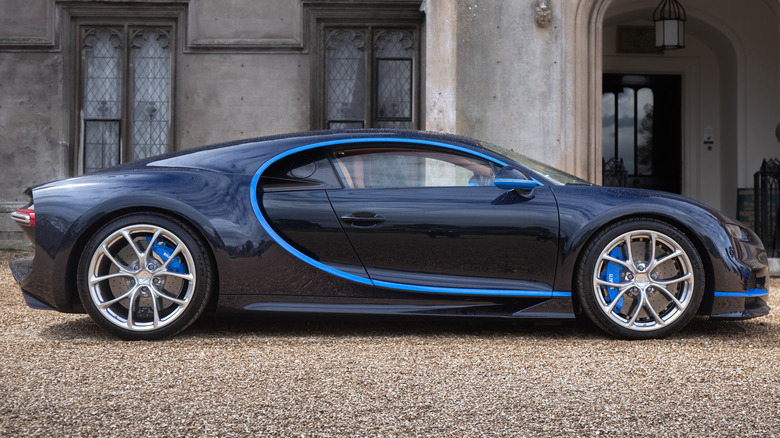 Martyn Lucy/Getty Images
Charles Leclerc's passion for cars goes well beyond the Ferrari badge. The Monégasque has a Jaguar XF ($125,000), a Land Rover Discovery ($175,000), a McLaren GT ($210,000), and a Rolls-Royce Wraith that starts at about $1 million (per Motor Biscuit). As if those are not enough, Leclerc also fancies the Maserati Gran Turismo and the Mercedes-AMG G63.
However, the most expensive car in Leclerc's mouthwatering car collection is the $3 million Bugatti Chiron, the costliest of the lot. The Chiron is big, bad, and requires the deepest pockets to obtain and enjoy, and it's not surprising for the ultra-rich to splurge on one of the fastest and mightiest vehicles on four wheels. Rapper and artist Travis Scott reportedly paid $5.5 million for his Bugatti Chiron Super Sport, and footballer Cristiano Ronaldo spent a whopping $12 million for a Bugatti Centodieci, a limited variant of the Chiron of which only ten units exist.