Ferrari's latest V8 convertible is the 488 Pista Spider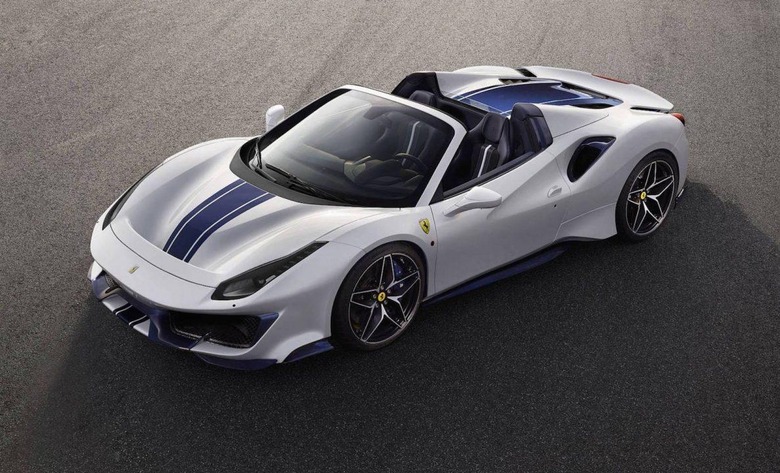 Ferrari is at the Pebble Beach car event this week, and as a surprise it's revealing the 50th convertible in the carmaker's history. It's the 488 Pista Spider, and just like the hardtop 488 Pista it features the most powerful V8 engine Ferrari has ever made, boasting 711 horsepower. The company has adorned the car in white with blue stripes, in part to acknowledge its debut on American soil, as well as recognize the popularity of convertibles in the country.
Along with the 3.9-liter twin-turbo V8 engine, the 488 Pista Spider shares the same aerodynamics as the coupe model, meaning it does 0 to 62mph in the same 2.85 seconds and has the same top speed of 211 mph. Because it's a convertible, it weighs 200 pounds more than the hardtop, for a total curb weight of 3,042 pounds.
Ferrari says it helped keep the weight down with plenty of carbon fiber, as well as tricks like replacing the floor mats with aluminum foot plates, and using straps in place of door handles. The rest of the interior is also adorned in Alcantara and carbon fiber, while there's also the option of swapping the 20-inch diamond-finish alloy wheels with one-piece carbon fiber wheels for an additional 20% weight reduction.
There's no word yet on an exact release date or production numbers, but you can bet it's going to be limited. Pricing also hasn't been revealed, although it's sure to cost more than the 488 Pista coupe.