Ferrari SF90 Stradale PHEV has nearly 1000hp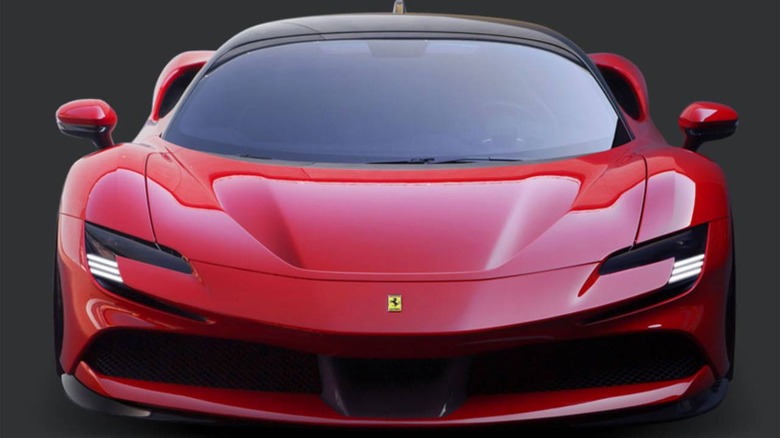 Ferrari has pulled the wraps off its new hybrid hypercar, and this time the car is a plug-in hybrid electric vehicle. It's called the SF90 Stradale, and it has 1000cv, about 985 hp and a power to weight ratio of 1.57 kg/cv. The car has aero that generates 390 kg of downforce at 250 km/h.
The gas-powered V8 engine is turbocharged and makes 780cv on its own, the highest output of any V8 in Ferrari history. The other 220cv that the car produces comes via three electric motors with one at the rear known as the MGUK between the engine and the 8-speed dual-clutch transmission.
The other two electric motors are on the front axle. The SF90 Stradale has four power unit modes to manage the flow of power from the V8 and electric motors to the wheels. That means the car is all-wheel-drive and is the first Ferrari to offer AWD.
The grip and power mean that the car can reach 100 km/h in 2.5 seconds and hit 200 km/h in 6.7 seconds. The car has a shut-off Gurney, a patented system at the rear that regulates air over the upper body to reduce drag at high speeds.
The center instrument cluster is a 16-inch curved HD screen that is fully configurable by the driver and can be controlled with controls on the steering wheel. Ferrari offers the SF90 Stradale in a standard version and a more sports-oriented version. The Assetto Fiorano spec has racing-derived Multimatic shocks and lightweight carbon fiber parts like door panels and underbody. It also has titanium exhaust and more saving 30kg. The sports version also has a high downforce carbon-fiber rear spoiler making 390kg of downforce at 250 km/h. Pricing on the SF90 Stradale is unannounced.