2020 McLaren GT is a 612hp replacement for your private jet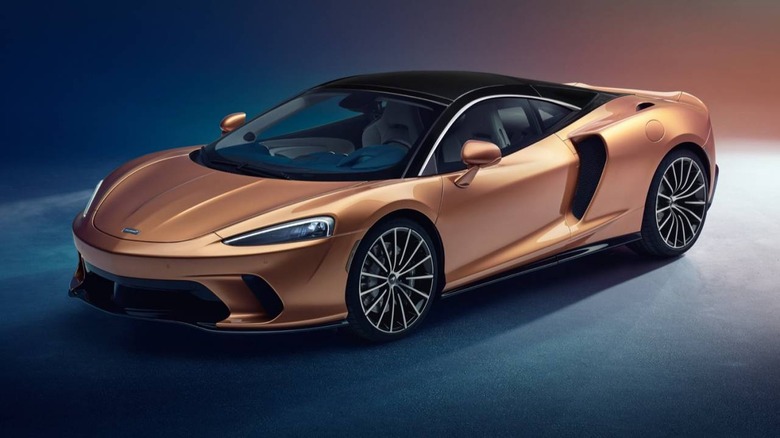 McLaren has revealed its new grand tourer, the 2020 McLaren GT, but if you were expecting a sedate highway cruiser this is a 612 horsepower reminder that the automaker doesn't do slow. The latest addition to the British sports car-maker's growing range, the McLaren GT promises to combine speed and driver engagement with the sort of comfort you'd demand were you eschewing the private jet and opting to drive across the country instead.
Unlike McLaren's existing cars, it doesn't fall into any of the three current categories. Rather than being a Sports, Super, or Ultimate Series vehicle, the 2020 GT stands alone. Whether that eventually mean the expansion into a fourth category, McLaren is so far only teasing about – it'll likely depend on just how well the GT is received.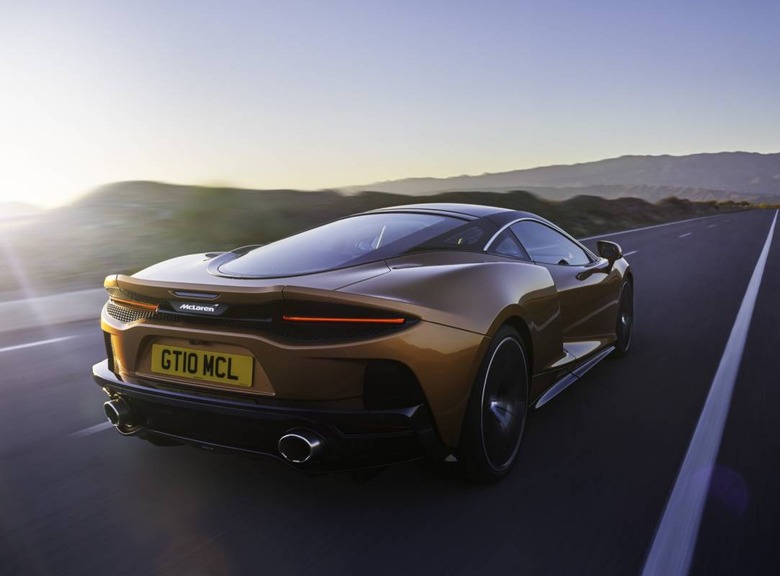 First impressions suggest the answer to that will be "very positively," mind. The new Grand Tourer has a carbon fiber structure with a bespoke MonoCell II-T monocoque and carbon fiber rear upper structure. It's wrapped in a combination of more carbon fiber and glass, the latter bonded into the C-pillars and rear-quarter winders. McLaren says it's the sort of assembly that you can only do with a super-rigid body.
You still get dihedral doors, swinging up for ease of entrance (and parking lot bragging rights). However the rear section has been expanded to accommodate the sort of luggage two people might want for a GT adventure. That means space for a golf bag or two pairs of 185cm skis, along with other bags. Combined with the front trunk space, which adds 5.3 cubic feet of its own, total cargo space is 20.1 cubic feet.
It's still a lightweight car, mind. McLaren says the GT is – at 3,232 pounds – more than 286 pounds lighter than its closest competitor. That's despite the 4.0-liter twin-turbocharged V8 engine. Power-to-weight ratio clocks in at 399 hp per ton.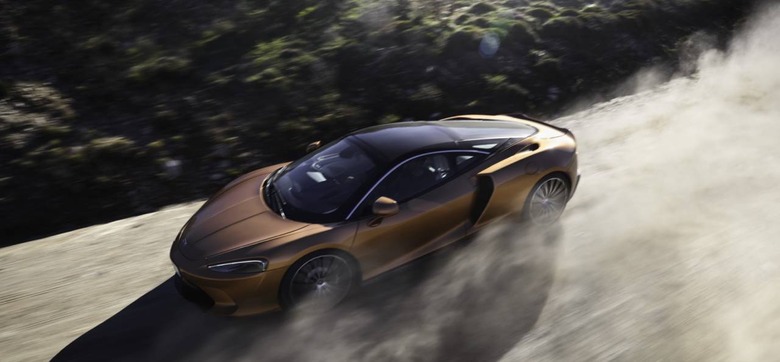 As you'd expect, that makes this a fast car. The M840TE engine is bespoke to the 2020 GT, and delivers 465 lb-ft of torque between 5,500 rpm and 6,500 rpm. Befitting the Grand Tourer designation, though, more than 95-percent of maximum torque is available from a more leisurely 3,000 rpm.
There's a 7-speed SSG transmission, and a ridiculous 0-60 mph time of 3.1 seconds. 0-124 mph takes 9.0 seconds. Top speed is 203 mph.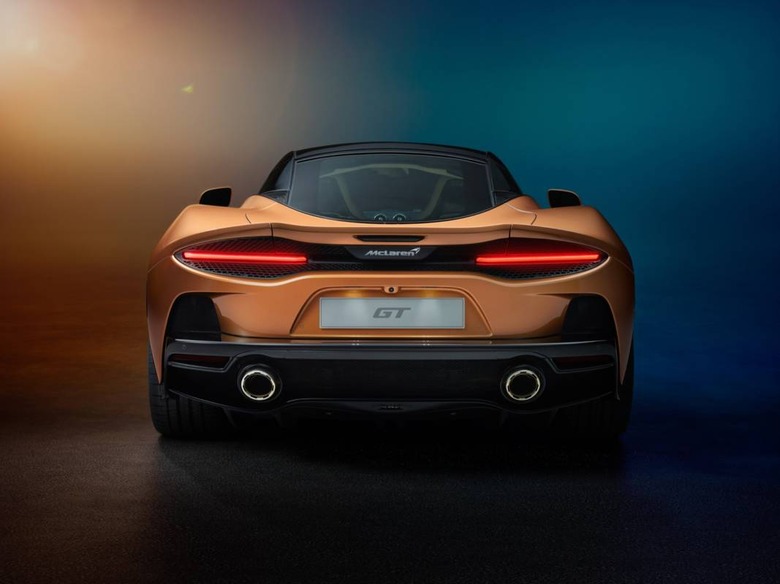 Going fast isn't the focus, though. The suspension, steering, and brakes are also unique to the McLaren GT, tuned for ride comfort along with responsiveness. A lightweight aluminum, double-wishbone design gets hydraulic dampers for McLaren's Proactive Damping Control. Sensors track road quality and other factors, and the suspension reacts predictively in two milliseconds.
Three drive modes – Comfort, Sport, and Track – offer control over just how compliant the ride is. Whichever is selected, there's a single hydraulic steering setting, which includes more assistance at lower speeds for easier parking and urban maneuvering. Bespoke Pirelli P ZERO tires wrap 20-inch front and 21-inch rear wheels, and there's a new braking system which includes a softer pedal feel at lower speeds.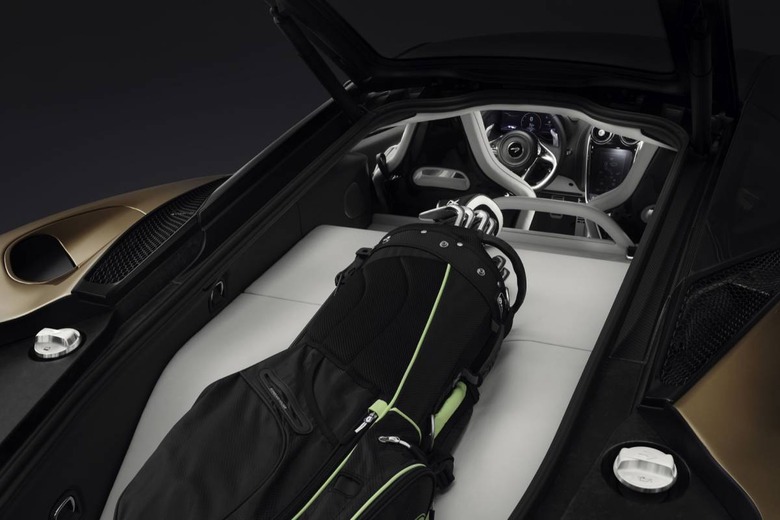 The GT is actually longer than any current Sports or Super Series car, at over 15 feet. However despite the extended front and rear overhangs, the GT offers 10-degree approach angle – extended to 13-degrees with the vehicle lift – and 4.3-inches of underbody clearance – or 5.1-inches with the vehicle lift – to make clearing speed bumps less likely to provoke cold sweats.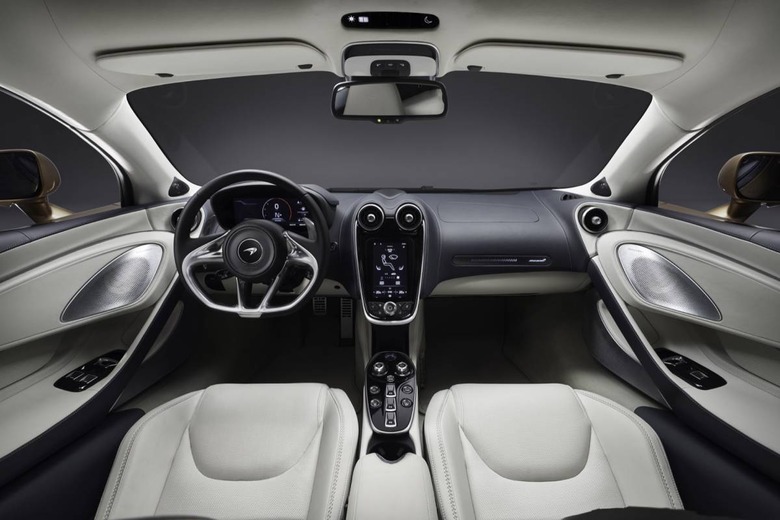 Inside, there's a combination of familiar and new. Custom electrically-adjusted seats get heating as standard, along with padding suited more to long-distance driving than track days. An electrochromic roof panel is optional, replacing the standard gloss black carbon fiber composite; machined and knurled aluminum switches and controls are a reminder that McLaren makes all its own switchgear rather than dipping into a shared parts-bin.
A new infotainment system offers HERE navigation, real-time traffic information, and all of the HVAC controls for the dual-zone climate control, from a 7-inch touchscreen. It's said to be McLaren's fastest system yet. There's a 12.3-inch display in front of the driver, with customizable graphics.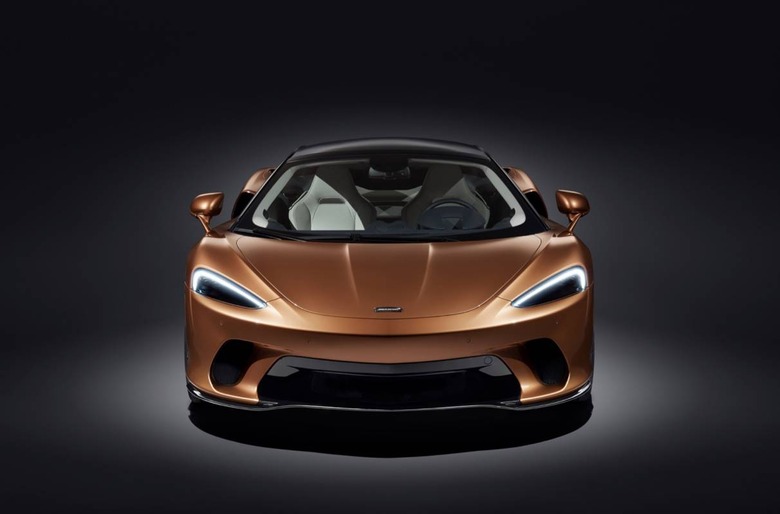 Options include soft grain luxury leather or Alcantara seats instead of the standard Nappa leather trim. Later in the year, McLaren will offer cashmere as an option, too. A SuperFabric trim – woven fabric with a layer of tiny armored guard plates for better scuff resistance – is available for the luggage bay.
The 2020 McLaren GT is available to order now, priced from $210,000. Deliveries are expected to begin from the end of 2019.