Xbox One X Review [UPDATE]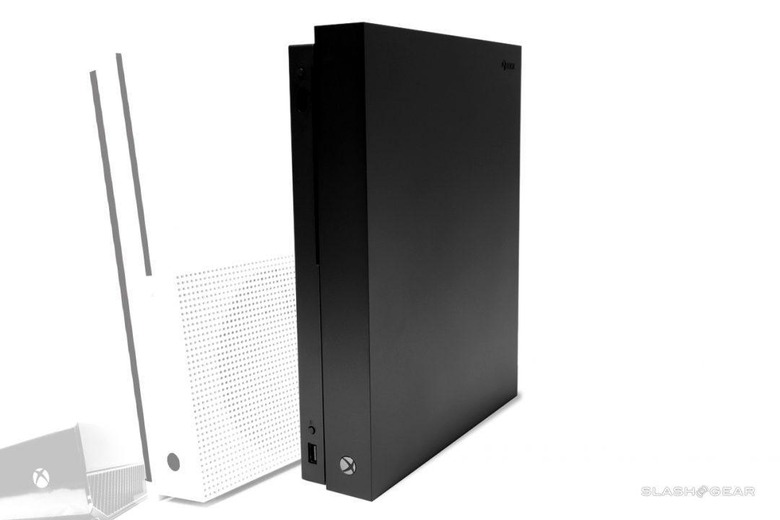 Microsoft is winning the media war with Sony here in late 2017. Just as the holiday season rolls up here in 2017, it almost feels as though Microsoft's Xbox is the only competitor in their class. The PlayStation 4 Pro is already on the market, but it's already old hat, having been released all the way back in November of 2016. As should be apparent, we're no longer dealing with the gaming market as it existed in 2001.
A Brief History
Back at the turn of the 21st century, Microsoft revealed the first Xbox. It was four years before the Xbox 360 arrived in 2005. In 2007 Microsoft released an Xbox 360 Elite, then in 2010 the company revealed the Xbox 360 S (slim). In 2013, Microsoft released the Xbox One.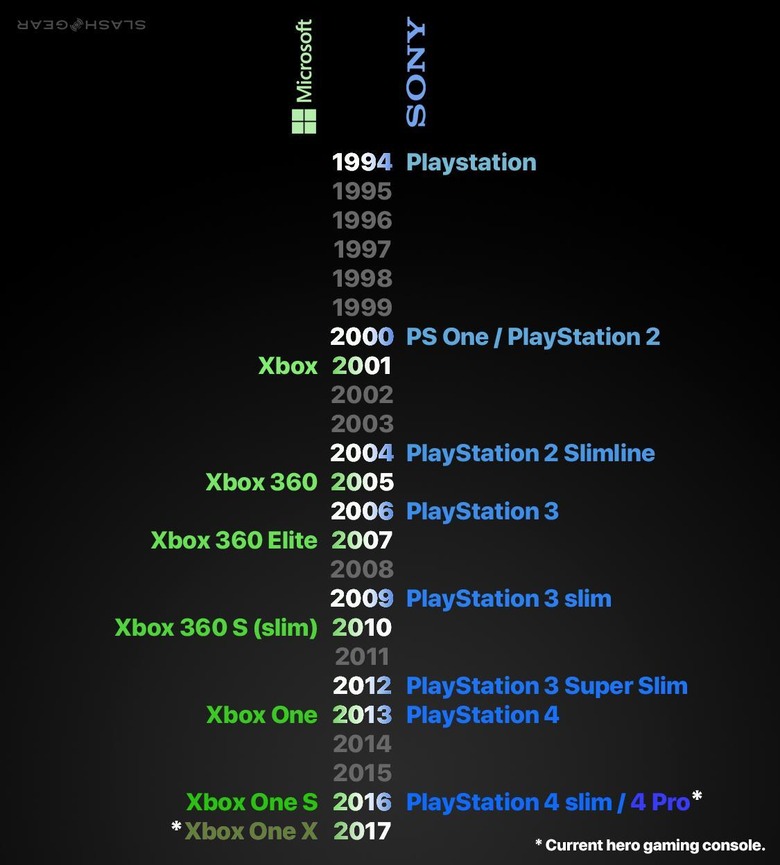 Three years after the release of Xbox One, Microsoft brought another "S" model in the slimmed-down Xbox One S. Just one year after the Xbox One S, Microsoft has the most powerful console they've made yet: Xbox One X.
Above is a timeline of console release years for both Sony and Microsoft. The PlayStation had a big head start back in '94, then the PS One and PS2 were released in 2000, followed soon by the first Xbox. Over the next decade and a half, Microsoft and Sony have done the release dance toward and right up against one another. In 2017, they've split once again.
Sony seemed to run just ahead of Microsoft for several years, starting with the PS One and PS2, both released in 2000...almost as if Sony knew Microsoft was coming. Sony's releases hit one year before Microsoft in 2004, 2006, and 2009. Then in 2013, the brands clashed. That was the year Sony released the PS4 and Microsoft the Xbox One.
The Xbox One S and PS4 S were released in 2016, then Sony pulled a fast one on Microsoft by releasing the PS4 Pro that same year. Sony's release came in the form of a cheese sandwich-looking box of layers with 4K and HDR. Meanwhile, Microsoft grew over the past 4 years into a real hardware company.
Hardware
The difference between the Xbox One S and the Xbox One X can be very small or very great, dependent on the end user's needs. If that user wants to play games on their 1080p television or wants a simple upgrade to basic 4K for games and media, the Xbox One S is the best machine, especially for its far cheaper price range through a variety of models.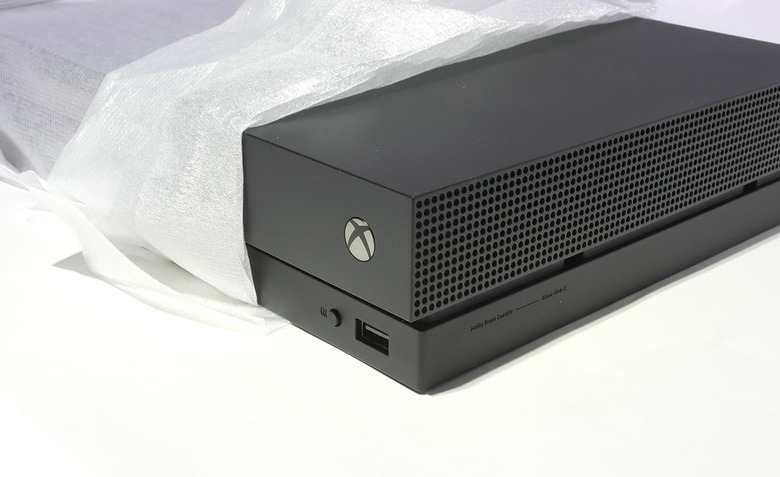 The Xbox One S has hardware quite similar to that of the Xbox One. SEE TOO: Xbox One S Review (bundle style) From One to One S, there's an upgrade in looks, a decrease in size, and a spec-bumped GPU in the S with support for HDR10. The Xbox One S has the same AMD Jaguar processor system as the Xbox One, while the Xbox One X has a completely new, far better processing system inside.
At this point in history I'd recommend either the S or the X over the original One, unless the One is given to the end user for free. The Xbox One S is the lighter choice, the Xbox One X the more hardcore. Below you'll see the Xbox One S doing its best impression of a hardcore console by coming in its own special edition bundle – see our Xbox One S review to learn more about all the BLOOD.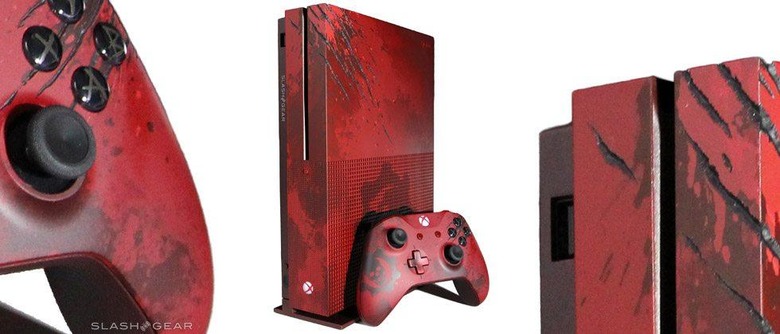 The Xbox One S (shown above in custom Gears of War 4 red – bundle style) uses mechanical hard disks while the One X includes 8GB of flash storage. With the X taking on the operating system with solid-state storage, the whole experience is noticeably quicker, in and out of games and other media. The Xbox One S can be found with 500GB, 1TB, and 2TB internal storage, while the Xbox One X only comes in one size: 1TB hard disk space with 8GB flash storage.
In our Xbox One X teardown and unboxing (shown below) I went into a bit more detail on this console's cooling system. While the Xbox One S has a fan and tiny heatsink and copper heat pipe system in one piece, X has these elements separated. X has the heatsink/vapor cooling system in one, and a fan completely separate.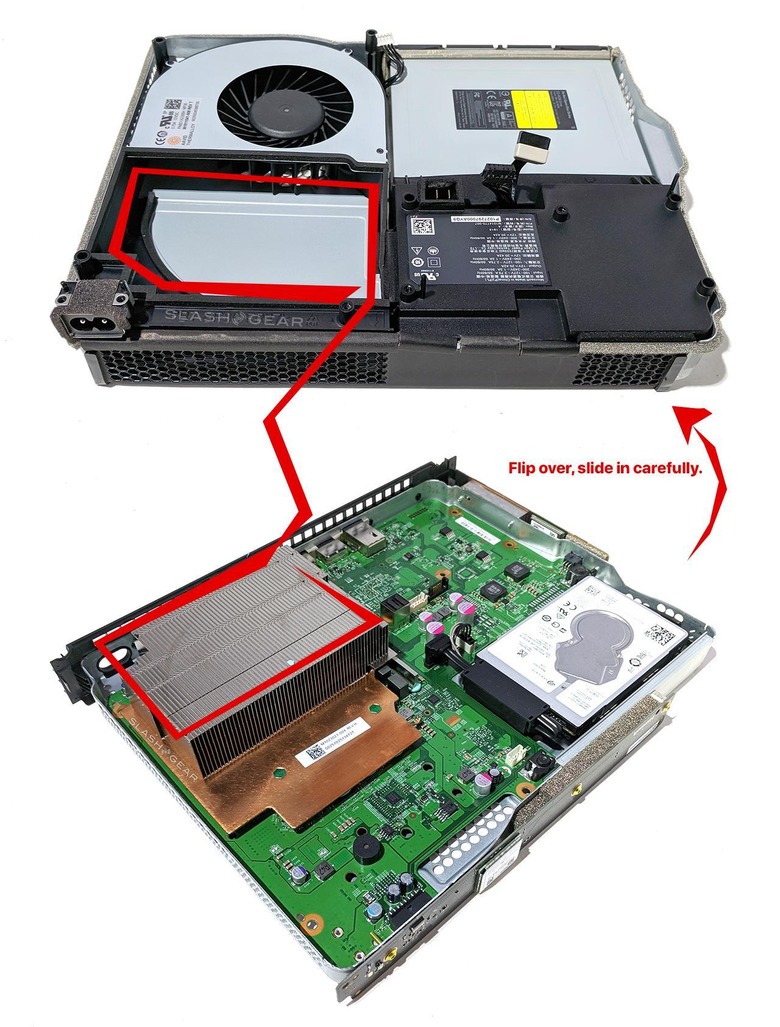 The way the X is set up, the fan is able to cool both the processor system area (SoC, that is, system on chip), and the power supply at the same time. Instead of simply moving air up and away from the SoC, like in the S, the X's fan moves air through the open side of the power supply, through the heatsink, and around back out of the console.
As a result, this console runs cooler than its predecessors – just so long as the console isn't jammed into a corner with nowhere to blow out hot air. If at any point this Xbox One X starts to really pick up on hotness in the future, we'll return to this section of this review and issue an update.
The look of the Xbox One X is subdued. It's extremely simple. It looks almost like Microsoft took a Sony PS2 and smoothed out all the unnecessary extra levels of plastic. In the Xbox One universe, Xbox One X looks like it's part of a new generation in hardware, quite separate from the first.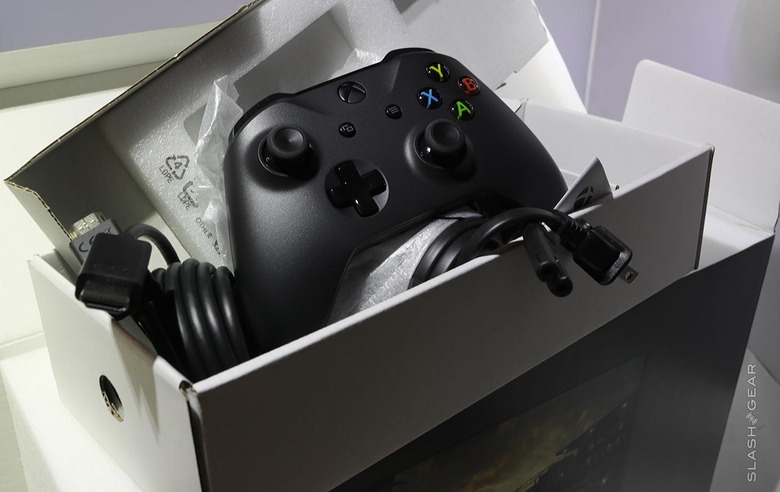 The Xbox One Wireless Controller included in the box is literally the same as is included with the Xbox One S. They're identical as far as we can tell, in operation if not exact parts. That means they're a tiny bit sleeker than the previous generation – but the best Xbox Wireless Controller in the world remains the Xbox One Elite Controller. No contest. All previous Xbox One controllers we've tested work on this new console as well.
User Interface
The user interface for this Xbox is essentially identical to that of the rest of the Xbox One family. As such, we can see the differences in speed quite readily. Unless you have two consoles at once, one next to the other, the operating system's UI won't look like it's running a majorly significant amount faster. It's inside games that Xbox One X speeds ahead.

Since the launch of Xbox One, Microsoft's refined the software experience toward a more PC-like experience, then back in a different direction. They've made the Xbox One experience feel like too much of a standard Windows 10 device, then they dropped a few updates over the past year that've made the whole system feel like home. Comfy and swift, easy to use and unique to this device family. Have a peek over at Microsoft's current Xbox One Experience page to see where the system is at its newest update.
Again, Xbox One X looks basically the same as Xbox One and as Xbox One S in its UI. It's once you start up your favorite game or open the Blu-Ray player that you see the difference.
Processing Power
Xbox One X has 6 teraflops (floating point operations per second) of computing power. For readers without deep "flops" knowledge: this means the machine can compute 6-trillion floating point operation computations per second. The more teraflops a machine is capable of, the more detailed and quickly rendered graphics will appear on your screen.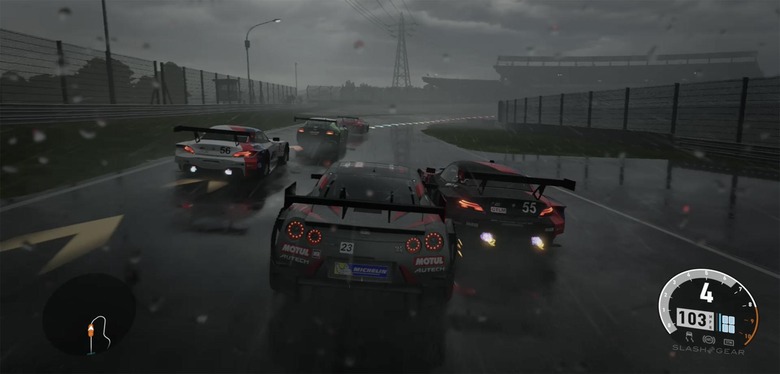 The Xbox One X is capable of 6 teraflops of compute power, while the Xbox One is closer to having the ability to process 1.32 teraflops, and Xbox One S rings in at 1.4 teraflops. At the same time, the PlayStation 4 is capable of approximately 1.84 teraflops, and the PlayStation 4 Pro performs with the ability to process 4.12 teraflops. The PlayStation 4 was the first gaming console released that broke the 1-teraflop threshold – and just a few short years later, Xbox One X is first to 6.
• Xbox One: 1.32-tflops (least powerful of this bunch)• Xbox One S: 1.4-tflops• PlayStation 4: 1.84-tflops• PlayStation 4 Pro: 4.12-tflops• Xbox One X: 6-tflops (most powerful gaming console yet)
HDR10 and 4K Output
According to Xbox Group Manager Kevin Gammill, you don't need a 4K display to roll with some high-quality graphics output. One week before launch week, Gammill confirmed that the Xbox One X natively supports 1440p resolution through HDMI. If the user plays a game that natively outputs 1440p but their monitor is 4K, the game will be upscaled to 2160p.
NOTE: Each of the images shown below is part of a frame from one of the gameplay videos in the Games portion of this review. Not screenshots shot by the Xbox One X – these images were snipped from actual non-paused video gameplay output.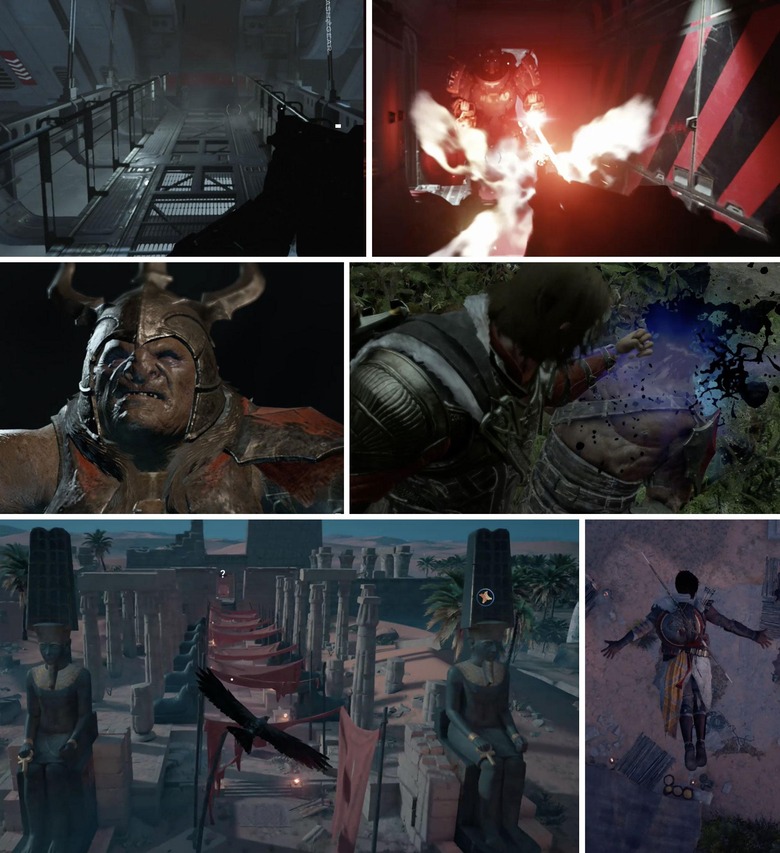 At the time this confirmation was made public, Xbox One X native support for 1440p displays was not yet implemented. It was "coming soon" according to Gammill, who in turn spoke with the Xbox One X graphics team at Microsoft. Every 4K-capable game I played during our first review period looked and felt strikingly close to performance levels of a far more expensive custom-constructed desktop PC.
As it is with every gaming console, judgment on how well a machine performs is really up to the end user. I recommend heading in to your local big box store, gaming store, or department store to have a play at this Xbox One X to see how it feels to you. While I experienced some load times up to a whole 40 seconds for top-performing games like Forza 7, most of the time we've been flying in and out of games with great swiftness.
Movies at Ultra HD
For everyone in the Xbox One owner's home that isn't just in it for the games, this Xbox is the best Xbox. The Xbox One X has HDR10 and 4K output capabilities that are extraordinary – especially when the machine plays HDR 4K Blu-ray disks on a fully compatible television display VIA HDMI.
If for some reason you find yourself in a situation where you need to watch a movie instead of playing a game, Xbox One X is compatible with Netflix, Hulu, and the rest. At the time this review is set to be published, Amazon Prime doesn't yet output 4K video – but it will soon.
Games
In our original Xbox One review, we had the inevitable issue of a lack of choice in games. There was a set of Launch Titles, but the selection was relatively limited. Here with the Xbox One X, there is no such problem. Not only does the Xbox One X have the ability to run Xbox One-generation games, it has games optimized specifically for its new processor, and has access to legacy games as well.
SEE TOO: Our original Xbox One Review
Have a peek at Microsoft's backward compatibility list and see if your favorite titles are ready to roll. Chances are, they're there. See a game there that you know you can find in a $5 box at your local gaming store? By all means, buy it, insert the disk into the Xbox One X, and begin to download the game – you'll get a compatible digital download of the game that's available for you to play right out the gate. No Xbox Gold or any subscription cost is necessary.
The following is a small, yet key collection of games which show what the Xbox One X is all about when it comes to graphics performance. These games are either relatively new or have not yet been released to the public – but they'll all be out immediately if not soon! Look for this list to expand in SlashGear's gaming review collection in the future as well.
Forza 7 looks impossibly good, especially whilst racing in the rain, even without considering we're playing on a gaming console instead of a tricked-out PC. Turn10 Studios made another headliner game here, one that's a no-brainer when it comes to showing off what the Xbox One X is capable of.
There's a lot of beef to this game – high-end audio fidelity, beastly graphics, controls simple enough for anyone to start, and scaling for more experienced drivers. This game is the one I'd recommend anyone purchase if they get an Xbox One X. Let Forza 7 show you the way of the highest-end console-grade graphics. Forza Motorsport 7, as its full proper name is listed, comes Xbox One X enhanced, in 4K, with HDR color range.
Assassin's Creed Origins took a page out of the last couple of Assassin's Creed books of success, then went ahead and took the rest of the book. What was good in the best entries in the Assassin's Creed saga are here in full effect, and a lack of major differences in gameplay VS games from the last few years is not necessarily a bad thing.
Any negatives here are more than made up for in both the scale of the game's visuals and the fact that you can ride a camel – and control a bird in flight. The scale of this game and the quality of the end product are no mistake – this entry's made by the same crew that delivered Assassin's Creed: Black Flag.
The Lord of the Rings / JRR Tolkien-based Middle Earth, Shadow of War isn't a game that can be truly appreciated for scale until you get deep into battle with small armies of characters. There, with each individual unit moving with its own unique style and mind of its own, the real intelligence of the game comes into play. You might not even notice how slick this game plays on Xbox One X because it doesn't push the limits on graphics realism like Forza 7.
Instead, Middle Earth, Shadow of War focuses on maddeningly deep storylines and character-to-character interactions. By the time you get an hour or two into the game, you'll feel just awful murdering the orcs you've learned so much about. The backstories are a scary amount of detailed.
Also since this game plays very much like its predecessor, it's very easy to lose one's self in gameplay for hours-long sessions on end. Like the first Middle Earth, Shadow of Mordor, this second game in the series plays a lot like Assassin's Creed – except here a ghost has your back, and there aren't any camels to ride. It's a violent game, to be sure, but the orc blood here is a drop in a bucket compared to the ocean of brutality that is Wolfenstein II.
The Nazi-killing adventure story Wolfenstein II: The New Colossus is "Xbox One X Enhanced," but does not output in 4K, nor does it have HDR color in play. But it would appear that it didn't need either one of these features, as it's easily one of the most striking titles in the new lineup. But it's not for the faint-hearted.
One of the first decisions you must make in the game is to decide between two men's lives. One will live, the other will be brutally murdered. Inside the first 10-15 minutes of the game's setup, the user is also subjected to domestic violence, racism, an offscreen murder of a dog, and one beheading. This isn't a game for people who don't do well with blood. Those that are able to handle such atrocities are gifted with some spectacular visuals.
Disneyland Adventures is just about as opposite of Wolfenstein as opposite gets. In Disneyland Adventures, the user is asked to take on the role of a young person exploring the theme park. Whilst exploring Disneyland, a variety of odd games based in the Disney brand universe can be played. This game isn't brand new, but it's a real gem refreshed here on Xbox One X.
If you have a child anywhere from 2 to 6 (or thereabouts), this game is just about as good as it gets for holding their attention without blood, blinding colors, or the digging and crafting of pixel-made mines. Aside from Minecraft, this Disneyland Adventures might be the best kid-friendly title on the Xbox, so long as the child in question loves the Disney universe. Also, the game looks pretty decent on Xbox One X.
Some miraculously good games are ready to roll for the Xbox One X at launch time, and those shown above constitute only a tiny sample. A full list of games Enhanced for Xbox One X can be found at Xbox dot com.
Wrap-up
Here in 2017 with the Xbox One X, Microsoft came correct with a purification of the Xbox One. The software is solid, tested and true, and both media and games are ready to roll at launch time. Because of the amount of media developed in the past few years, the launch of this console is ideal for the new user. Because of the vast amount of compatible media that's out on the market right now, Xbox One X is what the Xbox One wanted to be in the first place – potential met!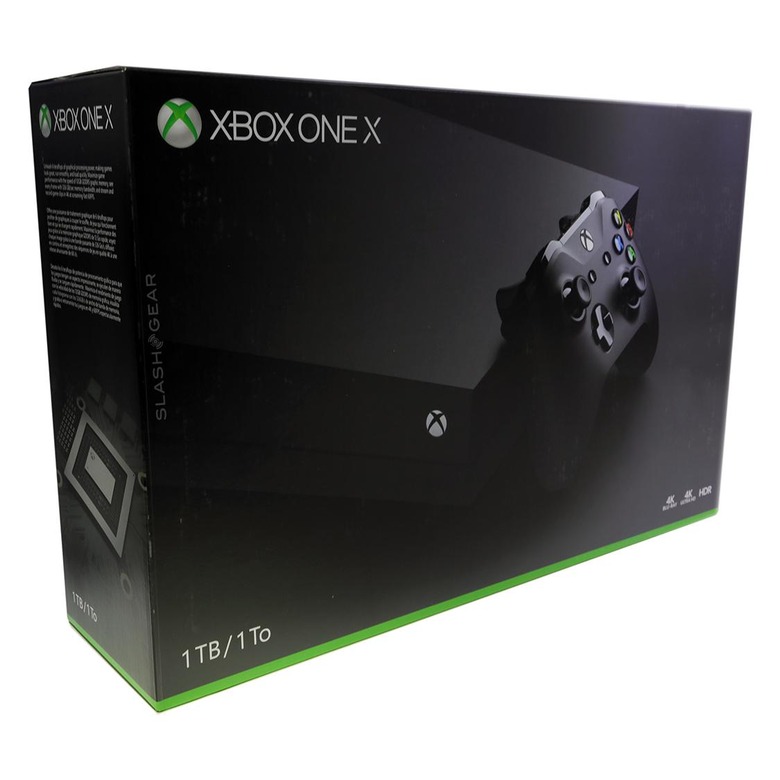 The Xbox One X is not just an Xbox One with better internal hardware – it's the solidification of all the Xbox One's best qualities. This is not just a Windows desktop computer for the living room, but a device uniquely finessed in its own corner of the gaming universe. Media and games on Xbox One X are at once both painless to access and of extremely high quality, developed for the newest-of-new television sets available to the general public.
The Xbox One X is set to become available on the 7th of November, 2017. At that time all major stores that already carry Xbox hardware will likely carry Xbox One X. This console will cost users approximately $500 USD at launch.