Xbox One Elite Controller Review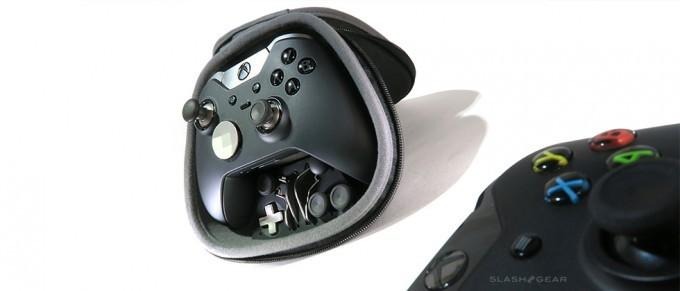 It's been several weeks since I first laid hands on the Xbox One Elite Controller. I've come to the following conclusion: I've never reviewed a device that's so unnecessary and yet so completely worth the cash it costs at the same time. "Oh god," you might say, "I could have bought myself a whole month's worth of pizza with the money I spent on this controller." Not long after, you might find yourself saying "Oh my goodness I can't believe I ever used a controller other than this one... it's so good, and feels so right."
This controller reminds me of the time I bought an off-brand super-controller for my Sega Genesis many years ago. Sega didn't necessarily give the thumbs up to that controller and all of its extra switches and buttons – it was radical and totally worth the $15 I payed for it, but its special features didn't work with most games, and I really only wanted it for the extra buttons to play Mortal Kombat.
Fast-forward to the present, and the $149 Xbox One Elite Controller. Good god that's a lot of money for a controller, you might be saying. You're right. You're certainly right if you're only going to be using this controller to play side-scrolling indy games.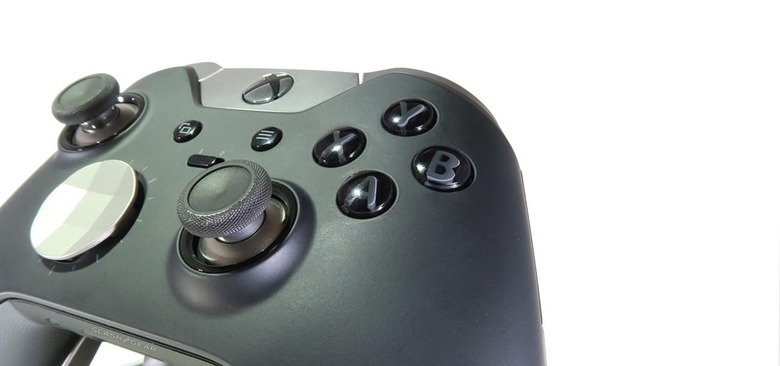 This controller is made to tweak your experience so that it might give you the upper-hand when a micro-second makes all the difference. Take the "Hair Trigger Locks" for example. These switches physically change the distance your buttons need to travel to execute a successful connection.
Below we've taken off the side of the controller to show you how big the difference the hair trigger lock makes on how far you have to press to connect.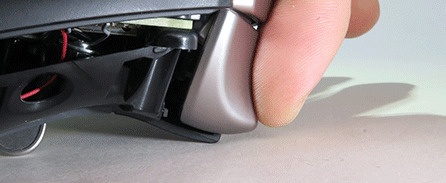 The bumpers on this pad are noticeably less rigid here than on the standard Xbox One controller. This controller isn't just a bunch of extra buttons – Microsoft's invested time in tweaking the standard buttons beyond their already-extensive tests for the first Xbox One controller release. Everything is JUST a little bit better, at least.
This controller has all the standard bits, of course – your thumbsticks, your d-pad, your XYAB buttons, but you'll have the ability to customize your experience on a new level.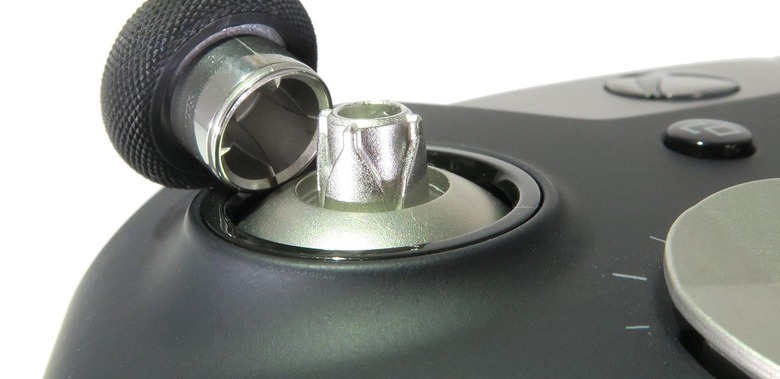 Each of the thumbsticks are replaceable – attaching magnetically. You get a couple extra standard-height sticks with different pads as well as a couple of extra tall sticks.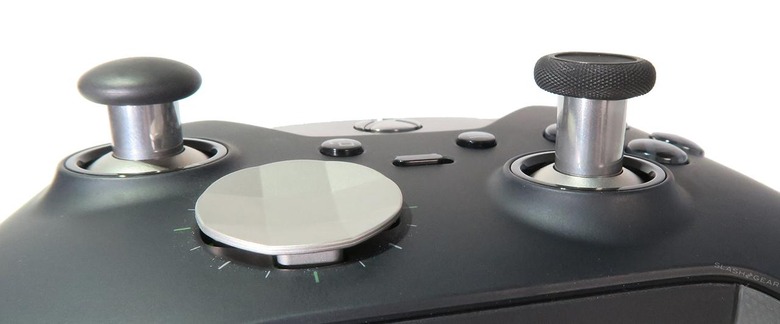 The D-pad has two options – one a cross, the other a dish. Again, attached magnetically.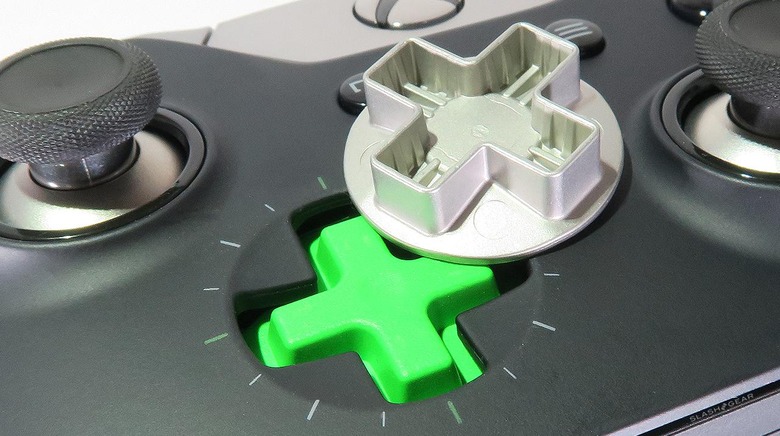 Both of these magnetic attachment points are so strong that you absolutely will not need to worry about them becoming detached at any point. Until you need them to detach and replace, if you wish.
All of the buttons are customizable, and you're able to create two individual profiles at once, both of which are available whenever you want via the hardware switch at the center of the controller.
On the underside of the controller you'll find four paddles. Each paddle is attached magnetically and works like a lever to press one of four buttons.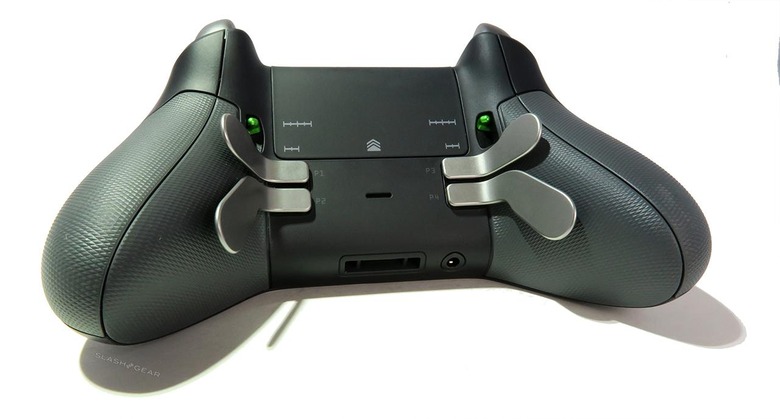 When I first started using the Elite Controller, I was wary of the way these paddles were attached. It seemed a bit too easy to lift up and pull out each of the paddles – but only at first. As it turns out, each paddle stayed strong through the entire several weeks we've been using the controller.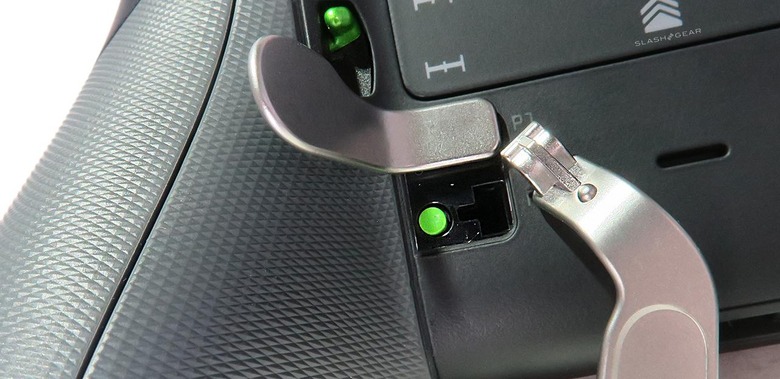 As with any new controller – or in this case, controller component – it took a little while to get used to the levers. Once I started to find uses for these paddles – reassigned, in each case, with help from the Xbox Accessories app – I began to understand their true potential.
Playing a fighting game like Ultra Street Fighter 4 will make the benefits of the dish of the replaced d-pad instantly apparent. Rolling from down to forward is far closer to a real roll now, without being as imprecise as a thumbstick.
The ability to re-map buttons is already active in many fighting games – here you have the ability to map buttons to the back of your controller instead of just the front and the top.
Space fighter games like Elite: Dangerous also benefit greatly from having all the extra buttons. While a keyboard is always going to be best for a game with more than a dozen key combinations, here you'll feel a lot more like you're actually piloting a spaceship.
Of topmost importance when you're entering games like this in virtual reality is your ability to tap your controls without having to look at them. Elite Dangerous is still an awe-inspiring experience with the Oculus Rift, but your experience is always going to be limited when you need to rely on a set of buttons you can't see. This Elite Controller expands your VR experience by adding a set of buttons, switches, triggers, and levers right at your fingertips.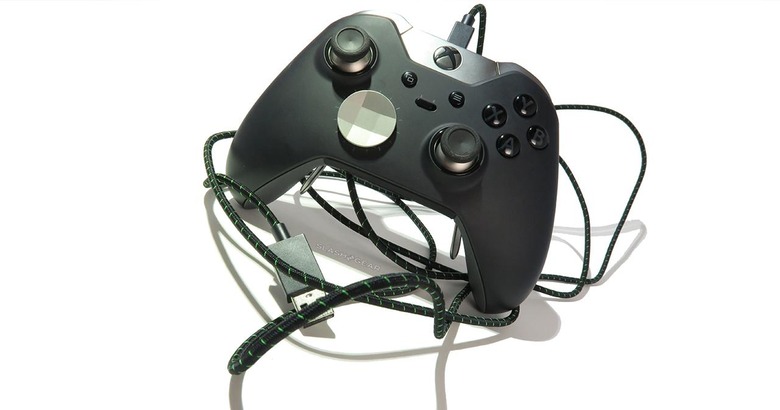 In addition to being able to use this controller wirelessly, Microsoft includes a 9-foot braided micro-USB cord to connect the controller to your Xbox One or Windows 10 PC. This USB cord is extremely high quality and – in the event that you do not want to use the controller wirelessly – you'll also be able to charge your phone from across the room and down the hallway.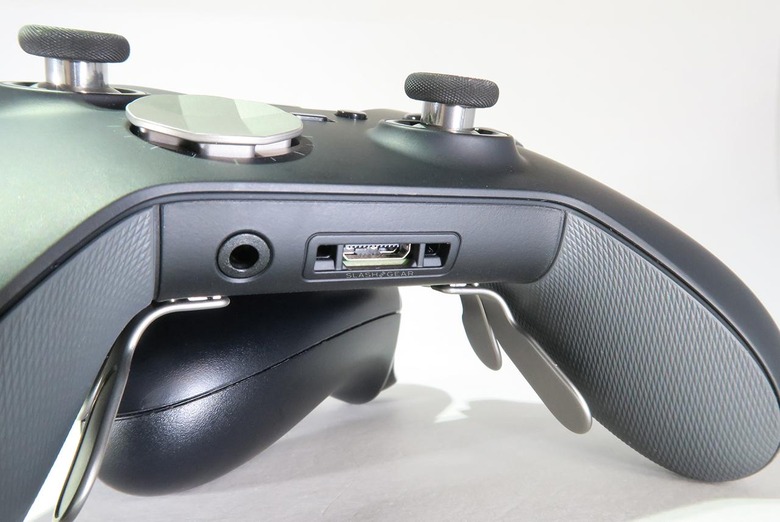 This controller also has a standard headphone jack at its base where the original Xbox One wireless controller does not. No longer will you need the headphone jack accessory just to listen in and speak with your teammates personally.
Though, if you love the ability to adjust your headphone volume, you can still use that same accessory to pass through if you do so desire.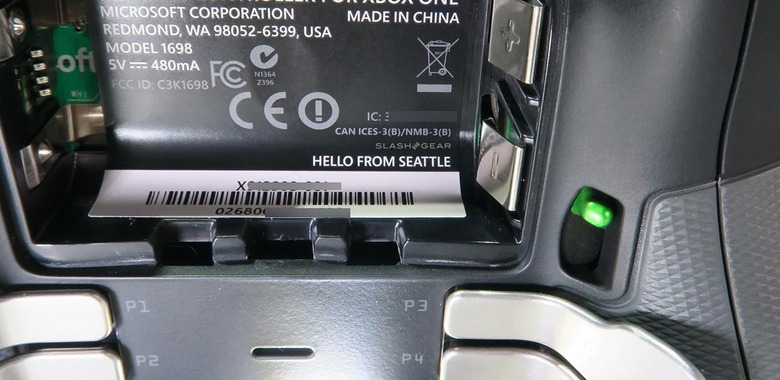 On gripe we've got with the Xbox One Elite Controller is its continued reliance on AA Batteries – which would be fine, since you can purchase rechargeable AA batteries after all, but for the slightly different shape of the controller. We've been using a 3rd party battery replacement with our Xbox One controllers over the past couple of years – now we'll have to keep using AA batteries until we get a new version of the PowerPak from Nyko.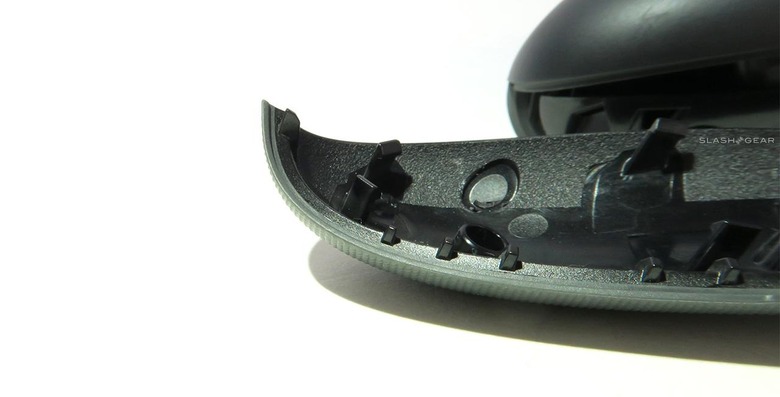 Perhaps the most excellent addition to this controller in the way of comfort is the rubbery grips on its underside. We've detached one side of the controller here to show you how thick the rubber actually is – it's good stuff.
Wrap-up
The Xbox One Elite Controller is worth the one-hundred and fifty dollars you're going to pay for it, but only IF you play games in which you feel limited by the controller you've already got on hand.
If, however, you're a relative, friend, or otherwise associate of someone who owns an Xbox One and you're planning on spending $150 on them for Christmas for one fabulous gift – this is the most awesome accessory for the Xbox One you can buy today. And you can use it with a Windows computer, too – though they'll really want to be on Windows 10 to make tweaks with the app.
At the time this review is being published, the Xbox One Elite Controller is relatively difficult to find. You'll need to keep close to the Microsoft store and/or get them on the phone to talk about when the controller will be back in stock – and good luck to you.