The great Windows tablet keyboard crapshoot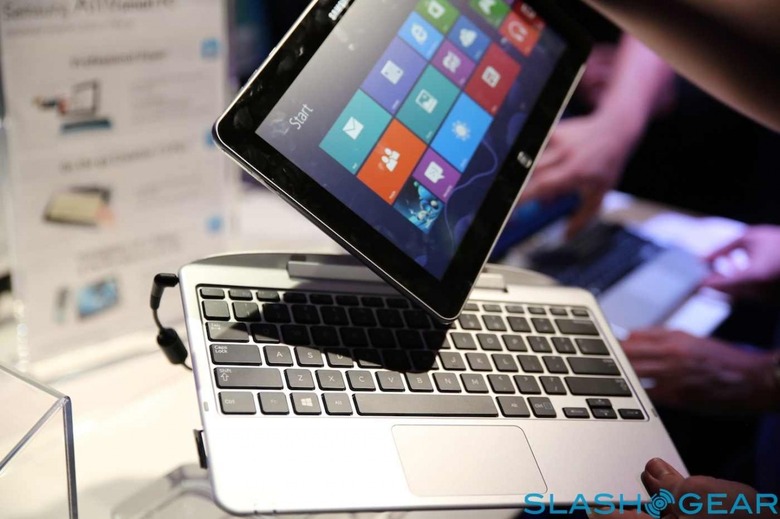 If each tech show has an unofficial theme, then IFA 2012's must be Windows 8 tablets. Microsoft's new OS – in both full 8 and pared-back RT forms – has shown up on touchscreen hardware from all of the main manufacturers, each trying slightly different combinations of size, specs and accessories in the hope of standing out from the crowd. Options are great, of course, but are there signs that Microsoft's tablet desperation is rubbing off on its OEMs?
Windows may still be dominant on desktops and notebooks, but Microsoft's footprint in tablets has been underwhelming for years. The company has seen Apple eat not only its lunch but its breakfast, dinner, and afternoon snack in slates, with the iPad helping spread the iOS/OS X ecosystem into all areas of users' lives.
Microsoft knows it needs to score big with Windows 8/RT (not to mention Windows Phone 8), hence taking matters into its own hands and producing the Surface. Faced with a solid "own-brand" option, Windows OEMs have apparently decided that outlandish riffs are the way to go.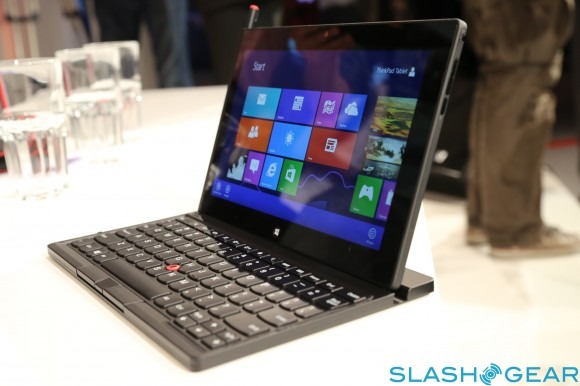 Detachable keyboards have been done already with Android slates, but that hasn't stopped the idea being well reheated for Windows 8 and RT models. Samsung threw the most devices into the mixture, with the ATIV Tab and Smart PC Pro range each offering removable keyboard docks, but Dell's XPS 10 and Lenovo's ThinkPad Tablet 2, HP's ENVY x2, and ASUS Vivo Tab and Vivo Tab RT, all play with the form-factor.
You can see the appeal of the strategy. Adding full QWERTY is a simple and obvious way to differentiate from the iPad: Apple says its tablet users don't really need a keyboard, so Windows tablets will sweep up those who still think they really do. That only works, though, when there are keyboards worth typing on, and that certainly wasn't the case across the board. Chasing competitively light form-factors left some manufacturers with models that are top-heavy – Samsung's more powerful ATIV Smart PC suffered this fate – and others that simply lacked the sort of key-travel and responsiveness that makes a physical keyboard worthwhile.
[aquote]Even a fixed keyboard doesn't guarantee a decent typing experience[/aquote]
Even having a fixed keyboard isn't necessarily a guarantee that you'll have a decent typing experience. Sony chose to keep its keyboard permanently attached, and instead make the VAIO Duo 11 a tilting-slider; Toshiba did the same with the Satellite U920t, though its screen could at least be adjusted to different angles, rather than the fixed-position VAIO. Dell took a different approach again with the XPS Duo 12, making a device that's arguably an ultrabook first and then – with the flip of a screen – a tablet second.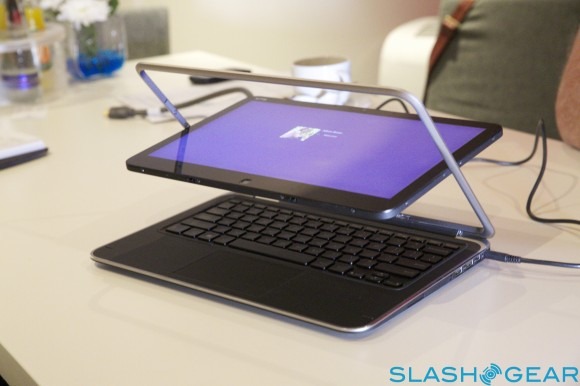 Of the three, the Toshiba and Dell had the best feel, though it's worth noting that they were each significantly larger than the 10-inch tablet norm. Both have a 12.1-inch display; the 11.6-inch VAIO managed to feel cramped, particularly with the bottom edge of the display section ending its travel just above the function key row.
Could it be that manufacturers are chasing unusual form-factors for the sake of form-factors; simply for being noticeably different on store shelves rather than truly delivering on the functionality promise they imply? It's worth noting that not all of the keyboard docks include batteries, either, a somewhat common-sense addition presumably ditched for its impact on weight.
Microsoft's Windows partners need the platform to succeed. The iPad is just as damaging to Sony, Samsung, and the others as it is to Microsoft, while Android has shown itself to be – though wildly popular in smartphones – less than capable of a clean sweep in tablets. Windows 8 and Windows RT represent a third contender to keep the slate segment moving, as well as a doorway into those enterprise markets yet to be convinced by the iPad's business credentials.
That desperation has created a glut of products that, after our first look at IFA, don't all hold up to scrutiny. Choice of models is important, yes, but so is a product that not only makes sense in ticking spec-sheet boxes but in everyday use. Not all of the Windows 8 tablets brought to Berlin this past week look likely to succeed in both those categories.
Check out all our IFA 2012 coverage in the show hub.