Toshiba Satellite U920t hands-on
Windows 8 devices are all the rage at IFA this year, especially tablets. Toshiba has a new Satellite – the U920t – on the scene, and like many tablets we've seen, this one is convertible into a notebook. However, unlike a number of the tablets we've seen, you don't convert this tablet by attaching it to keyboard dock. Instead, it features a slide out keyboard using a mechanism that Toshiba assures will provide for a smooth and stable transition.
The Satellite U920t comes with a 12.5-inch glossy touchscreen, and as you can imagine, that slide-out keyboard adds a bit of weight to the unit. It weighs in at 1.45 kilograms, which is around 3.2 pounds, so while it's a bit heavy as far as tablets go, it's still right around the top-end for Ultrabook weight. The U920t makes use of Intel's Core range of processors, and you can run with either 4GB or 8GB of RAM, depending on your preference.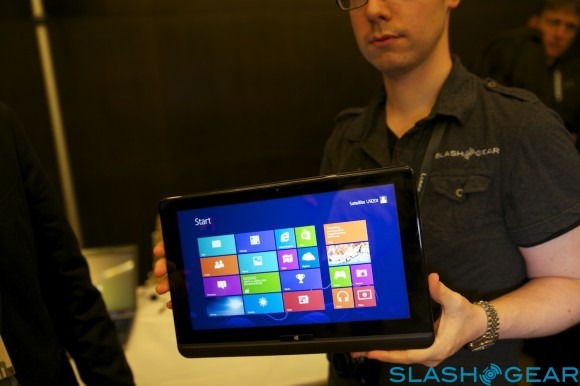 As far as storage goes, Toshiba is making use of solid state drives with the U920t, allowing users to pick from either 128GB or 256GB varieties. It also features two USB 3.0 ports and one full HDMI port, which is a pretty rare sight for tablets. It comes with Wi-Fi and Bluetooth capabilities, and even though it doesn't come with 3G functionality at the moment, Toshiba says that it could update the U920t to include 3G in the near future.
Since it's a Windows 8 tablet, Toshiba is hoping to have launch bad boy as close to the Windows 8 release date as possible – meaning it should be available right on October 26. Of course, Toshiba may need a bit more time than that, so the company isn't ruling out an early November launch. The Satellite U920t will cost €949 when it launches in Europe, which comes in just south of $1,200. More details on pricing and availability are likely to follow soon, so keep it here at SlashGear for more information.