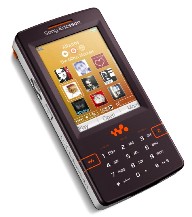 There was a time, not so long ago, where the word WALKMAN synonymously meant mobile music player. For whatever reason, the WALKMAN brand did not evolve to meet consumers MP3 needs and as a result Apple's IPOD has become the world's must have mobile music player brand to date. So its about time Sony returned with a new device to challenge the competition!
SONY ERICSSON's WALKMAN branded phone devices are super sleek and super stylish and importantly have expandable memory slots to make your on the road music experience worthwhile. http://www.sonyericsson.com
A lot of thought has gone into the user interfaces of these devices. They have three dedicated hardware keys, one to launch the music application and two on the side to control your volume. The music application is a new Symbian UIQ app, and uses the touch screen for ease of user navigation. Similarly, users can browse album art associated with the songs they load onto the device.