Samsung Moment hands-on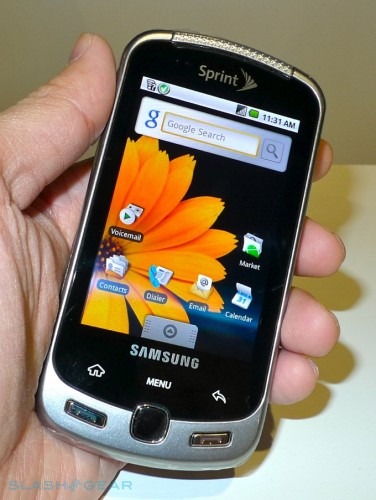 Samsung only made the Android-based Moment official a few hours ago, but we've already been playing with it today.  Sprint's first Android device certainly makes a good first impression, with an eye-catching, color-popping AMOLED touchscreen that's certainly on a par with its rivals for capacitive touch-sensitivity, though we wish Samsung could've put the Moment on a diet before it launched as it's not the smallest of handsets.
Samsung's obvious rival with the Moment is going to be the Motorola CLIQ (aka the Motorola DEXT), since both devices have a slide-out QWERTY keyboard.  It's early days with that of the Moment, but our initial leanings are to say that we prefer Samsung's key layout but wish the buttons felt more like Motorola's.  It's also worth noting that, as pretty much a pure "with Google" device, Samsung have done little in the way of modifying Android; you get the few, usual Sprint applications but there's no MOTOBLUR and certainly no all-out reskinning as with HTC Sense.
We've got video with the Moment that's currently processing, so we'll update when that's available.  Until then, enjoy the hands-on gallery and check out the full specifications here.  The Samsung Moment will arrive on Sprint come November 1st, priced at $179 after $150 rebates and with a new, two-year contract.  There's a pre-registration page here.