Sprint Samsung Moment announced: AMOLED Android smartphone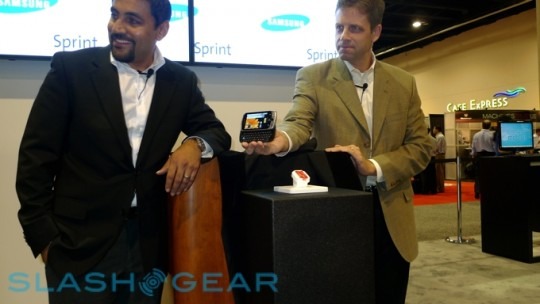 Samsung have announced their first US Android smartphone, the Samsung Moment, and it's headed exclusively to Sprint.  The Moment has a 3.2-inch 320 x 480 AMOLED touchscreen together with a slide-out QWERTY keyboard, optical joystick, EVDO Rev.A and WiFi b/g; as a "with Google" device, it has the usual Gmail, Google Maps, YouTube and other software.
There's also both an accelerometer and proximity sensor, GPS with Sprint Navigation for turn-by-turn directions, Exchange push-email support and, of course, access to the Android Market.  On the back there's a 3.2-megapixel autofocus camera with flash, plus there's a microSD slot (with Sprint bundling a 2GB card) and a 3.5mm headphones socket.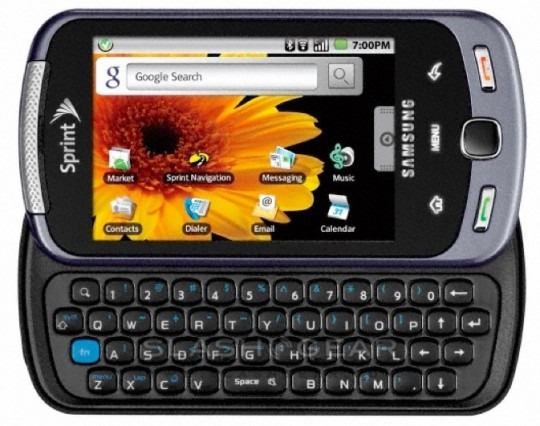 The whole thing measures 4.6 x 2.34 x 0.63 inches and weighs in at 5.67oz; Samsung claim the battery is good for up to 5.5hrs of talktime.  The Samsung Moment will arrive on Sprint from November 1st, priced at $179.99 (after a $100 mail-in rebate and $50 instant savings) and presuming a new two-year agreement.  We're meeting up with Sprint later today, so hopefully will be able to score some hands-on with the Moment.
Press Release:
Samsung Moment™

Power and Sophistication

Samsung Moment™, exclusively from Sprint, is Samsung's first U.S. handset integrating the open and innovate Android™ platform with the high-speed connectivity of America's most dependable 3G network (EVDO Rev. A.). Its slide-out QWERTY keyboard, optical joystick and brilliant 3.2-inch AMOLED touch-screen display, with wider viewing angles and crisper colors, will dazzle those who want the freedom to stay connected on the go and enjoy a PC-like experience. Samsung Moment provides access to built-in Google™ mobile services, including Google Search™, Google Maps™, Gmail™ and YouTube™, as well as thousands of applications, widgets and games available in Android Market™. It offers access to personal and corporate e-mail, WiFi capability, GPS navigation, accelerometer, full HTML Web browser, stereo Bluetooth®, 3.2-megapixel camera and camcorder, expandable memory up to 32GB and access to social networking sites, including Facebook®, Flickr® and TwitterTM.

PRODUCTIVITY

• Full slide-out QWERTY keyboard

• Widescreen 3.2-inch AMOLED touch-screen display

• Android Market™

• Accelerometer and proximity sensor

• Outlook e-mail with Microsoft Direct Push Technology

and HTML support; E-mail (EAS), POP, IMAP

• Access e-mail from such well-known providers as AOL, Windows LiveTM including MSN®, Hotmail® and Yahoo!

• Easily view Word, Excel, PowerPoint on the go to maximize productivity

• Built-in WiFi 802.11 b/g

• Visual Voicemail for quick and easy access to voice mail messages

• Sprint Navigation with GPS-enabled, turn-by-turn driving directions, navigate with a 3D map that moves with you

ENTERTAINMENT/PERSONALIZATION

• Android Market and access to such popular applications as Pandora®, ShopSavvyTM, Twitter, ShazamTM, amazon.com®, USA Today®, Flixster®, PacManTM, CraigslistCheckerTM, MySpaceTM Mobile and thousands of other applications

• 3.2-megapixel camera with flash and camcorder with auto-focus

• Advanced Stereo Bluetooth® wireless technology

• Sprint's exclusive sports applications: NFL Mobile Live and NASCAR Sprint Cup Mobile

• Amazon MP3 Store and Media Player with 3.5-millimeter headphone jack

• Expandable Memory: 2GB MicroSD card included; supports up to 32GB MicroSD card

SPECIFICATIONS

• Dimensions: 4.6 x 2.34 x 0.63 inches; weight 5.67 oz.

• Main Display: 3.2-inch AMOLED (320 x 480 pixels) 16M colors

• Standard Lithium (LiIon) battery: up to 5.5 hours continuous talk time*
Press Release:
Samsung's First Android-Powered Phone, Samsung Moment™ with Google, Coming Soon to America's Most Dependable 3G Network

Available Nov. 1, Samsung Moment from Sprint features a slide-out QWERTY keyboard, brilliant display screen and premium Web experience;

Pre-registration for Samsung Moment begins today at www.sprint.com/moment

OVERLAND PARK, Kan., and DALLAS – Oct. 7, 2009 – Sprint (NYSE: S) and Samsung Telecommunications America (Samsung Mobile), the number one mobile phone provider in the United States1, today announced the upcoming availability of Samsung Moment, Samsung's first U.S. handset integrating the open and innovative Android™ platform with the high-speed connectivity of America's most dependable 3G network2 (EVDO Rev. A.) and the best value in wireless with the Any Mobile, AnytimeSM calling feature.

Samsung Moment represents a new generation of portable Internet access devices and provides access to built-in Google™ mobile services, including Google Search™, Google Maps™, Gmail™ and YouTube™, as well as thousands of applications available in Android Market™. Samsung Moment also offers the first Sprint 3.2-inch AMOLED touch-screen, creating crisper colors and wider viewing angles than other display screens. Samsung Moment is powered by an 800 MHz processor, making this device one of the fastest wireless phones available today.

Beginning Nov. 1, customers can purchase Samsung Moment through all Sprint channels including Web (www.sprint.com), Telesales (1-800-SPRINT1) and our national retail partners. Retail pricing will be $179.99 (excluding taxes) after a $50 instant savings and a $100 mail-in-rebate with a two-year service agreement. Pre-registration for this phone begins today at www.sprint.com/moment.

"Sprint is thrilled to add the powerful and sophisticated Samsung Moment to our growing portfolio of Android devices," said Kevin Packingham, senior vice president of product development for Sprint. "This is the second Android product that will be available from Sprint this holiday season. With a full QWERTY keyboard, Samsung Moment allows customers to easily access the thousands of applications available in the Android Market. The excitement around Android products confirms Sprint's decision several years ago to be a charter member of the Open Handset Alliance and lead the Open revolution."

"The launch of Samsung Moment is an exciting realization of our commitment to providing consumers open, powerful and versatile devices," said Omar Khan, senior vice president of strategy and product management for Samsung Mobile. "With the combination of the Android platform, applications, Web browser and a powerful 800 MHz processor, the user experience options are unlimited."

Leveraging a library of applications

As charter members of the Open Handset Alliance™, Sprint and Samsung are closely aligned with the Android community. Through Android Market, Samsung Moment users can download thousands of applications, widgets and games on their phone. Pandora®, ShopSavvyTM, TwitterTM, ShazamTM, amazon.com®, USA Today®, Flixster®, PacManTM, CraigslistCheckerTM, and MySpaceTM Mobile are among the countless well-liked applications already available on Android Market. Additionally, customers can access Sprint Navigation and Sprint exclusive applications NFL Mobile Live and NASCAR Sprint Cup MobileSM already preinstalled on the device. Samsung Moment is a perfect solution for anyone who wants the freedom to stay connected on-the-go and enjoy a PC-like experience.

In addition, Sprint recently launched new tools on its developer Web site designed to make it easy for developers to create innovative applications for the Sprint Android-powered devices – http://developer.sprint.com/android. The enhancements will give developers access to Sprint products and services, including location-based services, messaging and geofencing through the Sprint Developer Sandbox. Developers using the site and tools will easily be able to create and test applications for the Android platform on the Sprint network.

Application developers will have a chance to learn more about Android at Sprint's ninth annual developer conference this fall. The Sprint Open Developer Conference, Oct. 26-28 in Santa Clara, Calif., is open to all attendees and will feature information through speaker sessions and coding camps on developing applications for a range of platforms, including Android. For details, go to http://developer.sprint.com/devcon2009.

"The Samsung Moment and the Android platform are helping Sprint drive openness and innovation," said Andy Rubin, vice president of mobile platforms at Google. "With the Samsung Moment's built-in suite of Google mobile services, along with thousands of applications on Android Market, Sprint customers can enjoy a unique mobile experience."

Samsung Moment offers simple device navigation through an optical joystick located just below the expansive display. It features Wi-Fi capability, integrated GPS navigation and accelerometer. Additional features include:

• 3.2-megapixel camera with flash and camcorder with auto-focus

• Stereo Bluetooth® 2.0 wireless technology

• Expandable memory up to 32GB

• Sprint TV® with live and on-demand programming

• NFL Mobile Live and NASCAR Sprint Cup MobileSM

• Easy access to social networking sites, including Facebook®, Flickr® and TwitterTM

• Media player with 3.5-millimeter headphone jack

• Visual voice mail for quick and easy access to specific voice mail messages

• Access to personal and corporate email through Active Sync

Customers who purchase the new Samsung Moment can also take advantage of Sprint's newly announced Any Mobile, Anytime feature, which gives customers on the Sprint network unlimited calling to ANY wireless customer in the United States on any carrier anytime by selecting Sprint's EverythingSM Data plans. This device requires activation on a pricing plan offering unlimited data, which includes the Everything Data and Simply Everything Plans.

The Simply Everything plan provides nationwide unlimited calling, unlimited text and unlimited data, including email, social networking, Web browsing, GPS navigation, Sprint TV, streaming music, NFL Mobile Live and NASCAR Sprint Cup Mobile, for only $99.99 per month. That's a savings of $1,200 over two years vs. a comparable AT&T iPhone® plan3. Sprint Everything Data plans with unlimited messaging and data start at just $69.99 for 450 minutes with unlimited night and weekend calling starting at 7 p.m. (All price plans exclude surcharges and taxes.)

Both Everything Data and Simply Everything plans are available to existing customers without extending the service agreement. New lines of service require a two-year service agreement.

The Sprint 3G Network is faster in more places than AT&T's 3G network4, and Sprint has more than 20 times the coverage of T-Mobile's current 3G network5, based on square miles. Since 2006, Sprint has invested almost $17 billion in capital to continue improving and expanding network performance.

Sprint is also the first national carrier to test, launch and market 4G technology. Separate from its 3G investment, Sprint has announced plans to extend its 4G leadership by launching the next-generation service in numerous markets in 2009, including the recently launched markets of Atlanta, Las Vegas and Portland, Ore.

Sprint is the only wireless carrier to offer Ready Now service with trained retail associates to work one-on-one with customers to personalize their Samsung Moment, set up features and demonstrate how it works before the customer leaves the store. Customers have the choice of sitting down with a Sprint retail associate at the time of purchase or they can schedule an appointment for a later time at www.sprint.com/storelocator