Spotify ecosystem is key: Sonos, Motorola, more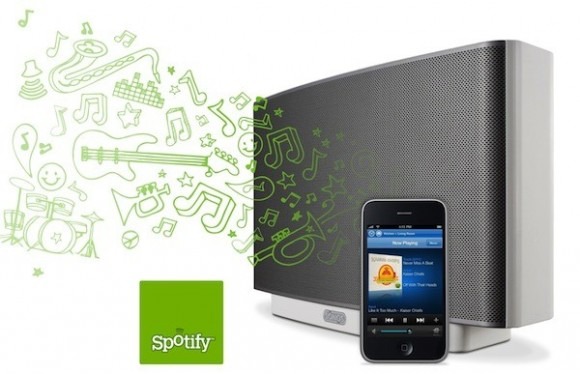 We may receive a commission on purchases made from links.
Spotify has finally made its US debut, but the streaming music service is about more than just playback on your PC or Mac. As well as the mobile clients for iPhone, Android and other platforms – which we reviewed yesterday - there's a growing ecosystem of third-party boxes that support Spotify playback like Sonos and Onkyo.
Sonos is perhaps the best-known of the partnerships, and the super-straightforward all-house audio system lends itself well to Spotify's 15m-strong catalog of tracks and creating a high-tech jukebox. Spotify integration landed for European customers back in late 2010, and now US users can search for content from their Sonos remotes (including the Android and iOS apps) and access personal and shared playlists.
Rival streaming audio system Squeezebox, by Logitech, also began offering the same integration earlier this year, and with hardware generally cheaper than Sonos is a more cost-effective way of getting set up. Conversely, it loses out somewhat in ease of installation and usability. Onkyo's 2011 range of networked audio receivers will also support Spotify playback, with the company promising an imminent firmware update – beginning with February's TX-NR609 - that will add compatibility to US models.
Motorola, meanwhile, has been named Spotify's "exclusive launch partner" in the US, though the exact nature of the deal hasn't been made clear. "As an exclusive launch partner of Spotify, we are able to provide our consumers not only with innovative products, but also premium access to an unparalleled music experience" Motorola CMO Bill Ogle suggests, hinting that bundled on-device Spotify access might be included with future slates and phones.
Software integration is also growing. Spotify already works with Shazam on iOS and Android, offering an easy way to play back tracks identified using the music fingerprinting app. There's connectivity with Twitter and other social networking services, too, allowing you to share your currently-playing track and other details.
These existing deals may just be the tip of the iceberg, however. Outside the US, Spotify is currently accessible via TV service through Sweden and Finland's TeliaSonera, while a UK deal with Virgin Media will see broadband, TV and cellphone subscribers getting subsidized access. Facebook is also expected to announce a significant partnership later this year as well.
Although Spotify's flexibility is growing, it's worth remembering that this advanced functionality doesn't come free. While the music service does offer PC and Mac playback free as long as you listen to adverts, any mobile use or playback through Sonos, Squeezebox or Onkyo systems demands a Premium account, currently priced at $9.99 per month. On the plus side, premium subscribers get higher-quality tracks and offline playback support (platform allowing), as well as being able to jump the queue for free account invites.
For more on Spotify, check out our SlashGear 101 report giving you everything you need to know.
[poll id="15"]