Sonos Controller for iPad released; Sonos Spotify activated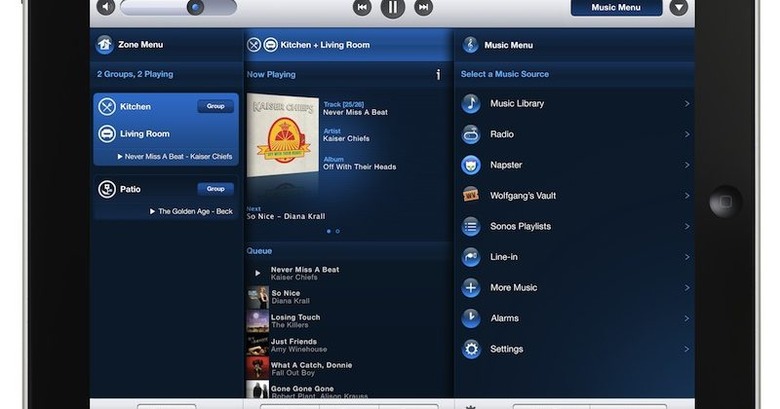 It's taken them a little longer than initially expected, but the Sonos controller for iPad app has finally landed in the App Store [iTunes link].  A free download, it allows Sonos system users to control their multi-room streaming music system on the iPad's sizeable touchscreen.  Meanwhile the company has also released Sonos Software 3.3, which updates the system with support for Spotify.
As you'd expect, you can control not only what is playing in the zone you're currently in, but what music is streaming to other rooms in the house.  You can then group or ungroup different zones, control volume – either independently or collectively – and browse all the music stored in various places in the Sonos network.
For Spotify, meanwhile, you'll need a premium subscription with the streaming music service, and of course it's not currently available in the US
Press Release:
SONOS CONTROLLER FOR IPAD NOW AVAILABLE AS FREE APP

Wirelessly control all your music across rooms from any iPad

Hilversum, The Netherlands – September 29, 2010 – Sonos, the leading developer of wireless multi-room music systems for the home, today announced that the Sonos Controller for iPad is now available as a free app in the iTunes App Store.

Building upon the success of the highly rated and very popular Sonos Controller for iPhone, the Sonos Controller for iPad is a new, dedicated music controller that is optimised for the iPad's large touch screen. From the comfort of your sofa, you and your friends can view your rooms, your music and what songs are playing – all at once – in landscape or portrait mode. Quickly search for your favourite artists by typing on the virtual keyboard and browse through albums by pointing and flicking. The Sonos Controller for iPad allows everyone in the home to be a DJ. You can browse, search and drag and drop to create the perfect playlist. Get a complete view of what's playing in every zone, complete with full-colour album art, elapsed time of a song and much more. Group your zones together or play different songs in different rooms – without interrupting music playback.

"The iPad, with its large, vibrant touch screen, provides an excellent Controller user experience for music in the home," said John MacFarlane, CEO, Sonos, Inc. "In keeping with the tradition of getting better over time – and, at no cost to our customers – we're thrilled to provide another free app that makes it fun and easy to search, find and play music in any and every room of the home."

Sonos gives you instant access to millions of songs and stations, including your iTunes collection. And because Sonos ZonePlayers connect directly to the Internet, you can access a world of music without ever turning your computer on. All you need is a Sonos ZonePlayer such as the Sonos S5 all-in-one wireless music system and a Sonos Controller such as the free Sonos Controller for iPad. Now you can play any track you like, anytime you like, in any room you like. Wirelessly play the same song in every room of the house – perfectly synchronised. Or, mix it up and play different songs in different rooms. And control it all anywhere you like, right from your iPad or iPhone. Just pick a room, pick a song and touch play.

In conjunction with the Sonos Controller for iPad, Sonos today also released the Sonos Software 3.3 with support for Spotify on Sonos that gives music lovers instant access to more than ten million songs and all of their playlists in any room of the home. Please see additional press release for more details or visit www.sonos.com/Spotify.

To learn more about the Sonos Controller for iPad, please visit www.sonos.com/iPad.