Sonos has Alexa control working, but don't hold your breath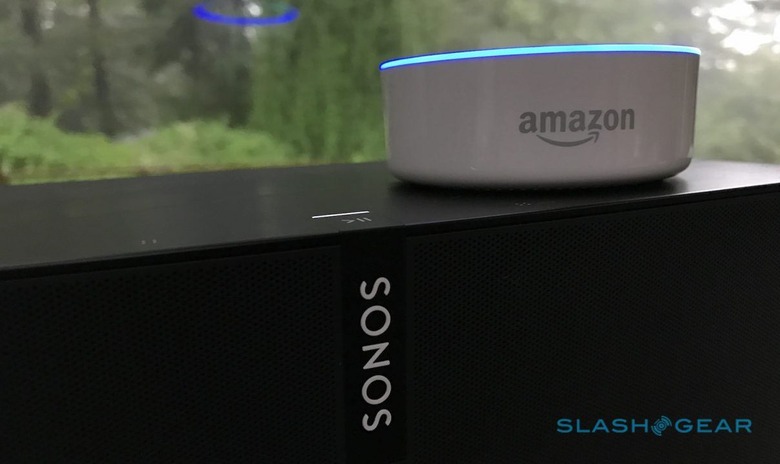 Sonos has given its first public demonstration of Amazon Alexa integration, though the streaming speaker company says the actual roll-out of voice control is still some way off. The two companies announced a partnership back in August 2016, which will see Amazon's virtual assistant supplant the current iOS, Android, and desktop remote apps for Sonos' popular speaker line-up. Still, according to Sonos it's not ready for primetime yet.
For the demonstration, Sonos' vice president of software, Antoine Leblond, used an Echo Dot that had been paired with a selection of PLAY:5 wireless speakers. The instruction "Alexa, pause Sonos" caused the music playing to stop, as you'd expect. It's also possible to request specific tracks and artists by voice.
Nonetheless, Sonos says more time is needed to give it the polish users have come to expect from the company's products. Pointing out that it was vital that Sonos "get the experience right," Leblond declined to give a launch date for the functionality. Among the lingering concerns is the relative complexity of commands Amazon's Alexa requires, which currently includes specifying that you want music to play through Sonos rather than other connected speakers.
The conservative roll-out also gives Sonos time to work on an Alexa-enabled product of its own. Sonos already confirmed that it plans to bake Amazon's assistant into a microphone-equipped model, presumably taking advantage of the retail behemoth's existing Alexa Voice Service. We've already seen several companies release products with such technology, including retro-styled portable radios.
Meanwhile, Logitech baked Alexa into its latest smartphone mounts for in-car use. Announced earlier this week, the ZeroTouch mounts will not only hold a phone but allow spoken commands to be recognized, even if your smartphone of choice would prefer that you use Apple's Siri or Google's Assistant. Ford is going one step further, integrating Alexa directly into SYNC 3, its infotainment platform.
For Sonos, the legwork involved in adding Alexa to a speaker natively may not be too great a leap. The company fitted its revamped PLAY:5 speaker with microphones back in 2015, admitting that while it had no current intention to use the hardware at the time, it nonetheless seemed like a suitably precautionary future-proofing move that could be unlocked at a later date. It's not clear whether the current PLAY:5 hardware is suitable for running Amazon's software.
NOW READ: Amazon Echo Dot Review
For all its enthusiasm to embrace Alexa, Sonos isn't committing to just one virtual assistant. The company has said that it envisages compatibility with a number of the voice-controlled AIs, presumably allowing owners to pick their favorite among options like Microsoft's Cortana and Apple's Siri.