Ford Brings Amazon Alexa To Its Sync 3 Vehicles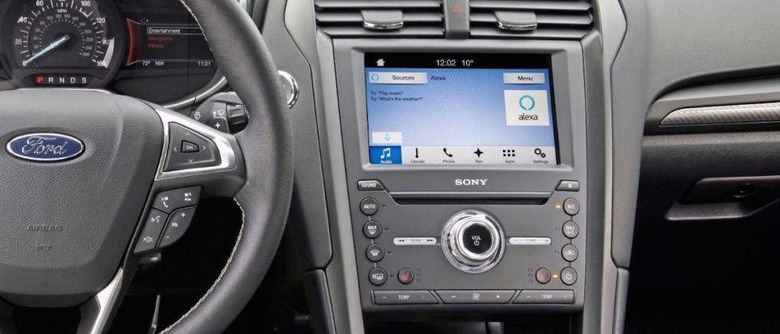 Amazon's voice assistant Alexa is coming to a number of new devices this year — including the smartphone — but Ford will be the first to integrate it into their cars. The two companies announced at CES 2017 that starting later this month vehicles outfitted with Ford's Sync 3 infotainment system will begin working with Alexa from the home, while sometime this summer drivers will be able to speak to Alexa from the road.
Among the first Ford models to get Alexa integration are the Focus Electric, Fusion Energi, and C-MAX Energi. Once the first phase of the update rolls out, users will be able to speak to Alexa at home from the Amazon Echo line of speakers, giving it commands such as turning the car engine on or off, lock and unlock the doors, and check fuel levels.
The second phase of the rollout will essentially bring Alexa and all its capabilities to the road. Drivers will be able to play music and audiobooks, ask for news and weather updates, add items to shopping lists, and even search for local destinations, transferring them to the car's navigation system for directions.
In addition, they'll also be able to give commands to control their smart home appliances, like setting the thermostat, adjusting the lights, or control the security system.
Other new features Ford announced at CES include Sync 3 integration with Samsung's Gear S2 and S3 smartwatches, allowing users to get parking reminders from the wearable, as well as attention alerts if it detects dozing at the wheel. And select 2018 models will be getting WiFi-hotspot capabilities with LTE from AT&T, and support for connecting up to 10 devices.
SOURCE Ford